This German Caramelized Onion Ale Soup is made with plenty of onions, plenty of beer, and some whole grain mustard for some tang.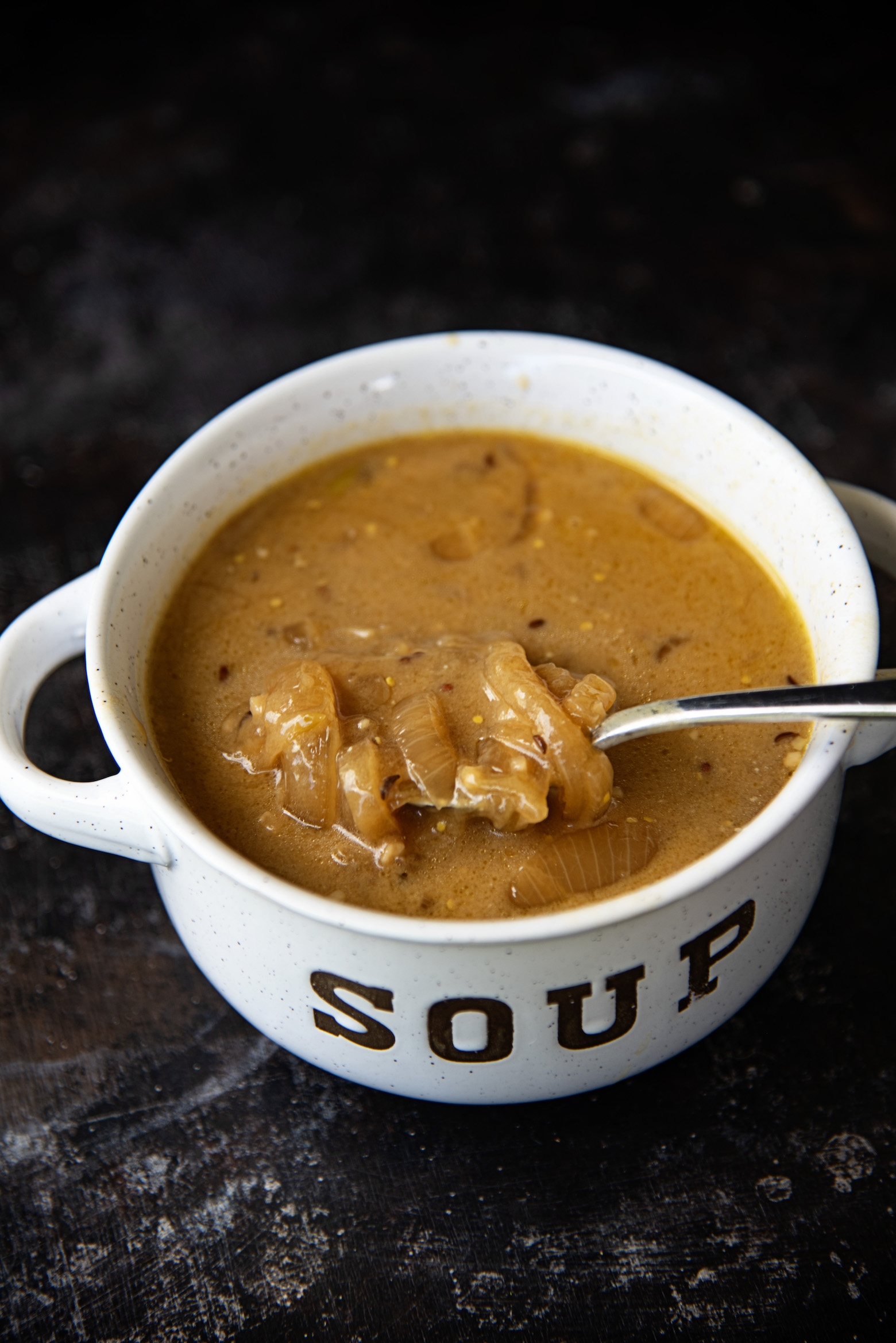 Two things seem to bring people together: food and animals.
Those two things just happen to be what I like most in life.
Normally if I post something on Twitter maybe I get a comment or two if I'm lucky.
But this weekend after our dog Mickey passed I posted a photo of the two of us.
It's a rather emotional photo so I think that made people pay attention more.
I rarely check Twitter so it was quite the surprise when I looked and saw that 850 mostly complete strangers commented on the loss of my dog.
All nice.
Not one jerk comment in the bunch.
From stay at home moms to weathermen to celebrities the comments and likes came.
3,600 people liked the photo and 150 people retweeted it.
Rather surreal to be honest.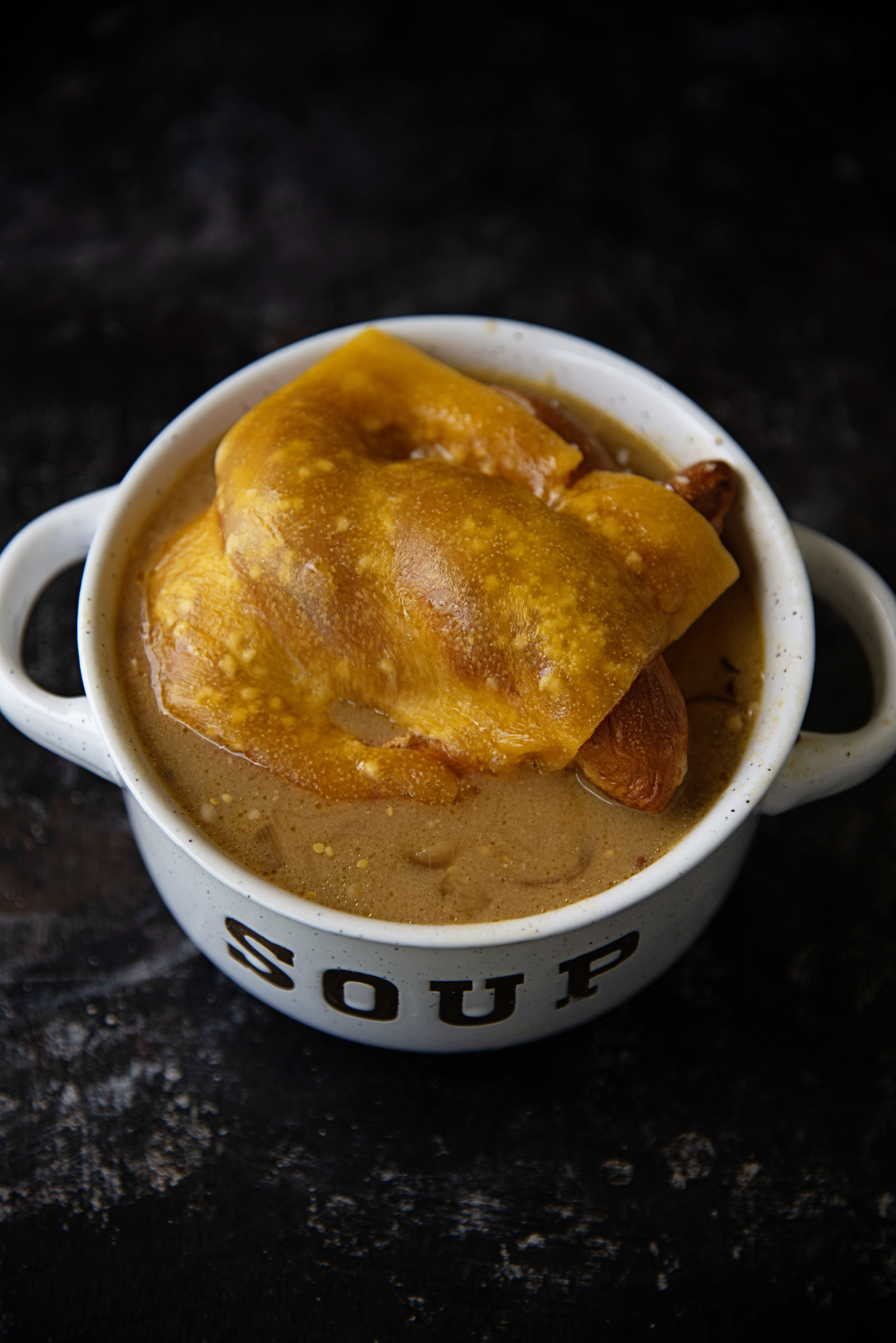 But I get it.
I comment on complete strangers loss of pets all the time.
It's a sad comradery to be in the Rainbow Bridge club.
Pets aren't like people (thank goodness).
They are innocent little critters who love you unconditionally.
Who could care less that you wore the same shirt three days in a row because you didn't go anywhere or do anything.
Little beings that think you are perfect the way you are.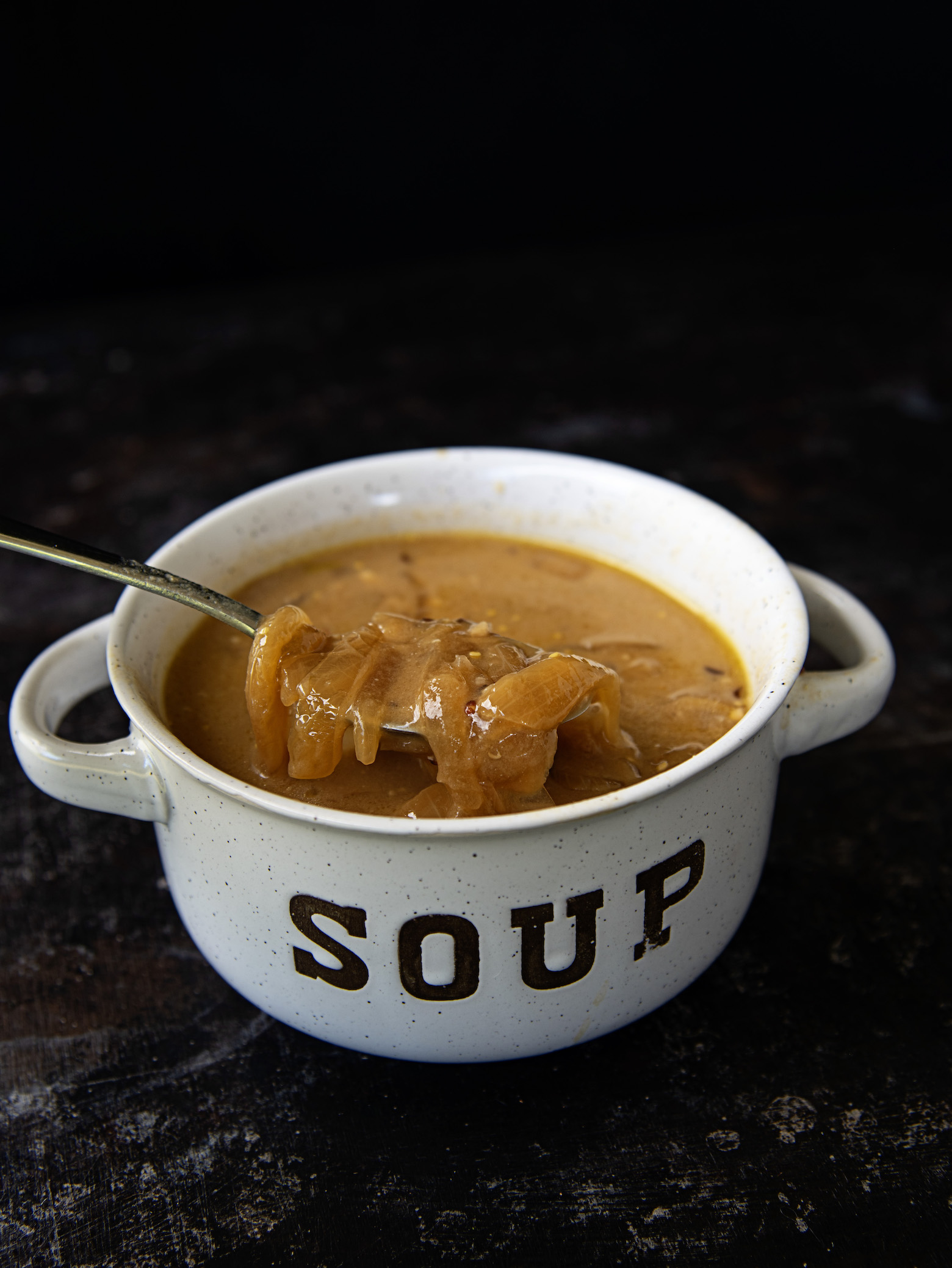 And we think they are perfect as well.
It's funny because all the little quirks that they had when they were alive, some that even drove you crazy, you now find yourself missing.
Because that's what made them uniquely them.
When our dog Mickey got more and more picky about what he would eat I started making anything I thought he might eat.
One of those things were soft pretzels (that recipe will be coming sometime when I stop being lazy and write it down).
While I could totally eat soft pretzels as a meal in itself I decided to make soup to go with it.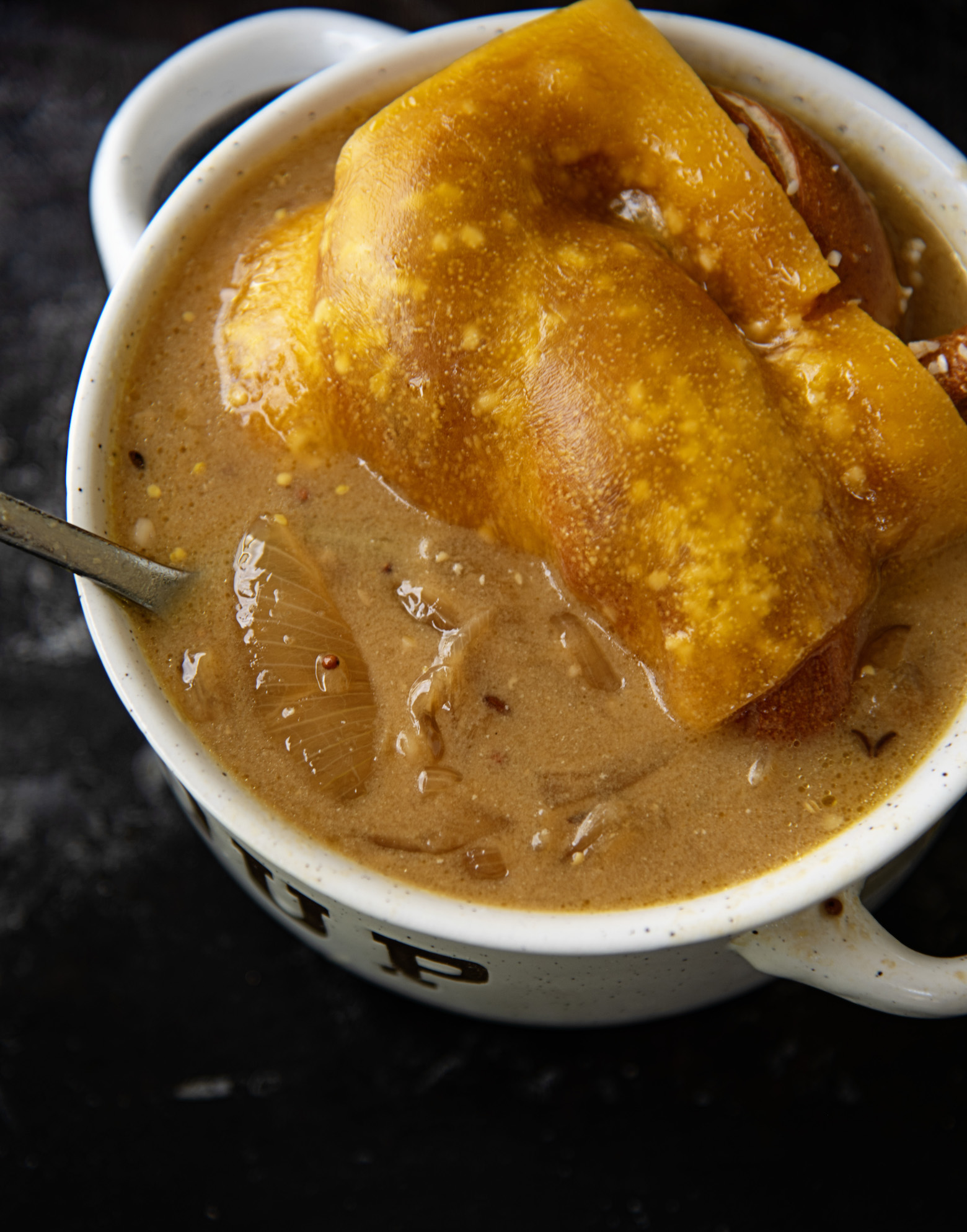 This German Caramelized Onion Ale Soup is similar to French Onion, though I threw in powdered cheddar cheese in there.
There is also two types of mustard.
Old World Mustard is basically mustard seeds in vinegar.
Sounds gross but it goes well in the soup and adds the needed acid to balance things out.
It's a comforting soup that goes great with soft pretzels.
I used the pretzels like you would bread in French Onion.
Float it on top and melt cheese over it.
Very tasty.
P.S. It's a great day to buy my cookbook.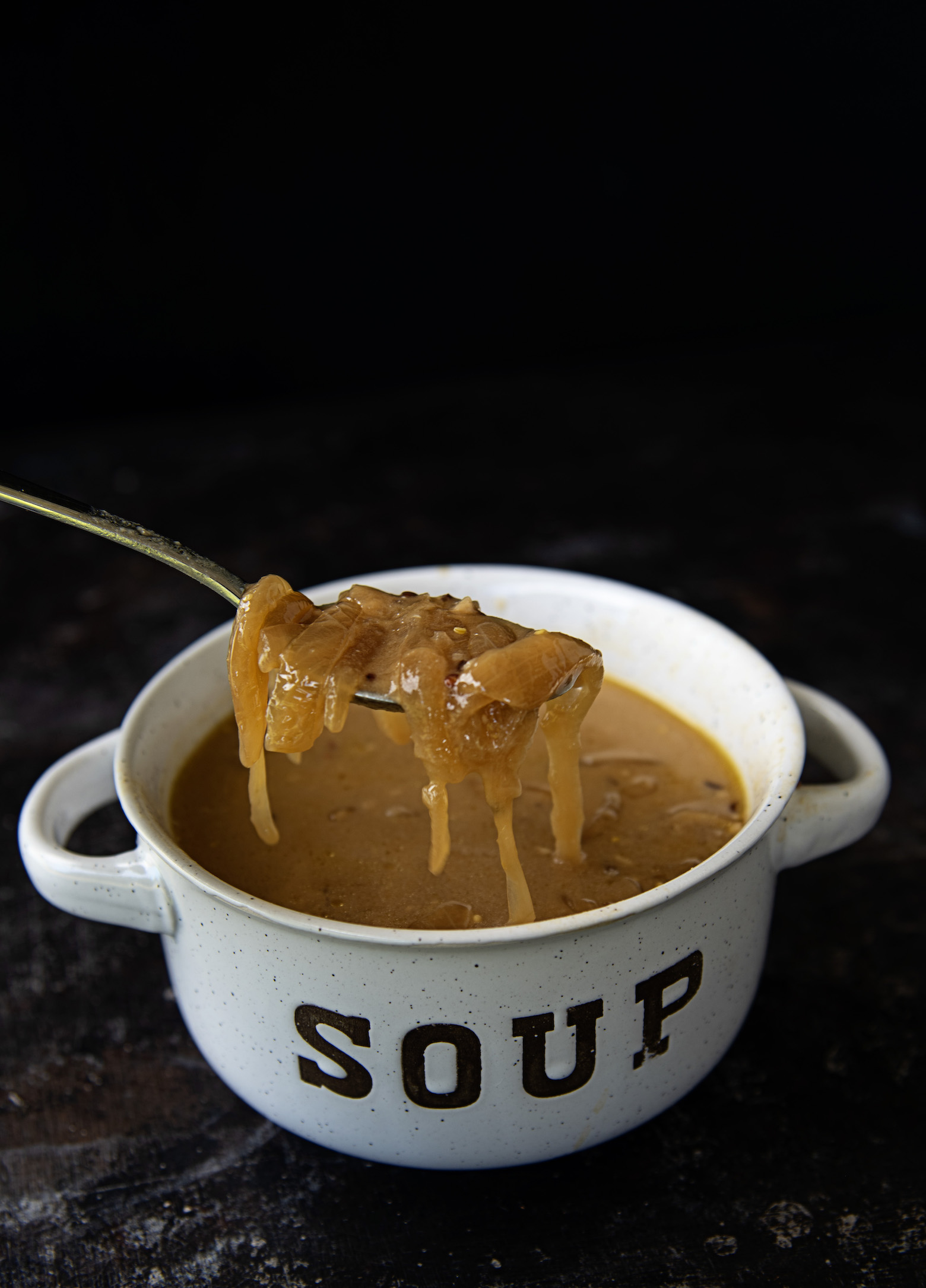 Want More Soup Recipes?
Roasted Garlic Chili White Bean Soup
Dill Pickle Cheddar Cheese Soup
Caramelized Onion Potato Ale Soup
Vegetarian Vegetable No-Beef Soup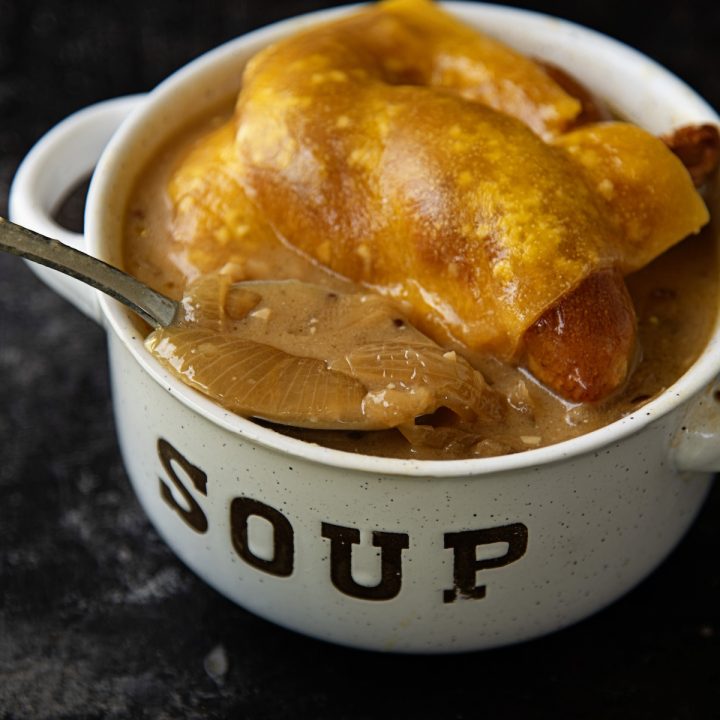 German Caramelized Onion Ale Soup
Ingredients
12 cups sweet onions (or onion of your choice)
3 TBSP minced fresh garlic 
1 1/2 TBSP caraway seeds
2 TBSP olive oil
1 TBSP unsalted butter
12 oz your favorite ale (I used Manny's Pale Ale which is a local favorite)
2 TBSP Dijon Mustard
3 TBSP all-purpose flour
3 cups chicken-less chicken broth
3 cups beef-less beef broth
1 TBSP Worcestershire sauce 
salt and pepper to taste
Instructions
In a large Dutch oven or pot with lid sweat the onions, garlic, and caraway seeds in olive oil and butter, covered, for 10 minutes.
Uncover pot and cook onion mixture for 40 minutes more, stirring occasionally. I also add a few TBSP of the beer during this time to help add color to the onions as they cook down.
Stir in the remaining beer and mustards and increase heat to high.
Cook soup until beer nearly evaporates, stirring often. Stir in flour and cook for 1 minute.
Add broths and simmer soup for 10 minutes.
Stir in Worcestershire, powdered cheddar cheese, and season soup with salt and pepper. Let cook for another 5 minutes. Make sure all the powdered cheese is fully incorporated.
Top each serving with a soft pretzel or Rye bread.