This Cherry Key Lime Pie is a twist on classic key lime pie by adding tart freeze dried cherries to give it a cherry limeade flavor.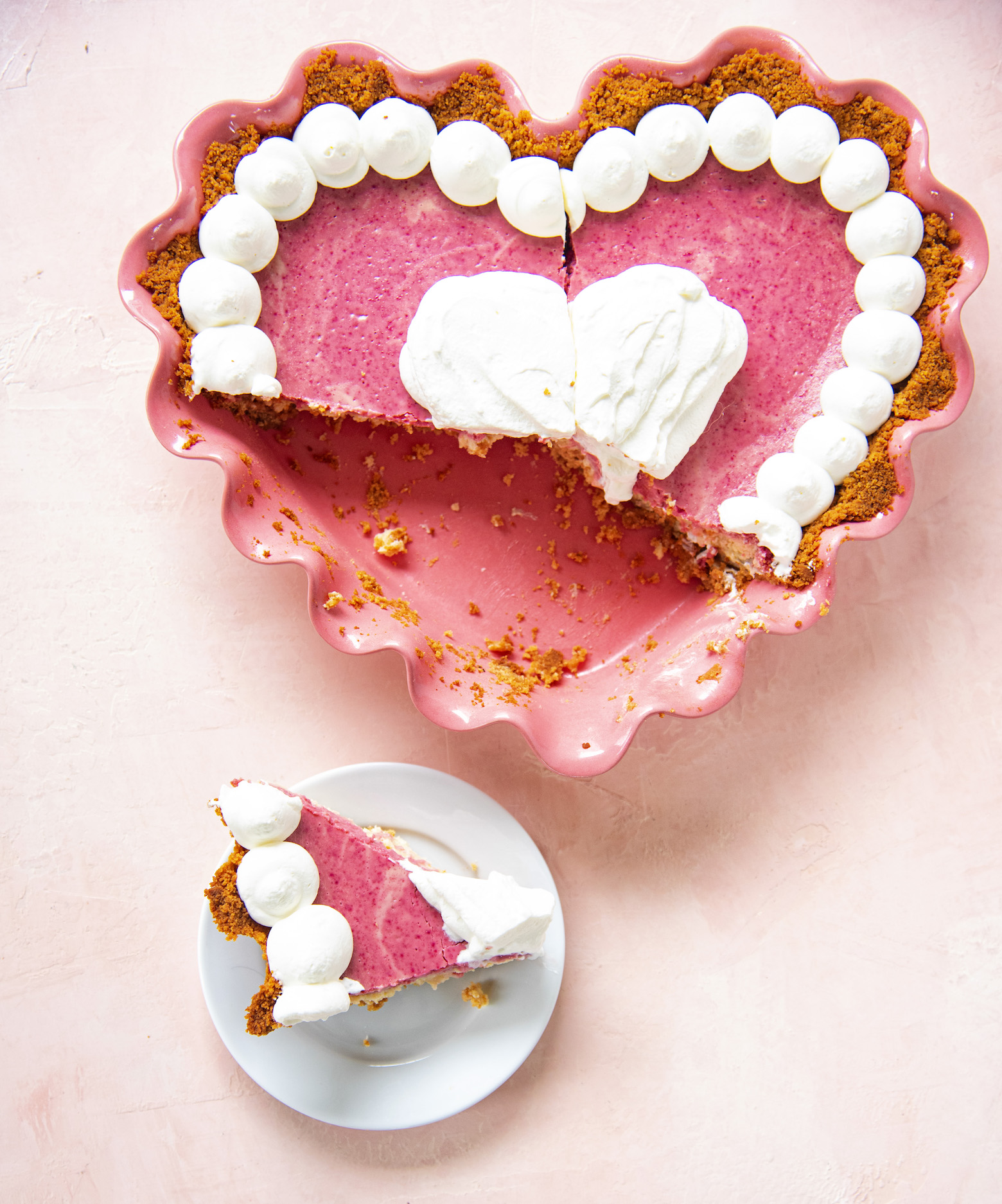 So this pie pan is so adorable and I love it.
Until I had to figure out how to cut it.
This Cherry Key Lime Pie definitely has some weird angle slices.
But it doesn't matter as this pie is awesome.
Last week was the hubby's birthday.
He always gets something made with Strawberry Milk and something key lime usually.
The hubs turned the big 47…prime number birthday are always so boring.
But of course any birthday you have after having a heart attack a little over two years ago makes them seem special!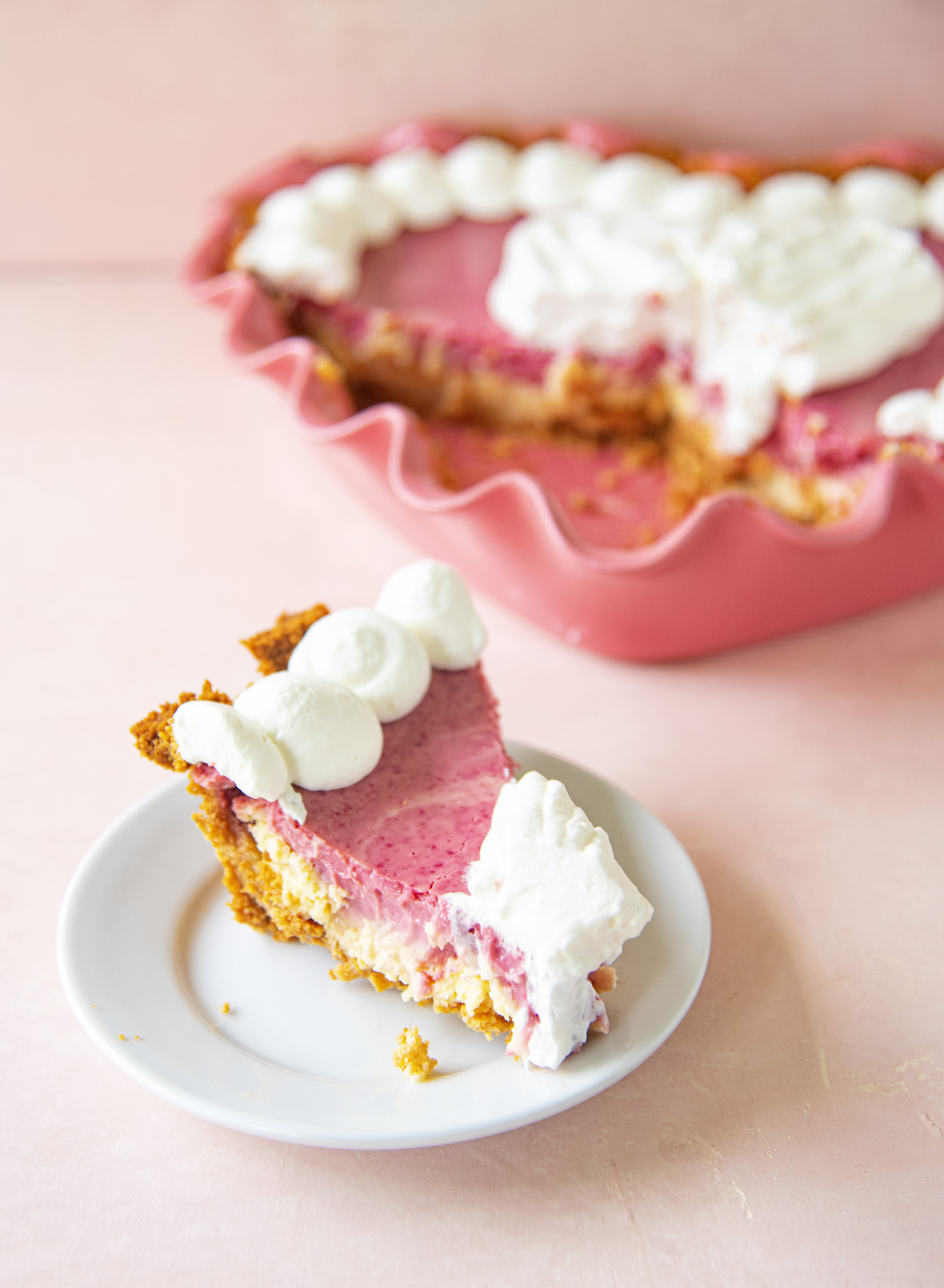 Hubby's birthday weekend was similar to how it goes every year since it usually falls around Super Bowl Sunday.
Though for us that means Super Bowl pick up hockey.
Which is far more interesting to me.
We used to then have a party after the skate for his birthday but we no longer have cable TV and our antenna has not been getting any signal lately.
I was more upset to miss Puppy Bowl…but that's just me.
Made sure to see all the commercials online though…the Groundhog Day one was amazing.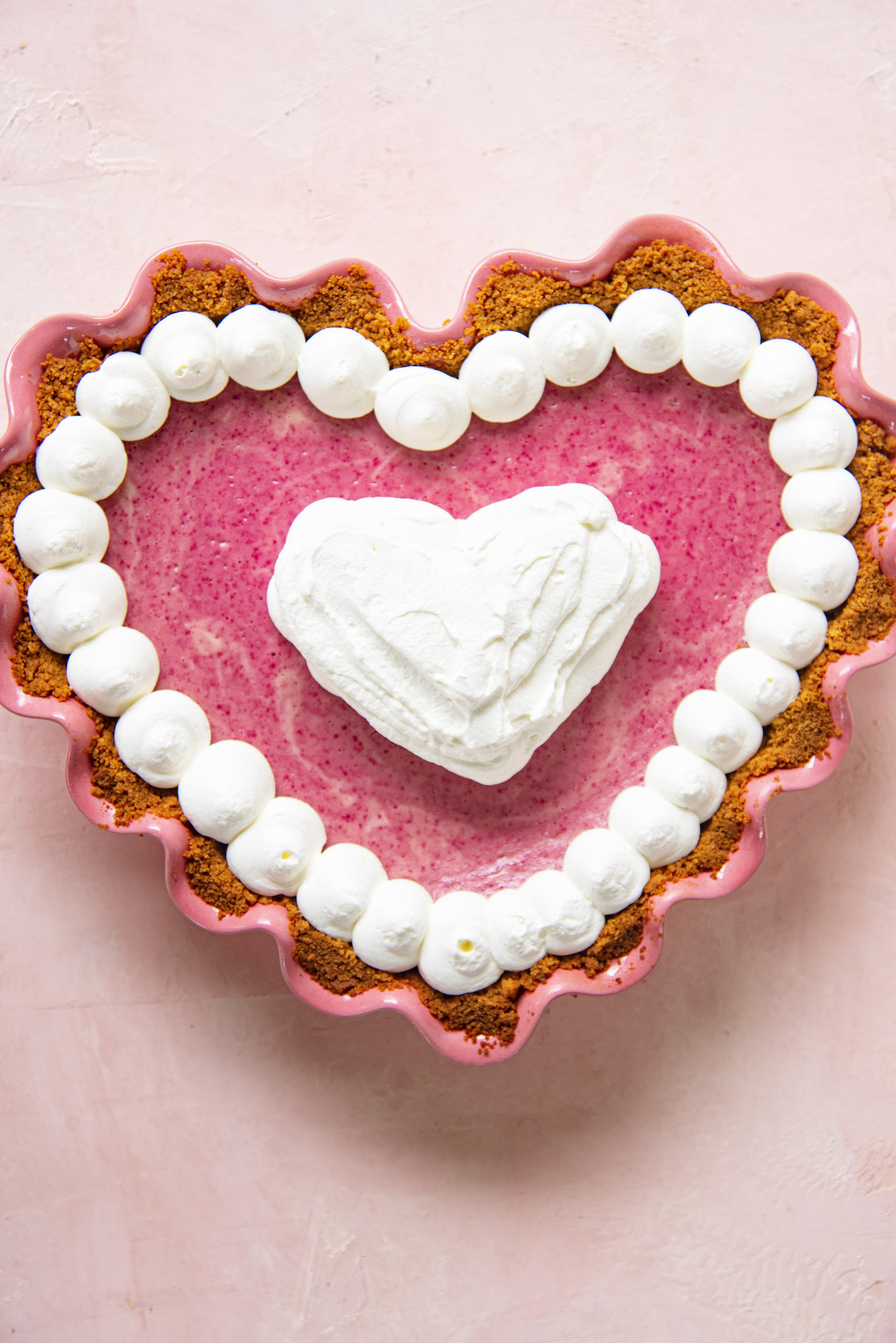 This pie is in honor of Sonic's cherry limeade.
Which I don't have a Sonic that near me so I never get one.
They at least exist in the state of Washington now but again, not that close.
When I lived in Arizona I had one all the time.
And tater tots.
Maybe a shake or two. 🙂
You don't have to brown the butter to make the crust but it really does add something extra to the pie.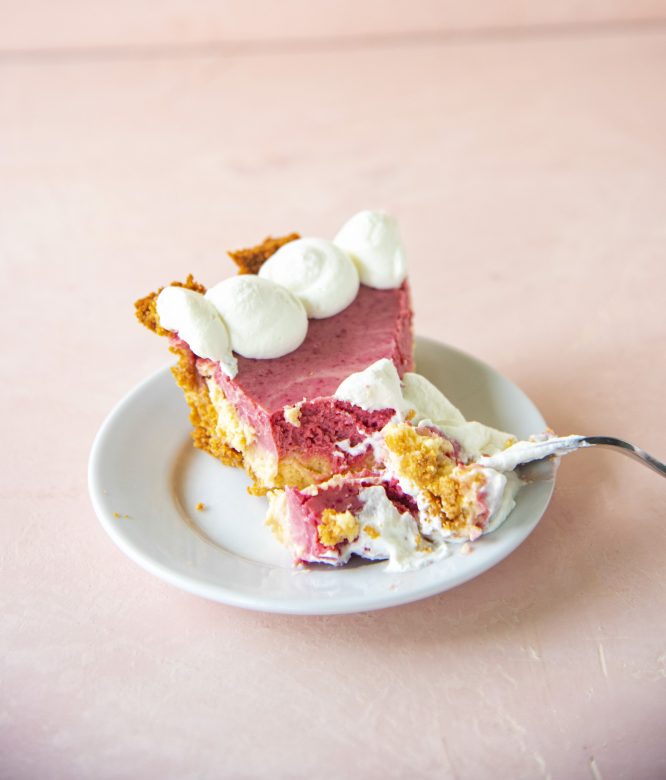 Want More Key Lime Recipes?
Mini Key Lime Ice Cream Pies with Raspberry Sorbet Middles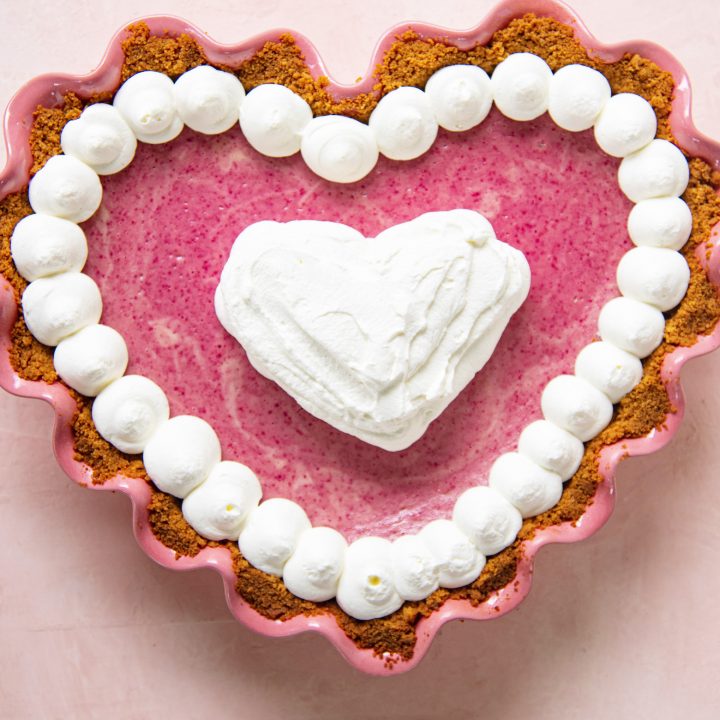 Cherry Key Lime Pie
Ingredients
Brown Butter Graham Cracker Crust:
2 1/4 cups crushed graham cracker crumbs

1/3 cup powdered sugar

9-10 TBSP browned butter

1/8 tsp. salt
For the Key Lime Pie Filling:
1 cup key lime juice, fresh if possible
1/2 cup heavy whipping cream
2/3 cup Mascarpone cheese, room temperature
2 cans (14 ounces each) sweetened condensed milk
10 egg yolks
1/3 cup freeze dried cherries, crushed to a powder
Whipped cream for garnish
Instructions
For the crust:
In a large bowl add the graham cracker crumbs, powdered sugar, and salt.
Add 9 TBSP melted butter.
Mix until combined.
If it seems like it needs more butter add the remaining TBSP (mine took the full 10 TBSP).
Pour contents into a deep dish pie and press to form a shell. The crust will go very high up the sides…you want this.
Bake crust for 15 minutes at 325F.
For the Key Lime Pie Filling:
Whisk sweetened condensed milk with the egg yolks.
Whisk in Mascarpone cheese.
Stir in whipping cream and lime juice.
Pour 2/3 of the filling into a prepared graham cracker crust.
Add the freeze dried cherry powder to the remaining 1/3 of the filling and mix until fully incorporated. Pour on top of the plain key lime filling.
Bake at 325° for 35-45 minutes. This is far longer than you would bake a traditional key lime pie but due to how thick it is.
Let cool to room temperature and then put in fridge for 30 minutes.
Serve with whipped cream.