A delicious spin on the classic. A mile high key lime pie topped with a vanilla bean Bavarian cream all sitting in a brown butter crust.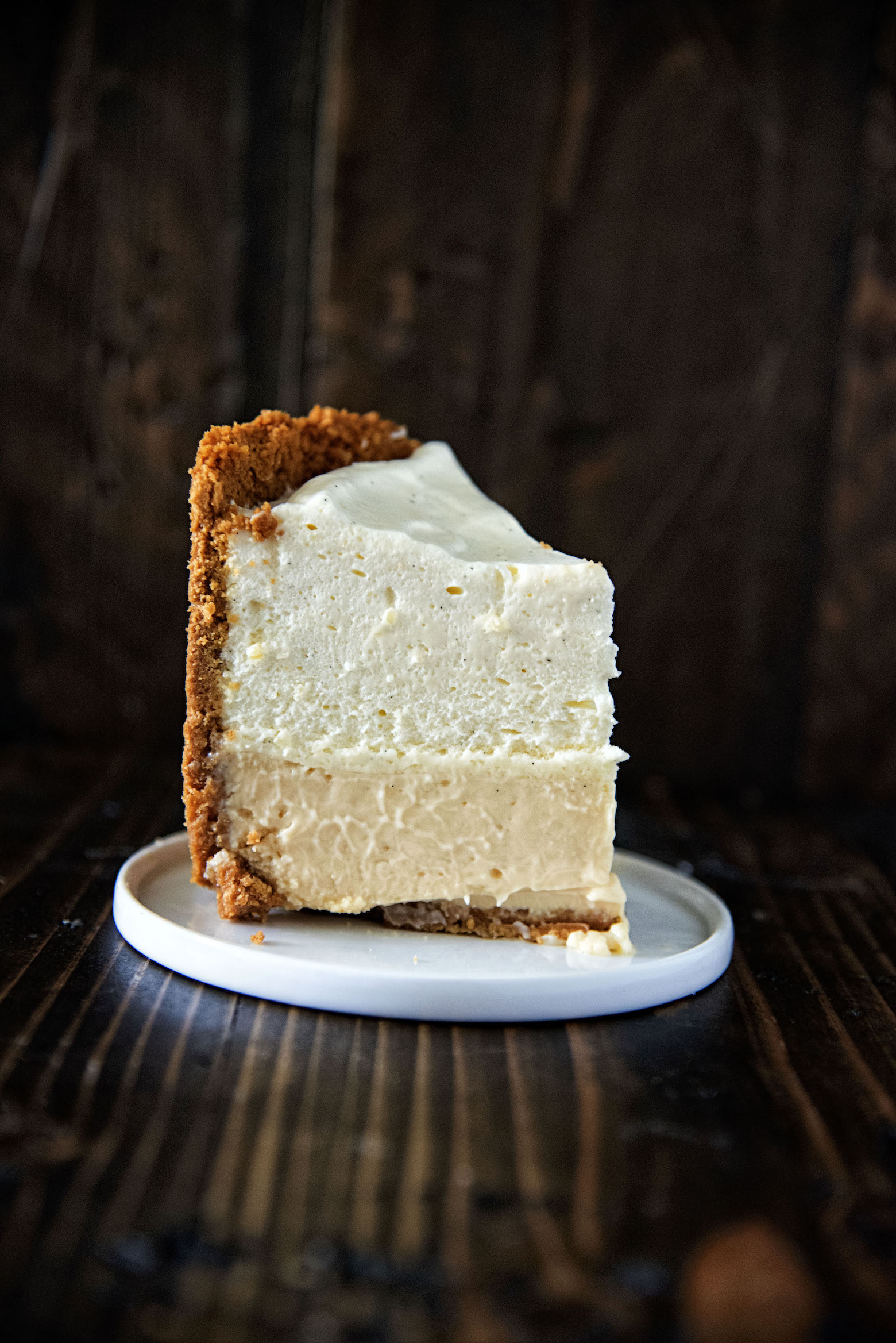 When we started looking at getting a travel trailer to take the dogs places that naturally led to me searching for blogs and Instagram accounts of people camping/rving with dogs.
Just like food bloggers, travel blogs try to project a certain lifestyle.
I see people's campers all nice and clean and amazingly decorated.
My husband and I were at our first campground only 13 hours total (we went to pick up a dog) and our trailer was a mess. 🙂
Our bed is still not made…because those are actually hard to make.
At least in our trailer. 😛
Luckily I found a group that is specific to camping with spaniels.
They aren't on Instagram and aren't trying to project an image so they tell real stories (some not so great) and show real photos and give great tips.
Which is what people really need.
Oh sure it's nice to look and fantasize that it's all sunsets and perfectly roasted marshmallows.
But sometimes it's pouring rain, farting dogs, and burnt to a crisp marshmallows. 😀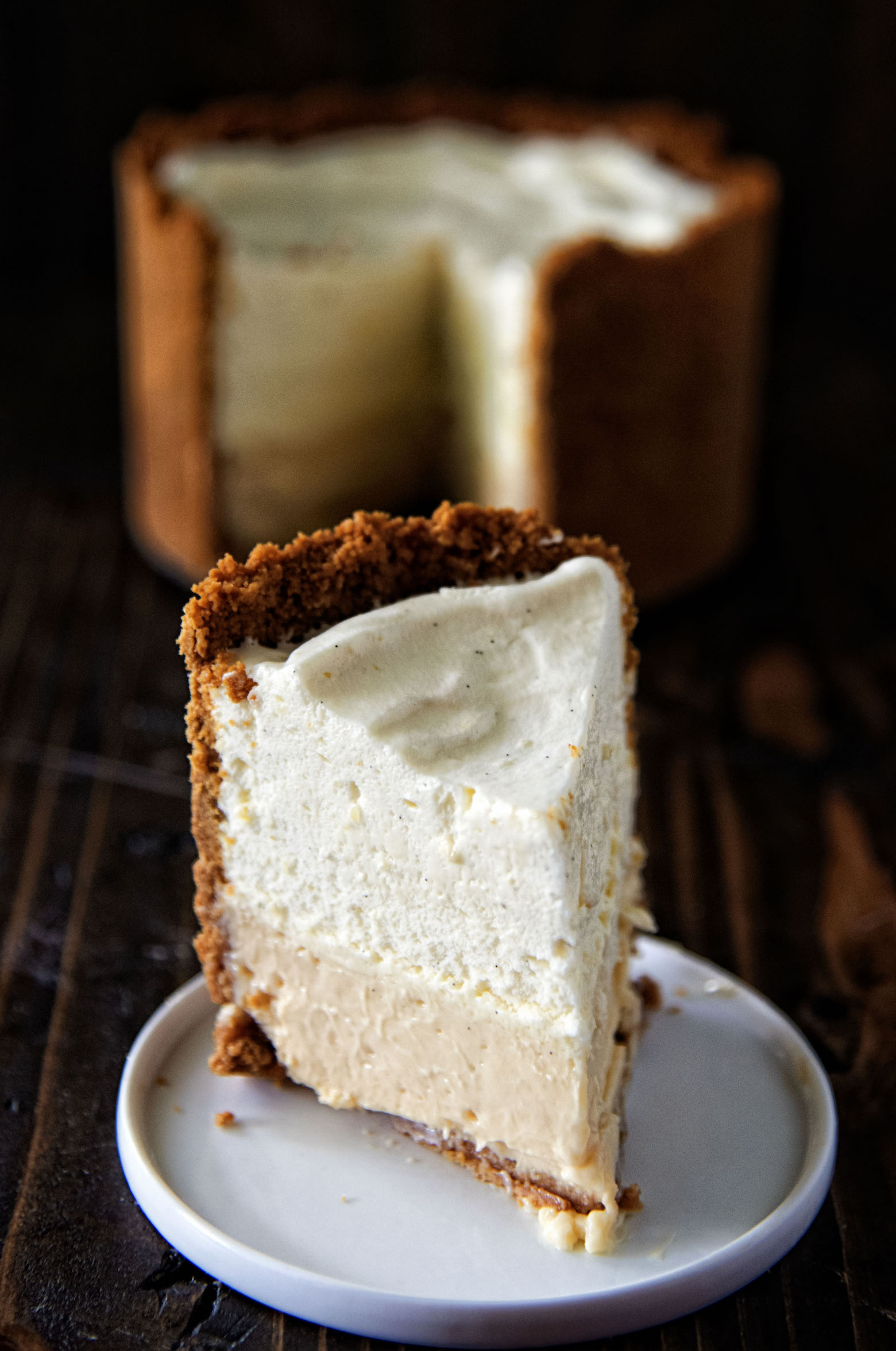 The first Key Lime Pie I ever made on this site ironically was called Peabody's Camping Key Lime Pie with Coconut-Pecan Graham Cracker Crust.
It's ironic because the story that was about how camping to me is in a nice hotel. 🙂
But I must say, only going once in our trailer so far, it was fun.
It does help that our trailer is brand new and is nicer than our house. For real.
It also helps that it's kind of like my dorm room on wheels that I got to decorate with all sorts of spaniel stuff.
But back to this Mile High Key Lime Pie.
Key Lime Pie is my favorite.
I order it almost everywhere I see it on the menu.
So for my birthday this year I wanted a key lime pie.
But a really tall one.
I thought maybe I would do mile high meringue but this Bavarian is so much better than meringue.
This was definitely worth the effort to make it.
And as always it's a great day to buy my cookbook.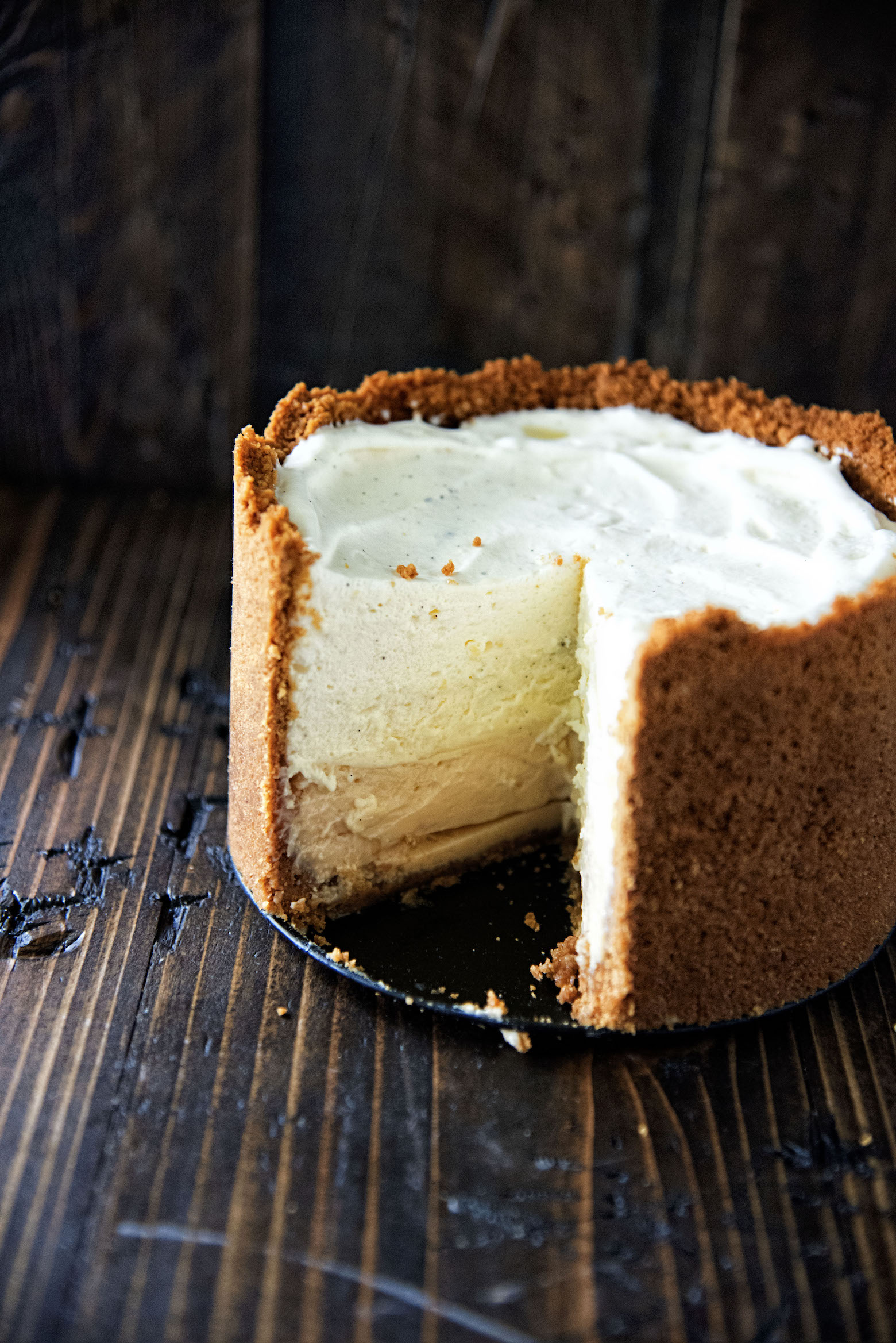 Want More Pie Recipes?
Cinnamon Toast Crunch Apple Slice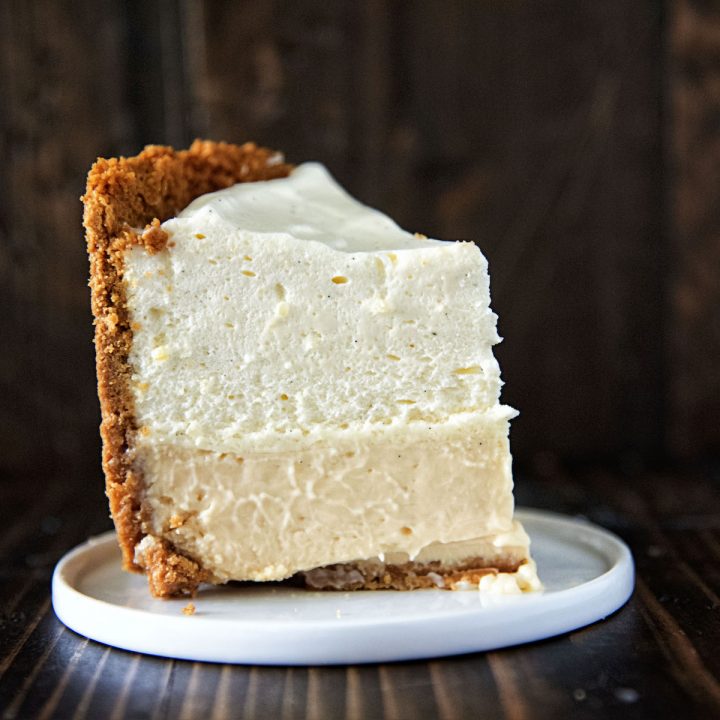 Mile High Key Lime Pie
Ingredients
Brown Butter Graham Cracker Crust:
1 ¾ cups crushed graham cracker crumbs
1/3 cup powdered sugar
7-8 TBSP brown butter
1/8 tsp. salt
For the Key Lime Pie Filling:
1/2 cup key lime juice, fresh if possible
1/4 cup heavy whipping cream
1/3 cup Mascarpone cheese, room temperature
1 can (14 ounces) sweetened condensed milk
1 to 2 teaspoons finely grated lime or key lime zest, divided
5 egg yolks
For the Vanilla Bean Bavarian:
1 packet powdered gelatin(around 2 ¼ tsp)
1 cup cold water, divided
3 large eggs, separated
¼ cup granulated sugar, divided
1 cup heavy whipping cream
1 vanilla bean, spilt, seeds removed, pod discarded
Instructions
For the crust:
In a large bowl add the graham cracker crumbs, powdered sugar, and salt.
Add about 7 TBSP melted butter.
Mix until combined.
If it seems like it needs more butter add the remaining TBSP (mine too the full 8 TBSO).
Pour contents into a 6 1/4-Inch Springform pan and press to form a shell. The crust will go very high up the sides…you want this.
Bake crust for 15 minutes at 325F.Set aside.
For the Key Lime Pie Filling:
Whisk sweetened condensed milk with the egg yolks.
Whisk in Mascarpone cheese.
Stir in whipping cream and lime juice.
Stir in 1 to 1 1/2 teaspoons lime zest.
Pour into a prepared graham cracker crust and bake at 325° for 35-45 minutes. This is far longer than you would bake a traditional key lime pie but due to it's thickness it will take much longer.
Let cool to room temperate and then put in fridge for 30 minutes.
For the Bavarian:
Place ¼ cup of the water into a small bowl.
Sprinkle gelatin over and let dissolve.
In a saucepan, whisk together egg yolks and 1/8 cup granulated sugar. Do not place over heat, yet.
Bring remaining water to a boil in a small saucepan.
Once boiled, remove from heat.
Temper egg/sugar mixture with water, slowly adding the water to the egg/sugar mixture and whisking the whole time.
Move to stove top add gelatin and heat and simmer, stirring constantly, until sauce coats the back of a spoon.
Place saucepan into a large, heat proof bowl filled with ice. This will help the mixture cool quicker. Watch to make sure the gelatin doesn't start to set. Once cool, remove from ice bath and set aside.
Whip 1 cup heavy cream into stiff peaks. Add the vanilla beans and whip until fully incorporated. Set aside.
Whip egg whites and the remaining 1/8 cup granulated sugar until stiff peaks form.
Carefully fold the egg whites with the whipped cream.
Then fold the mixture into the cooled gelatin mixture.
Pour on top of cooled key lime pie layer and smooth with the back of a spoon.
Put in fridge covered in plastic wrap to set at least 4 hours.