This Blue Cheese BBQ Gouda Cheese Dip is full of just about everything you can put into a cheesy dip to make it awesome. Perfect for parties!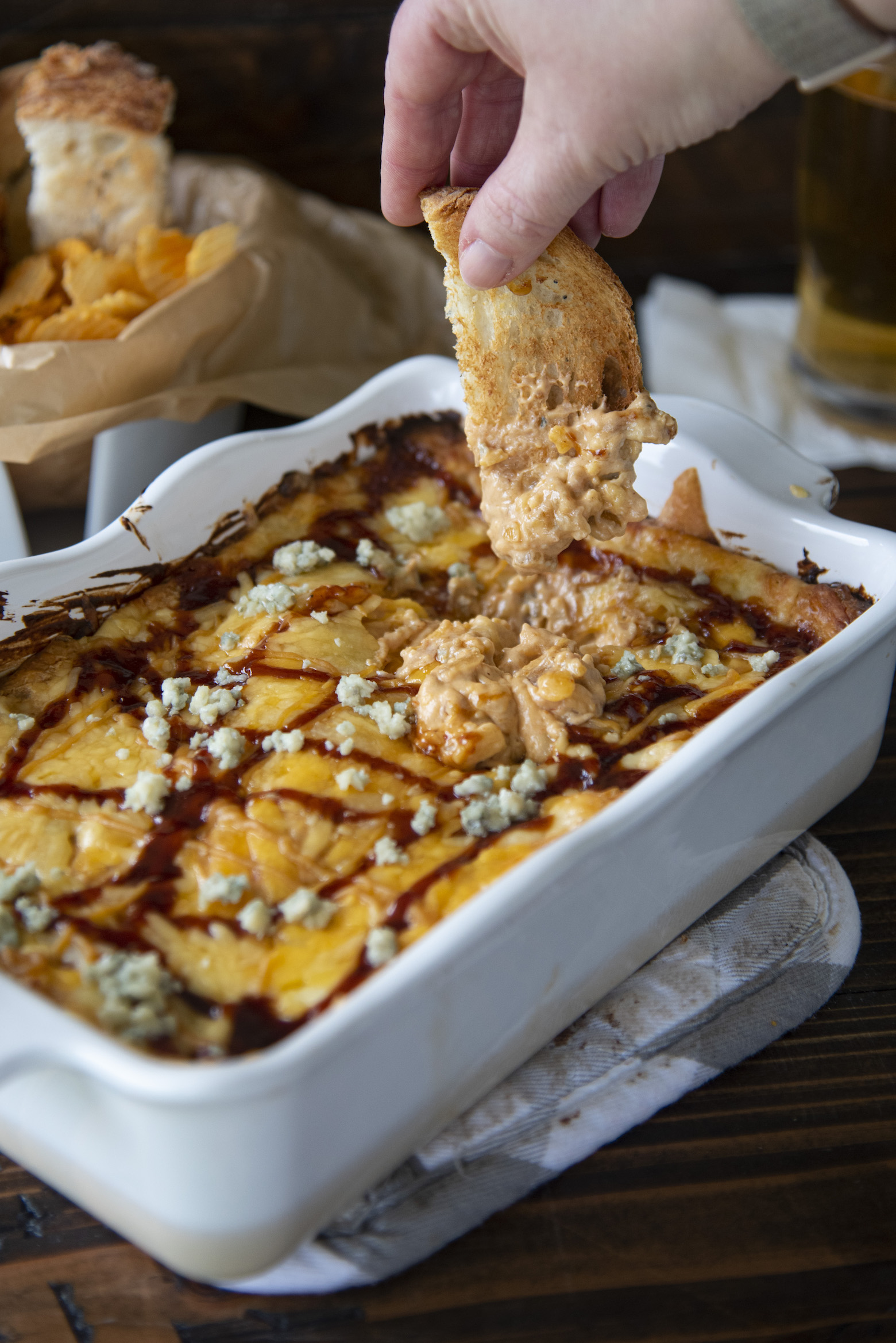 So I saw this Loaded Chicken Wing Dip with Beer Caramelized Onions over on How Sweet Eats and was like I need that in my life.
Except I don't eat chicken.
And I'm allergic to capsaicin (what makes food spicy) and so I can't do the hot sauce.
Plus I don't have an Aldi (it was a sponsored post that used their products) anywhere near me…the next one is two states over.
But this dip had a lot of things I loved and wanted in a cheesy dip and so I was like I'm making it.
And man, oh man, am I glad I did!
I have already made this twice now, once with the vegetarian chickenless-chicken and once without because we didn't have any in the house.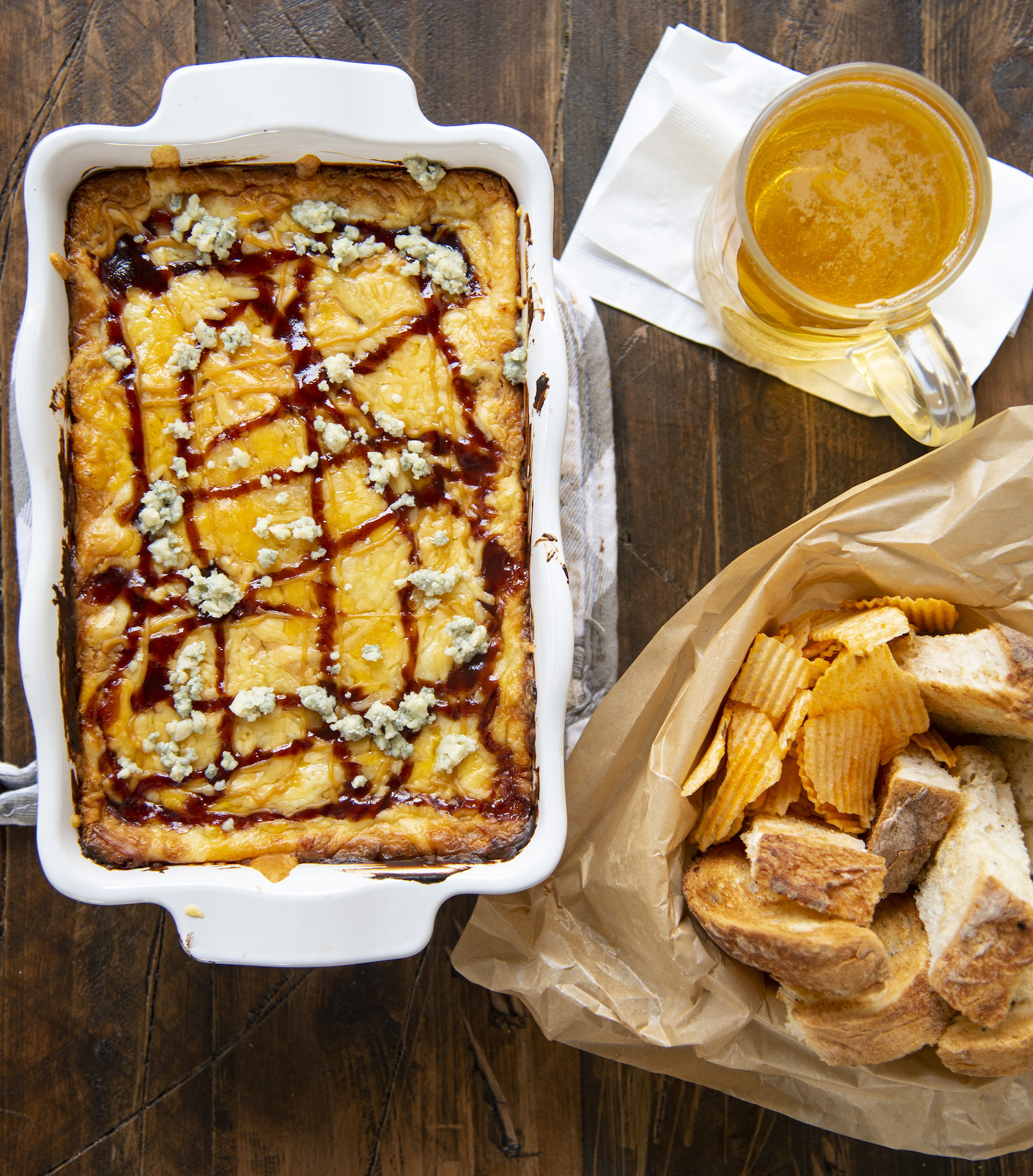 I seriously just can't even describe how much I love this dip.
What I can't do however if figure out what to name this dip.
It has cheese obviously: blue, Gouda, cream, and cheddar. BBQ sauce. Honey mustard. Ranch dressing. Blue cheese dressing. Onions caramelized in beer. And fake chicken.
So naming it was well, hard.
I went with Blue Cheese BBQ Gouda Cheese Dip which of course doesn't even come close to describing it but I used BBQ, blue cheese and Gouda the most so I went with that.
Her recipe calls for sliced onions but both my husband and I like our onions small so we diced.
If you want sliced onions, go for it.
But no matter if you go diced or sliced just make sure to caramelize your onions low and slow. Don't rush your caramelization.
Also, if you are looking at the recipe and thinking what is a Montucky Cold Snack…it's a beer. It's our hockey teams beer of choice.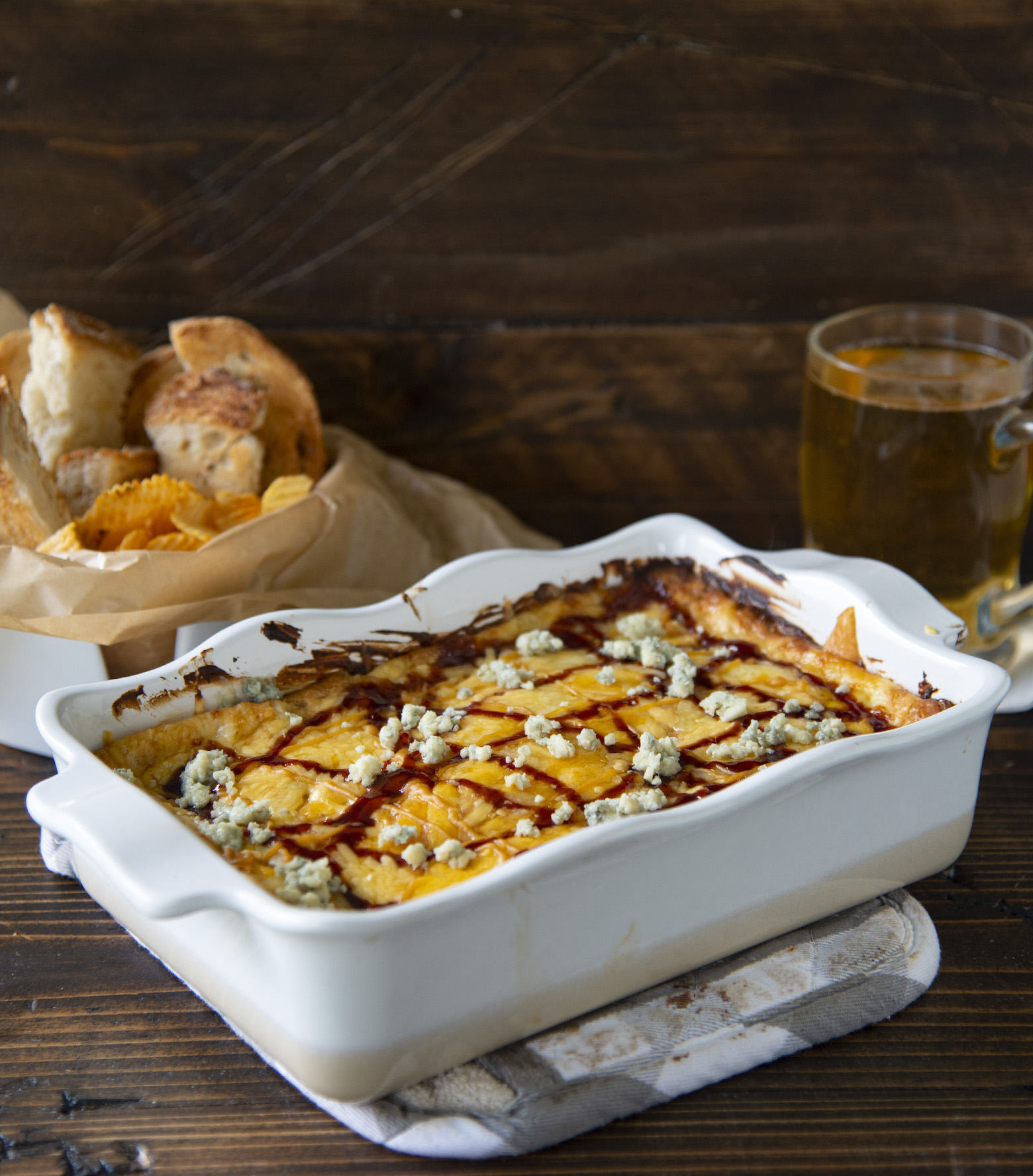 Want more Dip recipes?
Caramelized Onion, Bacon, and Gruyere Dip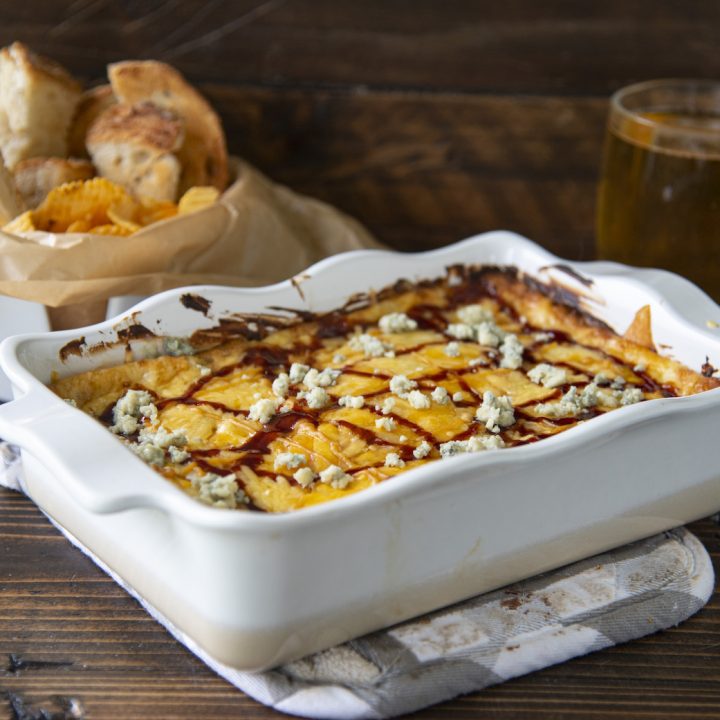 Blue Cheese BBQ Gouda Cheese Dip
Ingredients
2 TBSP unsalted butter
1 cup sweet onion, diced
1/8 tsp salt
1/8 tsp white pepper
⅓ cup Montucky Cold Snacks (or any lager)
1 1/2 cups chopped fake chicken (I used Gardin)
2 cups cream cheese, at room temperature
1 cup shredded cheddar cheese
2 cups Gouda cheese, shredded
⅓ cup crumbled blue cheese, plus more for topping
3/4 cup honey BBQ sauce (or BBQ of your choice), plus more for drizzling
½ cup honey mustard, plus more for drizzling
2 TBSP ranch dressing
2 TBSP blue cheese dressing
Instructions
Heat a large skillet over low heat and add the butter.
Add the diced onions with the salt and pepper and stir. Cook until slightly softened, about 5 minutes. Add in the beer and cook, stirring often, until the onions caramelize, about 25 to 30 minutes.
Preheat the oven to 375 degrees F. Spray a 9-inch baking dish with nonstick spray.
In a large bowl, stir together the cream cheese, all the cheese, BBQ sauce, honey mustard, ranch and blue cheese (I used a stand mixer because I'm lazy).
Once combined, stir in the caramelized onions and the fake chicken.
Spread the mixture in a baking dish. Top with the remaining cheese. Add on another drizzle of BBQ sauce and honey mustard.
Bake the dip for 20 to 25 minutes, until golden and bubbly and hot.
Serve immediately with bread, crackers, chips, veggies, etc.