Strawberry Malted Milk Cupcakes: My husbands childhood favorite drink in cupcake form. Strawberry malted cupcakes topped with strawberry malted buttercream frosting.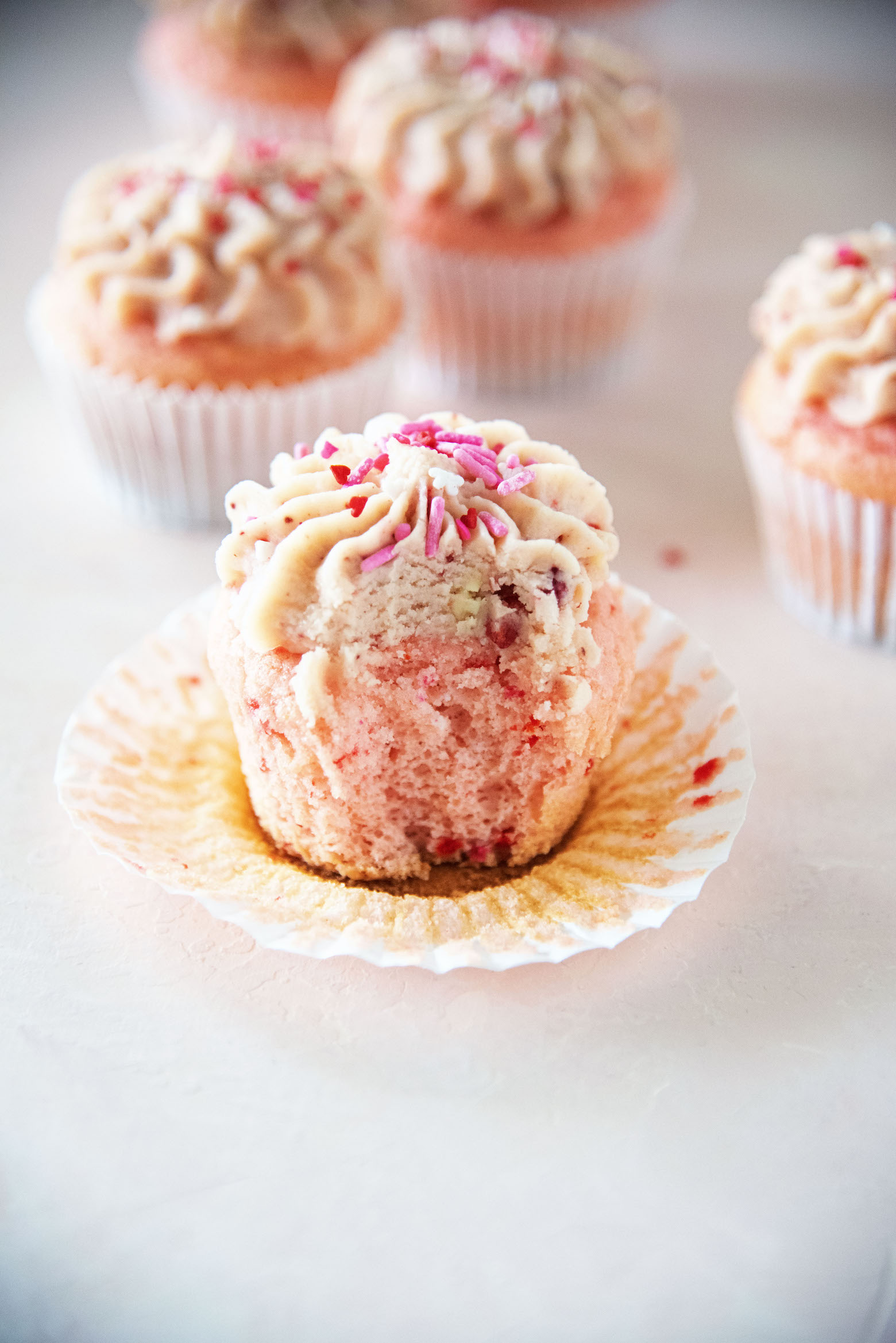 While I've been baking things, I have not been in the mood for blogging. 🙂
Right now the Super Bowl is on and I'm bored to tears. 🙂
So I figured it would be a good time to talk about these cupcakes.
They were made for my husband's birthday.
He LOVES strawberry milk…like Strawberry Nesquik.
I do too.
I've made quite a few things with that flavor profile.
Strawberry Malted Milk No-Bake Cheesecake.
Strawberry Milkshake Whopper Marshmallow Cake.
Spiked Strawberry Nesquik Cocoa.
Valentine Vanilla Heart Pound Cake with Strawberry Milk Glaze.
Strawberry Oreo Cookie Valentine Bark.
These use cake mix which I know some people aren't big on but you really need the mix to achieve more of the strawberry milk flavor.
The frosting calls for Strawberry Creme pudding which if you cannot find substitute Strawberry Nesquik for it.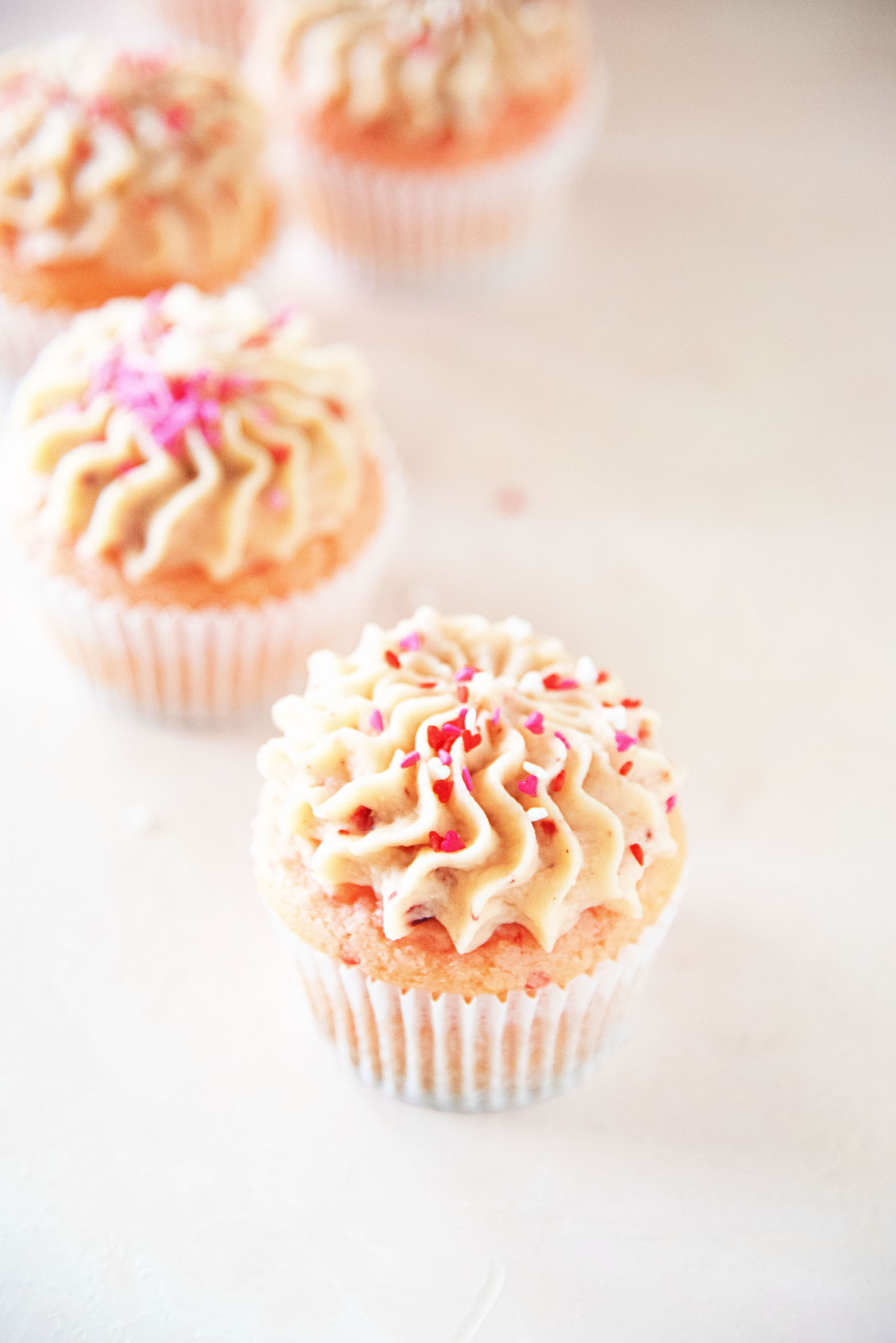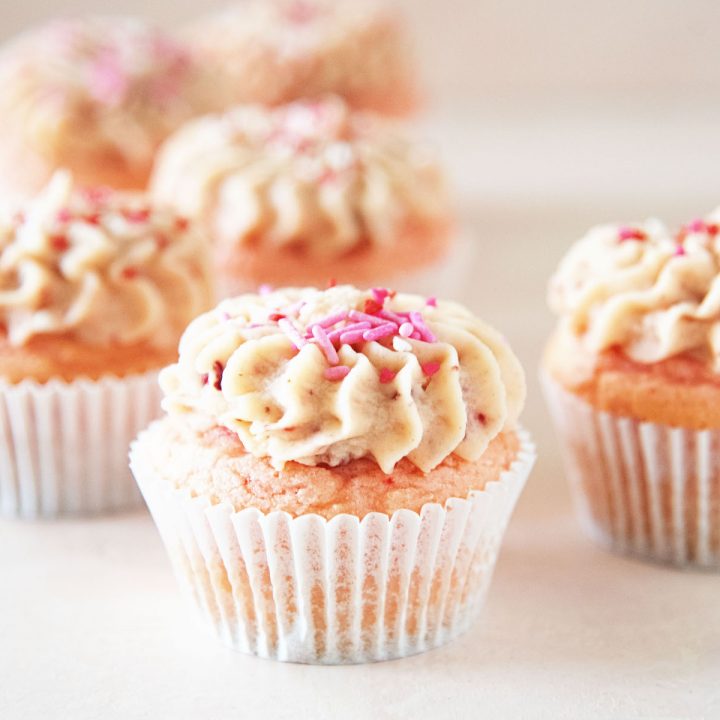 Strawberry Malted Milk Cupcakes
Ingredients
For the Cupcakes:
1 box (16.25 oz.) strawberry cake mix
1 cup all-purpose flour
1 cup granulated sugar
Pinch of salt
1 cup sour cream
1 cup milk
3 large eggs
1/2 tsp. vanilla extract
For the Frosting:
2 cups unsalted butter, at room temperature
5 to 6 cups powdered sugar, sifted
1 tsp. vanilla extract
1/4 whole milk or heavy cream, to thin
sprinkles
Instructions
For the cupcakes:

Preheat oven to 350°F (or 325° for dark pans).

Line the wells of one or more cupcake tins with paper liners.

Whisk together the first 5 ingredients in a large mixing bowl.

In a separate bowl, stir together the sour cream, milk, eggs and extract.

Add the wet ingredients to the dry ingredients and beat with an electric mixer on low speed.

Scrape the bowl down and mix again.

Divide the batter between cupcake liners filling them 2/3 full.

Bake for 15 to 17 minutes, or until the cakes spring back when pressed in the centers.

Transfer the cakes to a wire rack to cool completely.

For the Frosting:

In a stand mixer fitted with the whisk attachment, whip the butter until creamy.
Add the powdered sugar, malted milk, pudding, and freeze dried strawberries.
Begin on low speed until just combined, and then increase to high and beat for 3 to 5 minutes ,or until the frosting lightens in color and texture.
Add vanilla and beat again for another minute. If you find the buttercream is too stiff, you may add milk or heavy cream 1 tablespoon at a time until the mixture is spreading consistency.
Transfer the frosting to a large piping bag fitted with a large closed star decorator piping tip.
Pipe swirls of frosting onto the tops of the cupcakes.
Immediately decorate frosted cupcakes with sprinkles, if using.
Store cupcakes in a container that seals air-tight.
If preparing cupcakes a day ahead of time, store them in the refrigerator in an air-tight container. Allow them to come to room temperature before serving.