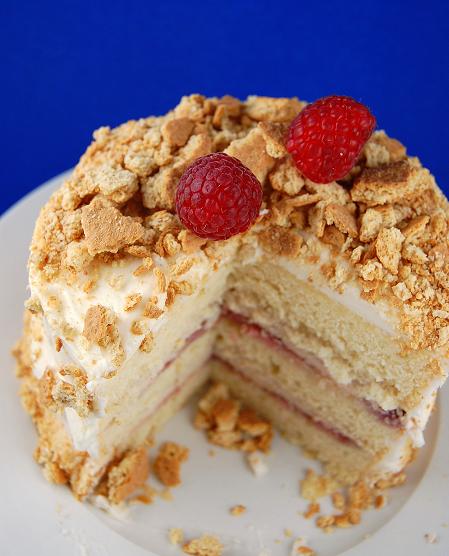 First off, Happy Groundhog Day (go six more weeks of Winter)! If you are a loyal CCbP reader than you know today is my favorite holiday. For cute Groundhog Day cupcakes, go here.
Ebay, like Amazon.com is evil. Evil because you can find just about anything on that site. And I often do. The thing I seem to search for the most though is clothing. And not just clothing, Anthropologie clothing. For months I had been stalking a skirt that I wanted for years (yes, I wear skirts…dresses too, want proof…go here). It was never in my size at the store and when it finally was, I was flat broke. Sigh.
Finally, a few days ago, there it was. In my size and from a seller with good feedback. I jockey back and forth with someone who apparently wanted to skirt as much as I did, but in the end, I won (was there ever any doubt). 😛 And the brown skirt all covered in different colored bows will be mine!
And though a rare find on Ebay is nice, a rare find in a person is even better. In this case a goat. I know, a goat is not a person. It is to me. See, that is what I call the people I find who will eat pretty much anything I throw their way. And when you can find a true goat, one that eats ANYTHING you throw your way…that boys and girls is a rare find.
Nothing makes someone who bakes/cooks more happy than finding someone who will eat whatever you make. No, there's nuts in there comments. No, I don't really do coconut. No, I don't like white chocolate. Just…thanks. Thanks for making me food. Ahhhh, so very, very nice and very, very rare.
This here cake is the result of me having a true goat again. You eat key lime. Sure. You eat raspberries. Sure. You want cream cheese frosting (though really, who says no to that). Sure. Sure is a good thing to tell a girl who wants to bake.
My raspberries were less than flavorful on this one, mostly because it isn't the time of year. So I did throw in a little extra raspberry puree between each layer of cake to try and give it a little more flavor. Fairly straightforward cake. I used the Magnolia vanilla cupcake recipe and just took out the vanilla and replaced it for key lime juice. And before one more person asks, why I use self rising flour in the recipe…because that is what they used. Simple as that. 🙂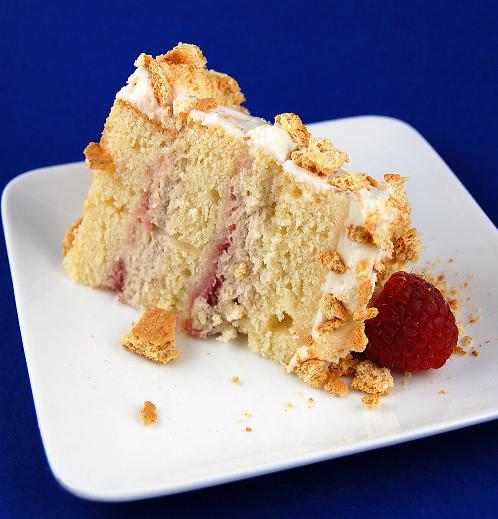 Graham Cracker Cream Cheese Frosting Covered Key Lime Cake with Raspberry Mascarpone Mousse Filling
Key Lime Cake
1 ½ cups self-rising flour
1 1/3 cups all-purpose flour
1 cup (2 sticks) unsalted butter, softened
2 cups granulated sugar
4 large eggs, at room temperature
1 cup milk
4 TBSP key lime juice
Preheat oven to 350 degrees.
Line 6 (4 ½ -inch diameter) spring form pans with parchment paper. And spray with baking spray (or grease and flour).
In a small bowl, combine the flours. Set aside.
In a large bowl, on the medium speed of an electric mixer, cream the butter until smooth.
Add the sugar gradually and beat until fluffy, about 3 minutes.
Add the eggs, one at a time, beating well after each addition.
Add the dry ingredients in three parts, alternating with the milk and key lime juice.
With each addition, beat until the ingredients are incorporated but do not overbeat. Using a rubber spatula, scrape down the batter in the bowl to make sure the ingredients are well blended.
Equally distribute batter among pans, filling them about three-quarters full. Bake for 23-27 minutes, or until a cake tester inserted into the center of the cakes comes out clean.
Cool the cakes in the pans for 15 minutes. Remove from the pans and cool completely on a wire rack before icing.
Adapted from More From Magnolia: Recipes from the World Famous Bakery and Allysa Torey's Home Kitchen
Raspberry Mascarpone Mousse:
2 eggs, separated
4 TBSP sugar
4 oz mascarpone cheese, at room temperature
5 ounces heavy cream
2 tsp. powdered gelatin + 2 TBS water
1/3 cup raspberry puree (sees removed)
Sprinkle the gelatin over the water, stir and let sit to bloom.
In a large mixing bowl, whisk the mascarpone with the sugar, add egg yolks and whisk until well incorporated.
Heat the gelatin for about 10 seconds in the microwave and quickly whisk it in the mascarpone batter.
Add the raspberry puree.
Whip the egg whites until stiff, fold into the mascarpone mixture. Whip the heavy cream to medium stiff peaks, and fold into the mascarpone.
Adapted from Tartlette
Key Lime Cream Cheese Frosting
8 ounces cream cheese, at room temperature
3 TBSP unsalted butter, at room temperature
1/3 cup key lime juice
1 tsp vanilla extract
2-4 cups powdered sugar (depending on the consistency you are going for)
Beat together the cream cheese and butter, about 2 minutes. Add key lime juice and vanilla while mixer is on low until fully incorporated.
Add powdered sugar 1 cup at a time until you reach desired consistency.
To assemble: Cake, mousse, cake, mousse, cake. Frost the heck out of it. Cover with crushed graham cracker pieces if desired.