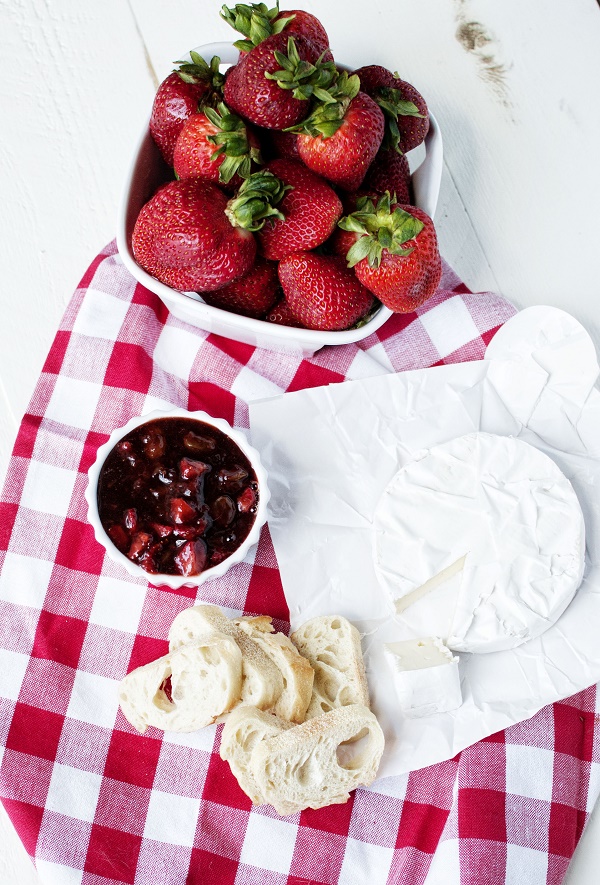 I put them in my morning smoothies. I put them between glazed donuts to make shortcake. They make my favorite flavor of shake. My favorite flavor of jam. It's my favorite flavor of Pop Tart, Starburst, and Skittle.
Strawberries are the best.
It's the peak of strawberry season right now. So California Giant Berries sent me a TON of strawberries. All perfectly ripe, big, and juicy. This isn't a sponsored post (though I will be doing one for them) but they sent so many gorgeous berries I had to use them all!
I love, love fruit and cheese together. I originally was going to use goat cheese of some sort. I still may make a goat cheese and strawberry ice cream. I started thinking about my pear and onion jam that I make that gets served with a blue cheese dip or cheesecake (savory). I love that jam, it's so good. So I thought surely I could make one using strawberries.
I'm calling this one a chutney as I kept half of the fruit less cooked down. I also use hardly any onion (or in this case shallots) in this compared to my pear one. Someone had given me raspberry vinegar and I highly suggest that you don't sub that out for a different type of vinegar…I think it really helps. If you can't find it then I suggest an apple cider vinegar. Stick to fruit. 🙂
I couldn't decide between brie or goat cheese. I went with brie. It was fantastic. I was in shock that both the teens ate them up and then asked (because the stomachs don't end on teens FYI) if there were more. I knew it would probably be tasty but I was blown away. MDP was quite the fan as well.
You could make these as full size sandwiches but I'm not sure what it is about summer that makes me just want to snack rather than eat big meals. I mean don't get me wrong…I eat the same amount…I just spread it out throughout the day. 😀 So feel free to use full size bread if you would like. But mini is more fun.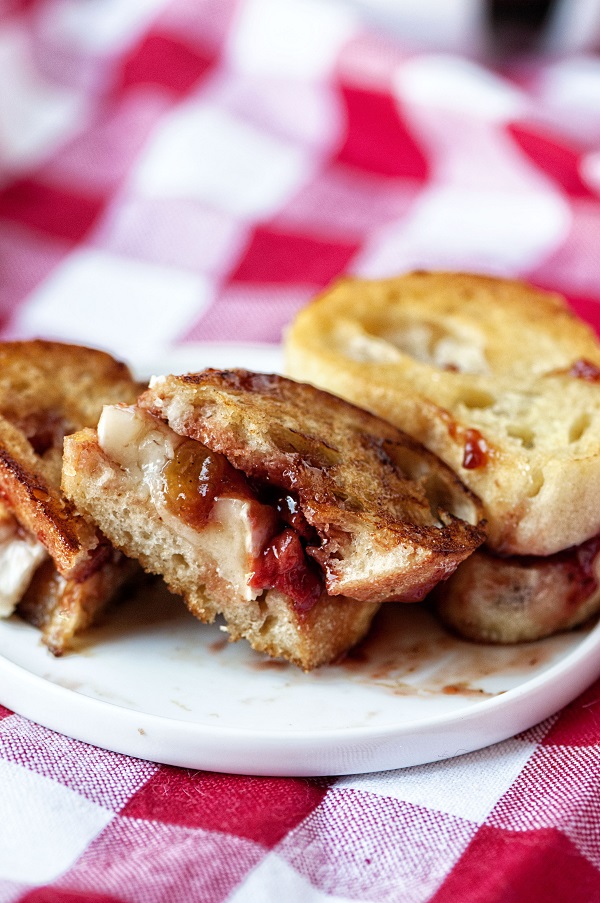 Strawberry Chutney and Brie Mini Grilled Cheese Sandwiches
1 baguette
1 recipe Fresh Strawberry Chutney (recipe follows)
8 oz. Brie Cheese
stick of salted butter for pan and spreading on butter
Fresh Strawberry Chutney
2 TBSP shallots, minced
2 tsp. butter or olive oil
1⁄4 cup golden raisins
1⁄4 cup light brown sugar, firmly packed
1⁄4 cup fresh lemon juice
1⁄4 cup raspberry vinegar
2 TBSP honey
2 cups fresh strawberries (I used California Giant Strawberries), cleaned, stemmed, and diced
Using a small sauté pan heat the butter and add the shallots.
Cook over medium until the shallots become opaque in color and become soft, about 5 minutes.
In a medium saucepan add the shallots, raisins, brown sugar, lemon juice, raspberry vinegar, honey, and 1 cup of strawberries. Bring to a boil.
Reduce heat to medium, and cook 15 minutes or until slightly thick.
Stir in strawberries.
Reduce heat to low, and simmer 10 minutes or until thick, stirring occasionally.
To make the sandwiches:
Thinly slice the baguette and brie cheese. Keep in mind that you want it thin enough to fit two pieces (it is a sandwich after all) into your mouth but enough that it can hold the food.
Prepare each sandwich by spreading the tops of each slice of bread with the butter, then layering with a slice of brie cheese.
Add butter or olive oil to pan. Yes, you already buttered the bread but more butter is always a good idea. 🙂
Add another slice of brie cheese and buttered bread on top and grill on the stove top over medium heat for 2-3 minutes per side.
Pull the cheese apart and add the chutney. In experimenting I found if I added the chutney in the sandwich before that it just oozed out and burnt in the pan. So do this…trust me, I did the hard work for you.
Enjoy.