These Strawberry Rhubarb Jam Shortbread Bars have a buttery shortbread crust with homemade strawberry rhubarb jam and a streusel topping.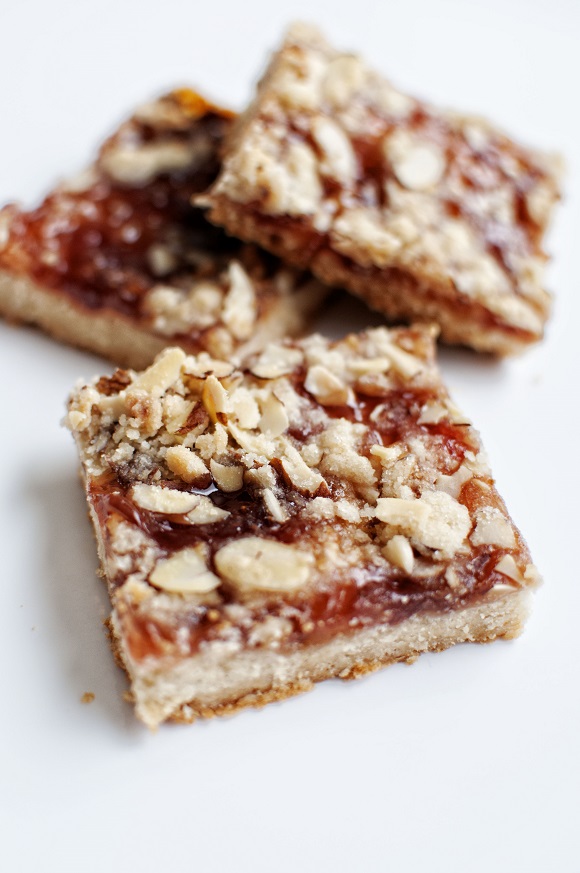 People always say it because it's true…your wedding day is a blur.
No matter how much you try and slow it down, take it in, bask in the moment…it's a blur all the same.
A totally awesome fun blur, but a blur nonetheless.
The thing that I remember most from my first wedding was worrying the whole time how I looked in my dress.
Were my arms looking fat at that angle?
Was my double chin showing?
Do I have the dreaded back fat?
That's what I thought about because that was all I thought about going in to the wedding.
Months before the picky eater and my ceremonial wedding (we eloped 2 years before that) my thyroid went out of whack and I gained a bunch of weight due to that.
I freaked.
And I went on South Beach and worked out twice a day and three times a week with a personal trainer.
I dropped 30 pounds in three months.
All so I could look good on my wedding day.
I did.
But the whole wedding day was wasted to thinking about how I looked…not why I was there.
A lot has changed over the years.
April 23rd was my 1 year anniversary of giving up the scale.
It was the smartest decision I ever made.
Oh I won't lie there have been a few times where I thought oh just step on the scale, what could it hurt?
Me.
It could hurt me.
I thought about it a lot before the wedding.
And I realized that if I break my year of no scale that all I would do is feel bad no matter what that number said.
If it was larger than I thought I would be bummed (which is dumb because I am happy with where I am at).
And if it was smaller than I thought I would be bummed that I broke my no scale rule.
So I didn't weigh in.
Since I wasn't obsessing about my weight before the wedding, I didn't obsess about my weight during the wedding.
I was determined that even though I knew it would be a blur to try and enjoy the moment and remember later when I looked back at photos.
This is one of my favorite wedding photos from the day.
What I notice about it is pure joy.
Pure happiness.
My husband and I laughing (at what I don't remember) like we often do.
My hyper critical "friend" pointed out that how could this be one of my favorite photos of the wedding because I have a double chin.
Really, that's what you get from that photo is that I had a double chin!?!
If that's what you take from this photo then I have nothing but sadness for you.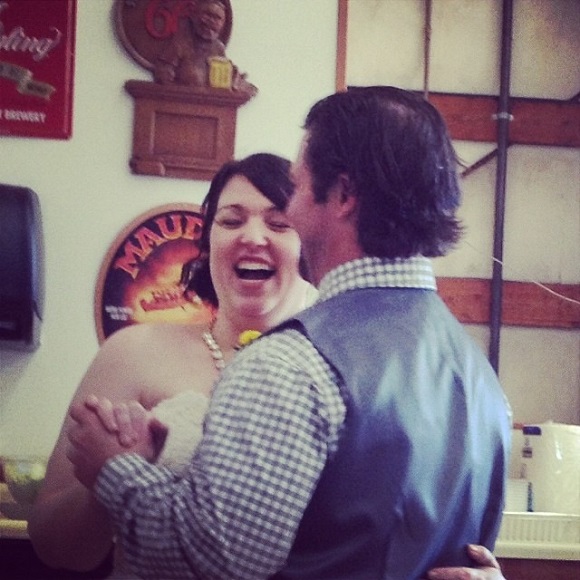 I know not everyone can give up the scale.
It's a hard thing to do.
I won't be getting on a scale any time soon.
Not even at the doctor's office.
And they have learned to deal with it.
However, I allow them to do blood work…a far better indicator of health than a number on a scale.
I know so many fear that if they don't step on the scale every day their weight will skyrocket.
All I have is my experience.
In my experience sweatpants and yoga pants are what make my weight skyrocket. 🙂
Elastic waistbands are mighty comfy and before you know it you can't fit into your jeans.
My weight fluctuates I know that.
I'm still somewhat of an emotional eater, especially when I don't get to play hockey.
I definitely have stress eaten this week with CCS big time.
So I'll probably gain.
But each day that she gets better I can get back to my regular routine and that gain will go away.
The important thing is that I don't worry about it.
I know it will all even out over time.
And this time, I got to enjoy my wedding, double chin and all.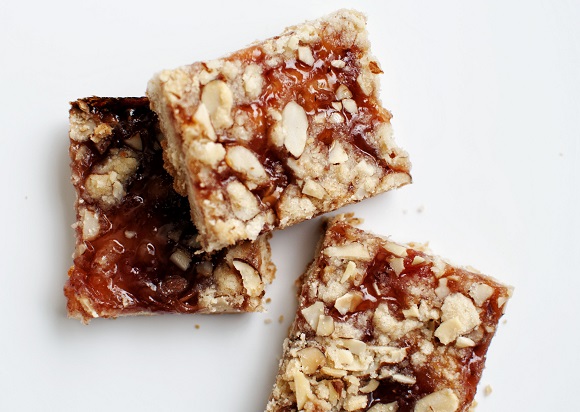 Now let's talk these Strawberry Rhubarb Jam Shortbread Bars.
That I have totally stress eaten a ton of. 🙂
These are shortbread based so the best thing you can do for this recipe is use good butter.
As you know I use Plugra.
And like the saying goes…once you go Plugra you never go back 😉 .
Or something like that.
The other thing that makes these bars awesome is that the jam I used was my mother's strawberry rhubarb jam that she made for the wedding.
We had some leftovers and I'm putting them to good use.
You could use just about any jam flavor here but I'm very partial to my mom's jam.
Anybody willing to join my crusade and give up your scale?
Maybe not for a whole year…maybe just start for a week (if you weigh every day), then a month, two months, and so on?
I can't tell you how freeing it is.
Last but not least…it's a great time to order my cookbook. 😀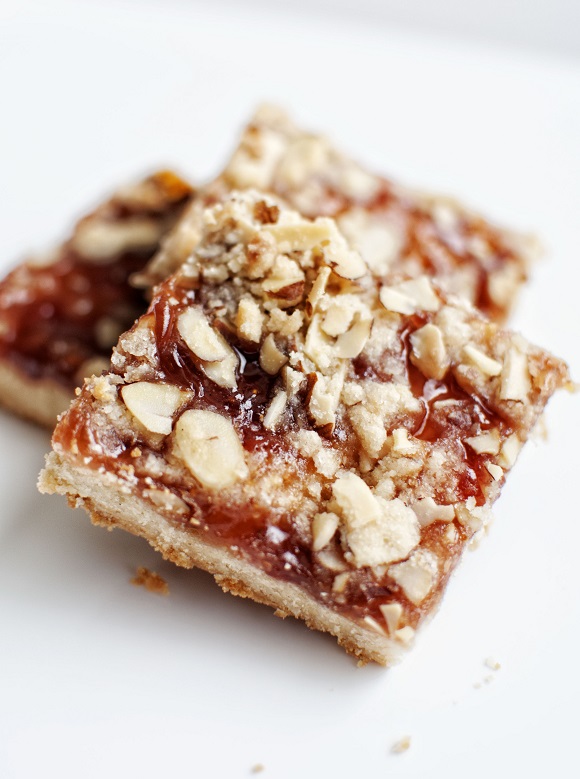 Want More Bar Recipes?
Butterscotch Honey Roasted Cashew Bars
Salted Chocolate Chip Butterscotch Toffee Cookie Bars
Strawberry Lemonade Lemon Bars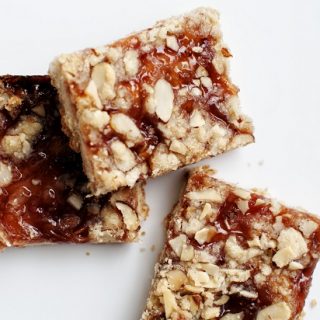 Strawberry Rhubarb Jam Shortbread Bars
Ingredients
For the base:
¾ cup unsalted butter (I used Plugra), at room temperature
2/3 cup granulated sugar
½ cup almond flour
2 tsp. vanilla bean paste (or extract)
¼ tsp. salt
2 cups all-purpose flour
1 cup strawberry rhubarb jam (or jam of your choice)
For the topping:
3 TBSP all-purpose flour
3 TBSP granulated sugar
Pinch of salt
2 TBSP unsalted butter, chilled and diced
¼ cup sliced almonds
Instructions
For the base:
Preheat oven to 350F.
Spray a 9-x-13-inch baking pan with baking spray.
Using a stand mixer with a paddle attachment, cream the butter and sugar together until light and fluffy, about 3 minutes.
Add the vanilla bean paste and almond flour and beat until incorporated.
Add the salt and flour and mix until it comes together with some crumbs. I prefer it being more crumb-like because it's easier to sprinkle.
Spread the dough and crumbs into the prepared pan and press the dough evenly over the bottom of the prepared pan.
Evenly spread the jam over the dough.
For the topping:
In a small bowl add all the ingredients and then rub with your fingers until you get it to be crumbly.
Sprinkle over jam.
Bake for 50-60 minutes (mine took 52 minutes). You can top with foil if it starts to get too brown on top.
Remove from oven and cool on a wire rack (you definitely don't want to eat these hot…you will burn your mouth).
Cut into squares. I got 24.