This Blue Cheese Cheesecake with Pear Onion Jam is a savory cheesecake topped with a sweet and sour jam that make for a great appetizer.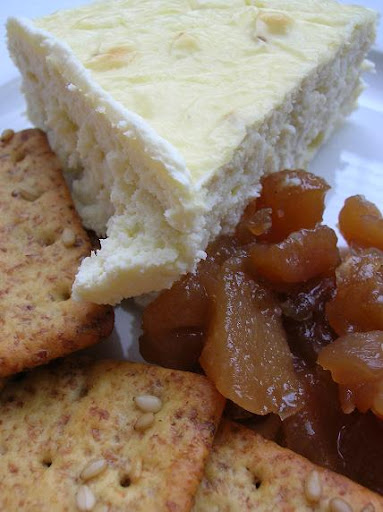 Since this Blue Cheese Cheesecake with Pear Onion Jam recipe originally posted in 2006 it has become a holiday party staple for so many people.
And that makes me incredibly happy.
Many, many a blogger has also made this and featured it on their blogs as well.
Well the holiday season is in full swing and so are the parties.
And parties mean party food!
If I had not been sicker than sick for onion day, this would have been my entry.
But alas the forces of nature did not allow that and so I am presenting my dish to you now.
I love this dish and bring it often to parties.
This can be presented in two ways.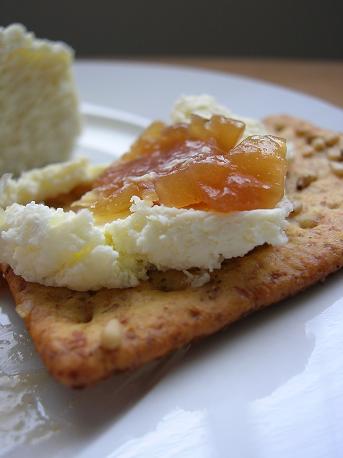 One as an appetizer, where you would put a nice wedge on a plate along with some greens and some bread.
Or two, the way I do it most often as a "spread" for crackers, bread and what not.
The cheesecake itself is good but it is the onion pear jam/chutney (whichever you prefer) is what makes this special.
So if you want to serve something a little unusual but tasty, put this out on your holiday buffet table.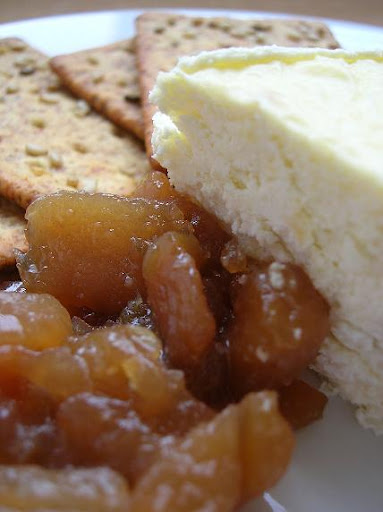 Want more appetizer ideas?
Cheddar Cheese Green Olive Nuggets
Gorgonzola, Walnut, and Pear Jam Flatbread
Baked Brie with Caramelized Onions and Candied Walnuts
Mini Manchego Cheesecakes with Apple Onion Jam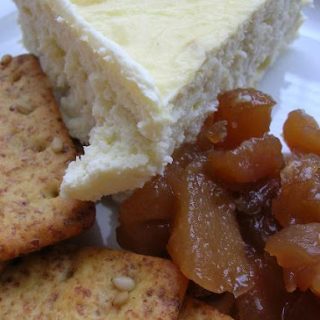 Blue Cheese Cheesecake with Pear Onion Jam
Ingredients
For the Cheesecake:
1 3/4 lbs softened cream cheese
8 oz shredded Asiago cheese
8 oz blue cheese, crumbled
5 large eggs
1/3 cup heavy cream
1/4 tsp white pepper
Onion Pear Jam
4 cups onions, diced
1 tsp olive oil
2 cups pears, peeled, chopped
2 TBSP fruit vinegar
1 cup brown sugar
1/4 tsp kosher salt
1 pinch cayenne pepper
Instructions
For the Cheesecake:
Grease a 9-inch springform pan.
Preheat oven to 350F.
Cream cheeses together until smooth.
Add eggs one at a time.Add cream and pepper.
Combine.Bake uncovered in a water bath until golden brown and center is set.
About 45-50 minutes.
Cool Completely, remove sides of pan.
For the Onion Pear Jam:
Saute onions in oil until brown.
Reduce heat and cook until glazed.
Add pears, vinegar, sugar, cayenne and salt.
Cook till pears are crispy tender.
Remove mixture and simmer juice until a thick glaze.
Mix pear onion mixture with glaze.
Cool.
Cover cooled cheesecake with jam and serve with bread or crackers.