This Gorgonzola Walnut and Pear Jam Flatbread is layered with savory pear jam topped with Gorgonzola cheese and chopped walnuts.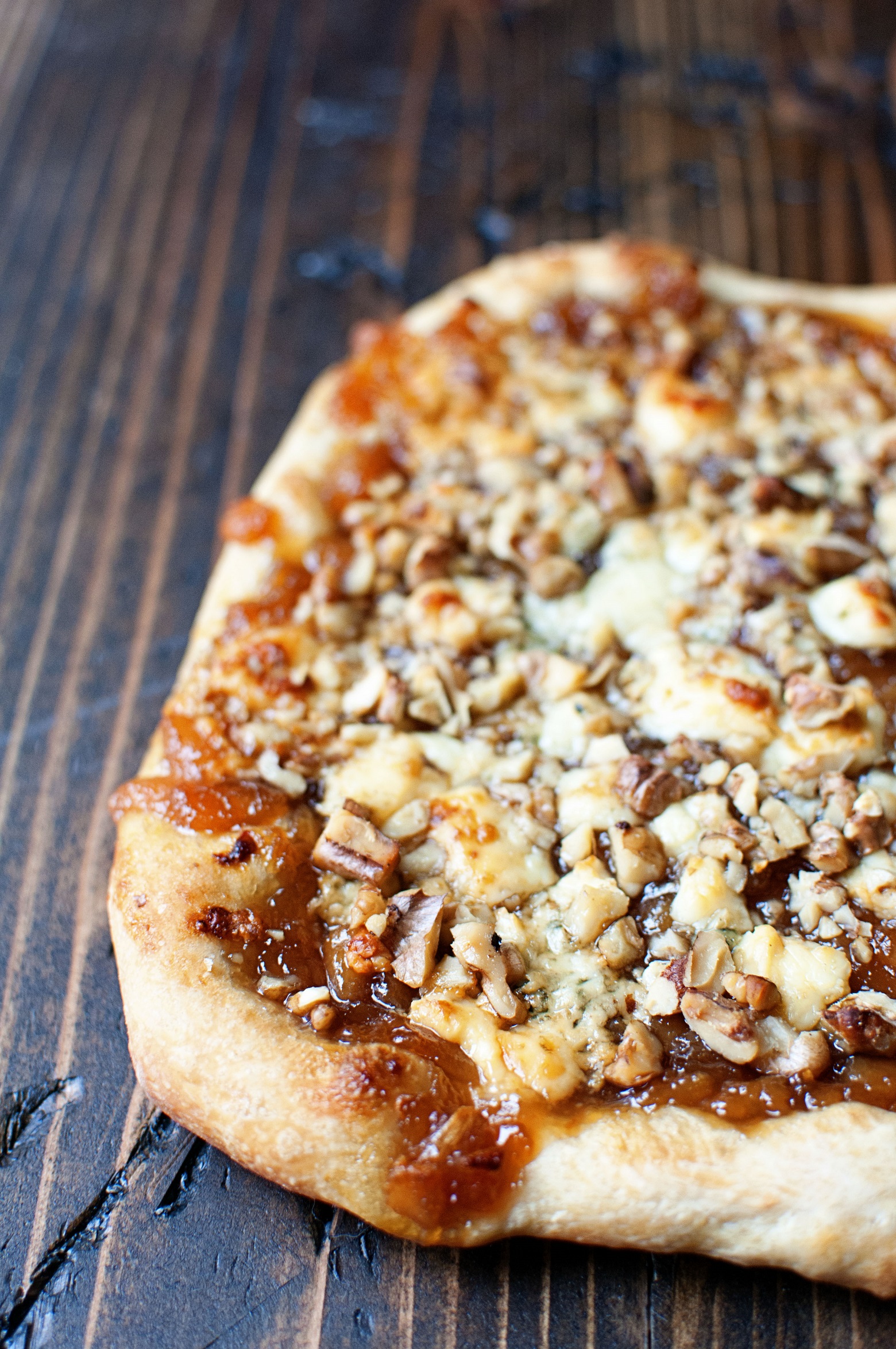 Totally random thoughts.
In honor of Valentine's Day, Burger King offers up this.
Sadly, this is not available in the states but if for some reason you are traveling Israel this week you might want to pick one of these up.
Just don't get it confused with your kid's meal. 🙂
Find these.
I looked in stores everywhere with no luck.
Ended up finding them on Amazon Fresh.
Great for breakfast. 😛
Hubby and I were watching Anthony Bourdain in Greece last night and now I'm looking for a good Greek cookbook.
If you have one you love let me know in the comments, please.
Speaking of cookbooks…I'm really looking forward to this one.
Also, I had a fun surprise this week by realizing one of my favorite cookbook authors came out with a cookbook I didn't know about!
Can't wait for it to arrive.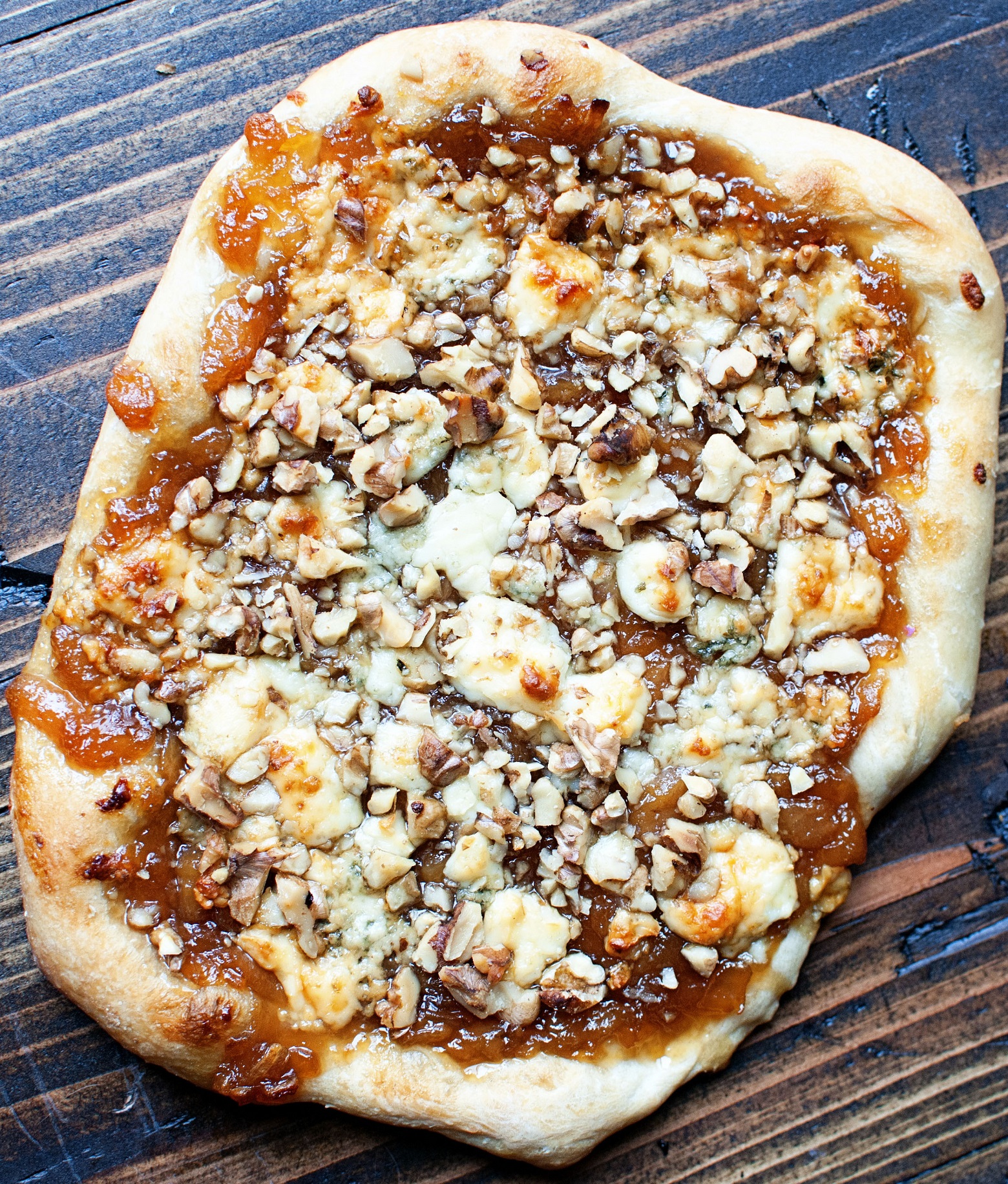 This was unnerving.
I do look forward to the Wedding Crashers sequel, though.
Swedish Fish makes hearts.
I didn't find them. I am sad.
They have them on Amazon but they are way too spendy.
Sigh.
How cute is my dog trying to will the Gorgonzola Walnut and Pear Jam Flatbread to her with her mental powers? 😀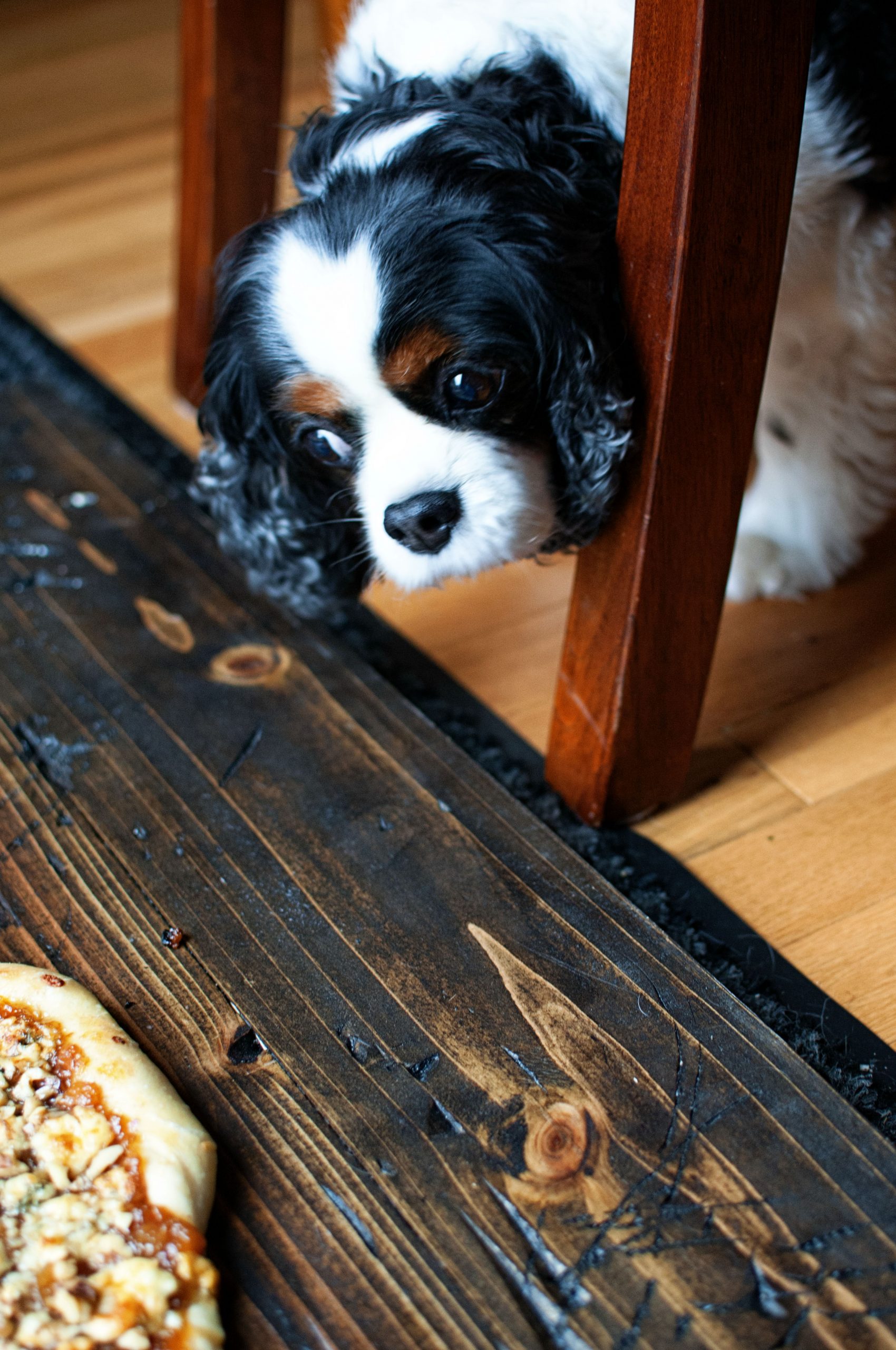 In other news, tomorrow is Valentine's day.
Not all of us have a significant other but we can all spread the love.
Or at least not be jerks.
My special request to all the people of the world is this…if you won't say it to the person's face.
If you won't call them a libtard to their face or a Nazi to their face….don't say it on the Internet.
In the words of Jackie Moon (Semi Pro) Everybody Love Everybody.
P.S. It's a great day to buy my cookbook Holy Sweet!
Want More Snack Ideas?
Cheddar Cheese Green Olive Nuggets
Mini Manchego Cheesecakes with Apple Onion Jam
Baked Brie with Caramelized Onions and Candied Walnuts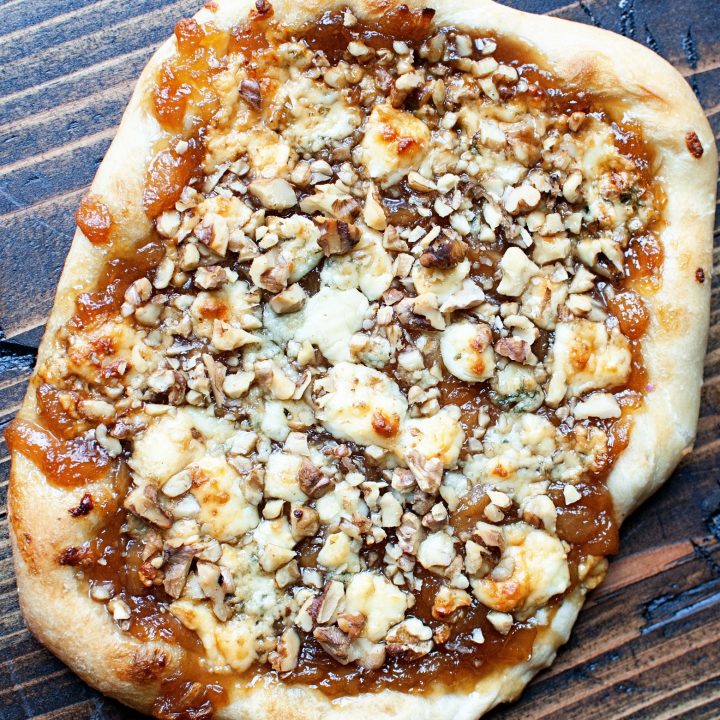 Gorgonzola Walnut and Pear Jam Flatbread
Ingredients
1 batch pizza dough (recipe follows)
1 cup chopped walnuts
2 cups gorgonzola cheese
1 batch Savory Pear Jam
For the Pizza Dough:
3/4 cup warm water (105?F to 115?F)
1 envelope active dry yeast (I used Red Star Yeast)
2 cups (or more) all-purpose flour
1 tsp. granulated sugar
3/4 tsp. salt
3 TBSP olive oil
For the Savory Pear Jam:
2 cups Walla Walla Onions, diced
1 tsp Olive Oil
1 1/2 cups Pears, peeled, chopped (I used Stemilt D'Anjou)
2 TBSP Apple Cider Vinegar
1 cup Brown Sugar (I used Imperial)
1/2 tsp kosher
Pinch of cayenne
Instructions
To make the dough:
Pour 3/4 cup warm water into small bowl; stir in yeast.
Let stand until yeast dissolves, about 5 minutes.
Brush large bowl lightly with olive oil.
Mix 2 cups flour, sugar, and salt in processor.
Add yeast mixture and 3 tablespoons oil; process until dough forms a sticky ball. Transfer to lightly floured surface. KNEAD dough until smooth, adding more flour by tablespoonful's if dough is very sticky, about 1 minute.
Transfer to prepared bowl; turn dough in bowl to coat with oil.
Cover bowl with plastic wrap and let dough rise in warm draft-free area until doubled in volume, about 1 hour.
Punch down dough.
Roll out dough...I just hand shaped because I'm lazy.
Dough recipe adapted from Bon Appetit March 2007
To make the jam:
Saute onions in oil until brown.
Reduce heat and cook until glazed.
Add pears, vinegar, sugar, cayenne and salt.
Cook till pears are tender.
Remove mixture and simmer juice until a thick glaze.
To make the flatbread:
Preheat oven to 375F
On a lightly floured surface pat out dough evenly with your fingers, keeping hands flat and lifting and turning dough over several times, into a 9-inch round. (Do not handle dough more than necessary. If dough is sticky, dust it lightly with flour.)
Dust a baker's peel or rimless baking sheet with flour and carefully transfer dough to it.
Jerk peel or baking sheet once or twice and, if dough is sticking, lift dough and sprinkle flour underneath it, reshaping dough if necessary.
If you do not have a peel...the back of a cookie sheet works in a pinch.
Bake without topping for 5 minutes.
Remove from oven and spread on jam. Sprinkle with Gorgonzola cheese and chopped walnuts and place back into oven for another 10 minutes until things get bubbly.
You are going to want to watch this since the sauce has a higher sugar content and can burn.