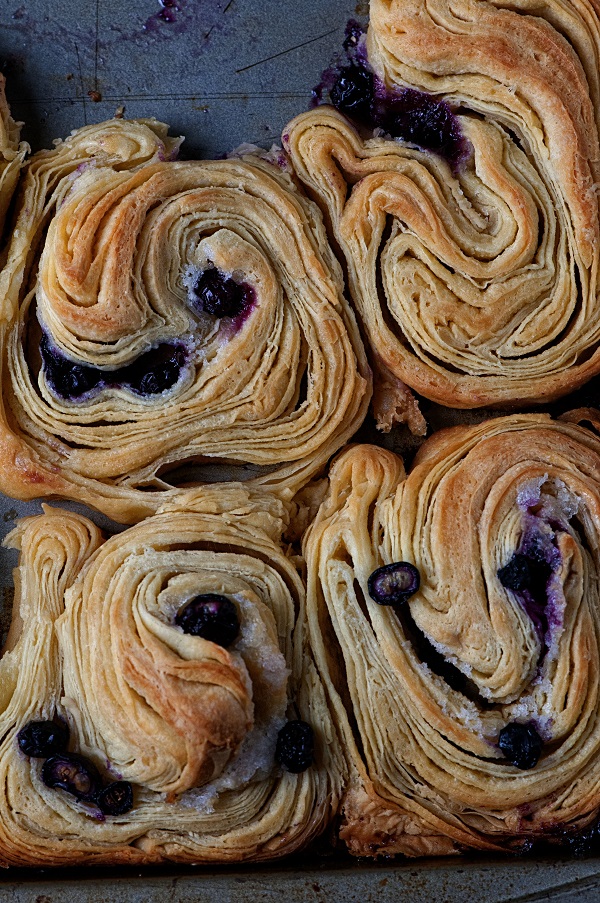 It's that time again. A time when I teach the hubby how to bake with yeast. He's getting really good at it so each time I like to up the ante just a bit. This year we are dedicating our time to the art of the bun…or what we are calling our Honey Bun project. 🙂 Cinnamon rolls were by far his favorite so we chose to dedicate our time coming up with different versions of each (go here to see what we made last time). This post is sponsored by Red Star Yeast but as anyone who reads any recipe I make on here with yeast, you know that Red Star® Platinum Superior Baking Yeast® is my yeast of choice.
This time around with 4th of July just around the corner we wanted to make a Red, White, and Blue Bun. So we made a bun filled with lemon sugar (which is the white), fresh blueberries (blue), and covered in raspberry jam glaze (red). While that is all tasty it is the dough that makes these special. I introduced MDP to a laminated brioche dough. You probably know laminated dough from croissants. This type of dough is not used much in the US, mostly in European pastries, but as MDP found out we should be having it way more in the US. And yes, there is just a touch of butter in them. 😀
Just like croissants, this dough takes time. Lots of time. But most of that time is passive as in its rising time. As you can see from its appearance the tremendous amount of butter makes for layers of flaky goodness. Just like in croissants this dough requires using a butter block and turning the dough. This is a great upper body workout for you gym enthusiast. I was kind enough to make MDP do all the work. 😉
As with every baked good I have ever made with Red Star® Platinum Superior Baking Yeast® this got great results. Hubs was in awe of how good they were. He decided that the time and effort was well worth it and has now found his new favorite dough. If you are a croissant lover, I highly suggest given these a try.
Be sure to follow Red Star Yeast on Instagram and Facebook to get great recipe ideas…as well as just visiting their website. Thanks again to Red Star Yeast for partnering with me as I not only love their product but the company is wonderful to work with.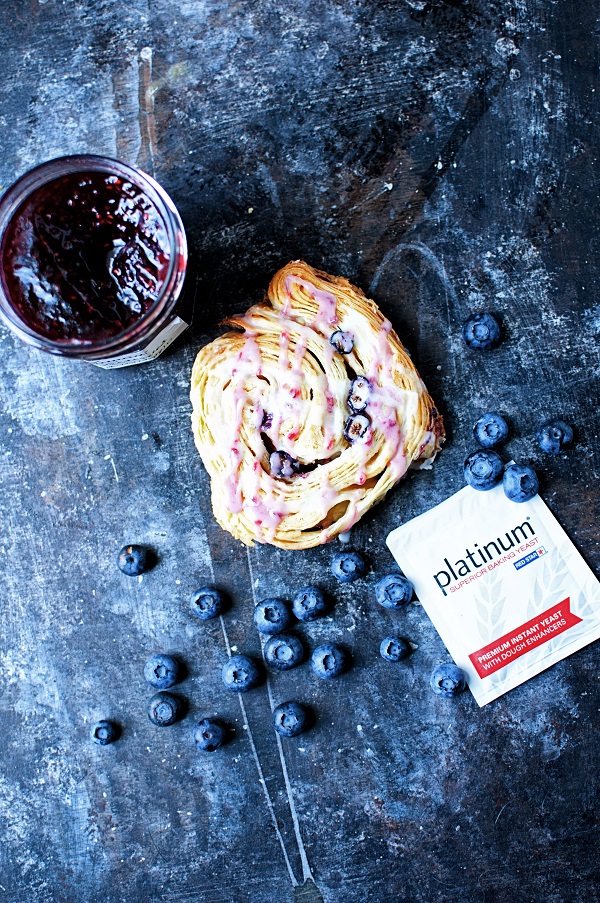 Blue-Raspberry Laminated Brioche Buns
Sponge:
1/3 cup whole milk
2 tsp. Red Star® Platinum Superior Baking Yeast®
2 ½ TBSP granulated sugar
1/3 cup bread flour
Dough:
3 cups bread flour
1 ½ tsp. salt
4 large eggs
6 oz. cold unsalted butter
Butter block:
1 pound cold unsalted butter
Filling:
¾ cup granulated sugar
Zest of 1 lemon
1 cup fresh blueberries
2 TBSP unsalted butter, melted
Glaze:
2 cups powdered sugar
½ cup raspberry jam
¼ cup milk with more to thin if needed
Egg wash:
1 large egg
1 egg yolk
Sponge:
Using the bowl of a stand mixer add the milk and yeast. Whisk until yeast dissolves.
Add the flour and the sugar.
Mix until it forms a thick batter.
Cover with plastic wrap and let rest at room temperature for about 1 hour, or until bubbles form.
Dough:
Add flour and salt to the sponge.
Mix on low speed using the dough hook attachment.
Add eggs and mix on low until just incorporated.
Knead the dough for 5 minutes.
Add the butter 2 TBSP at a time.
Knead until the dough is shiny and smooth and no butter is visible.
Place the dough into a lightly oiled bowl. Cover with plastic wrap and let rise for 2 hours or until dough doubles in volume.
Punch down the dough and cover again with plastic wrap and let rise for another 45-60 minutes.
Transfer dough to a lightly floured surface. Roll out dough into a 18-x-13-inch rectangle.
Spread (more like lay because it's cold) over the center and right thirds of the rectangle in an even layer. I just cut the butter thinly and place it.
Fold the left edge of the dough to the right, covering half of the butter. Fold the right third of the rectangle over the center third, like a business letter. See my hubby demonstrate on Instagram.
Place dough on a baking sheet and cover. Place in fridge for 30 minutes.
Remove from fridge and place lengthwise on a lightly floured surface. The open ends should be to your right and left.
Roll out the dough into another 18-x-13-inch rectangle.
Again, fold the left edge of the dough to the right, covering half of the butter. Fold the right third of the rectangle over the center third. No butter is added this time. Only the first.
Place back on baking sheet, cover, and chill for another 30 minutes.
Repeat the process one more time for a total of three turns.
Wrap in plastic wrap and place in fridge overnight. You can also freeze it at this point for up to one month.
For the filling:
Place sugar in a bowl and add the lemon zest. Rub the zest into the sugar with your hands, releasing the lemon oil into the sugar.
For the rolls:
One last time roll out the dough on a lightly floured surface into a 18-x-13-inch rectangle.
Brush the melted butter using a pastry brush over the surface of the dough.
Sprinkle the lemon sugar over the dough covering all but 1 inch at the top edge of the rectangle.
Sprinkle the blueberries over the lemon sugar.
Starting at the long edge closest to you, begin to roll up the rectangle like a jellyroll. Roll tightly at first, then ease up and push the dough into a log.
Using a serrated knife, cut the log crosswise every 1 ½ inches, creating 12 spiraled buns. I like to secure mine with a toothpick to hold shape.
Place buns 2 inches apart, cut side up, on a prepared baking sheet (lined with parchment). Cover loosely with plastic wrap.
Proof at room temperature for about 45 minutes.
Preheat oven to 400F.
Whisk together the egg and egg yolk.
Using a pastry brush, lightly coat each bun with egg wash.
Bake for 10 minutes at 400F.
Then turn down to 350F. Bake another 10-15 minutes more or until the buns are golden brown.
You will see a lot of butter bubbling away…don't worry…it will soak back into the pastry. And that makes it oh so good.
Glaze:
Add the ingredients together in a medium bowl and whisk until combined.
If too thick add more milk. If too thin add a little more powdered sugar.
Drizzle over buns.