This Strawberry Lemonade Snack Cake is a simple yellow cake studded with fresh strawberries all topped with a tangy lemonade glaze.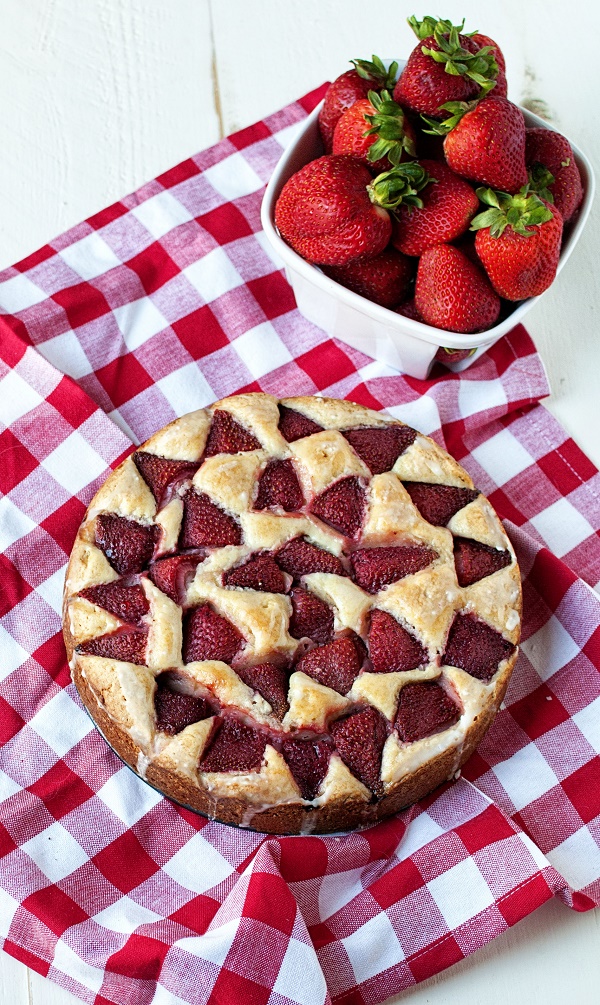 It's here.
We're in it.
Strawberry season that is.
Now is the absolute best time to get strawberries.
So when California Giant Berries contacted me and asked to partner with me on a recipe using their strawberries I was all over it.
As most of you know, I prefer to work with brands that I already use in everyday life.
I was already getting my berries from them, well, I was getting them from Costco and Fred Meyer (Kroger) but they are California Giant Strawberries.
So this was a perfect fit.
This time of year all the California Giant Berries are all grown in California.
But California Giant has fields in Florida, Mexico, and Canada to support the few months California's weather will not permit berries to grow.
Some people think due to the size that they must somehow be GMO, but they are NOT.
The weather conditions in California are perfect for them to grow.
It's why so much produce is grown in California.
And this year has been like the perfect storm for weather and conditions.
Their berries are consistent.
Rarely do I have to dig through a whole bunch just to find a good batch.
I mean just look at the photos of the berries!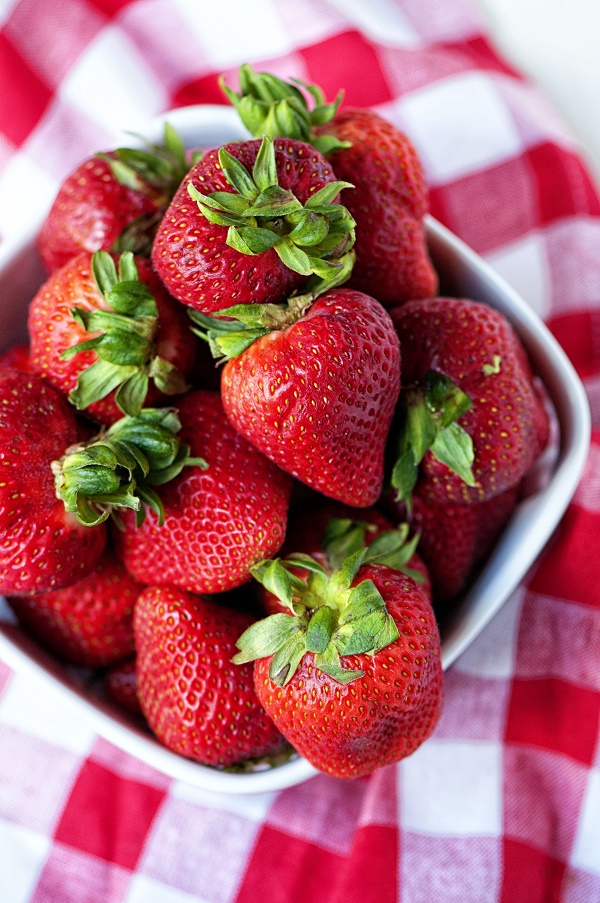 And before you say oh, they sent you perfect ones…for comparison I went and bought a pack from my local QFC (Kroger) to show the consistency was the same.
If you panic like I do sometimes when I buy fruit in bulk, remember that you can freeze berries easily.
While offered throughout the year, I do try and buy my berries at the peak time, as that is when they are at their best.
If you freeze them you can use them in smoothies, cocktails, and for baking later.
I made quite a few recipes with the berries they sent me (they sent a lot…you probably saw on Instagram) and you already saw the Strawberry Chutney and Brie Mini Grilled Cheeses I made.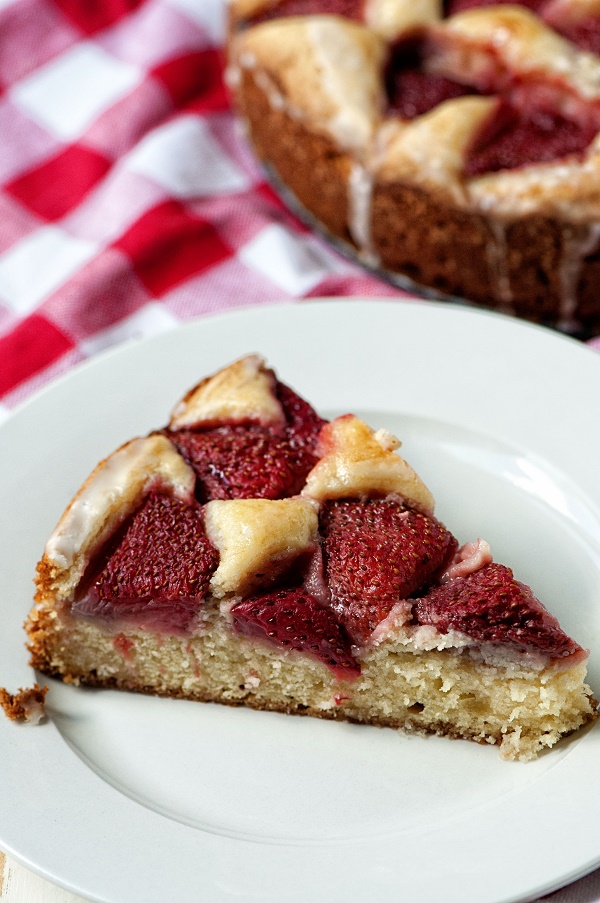 This Strawberry Lemonade Snack Cake was my favorite though, for so many reasons.
First off, it's visually stunning.
The berries look like studded jewels on the cake.
And it looked really cool with the red and white checkered napkins.
Second, because I love all things strawberry lemonade.
And third, because I feel snack cake just doesn't get made enough anymore.
Growing up my mom made snack cake all the time, nowadays they mean something different.
But when I grew up snack cake was an unfrosted, though often glazed, simple cake that you ate as a snack.
It usually wasn't as sweet and it was to tide you over until your meal.
We almost always had it while doing our homework.
And there always seemed to be one out during the summer months on the counter for use to fuel up on as we ran in and out of the house.
As always I appreciate quality companies like California Giant Berries for partnering with me to keep this blog running so that I can keep bringing you delicious recipes!
Make sure to check them out then next time you are at the store.
I suggest following them on Instagram...they have a beautiful one.
P.S. It's a great day to buy my cookbook Holy Sweet!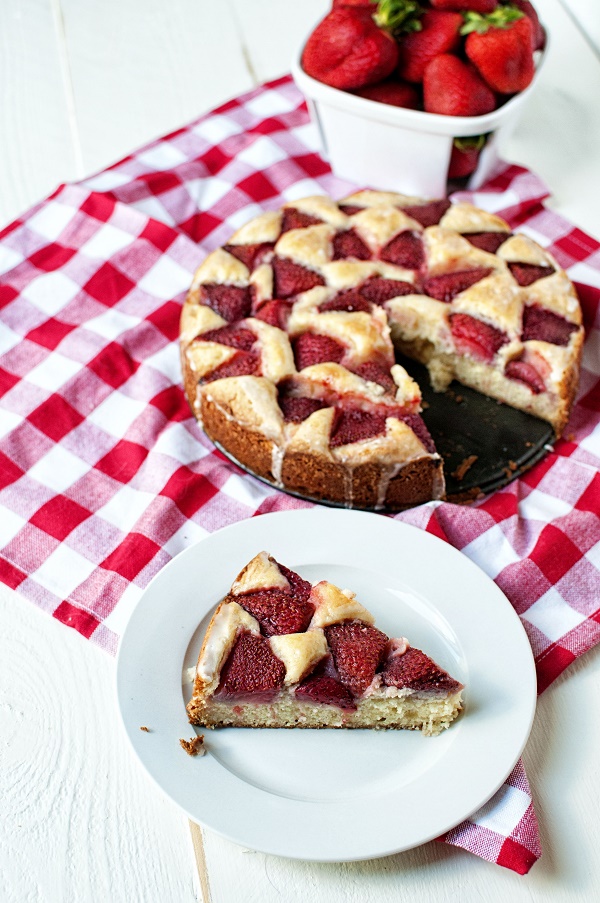 Want More Strawberry Recipes?
Strawberry Mascarpone Buttermilk Layer Cake
Sweet Corn Strawberry Cornbread Shortcake
Chocolate Covered Strawberry Shortbread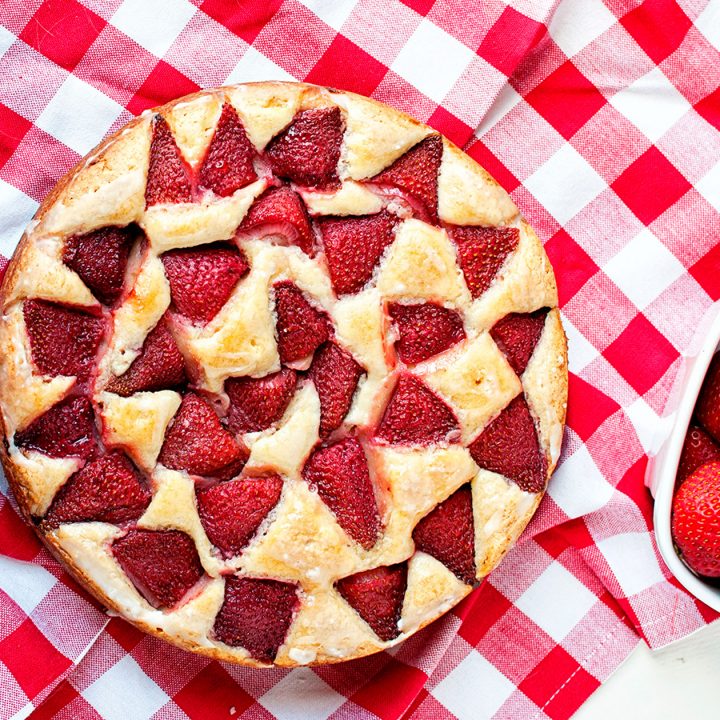 Strawberry Lemonade Snack Cake
Ingredients
For the cake:
1 ½ cups all-purpose flour
1 ½ tsp. baking powder
Pinch of salt
3 TBSP unsalted butter, at room temperature
3 TBSP sour cream
1 cup granulated sugar
1 egg
½ cup milk
1 tsp. lemon juice
1 pound California Giant Strawberries, hulled and halved
For the glaze:
6 oz. frozen lemonade concentrate
2 cups powdered sugar
Milk to thin
Instructions
Preheat oven to 350F.
Line the bottom of a springform pan with parchment paper and spray with baking spray.
In a small bowl whisk together the flour, baking powder, and salt. Set aside.
Using a stand mixer with the paddle attachment cream together the butter and sugar until light and fluffy, about 3 minutes.
Add the sour cream and beat another 30 seconds.
Add the egg, milk, and lemon juice.
Mix until combined.
With the mixer on low add the flour mixture, ½ cup at a time. Do not over mix.
Pour batter into the prepared pan.
Arrange strawberries on top of cake, cut sides down and close together.
Bake cake for about 1 hour or until the top is golden brown and the tester comes out clean.
Remove from oven and cool on a wire rack.
After cake has cooled, about 30 minutes, release from springform and place back on wire rack.
Place a baking sheet under the wire rack to catch the glaze.
Whisk together the lemonade concentrate and powdered sugar. If too thick add some milk to thin.
Pour glaze over cake.
Let glaze set up, about an hour.
Keep cake wrapped in plastic wrap in fridge since it is fresh strawberries. Will keep for about 4 days but I think it's best day of.