This week I've been kind of MIA. Part because I had a lot of outside projects due. Part because I had a lot of appointments. And part because the food blogging community lost a great one this week.
When I started blogging 8 ½ years ago there were not that many food bloggers. Hard to believe I know given the saturation of them today, but true. For the most part we all knew who each other were and if we didn't we at least knew their blog (so not the case today).
I became blog friends with Ivvone of Cream Puffs in Venice. We bonded over baked goods, Canada, and the love of hockey. Ivvone and a woman named Lis (La Mia Cucina) decided to challenge themselves each month to bake something they were kind of afraid to make and called themselves The Daring Bakers. The first thing they made were soft pretzels. Seeing this I immediately asked if I could join in the next time. And with that the group doubled…to 4…me, Brilynn, Ivvone, and Lis. Yes, indeed the Daring Bakers was that small at one point.
From there more and more joined us. In the beginning we went around to everyone's site and commented. We would be on chat or email discussing our love or hate (cough, cough, crepe cake) of the baked good. We were so small we tried to all organize what weekend we would bake together that way if we were having issues we could turn to each other for support. Our adventure in croissants was several days of mishaps galore. I invented new swear words when we made the crepe cake. When it was my turn to pick I chose a Strawberry Mirror Cake. And of all the challenges it was the Yule Log that was my favorite.
Many laughs were shared and I miss the good ol' days for blogging. I eventually left the Daring Bakers as it just got too big and away from what I wanted. I felt bad sending Lis the email telling her I just couldn't hang anymore, but she understood.
Sadly I was informed on Tuesday of the passing of Lis that morning, passing from a heart attack. I like to think her heart just grew too big from all the love she had to give. She really was a joyous and loving person…and did tend to swear like a drunken sailor a bit. 🙂 She was a little like Julia Child in the fact that she clearly admitted all of her mistakes on her blog and proudly displayed what she called her hideous photos.
In 2006 she made both my Bluecheese Cheesecake with Pear-Onion Jam and my Bread Pudding. She loved them so much that every year she brought the cheesecake to Christmas parties and would make my bread pudding for Christmas morning. I won't be getting my email this year letting me know she made my bread pudding again. 🙁
Many of us decided that the best way to give tribute to Lis was to cook/bake for her. I thought about re-doing one of the former DB challenges but chose to make an easier version of the cheesecake that she loved so much…and couldn't believe those flavors would go together. So it goes from cheesecake to spread but still the same onion pear jam that she loved (great with pork and chicken too). It's a great treat to bring to upcoming holiday parties.
Goodbye dear Lis, you will be missed and you were certainly loved. I hope you see everyone's blog posts today and are smiling down from above…though probably swearing that you aren't here to eat is.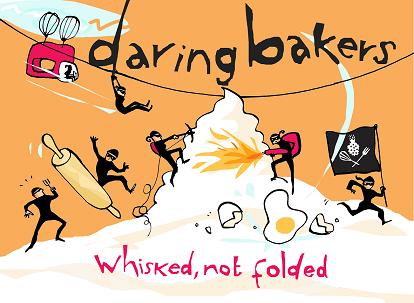 Blue Cheese Spread with Onion-Pear Jam
Ingredients
Blue Cheese Spread with Onion-Pear Jam
Blue Cheese Spread:
16 oz. cream cheese, at room temeprature
8 oz. shredded Asiago cheese
8 oz. blue cheese, crumbled
1/3 cup heavy cream
Pinch of white pepper
Pinch of salt
Onion-Pear Jam:
4 cups sweet onions, diced
1 tsp. olive oil
2 cups pears, peeled, diced
2 TBSP apple cider vinegar
1 cup brown sugar
1/4 tsp. salt
1 pinch cayenne pepper
Instructions
For the cheese spread:
Using a stand mixer with paddle attachment cream cheeses together until smooth.
Add cream and mix until fully incorporated.
Salt and pepper to taste.
Put into a crock or into a mold (like I did) and place in fridge for at least 4 hours or overnight to get the flavors to really develop.
For the Onion-Pear Jam
In a medium sized saucepan add the oil and onions and sauté for about 2 minutes.
Add pears, vinegar, sugar, cayenne and salt.
Bring to a boil stirring the whole time.
Then reduce to simmer.
Simmer until the liquids have gone and you have jam like consistency.
It took about 3 hours for mine to fully reduce. Just keep an eye on it and stir about every 20 minutes.
Place jam on top of cheese spread. It's also delish with chicken or pork as well.
https://www.sweetrecipeas.com/2013/11/15/blue-cheese-spread-with-pear-onion-jam/