These Mini Manchego Cheesecakes with Apple Onion Jam are a fantastic savory cheese appetizer or a side for a salad.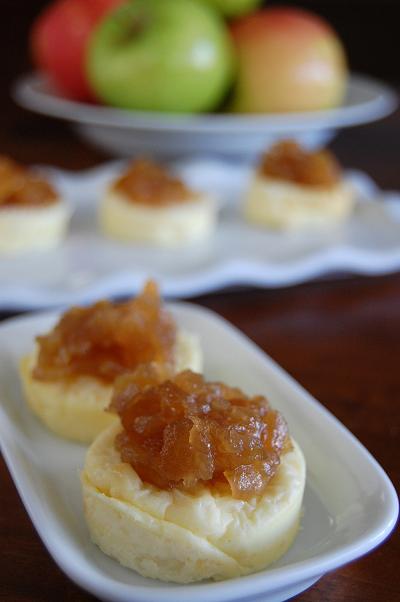 Not around much in the food blogging world this week….crazy busy week but crazy good.
Don't worry next week I have nothing and can sit around and talk food…and make food.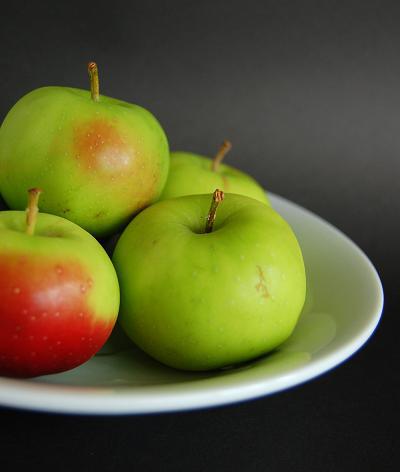 These Mini Manchego Cheesecakes with Apple Onion Jam are a great appetizer that is a spinoff of my Blue Cheese Cheesecake with Pear Onion Jam I made years ago.
If you are saying ewww gross…I can assure you that savory cheesecake is wonderful.
When spread on crackers it's a fun way to serve a cheese spread.
And it classes things up. 😀
This recipe originally was for a magazine article that ran the story but never paid me.
So thanks for that (I know they read my blog).
It's my fault because they stiffed me before and asked me to do another story telling me check was in the mail.
So I figure I will put the recipe up for you all to enjoy since I never got compensated!!!
It's a great day to order my cookbook.
Want more appetizer ideas?
Baked Brie with Candied Walnuts and Caramelized Onions
Cheddar Cheese Green Olive Nuggets
Gorgonzola, Walnut, and Pear Jam Flatbread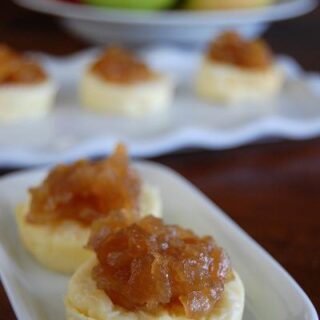 Mini Manchego Cheesecakes with Apple Onion Jam
Ingredients
For the Cheesecakes:
24 oz cream cheese, at room temperature
3 oz shredded Asiago cheese
5 oz shredded dry jack cheese
8 oz shredded Manchego cheese
4 large eggs
1 egg yolk
1/3 cup heavy cream
¼ tsp pepper
For the Apple Onion Jam:
3 cups Walla Walla onions, diced
1 tsp olive oil
1 ¾ cup Gala apples(Fuji will work as well) peeled, chopped
2 TBSP apple cider vinegar
1 cup brown sugar
1/4 tsp kosher salt
1 pinch cayenne pepper
Instructions
For the Cheesecakes:
Grease a mini cheesecake pan, this can also be made as one large cheesecake using a 9-inch springform pan.
Preheat oven to 350F.
In a standing electric mixer fitted with a paddle attachment, cream cheeses together until smooth.
Add eggs one at a time, beat for about 1 minute.
Scrape down bowl after each egg addition.
Add yolk and beat for an additional minute.
Scrape down the bowl.
Add cream and pepper.
Mix until fully combined.
Pour batter into cheesecake pan.
Bake uncovered until golden brown and center is set.
About 25-30 minutes for mini cheesecakes or 45-50 minutes for full size cheesecake.
Cool Completely, remove sides of pan.
For the Apple Onion Jam:
Saute onions in oil until brown.
Reduce heat and cook until glazed.
Add apples, vinegar, sugar, cayenne and salt.
Cook till apples are crispy tender.
Remove mixture and simmer juice until a thick glaze.
Mix apple onion mixture with glaze.
Cool.
Add a tablespoon of jam to each mini cheesecake or spread mixture over the entire cheesecake if making the full size version.