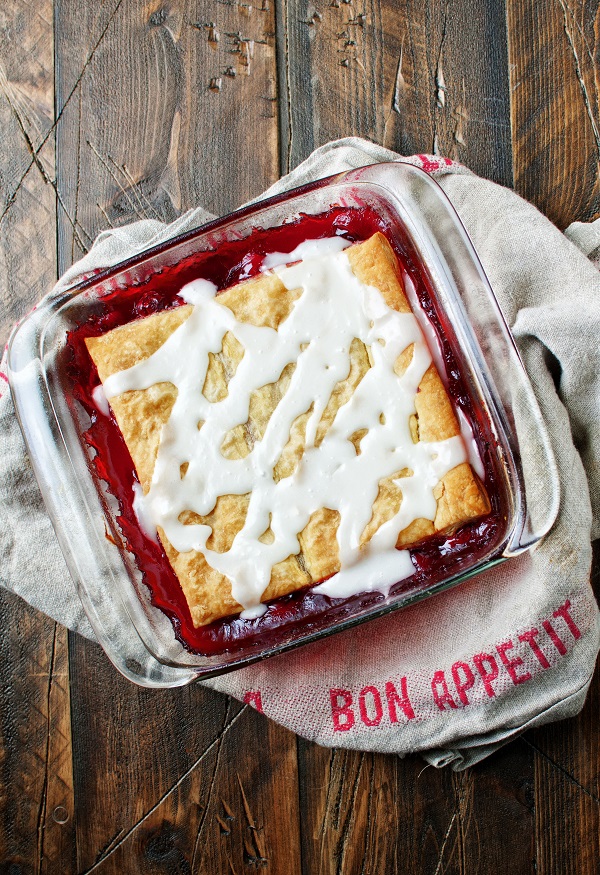 I get emails all the time to try new products which pretty much 99% of the time I decline. But then I saw the OXO 14 Piece Glass Bake, Serve & Store Set. Something I could actually use and something that I liked the idea of. So often my baked goods go to work with my husband or to the hockey team but some stuff doesn't go because it's awkward to send. Example a cobbler. I don't know how to divide it up and shoving it into plastic containers makes it look ugly and so I love that these come with lids (microwave safe lids!) so that things don't get squished.
Besides the lids (which are interchangeable with all their SNAP line) the other cool thing is that the bakeware can go from freezer to oven or microwave without cracking – both lines can withstand up to 250 degrees Fahrenheit of temperature change. So no more baking something, letting it completely cool, and then storing it. I'm usually a space cadet and have sadly made something, left it out to cool, only to leave it out overnight and then had to throw it out. 🙁
While I ended up using the 1 quart baking dish for this recipe, the first piece I used was the loaf pan for making my MIL some S'mores Banana Bread (which yes, I will remake for this blog if you want the recipe). The loaf pan is a great size and I love that all of the pans have handles which makes getting them in and out of the oven easy.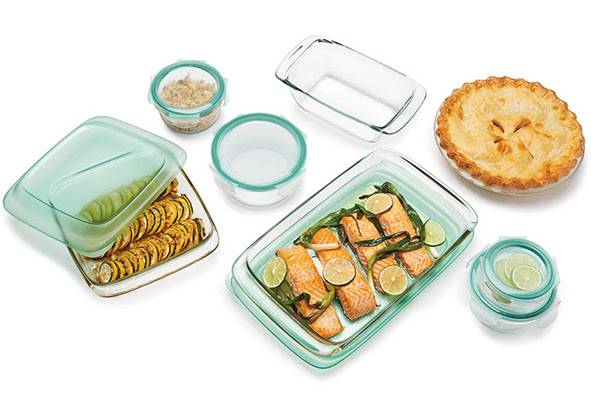 The recipe I chose to make is beyond simple and is a tribute to one of my favorite breakfast treats of all time: Toaster Strudel. I don't even know how many of those things I ate when I was in college but I can assure you it was a lot. This version is even better because you can put ice cream on it. 🙂 If you want to eat it for breakfast I won't tell anyone.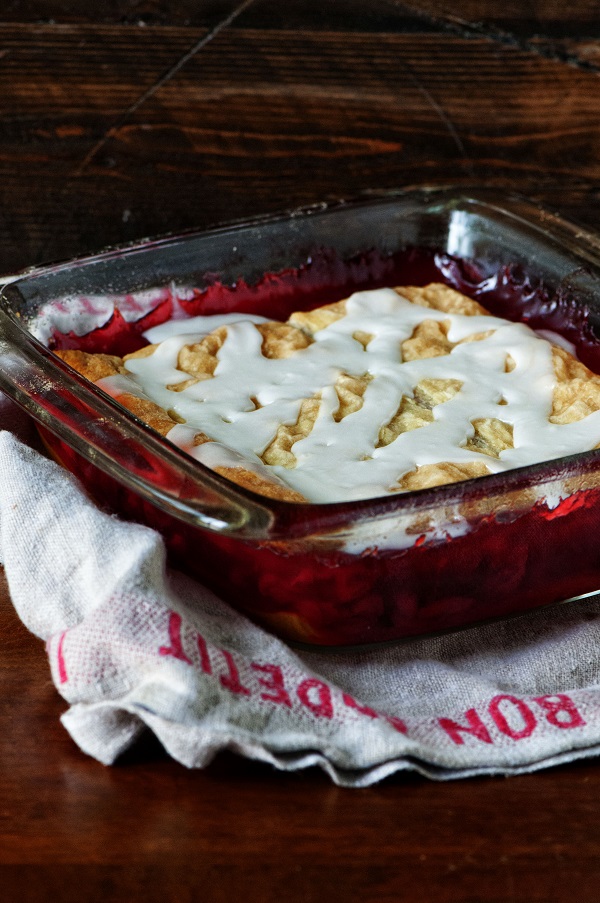 This is not a paid post but OXO did send me the product for free to try out. If you would like to get a set for yourself you can buy it here.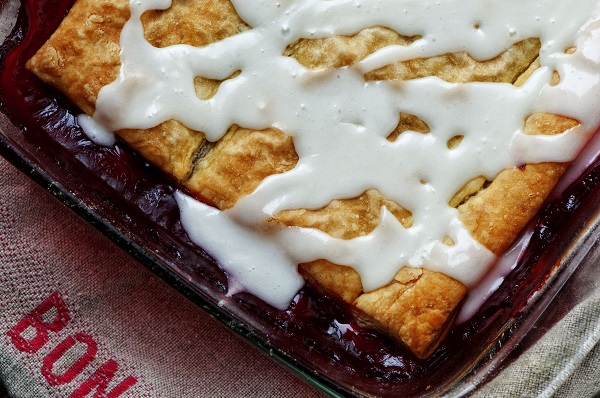 Cherry Toaster Strudel Cobbler
1 package puff pastry (it will be in the frozen section)
2 (21 oz.) cans cherry pie filling
4 oz. cream cheese, at room temperature
2 cups powdered sugar
1 TBSP heavy cream
½ tsp. vanilla extract
Pinch of salt
Preheat oven to 400F.
Grease a 1 quart baking pan with baking spray. Set aside.
The puff pastry should have two sheets in it. Remove the one and place the baking pan over it to see how much you need for the bottom. Cut away the excess pastry dough.
Place the cut puff pastry dough at the bottom of the pan.
Pour in the two cans of cherry pie filling.
Cut the second puff pastry sheet to fit the top, leaving a little on the sides so that you can see the cherry filing.
Bake for approximately 30 minutes, or until the puff pastry is brown and puffed up a little (it is not going to puff up a ton).
While baking make the frosting.
Mix together sugar, cream cheese, and enough cream to achieve a spreading consistency.
Add extract flavor and salt and mix until fully incorporated.
Drizzle or pipe the frosting over the cobbler while it is still warm.
Serve with vanilla ice cream.