This Cherry Toaster Strudel Cobbler has puff pastry, cherry pie filling, and drizzled frosting making this breakfast treat turned cobbler.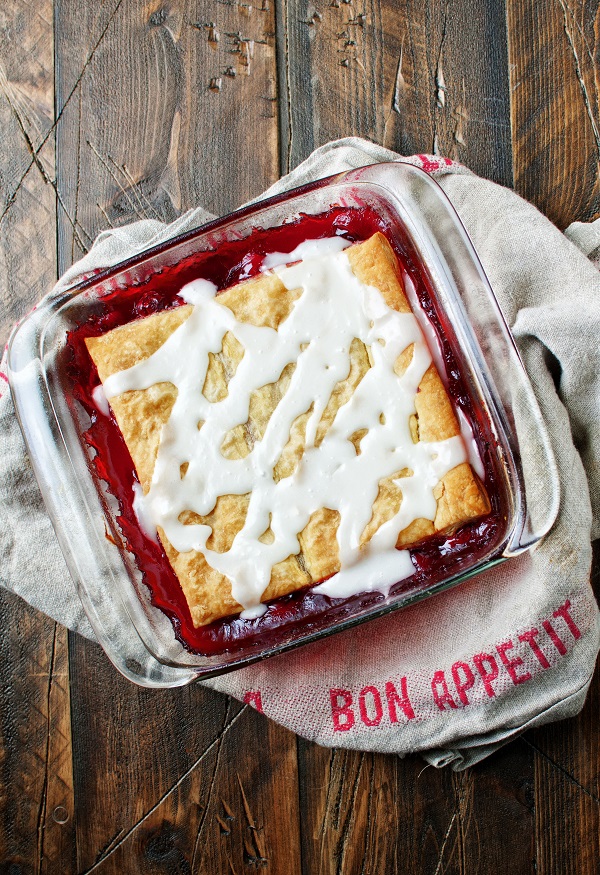 This Cherry Toaster Strudel Cobbler recipe I chose to make is beyond simple and is a tribute to one of my favorite breakfast treats of all time.
Growing up I liked to rotate between Toaster Strudel and Pop Tarts, especially in college.
I don't even know how many of those things I ate when I was in college but I can assure you it was a lot.
This version is even better because you can put ice cream on it. 🙂
If you want to eat it for breakfast I won't tell anyone.
Is this really a Cobbler?
Well, a cobbler is a dessert consisting of a fruit filling poured into a large baking dish and covered with a batter, biscuit, or dumpling before being baked. 
We are pouring fruit into a baking dish.
But we are not covering it up with batter, biscuit, or dumpling.
So I guess technically not.
Especially because there is a bottom piece of pastry at the bottom.
That being said I'm calling it a cobbler.
It could also be called a dump cake.
But there is no cake. 🙂
Am I confusing you yet?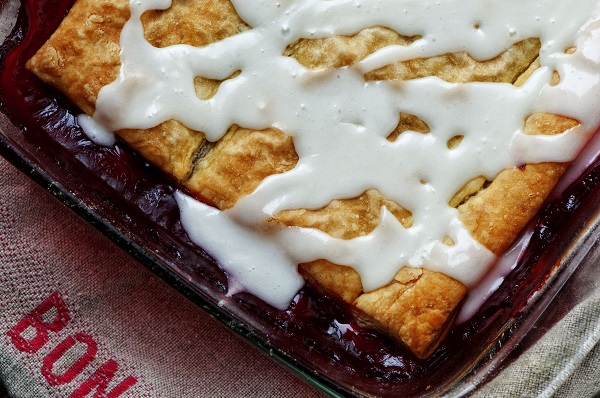 The cobbler itself is beyond easy to make.
It's just cherry pie filling and puff pastry (store bought).
Then, just like the frozen breakfast pastry it has a cream cheese frosting.
But unlike the frosting packet that the frozen breakfast pastry has…you don't have to try and squeeze it out of a tiny packet.
Tips when using frozen Puff Pastry:
Thaw your frozen puff pastry at least 8 hours or preferably in the fridge, overnight.
Unfold your pastry only when fully thawed.
Flour your work surface and your rolling pin.
Have a gentle touch when rolling out the dough.
If you press too hard you the layers will not puff.
P.S. It's a great day to buy my cookbook Holy Sweet!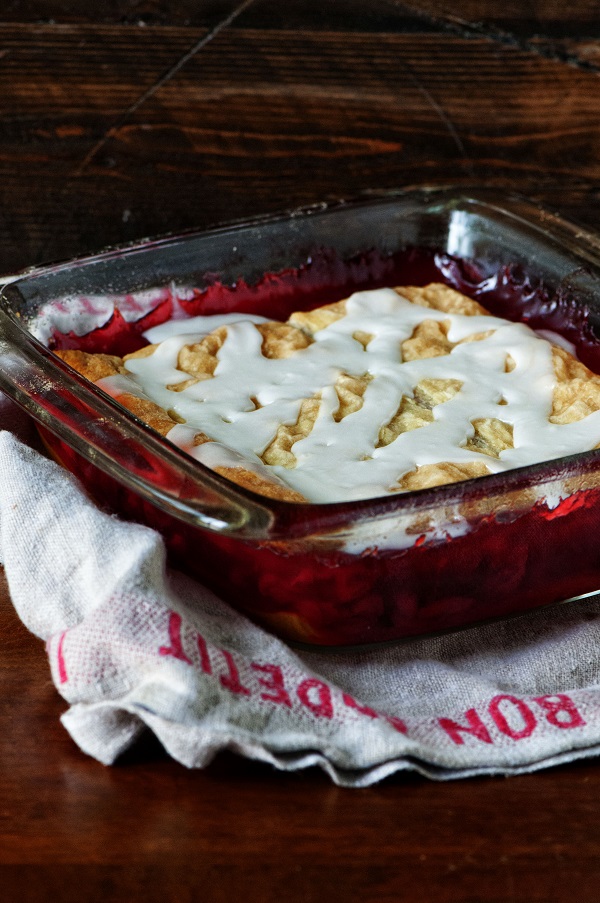 Want more recipes? Try these:
Mixed Berry Oatmeal Cookie Cobbler
Iced Oatmeal Cookie Apple Cobbler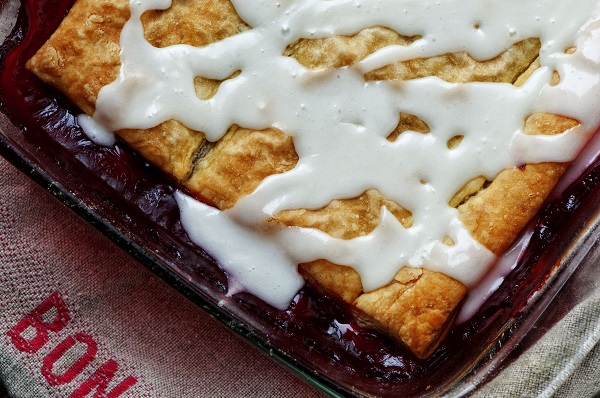 Cherry Toaster Strudel Cobbler
Ingredients
For the Cobbler:
1 package puff pastry (it will be in the frozen section)
2 (21 oz.) cans cherry pie filling
For the Frosting:
4 oz. cream cheese, at room temperature
2 cups powdered sugar
1 TBSP heavy cream
½ tsp. vanilla extract
Pinch of salt
Instructions
Preheat oven to 400F.
Grease a 1 quart baking pan with baking spray. Set aside.
The puff pastry should have two sheets in it. Remove the one and place the baking pan over it to see how much you need for the bottom. You can carefully roll out the dough with a rolling pin.
Cut away the excess pastry dough.
Place the cut puff pastry dough at the bottom of the pan.
Pour in the two cans of cherry pie filling and spread evenly around.
Cut the second puff pastry sheet to fit the top, leaving a little on the sides so that you can see the cherry filing.
Bake for approximately 30 minutes, or until the puff pastry is brown and puffed up a little (it is not going to puff up a ton).
While baking make the frosting.
Mix together sugar, cream cheese, and enough cream to achieve a spreading consistency.
Add extract flavor and salt and mix until fully incorporated.
Drizzle or pipe the frosting over the cobbler while it is still warm.
Serve with vanilla ice cream.