This Apple Fritter Bread Pudding is a decadent twist on bread pudding using Apple Fritter Donuts all topped with a Fireball Apple Caramel Sauce.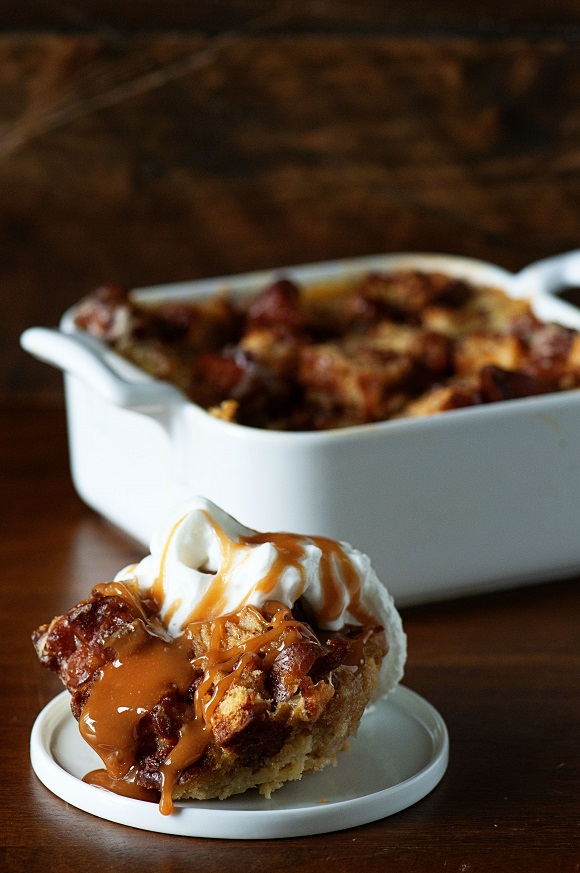 I finally got to see Inside Out in the other day and not only is it a great movie it has even a better message.
I'm not sure when the movement to all happiness all the time came along but I really feel it's making people feel worse about their lives than better.
We were given a wide range of emotions for a reason, to feel them.
I had someone ask me how I was the other day and I told them (one of my dogs had a string of bad tummy days which was fun for clean-up).
Instead of letting me vent a little they immediately told me to think happy thoughts, happy thoughts.
And instead of thinking happy thoughts I thought to myself punch the face, punch the face.
I did not of course but that's what my happy thought was, punching her in the face. 🙂
Overall, I have a great life.
I have a husband who while I was sick this weekend cleaned the kitchen and folded laundry while I slept half the day away.
He loves me and shows me in little ways every day.
We have a ton in common and are very supportive of each other.
Plus he has a great smile and nice butt to boot. 😉
I have wonderful step-kids who I have always shown respect to and gotten respect back (which in the world of teens is an amazing thing).
Who sit and talk with me and watch Law and Order reruns with me.
And who are my food guinea pigs.
Those who I can talk Edgar Allen Poe with and how it relates to a recent horror movie.
Talk about the future with and tell stories about the joys of being a poor 20 something with.
I have dogs who think the world rotates around me and that I'm the greatest thing ever, well, right after food.
Who snuggle with me and make me happy.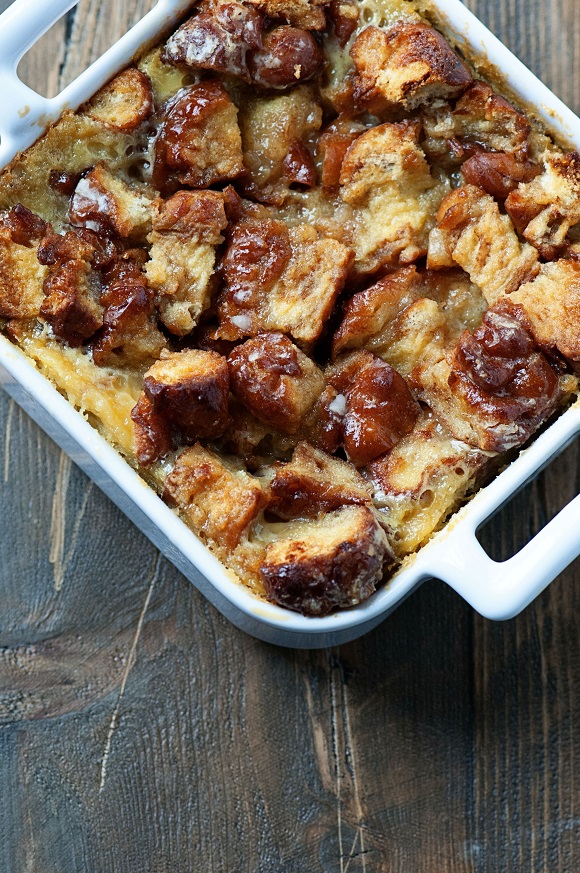 But I have stuff in my life that could be better.
It's not that I'm not grateful or #blessed (I need that hashtag to go away FYI because it's the most overused thing EVER) it's just that not everything is optimal.
I mean I would love to earn more on this blog and much of it is my fault.
But I am picky about who I work with and so unlike other blogs not every other post is sponsored.
Definitely I could change that, but I won't.
However, I can be upset that my ad agency didn't pay me for over SIX months and when they did they only paid a small, small portion of it (yes, I dropped them).
So, I wasn't feeling to #blessed dealing with all that. 🙂
I just feel like sometimes our obsession to Be Happy all the time is making some people more sad than happy.
They feel guilty when they aren't happy all the time and wrongly think others are happy all the time.
I mean just look at people's Pinterest boards and Instagram accounts filled with their ideal world.
And it's just that, ideal.
One thing that always makes me happy is bread pudding.
We had got a bunch of donuts the other day and no one got to the apple fritter.
And as it started to get a little hard I thought, I should make it into bread pudding, but I need way more than one fritter.
So back to the donut shop I went (oh the sacrifices I make for the blog 😀 ) to get more fritters.
The hard part was not to eat them for a few days as they got a little stale.
I had asked on FaceBook what kind of sauce to go with it and I combined a few people's suggestion to make a Fireball Apple Caramel Sauce which turned out quite tasty!
Last but not least…it's a great time to order my cookbook.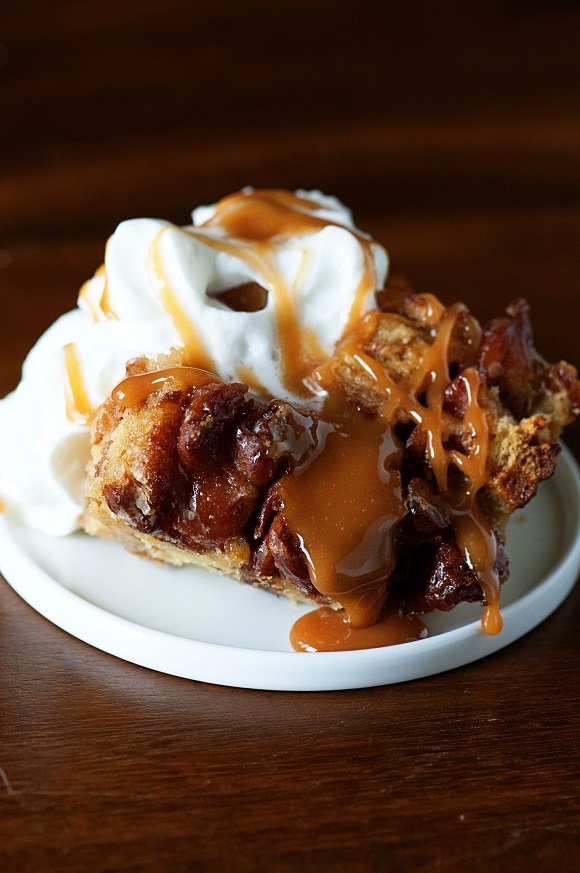 Want More Recipes? Try These:
Salted Caramel Apple Fritter Bread 
Apple Cider Donut Bread Pudding
Croissant Bread Pudding with Pecan Toffee Sauce
Whiskey Glazed Apple Buttermilk Pound Cake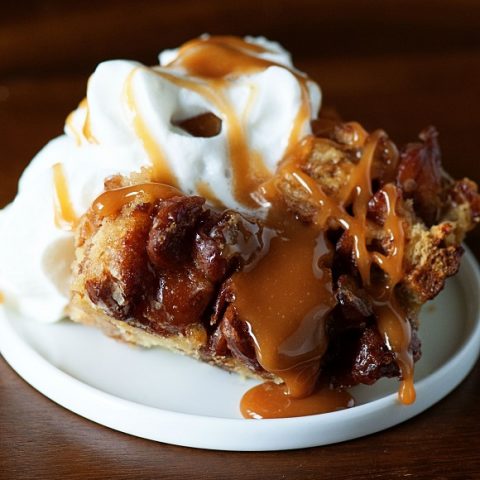 Apple Fritter Bread Pudding
Ingredients
5 large apple fritters, chopped into cubes
1 ? cup heavy cream
? cup granulated sugar
2 eggs
1 egg yolk
? tsp. vanilla extract (I used Rodelle)
Fireball Apple Caramel Sauce:
1 cup granulated sugar
3 TBSP apple juice
3 TBSP Fireball whiskey
1/3 cup heavy cream
Instructions
To make the bread pudding:
Preheat oven to 350F.
Spray an 8-x-8-inch pan with baking spray.
Whisk together the eggs, yolk, cream, sugar, and vanilla until fully combined.
Place half of the apple fritter cubes into the bottom of the pan.
Pour half the custard mixture in and press the bread down to soak up the custard base.
Break the remaining apple fritter pieces off and place on top of the bottom layer.
Add the remaining custard base and again press the bread pieces down.
Cover with foil and bake for 30 minutes.
Remove foil and bake another 15-20 minutes. Just making sure none of the custard mixture is still liquid.
Remove from oven and let cool while you prepare sauce.
To make the sauce:
In a medium saucepan add the sugar.
In the middle of the sugar add the apple juice and Fireball.
Cook over high heat.
Cook until the sugar is dissolved, washing down the side of the pan with a wet pastry brush.
Continue cooking, without stirring, until an amber caramel forms, about 6 minutes.
Remove from the heat and carefully stir in the cream.
Let the caramel sauce cool slightly and serve warm or at room temperature.