This Oatmeal Raisin Cookie Bread Pudding is made with Challah bread, oatmeal cookie mix, raisins, and custard topped with brown sugar sauce.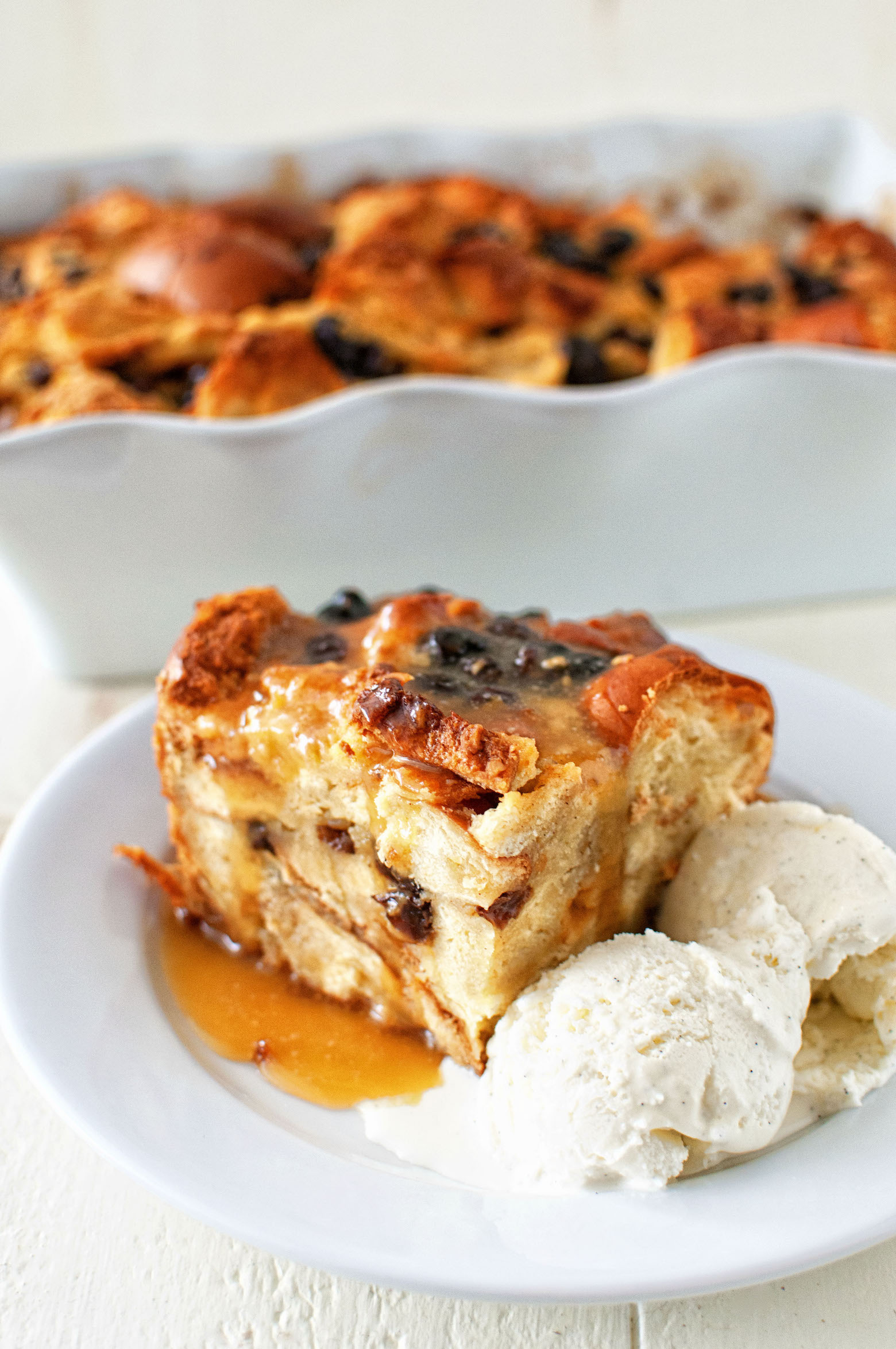 The majority of the bloggers love the time period between Thanksgiving and Christmas.
Well, the have a love/hate relationship with it.
We love it because lots and lots of people come to our blogs in search of recipes to make for their families and that of course in turn means more traffic.
Hate because we feel an extreme pressure to post something all the time during that time period.
Which I laugh at for me because almost all my traffic this year was to my really, really old post so apparently it didn't matter if I made new stuff or not. 🙂
Of course, the day after Christmas our traffic takes a nose diving plunge.
We may get the occasional person searching for a dip recipe or a soup recipe or maybe even a New Years Eve dessert recipe but other than that things slow…way, way down.
And of course, once January 1st starts…it plunges even further as the world of dieting starts up.
Health food bloggers love the first six weeks of the year, especially the first three weeks.
It's their highest traffic of the year.
Some bloggers adjust accordingly.
They try and catch on to whatever the new diet craze is and feature recipes that follow that diet.
If you have followed me throughout the years you know that's not me.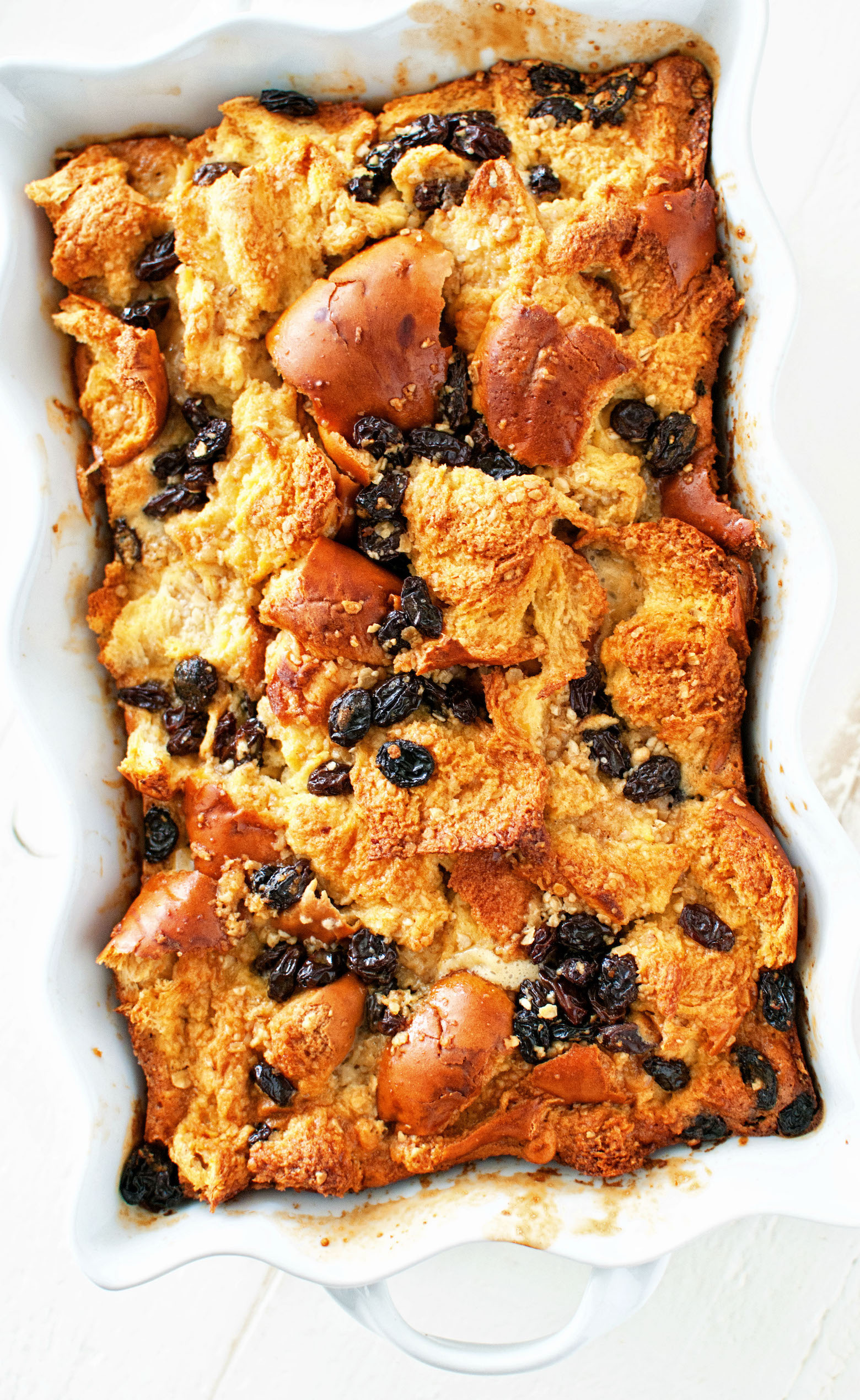 I don't really change my format.
My whole reason to start a blog back in the day had nothing to do with traffic or monetizing my blog it was simply just to make food and share with others and that's still what I do today.
So I will be baking and cooking and everything in between. So if you still feel like stopping by…I'll be here. 🙂
This Oatmeal Raisin Cookie Bread Pudding was actually our dessert for Christmas dinner.
Oddly enough, growing up our Christmas desserts were pumpkin pie and…carrot cake.
I'm not totally sure why.
I think it was because my mom's grandmother's made the carrot cake and so we just did as well.
But as we got older no one really seem to care if we stuck to tradition on Christmas dessert and amazingly enough we moved carrot cake to Easter. 🙂
If you don't like raisins in your cookies…or bread pudding with cookie mix in it feel free to omit them.
Or add chocolate chips instead…it will work all the same.
By the way, it's a great day to buy my cookbook !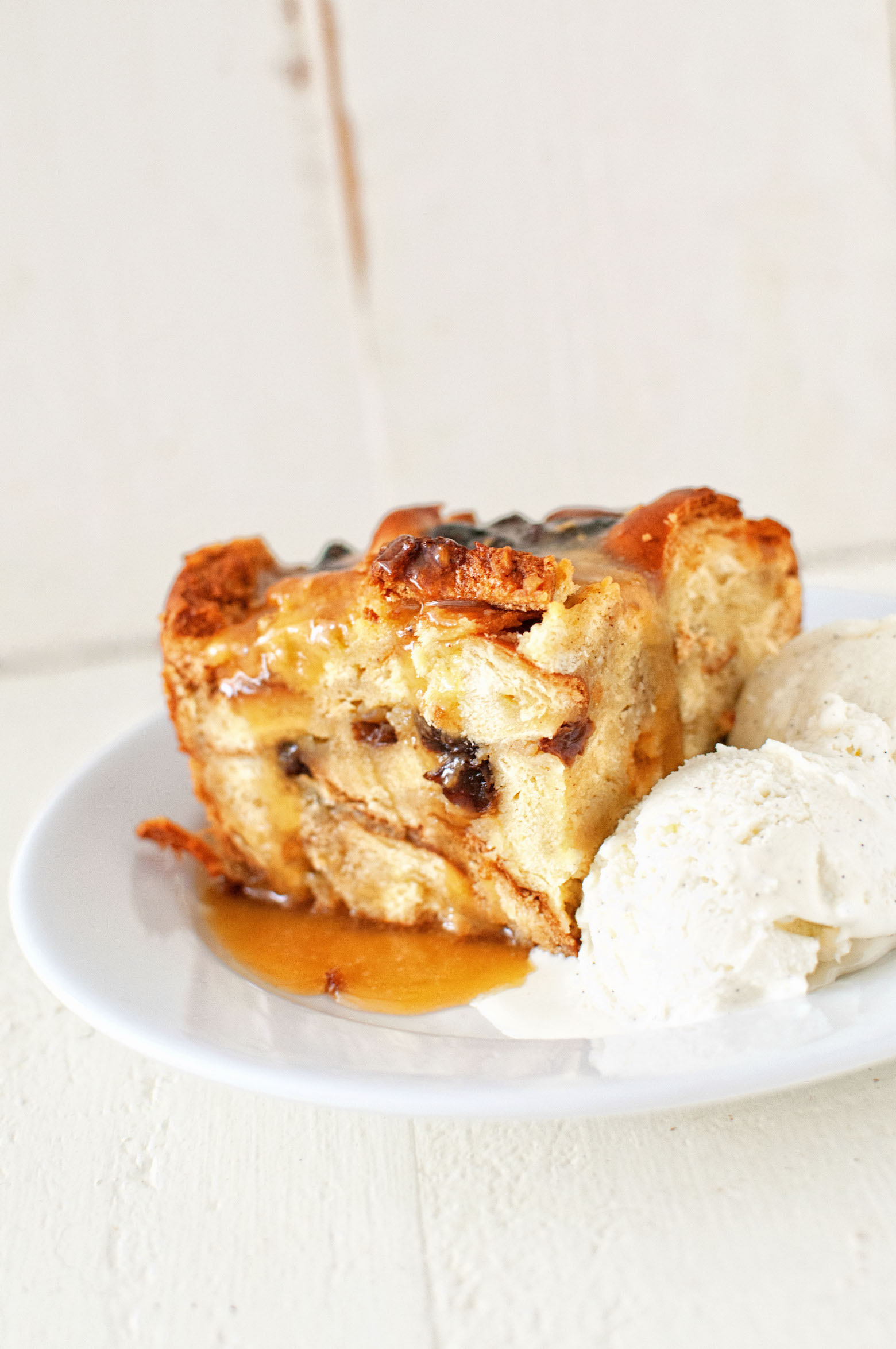 Want More Bread Pudding Recipes?
Apple Cider Donut Bread Pudding
Sticky Toffee Pudding Bread Pudding
Molasses Spice Orange Bread Pudding
Pumpkin Cinnamon Roll Bread Pudding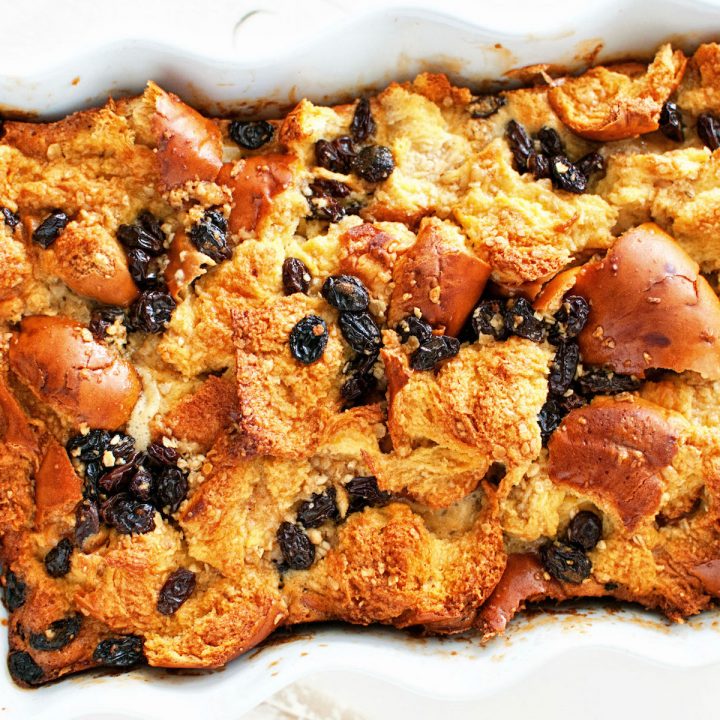 Oatmeal Raisin Cookie Bread Pudding
Ingredients
Challah bread (on the smaller side), getting stale
3 cups heavy whipping cream
4 egg yolks
2 eggs
¾ cup granulated sugar
pinch of salt
1 cup oatmeal cookie mix
1 cup raisins
Brown Sugar Sauce:
¾ cup brown sugar, tightly packed
⅓ cup unsalted butter
⅓ cup heavy whipping cream
1 TBSP Amaretto (optional)
Instructions
For the bread pudding:

Take a medium bowl and fill it with boiling water.

Add the raisins to the bowl and let them plump in the water for 10 minutes.

Strain out the raisins and put aside.

Tear 1/2 the Challah bread into pieces and place into a baking dish that has been sprayed with baking spray or lightly coated in butter. I use a 11-x-7-inch pan but you can use 9-x9, 10-x-10, basically whatever pan will hold the amount of bread you have.

Sprinkle half the raisins on top of the bread.

Tear the remaining half of the bread and top with the remaining half of the raisins.

Mix the egg yolks, sugar, pinch of salt, and cookie mix together in a bowl.

Then whisk in the heavy cream and beat until fully incorporated.

Pour the custard over the bread.

Press down the bread pieces until the bread is soaked with the custard. You will most likely have extra custard depending on how stale your bread is.

Don't feel like you have to use all the custard.

Place pan into another pan that will hold a water bath.

Bake the bread pudding for 45 minutes at 350F until golden on top.

Cool for 10 minutes and serve warm.

For the sauce:

Stir brown sugar and butter in a heavy medium saucepan over medium heat until melted and smooth, about 2 minutes.

Add cream and Amaretto and bring to a simmer.

Simmer for about 5 minutes.

Serve on top of bread pudding.