Brioche Monkey Bread turned into sinful and delicious Monkey Bread-Bread Pudding with a yummy brown sugar sauce. It is good as it sounds.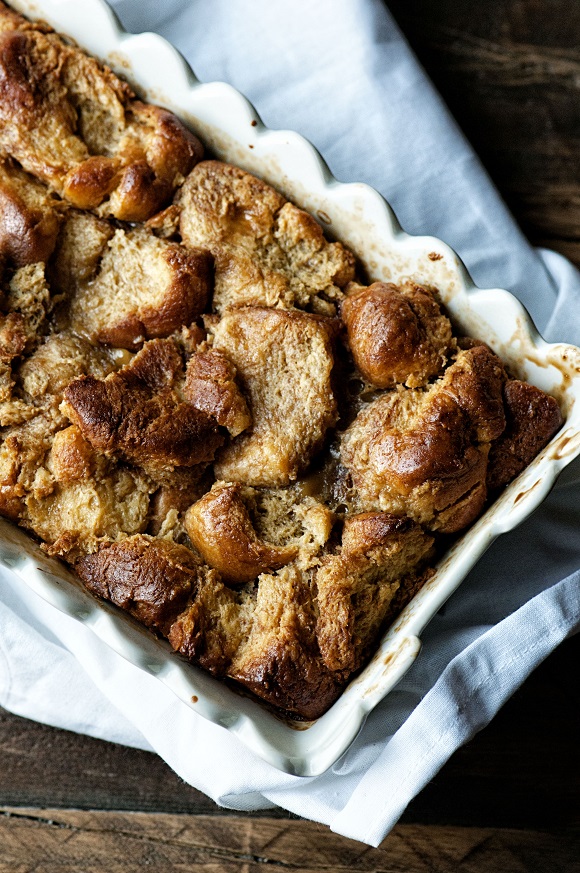 You may be looking at the recipe and having the same reaction that my husband did…"that's really long".
Keep in mind he only saw the brioche portion at that point.
I assured him while long it wasn't actually difficult just time consuming.
He's learned enough over the years that I won't lie to him about how difficult making something is so he said okay.
I pulled the yeast out and noticed we had one that expired at the end of this month and one that had well over a year.
I've told him even though it was probably fine we were going with the one that expired in Nov 2016 to ensure success.
We of course use Red Star Yeast, as their yeast has yet to ever let me down.
It being fall our temps are quite cool and we keep our house rather cool which is not helpful in bread making.
So in order to get things to rise in a timely fashion we used our laundry room trick.
Our laundry room is small and can be closed so I did a load of laundry so I could run the dryer and get the temperature up in there.
Your yeast will rise in the cooler temps but it will take longer.
However, if your sponge has not made bubbles at the hour mark your yeast was probably not good and don't continue on because you won't get the results you want.
Just get a fresh packet of yeast and start again.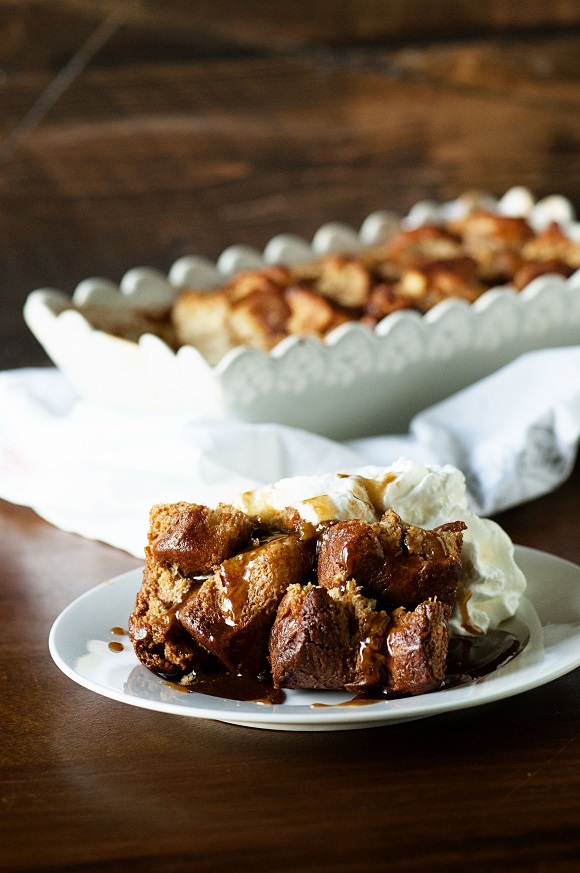 Once the sponge formed successfully, we had to add the remaining ingredients to form the dough.
That part was pretty cut and dry though hubby did wonder if his butter was cool but not cold.
I said best way to tell is if it's cold when you touch it but you can make an indent with your finger.
He thought he was all done until I said, oh no, back to the laundry room for 1-2 hours…and more like 2 for us due to it being cooler.
You can see him and his dough on Instagram.
This is when he decided he liked the waffles better since they didn't have a second rise. 🙂
The two hours passed and he punched down the dough and covered it again and put it into the fridge.
I gently reminded him we would have to get up and roll them into balls and then let them rise AGAIN for 1 or so.
Then we could roll them into cinnamon sugar and bake off the monkey bread.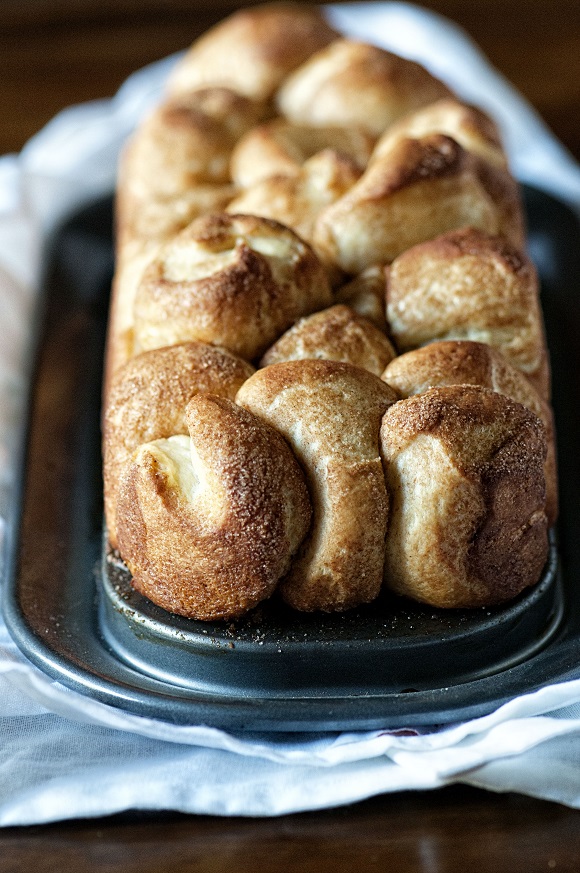 Hubs biggest take away from making the brioche was that it wasn't hard (I was correct…but then again I always am 😛 ) but that it was really important to get the timing right.
He wished he had started at a different time.
He felt like he was sitting around waiting on the bread to rise and thought if he had started it earlier then it would have coincided with doing stuff in the garage and time would have gone faster.
From there I took over and turned the brioche into this over the top Monkey Bread-Bread Pudding.
And boy is it good!
Just like Monkey Bread it's best to eat it warm but unlike Monkey Bread you have sauce to pour over it and so you can have all the extra sauce you want!
This post was sponsored by Red Star Yeast.
I have always used their product and I'm thrilled to be working with them.
And thrilled to teach my hubby (MDP) to get over his fear of baking with yeast!
As always the opinions, bad grammar, and overuse of smiley emoji's are all mine.
Please support those that support me.
It's a great day to buy my cookbook Holy Sweet!
Want More Bread Pudding Recipes?
Molasses Spice Orange Bread Pudding
Pumpkin Cinnamon Roll Bread Pudding
Apple Cider Donut Bread Pudding
Sticky Toffee Pudding Bread Pudding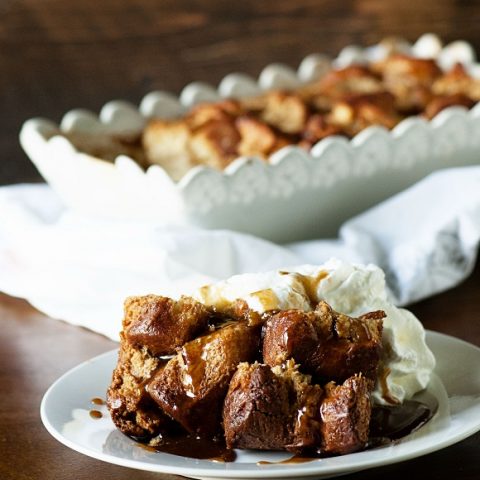 Monkey Bread Bread Pudding
Ingredients
½ batch Monkey Bread Brioche (recipe follows)
1 ¼ cup heavy cream
½ cup brown sugar, packed
2 eggs
1 egg yolk
¼ tsp. vanilla extract
1 batch Monkey Bread Sauce (recipe follows)Monkey Bread Sauce:
For the sauce:
1/2 cup unsalted butter
3/4 cup (packed) dark brown sugar
3/4 cup heavy cream
1/3 cup honey
1/4 tsp. saltMonkey Bread BriocheFor the sponge:
2 ½ tsp. (1 envelope) Red Star® Platinum Superior Baking Yeast®
½ cup whole milk, at room temperature
¼ cup granulated sugar
½ cup bread flour (or all-purpose)For the dough:
3 cups bread flour
1 ¼ tsp. salt
4 large eggs
½ pound unsalted butter, softened, but still coolFor coating:
2 tsp. cinnamon
1 cup granulated sugarFor the coating:
Mix together the cinnamon and sugar. Set aside.
Instructions
Sponge:
Combine the yeast and milk in the bowl of standing mixer fitted with a paddle attachment and whisk until the yeast is dissolved.
Stir in the sugar and flour, forming a thick batter.
Cover with plastic film and let rest in a warm environment for 30-45 minutes.
As fermentation begins, bubbles will form. If you do not get bubbles then your yeast is not fresh. Don't proceed as you will not get the results you want. Start the sponge again with new yeast if after an hour there is nothing.
Dough:
Add the bread flour and salt to the sponge, then add the eggs.Using the paddle attachment mix on low speed for 2 minutes, or until the eggs are absorbed.Increase the speed to medium and knead the dough for 5 minutes.
The dough will eventually begin to slap around and pull away from the sides of the bowl.
Then it will form a ball on the paddle.Finally it will relax and reach back out to the sides of the bowl.
At this point, it will be a shiny, satiny dough.
Switch to the dough hook at this point.
On medium speed, add the butter, 2 TBSP at a time.Knead until the dough is shiny and smooth, about 5 minutes.
Scrape out the dough.
Place the dough in a well-oiled bowl and turn it so the top is coated with oil.
Cover with plastic film and let rise at room temperature until doubled in volume, about 2 hours.
After the dough has doubled in volume, press down to deflate, folding one half into the other.Fold two or three times, either in the bowl or on a lightly floured surface.
Cover with plastic film and place in the refrigerator for at least 4 hours or overnight.
This is the second rise.
Remove the dough from the refrigerator.
Turn it out onto a lightly floured surface.
Divide the dough evenly in half.
Cover one piece with plastic film while you shape the other. You will not need the other half of the dough for this recipe so either make a loaf of bread or cinnamon rolls.
Divide the dough into 24 even balls.
Cover the dough with plastic film coated with pan spray and let rise at room temperature until it has doubled in size and filled the pans completely. It should take 1 ½-2 hours, depending on the temperature of your room.
Toward the end of the proofing, preheat the oven to 350F. Adjust the rack to the center of the oven.
Prepare a standard loaf pan with baking spray or butter.
Gently toss the balls of dough, a few at a time, in the cinnamon sugar mixture.
Place 12 of them gently into the bottom of the prepared pan, taking care not to squeeze them too close together. Then the remaining 12 on top.
Place the pan on the center rack of the preheated oven and bake for approximately 40-50 minutes, until the top crust is nicely browned, and a thermometer inserted in the center reads 210 degrees Fahrenheit.
Cool in the pan for 20 minutes, and then remove.
You want to make the bread a day before so that it can get a little stale for the bread pudding.
To make the bread pudding:
Preheat oven to 350F.
Spray a standard loaf pan with baking spray.
Whisk together the eggs, yolk, cream, sugar, and vanilla until fully combined.
Break the monkey bread pieces off into the loaf similar to how you made the loaf with 12 pieces on the bottom.
Pour half the custard mixture in and press the bread down to soak up the custard base.
Break the remaining monkey bread pieces off and place on top of the bottom layer.
Add the remaining custard base and again press the bread pieces down.
Cover with foil and bake for 30 minutes.
Remove foil and bake another 15-20 minutes. Just making sure none of the custard mixture is still liquid.Remove from oven and let cool while you prepare sauce.
For the sauce:
Melt butter in a small heavy saucepan over medium heat.Stir in brown sugar, cream, honey, and salt.
Bring to a boil, reduce heat to medium, and simmer until glaze is golden brown and glossy, 3–4 minutes.
Cut bread pudding into rectangular pieces and top with sauce and whipped cream or ice cream (if desired).