Sweet Tea Bread Pudding: Bread pudding made with a summer twist with Hawaiian rolls with and a sweet tea and lemon curd base all topped with sweet tea caramel sauce.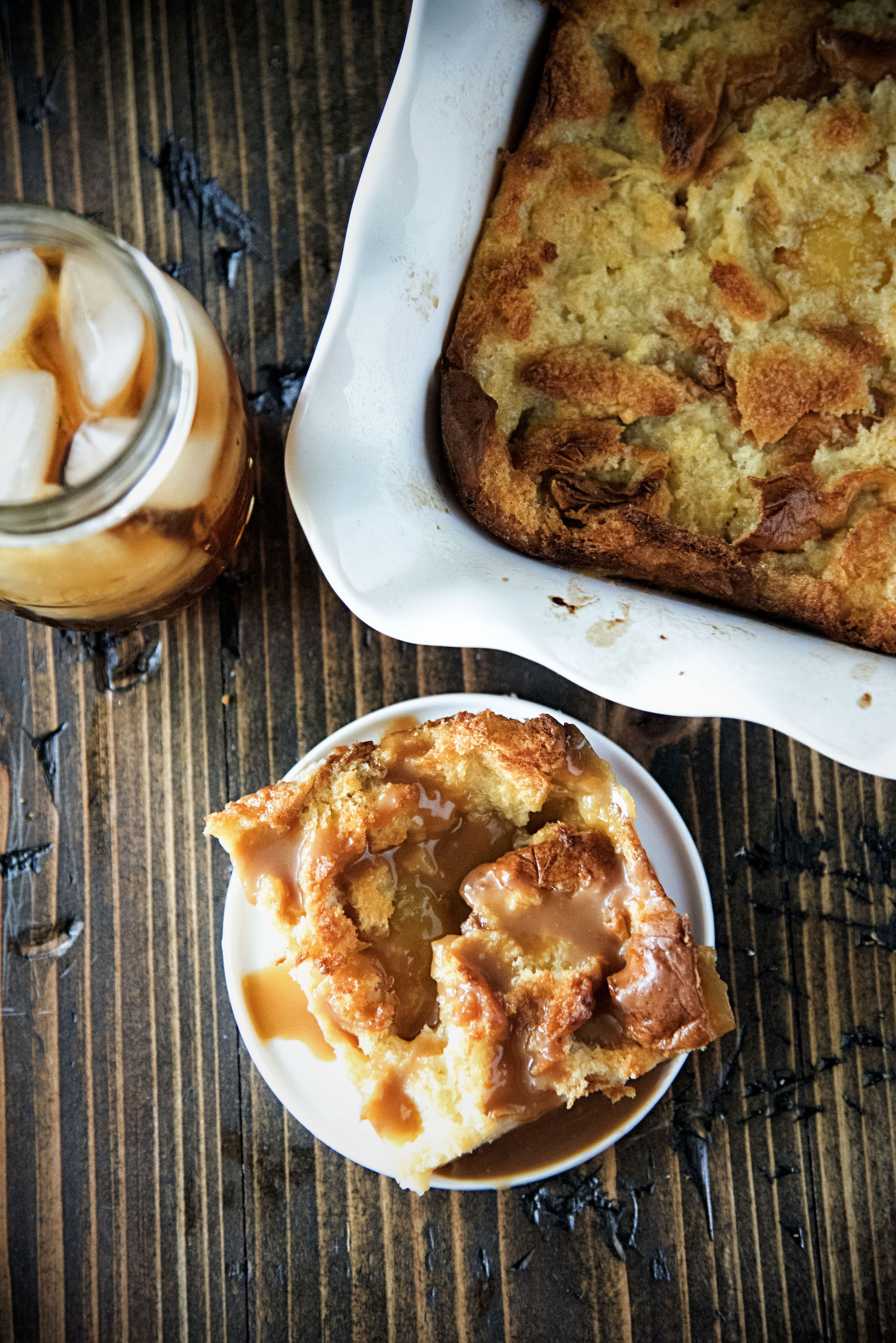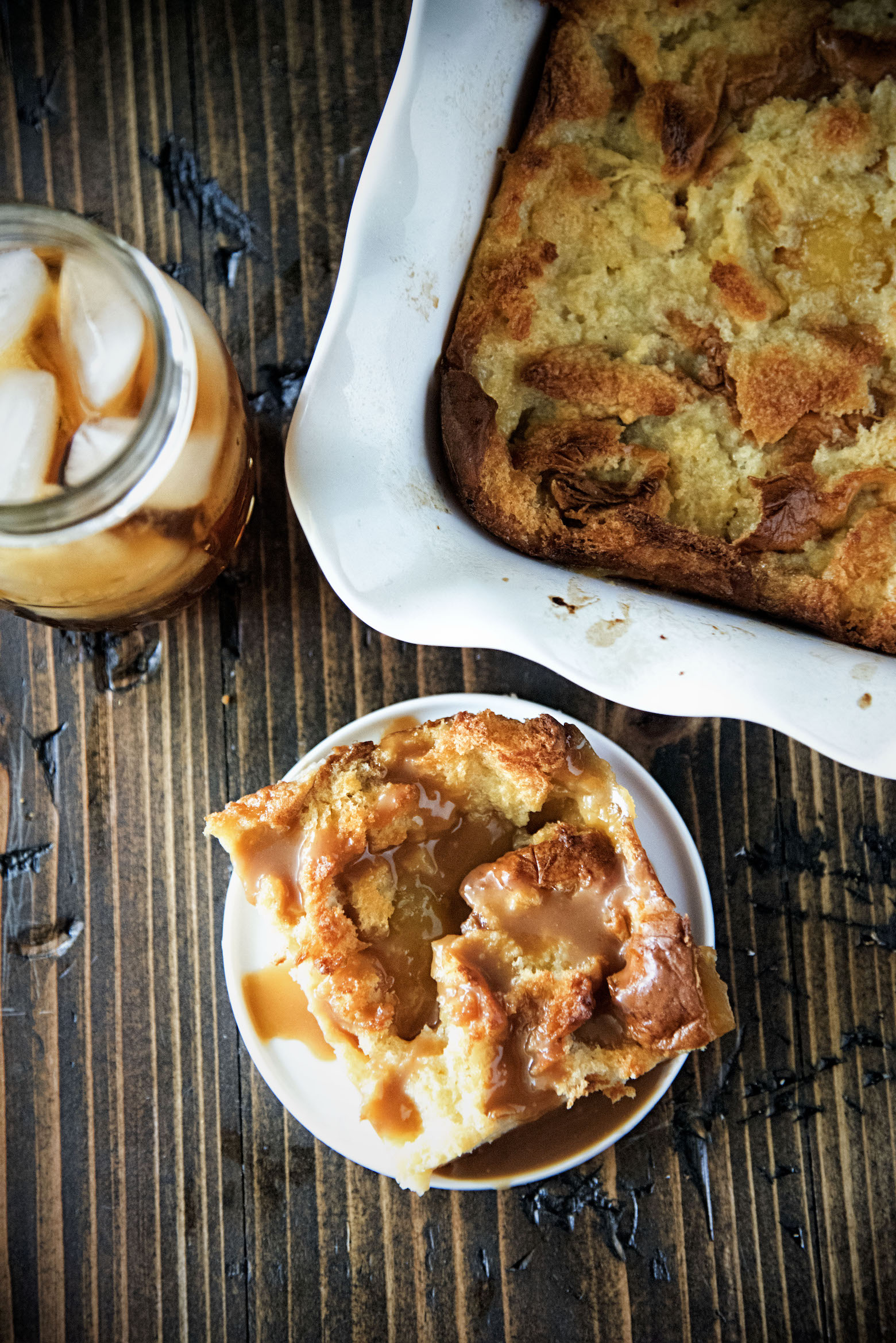 This post and recipe was created for #SummerDessertWeek! I was sent samples by some of the sponsor companies but as always opinions, bad grammar, and overuse of emojis are 100% mine.
In this post I used
Dixie Crystals Sugar
granulated sugar in my recipe. I got great results with the product that they sent me.
Last year I participated in #SummerDessertWeek and really enjoyed it (see what recipes I made for it here and here). 
So when the opportunity came again I jumped right in, especially when my readers have the chance to win prizes (scroll down to the end of post to enter).
Often we get into baking lulls in the summer…especially when it is hot out.
Which is why I love #SummerDessertWeek because it forces me to bake.
Oh sure, I could have done frozen desserts but we had temperatures in the 60's last weekend and so I took advantage and turned on the oven.
Bread pudding is a wonderful dessert (one of my all time favorites) but I find that it's more of fall/winter dessert in most people's minds.
But really I think it should be a year round dessert.
Therefore I'm offering up for my first #SummerDessertWeek recipe a summer twist on bread pudding.
While sweet tea is often thought of as a Southern drink, in most places in Canada ice tea is sweet tea with lemon.
This dessert is in honor of that.
A sweet tea custard base with the addition of spoonfuls of lemon curd. All topped with sweet tea caramel sauce.
If you are a tea drinker this dessert is a must for you.
Check out the amazing #SummerDessertWeek recipes from our bloggers today!
Ice Cream Recipes:
Pies of Summer:
Sweet Summertime Cakes:
No-Bake Treats:
Baked Desserts:
Sweet Sips: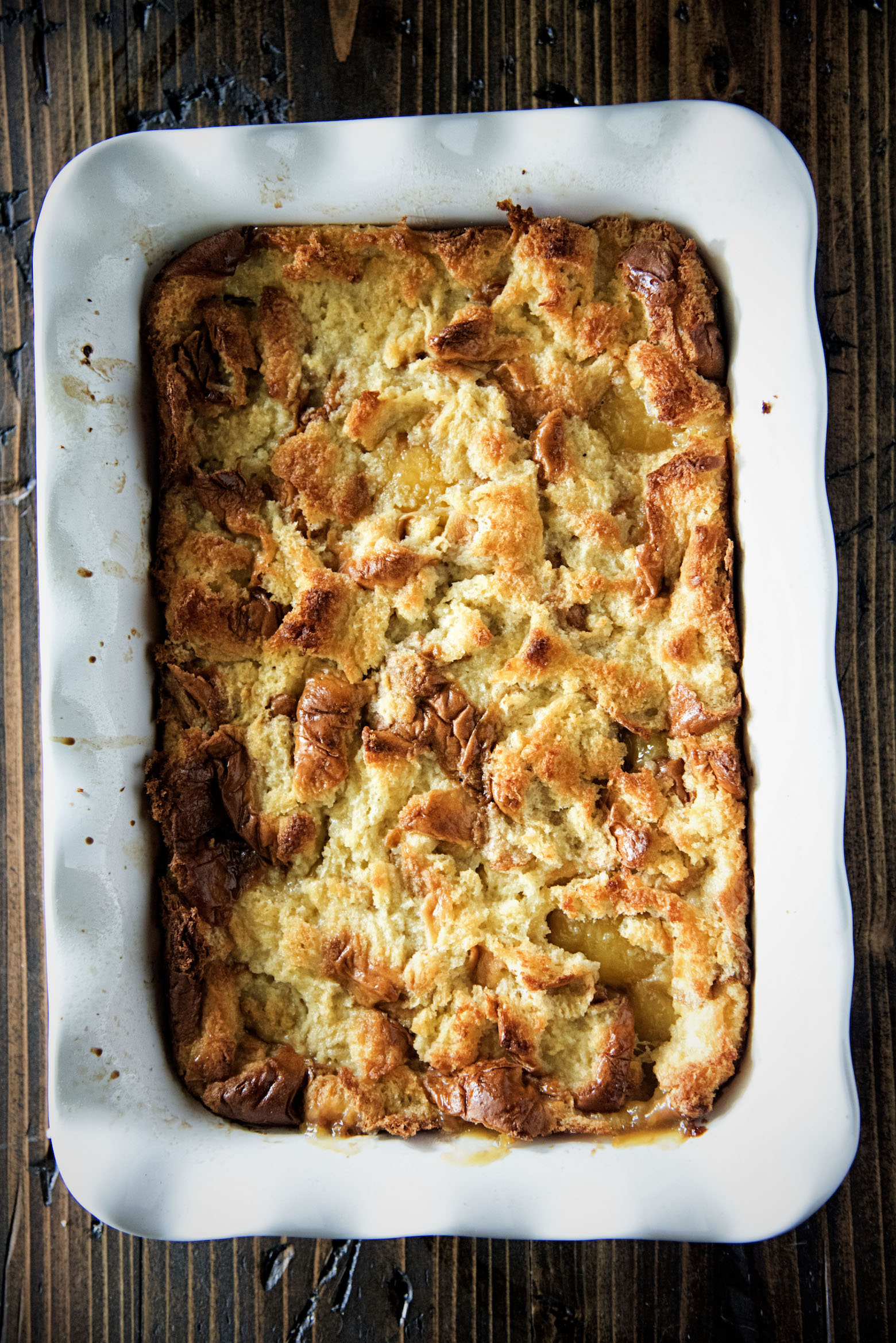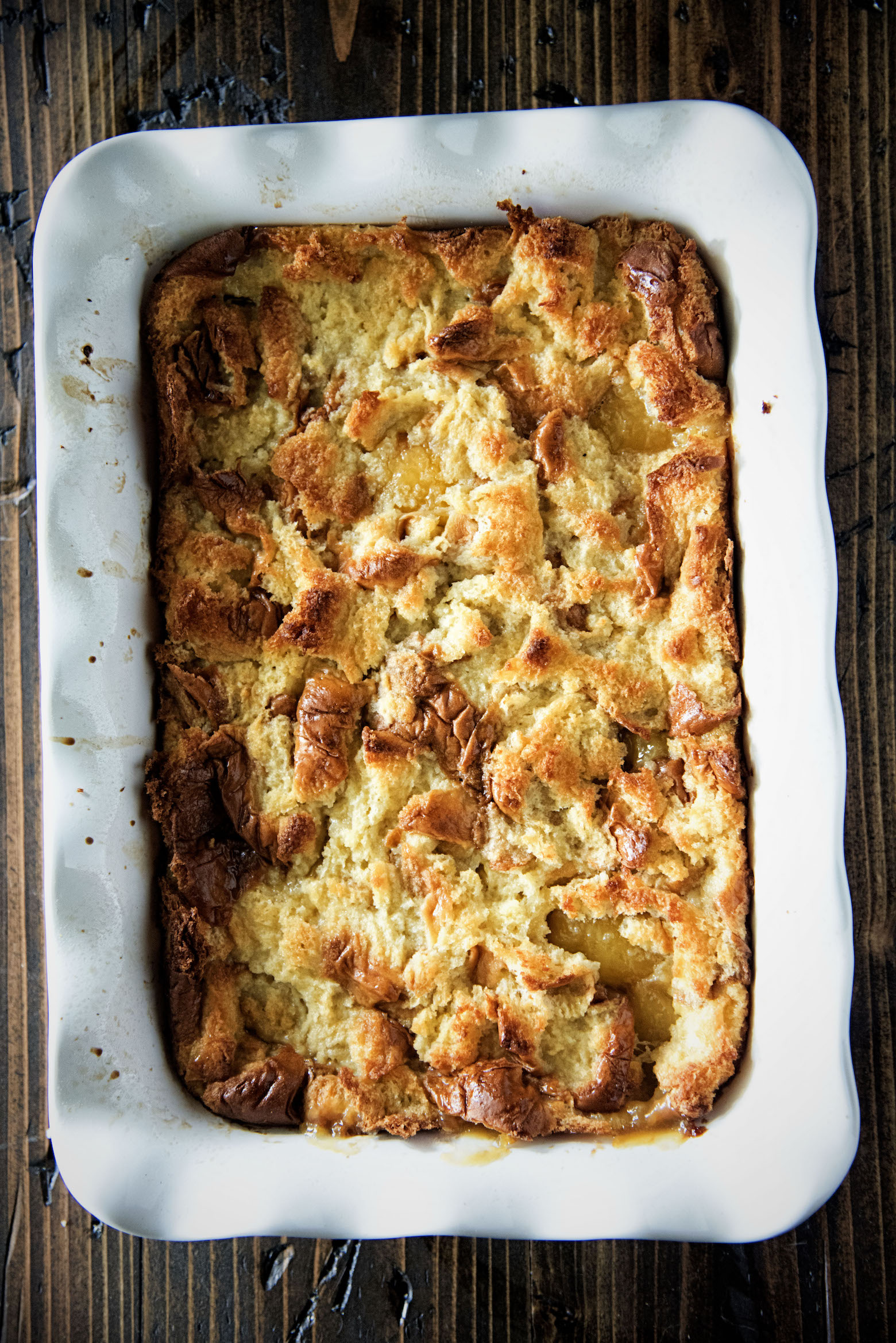 Sweet Tea Bread Pudding
For the Bread Pudding:
16 Hawaiian Rolls
3/4 cup unsweetened ice tea
2 1/4 cups heavy whipping cream
5 egg yolks
1 1/4 cup granulated sugar
1 cup lemon curd
pinch of salt
For the Spiced Rum Caramel Sauce:
2 cups granulated sugar
1/2 cup unsweetened ice tea
1 tsp. fresh lemon juice
2 cups heavy cream
½ tsp salt
Instructions:
For the bread pudding:
Tear 1/2  of the rolls into pieces and place into a baking dish (9-x-13-inch) that has been sprayed with baking spray or lightly coated in butter.
Mix the egg yolks, sugar, and salt together in a bowl.
Then whisk in the heavy cream and ice tea and beat until fully incorporated.
Pour 1/2 the custard over the bread.
Press down the bread pieces until the bread is soaked with the custard.
Scatter spoonfuls of lemon curd over the soaked bread pudding.
Add the remaining roll pieces.
Top with remaining custard.
Press down the bread pieces until bread is soaked with the custard.
Don't feel like you have to use all the custard. How much bread will soak up changes.
Place pan into another pan that will hold a water bath.
Bake the bread pudding for 45 minutes at 350F until golden on top.
Cool for 10 minutes and serve warm.
For the sauce:
Combine the sugar, ice tea, and lemon juice in a heavy bottomed saucepan over medium heat.
Cook, gently swirling the pan occasionally, until the sugar dissolves and starts to turn color.
Increase the heat to thigh and boil until the syrup turns a deep amber color, 4 to 5 minutes.
Watch carefully, as it can burn quickly.
Immediately remove the pan from the heat and pour in the cream and salt.
Use a long-handled wooden spoon to carefully stir in the cream, as caramel has a tendency to hiss and splash as the cold cream hits it.
Place the pan over low heat and cook, stirring constantly, until the caramel thickens, 5 to 7 minutes.
The mixture should be the consistency of very thick cream. Let boiling sauce cool until it is just warm before serving.
To store, cover and refrigerate for up to 1 week.
To reheat the sauce, microwave, uncovered, for about 1 minutes on high.
Stir until smooth.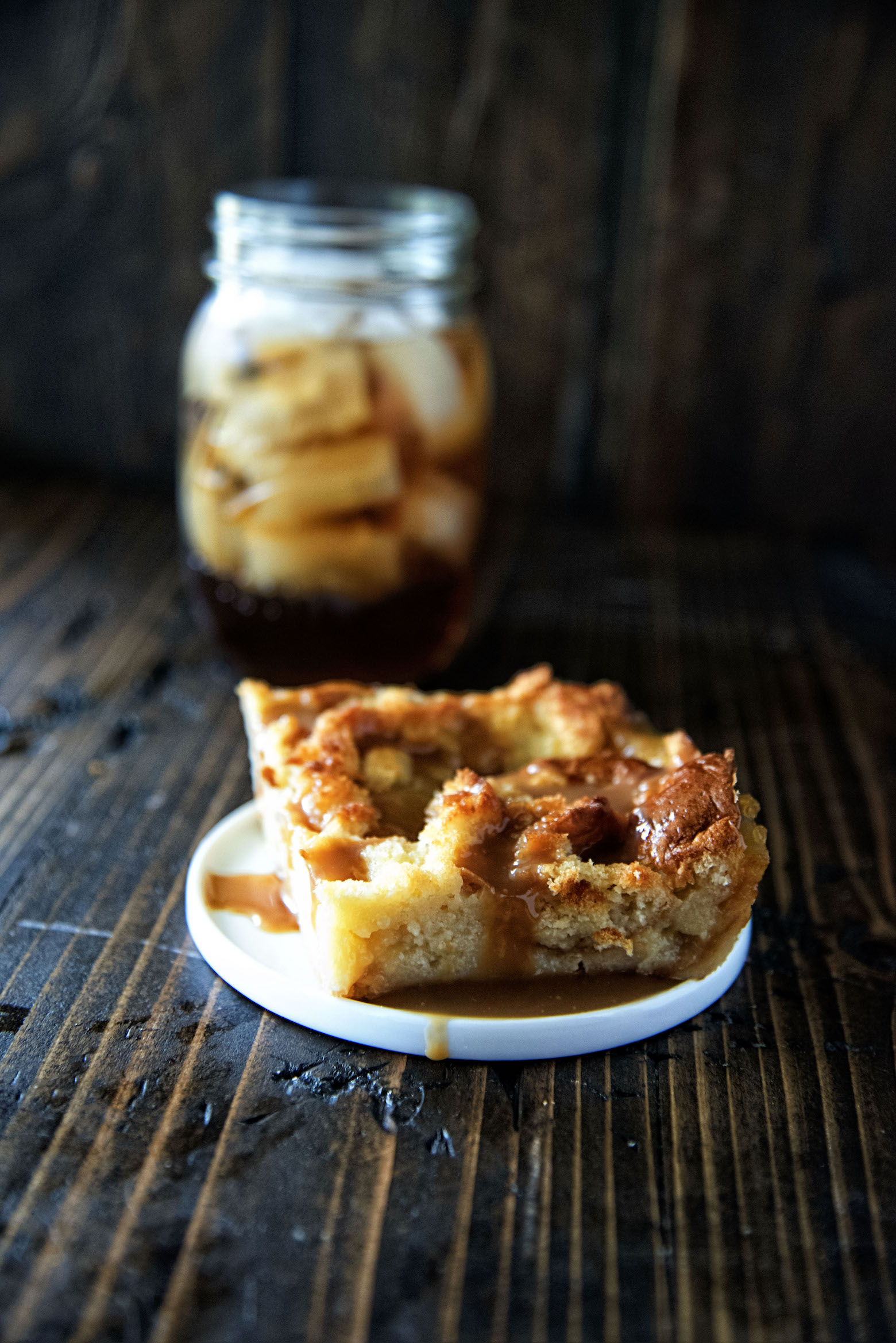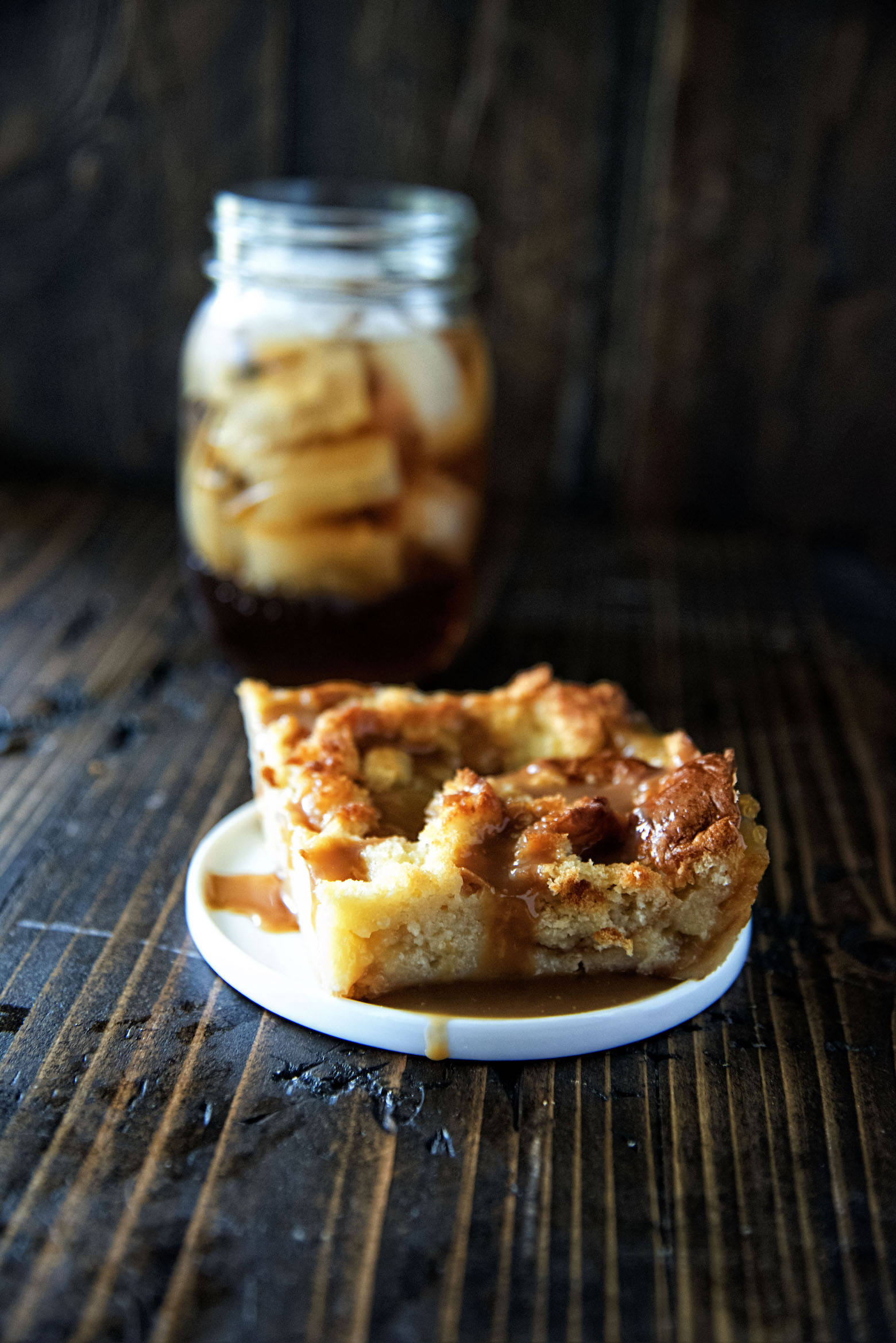 Welcome to the 2nd Annual #SummerDessertWeek event hosted by Angie from Big Bear's Wife. This sweet week-long event is filled with fun dessert recipes from amazing bloggers and some great giveaways from our generous sponsors! We can't wait to share all of these summer-themed desserts with y'all and celebrate summertime sweets all week long!
There are 23 wonderful bloggers participating in this year's event! With over 60 recipes being shared this week we just know that you're going to find a new summer favorite! Plus, don't forget that we have 5 (five) great giveaways for you this week too!
Scroll down to take a look!
PRIZE #1
Prize #1 — Dixie Crystals is giving away one (1) Instant Pot (8 Qt) to one lucky winner!
PRIZE #2
Prize #2 — Adam's Extract is giving away – One bottle of Adams Best Vanilla Flavor, Adams Best Prize Winning Pound Cake Mix, Adams Extract Twice as Stong Vanilla and Adams Extract Lemon Extract
PRIZE #3
Prize #3– Red Star Yeast is giving away a gift pack including an Insulated Tote Bag, Apron, "The New Artisan Bread in Five Minutes a Day" Cookbook, Yeast, Rolling Pin, Measuring Spoons, Oven Mit and Dish Towel
PRIZE #4
Prize #4 — Susquehanna Glass Co. is giving away one set (4 glasses) of Mermaids Stemless Wine Glasses. (like the Mermaid glasses you'll see in some of our recipes this week!)
PRIZE #5
Prize #5 — Lodge Cast Iron is giving away one (1) 12-inch Cast Iron Skillet.
Giveaway open to US Residents 18 years or older. No PO Boxes Please. giveaway runs from July 9th until July 15th at 12AMEST. Winners will be selected soon afterward and contacted by e-mail. Winners will have 48 hours to respond or a new winner will be chosen. There are a total of 5 (five) prizes and therefore we will have a total of 5 (five) winners.
Disclaimer: These posts and recipes are part of the week-long event, #SummerDessertWeek but all opinions are 100% mine! We would like to Thank our amazing sponsors: Dixie Crystals, Adam's Extract, Red Star Yeast, Susquehanna Glass Co. and Lodge Cast Iron! These wonderful sponsors provided the prize packs for our giveaways and also sent samples and products to the #SummerDessertWeek bloggers to use in their recipes.