This Drunken Grasshopper Fudge is a creamy marshmallow based fudge made with white chocolate and mint chips with Creme de Menthe and Crème de Cocoa for a kick.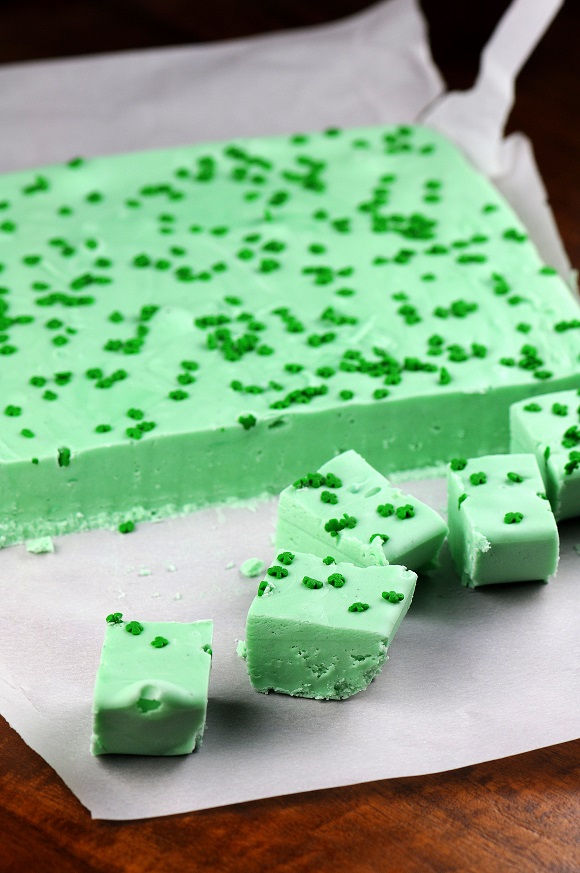 Crazy thing happened on Friday.
I got up early to go to an appointment and did my usual checking of the email, FB, Twitter, etc. and then headed out.
Upon returning I did the same.
But when I glanced at my FB I noticed over where it had my page it said 20+.
I thought what the???
I figured I was being spammed to death and so I went and looked over.
Low and behold I had gained 400 plus followers.
Ummm, that never happens.
Well it does but not in a few hours time.
So I asked where did you all come from?
Some were funny and said their parents, which I appreciated the sarcasm.
But most told me that Reese's had posted my famous (it's the most pinned thing I have made) Peanut Butter Cup Brownie Torte and people had come over from that!
So I made an all things peanut butter board on Pinterest for the occasion and plan on making a few peanut butter treats this week on the blog.
So welcome new peeps!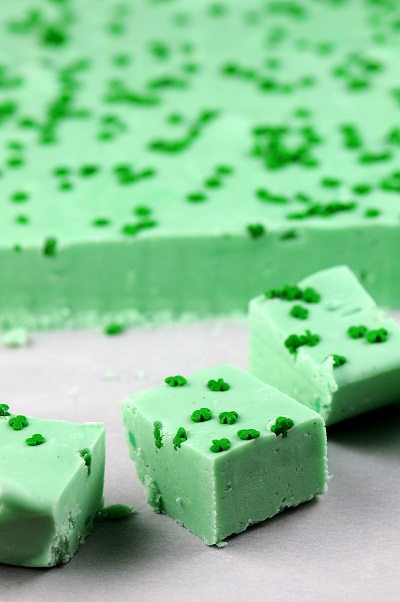 St. Patrick's Day is next week.
I had Crème de Mente sitting around because of a recipe I had to make for Tablespoon.
There's not a whole lot you can make with the stuff.
But then we were watching Big Bang Theory and Raj was drinking a Grasshopper (which he does often) and I was like bingo!
And so I decided to make it in fudge form and call it Drunken Grasshopper Fudge.
Sadly you don't really get drunk from the fudge since all the alcohol gets cooked out but it's nice to pretend. 🙂
This is along the lines of fantasy fudge since it's made with marshmallow crème so it comes out melt in your mouth.
Throw on so shamrock sprinkles and you are down right festive!
Keys to Successful Fudge:
Have a thermometer.
I don't like the old fashioned ones that you clip to the side.
Those never work for me.
I like digital and use this one.
Use Baker's sugar.
Also known as caster or superfine sugar.
I don't always follow my own rule because I don't always have it on hand but it makes for a less gritty fudge.
Use good butter. Preferably European.
They higher the butterfat content the better.
Cheaper butter often has too much water in it and will cause your fudge to separate.
Same goes for your chocolate.
The cheaper the chocolate the more likely it is to separate.
If using chips I tend to use Guittard.
And when making extra special fudge I used TCHO.
It's a great day to buy my cookbook Holy Sweet!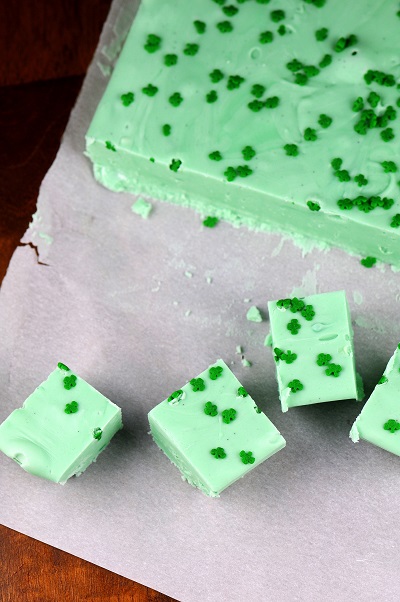 Want More Fudge Recipes?
Monster Cookie Chocolate Fudge
Chocolate Butterscotch Salted Cashew Fudge
Pineapple Upside Down Cake Fudge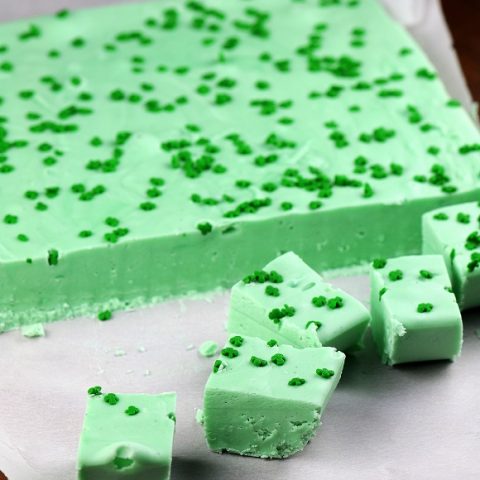 Drunken Grasshopper Fudge
Ingredients
2 cups granulated sugar
4 oz. unsalted butter
1/3 cup heavy cream
¼ cup Crème de Menthe
¼ cup Crème de Cocoa
1 cup white chocolate chips
1 cup mint chips (Guittard makes some)
1 tsp. vanilla bean paste (or extract)
7-ounce jar marshmallow crème
Shamrock Sprinkles to garmish
Instructions
Line a 8×8 inch pan with parchment with an overhang so you can lift the fudge out later and coat with baking spray.
Combine sugar, butter, heavy cream and both liquors into a large heavy bottomed sauce pan and bring to a boil over medium heat.
Once boiling, attach a candy thermometer and reduce the heat to a hair above medium low and cook for 7-10 minutes until your thermometer reads 234°F (soft ball stage) , stirring constantly.
Once you reach 234F remove from heat and add the white chocolate chips and mint chips, stirring vigorously with a wooden spoon until the chocolate has melted and the mixture is smooth.
Add the vanilla bean paste and marshmallow creme and mix until well blended.
Pour into prepared pan.
Throw so sprinkles on top to be festive if you like.
Let cool to room temperature. Then lift out of the pan and onto a cutting board. Cut into whatever amount you want. I think I got about 32 pieces.