This Pumpkin Salted Caramel Swirl Cheesecake has a vanilla cheesecake batter, pumpkin spice cheesecake batter, and salted caramel swirl.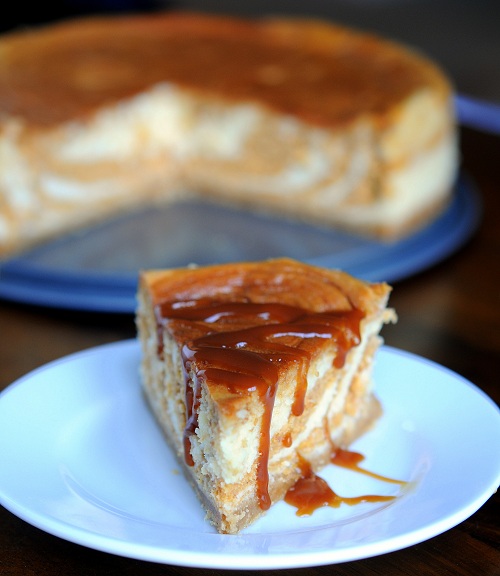 When my brother was in high school he worked for Kentucky Fried Chicken as it was called back then (you know it as the oh so hip and cool KFC now).
Every night he worked he would come home smelling like chicken grease.
He smelled so much so that after two years of working there he kind of couldn't eat chicken anymore.
So when I went to work in a bakery and they said what would you like to work on?
I said cheesecake.
For I had this great idea that cheesecake (which I loved so much) would become my fried chicken and I would stop wanting to eat it so much.
Yeah, so that didn't work so much.
In fact all it did was make me much better at making cheesecake.
And I got in charge of making the flavor of the month cheesecake.
The pumpkin swirl was one of my first.
I highlighted it when this blog first started and thought I would update it a bit with some salted caramel.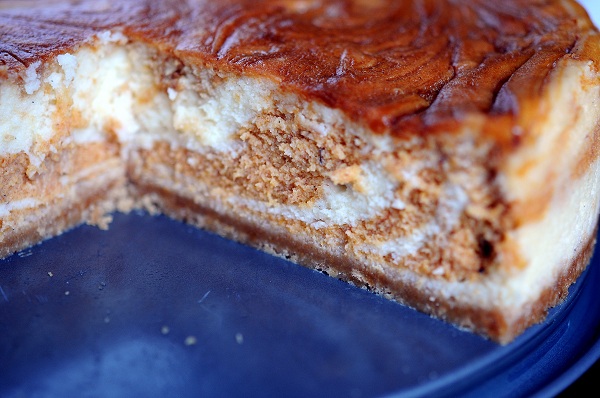 Last week we got on the subject of the Cheesecake Factory and then the mini Candy Corn Cheesecake Bites I had made at JV Soccer last week.
One of the dads commented well where is this cheesecake.
And I said that I would gladly bring him some next game that he was at.
I asked what kind and he said he would eat whatever (which is my favorite kind of people to feed).
Since he is Canadian I started to think about our upcoming Thanksgiving which is less than two weeks.
I chose pumpkin.
This was about as yummy as I predicted.
I already loved the pumpkin swirl the original way and now with shortbread crust and salted caramel…um, yeah.
This Pumpkin Salted Caramel Swirl Cheesecake would have gone over very well at the bakery.
P.S. It's a great day to buy my cookbook Holy Sweet!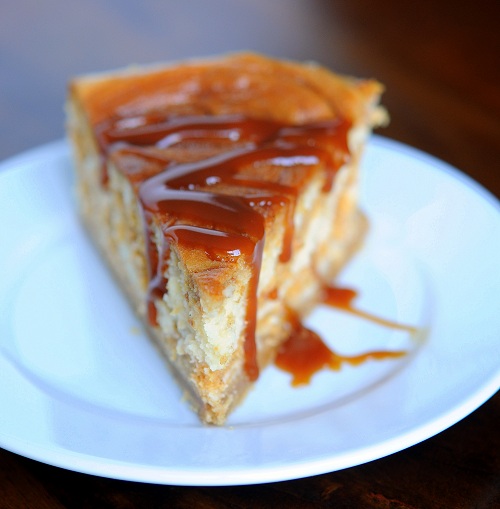 Want More Cheesecake Recipes?
Fireball Sour Cream Topped Brown Sugar Cheesecake
Savory Everything Bagel Cheesecake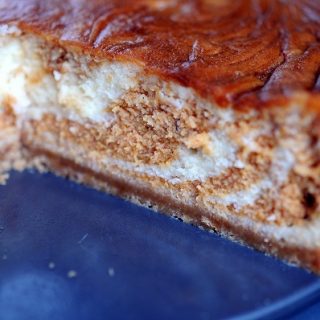 Pumpkin Salted Caramel Swirl Cheesecake
Ingredients
For the Crust:
1 1/2 cups crushed Shortbread Cookies
1/4 cup melted butter
For the batter:
2 ½ lbs. cream cheese, at room temperature
2 TBSP flour
5 large eggs
2 egg yolks
1 cup pumpkin
2 1/2 cups sugar
1 1/2 tsp. cinnamon
1 tsp. nutmeg
2 tsp. vanilla bean paste
Instructions
For crust, combine the shortbread crumbs and butter.
Press onto the bottom of a 10 inch springform pan.
Wrap the pan in aluminum foil for later.
Bake for 10 minutes in 350F oven. Set aside.
For the filling, cream the cheese until soft.
Add in the sugar ¼ cup at a time and mix well.
Pour the flour and mix to blend.
Add in the eggs, one at a time, scraping the bowl down after each addition.
Then add in the yolks and vanilla. Mix well.
Remove 3 cups of the batter and place in a bowl.
In a separate bowl, combine the pumpkin, cinnamon, and nutmeg.
Stir in the 3 cups of plain cheesecake batter.
Layer the two batters in the spring form pan starting with the plain batter.
Do three layers plain batter and two of the pumpkin batter.
Top the cheesecake with 1/3 cup salted caramel sauce.
Swirl the batters and sauce to create a marbleized look.
Place the cheesecake on a sheet pan.
Place in the oven and pour in hot water to create a water bath (this is where the aluminum foil comes in handy…without it water can leak in).
Bake the cheesecake at 350 F for approx. 2 hours.
A thin knife inserted in the center should come out almost clean.
Cool the cake and then chill.
Let sit overnight before unmolding.
Serve with extra salted caramel sauce if desired.