Cinnamon Roll Caramel Apple Cheesecake: This cheesecake is half cinnamon roll and half cheesecake. All made even more yummy by adding caramel apples and cream cheese frosting.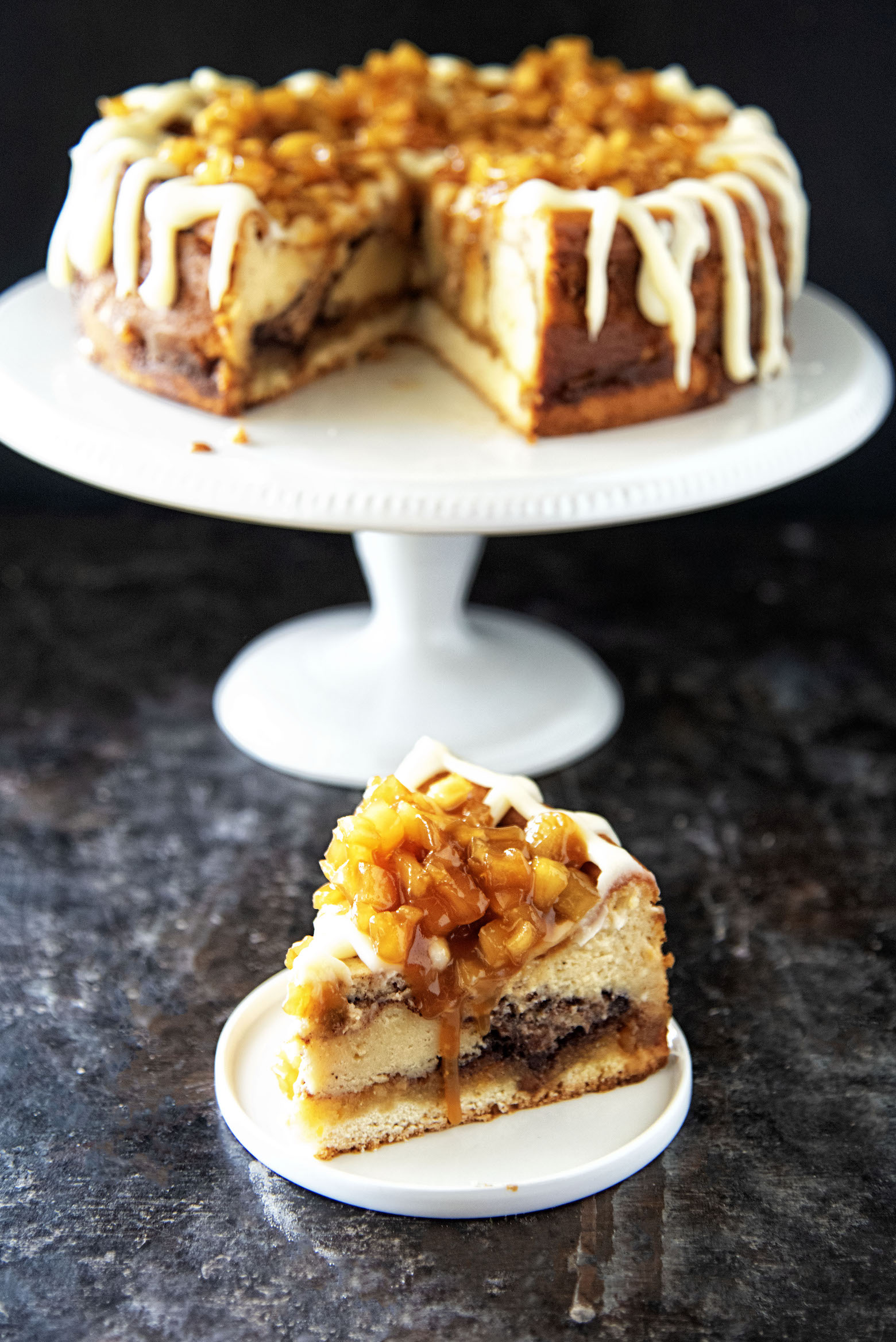 I'm teaming up with Rodelle to help you get ready for fall baking.
I was compensated for creating the recipe but the thoughts, bad grammar, overuse of emoji's in this post are all mine.
Please support companies that support this blog!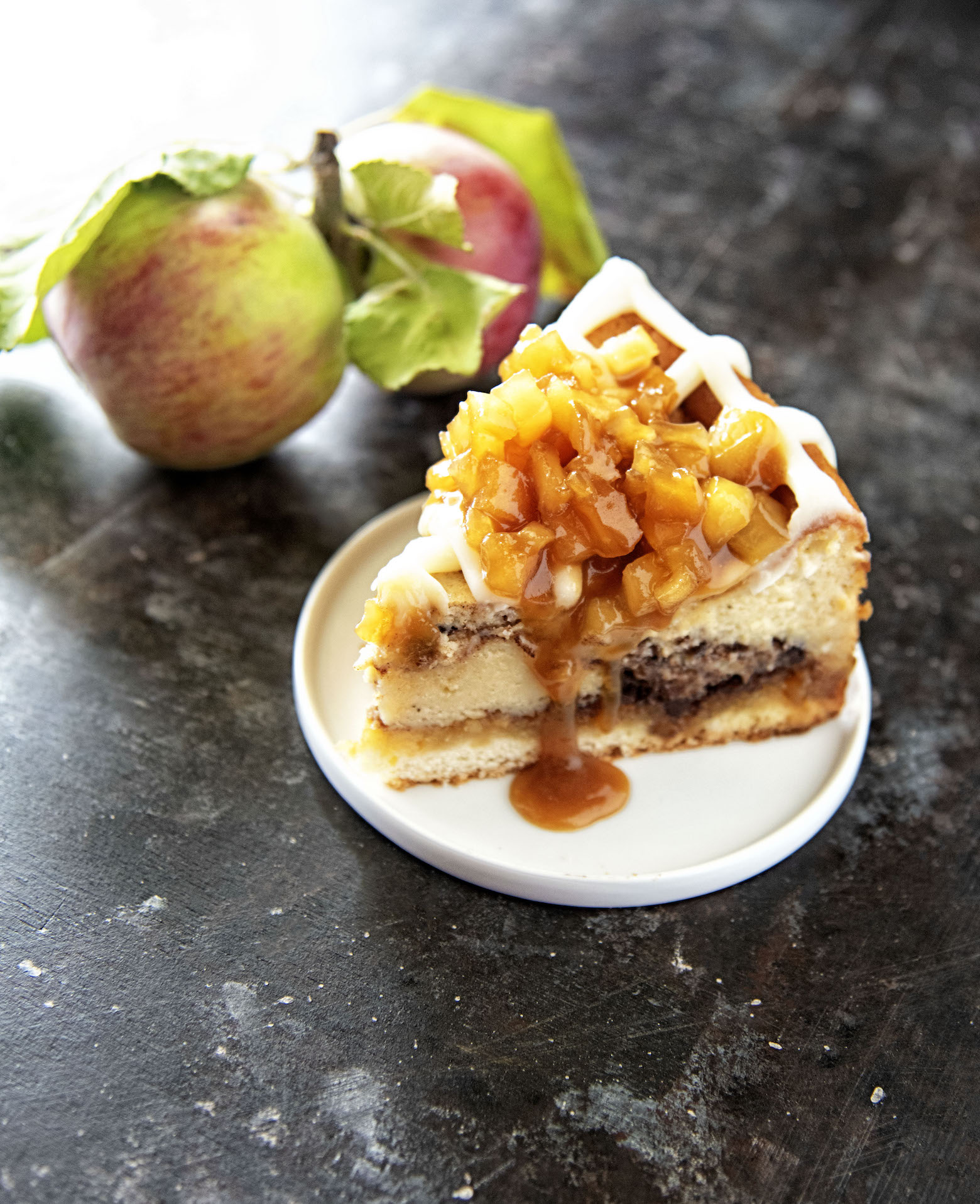 The air is starting to turn crisp and the leaves are turning golden and red. We are all cozy in sweaters and blankets. The oven is on because fall baking is upon us.
And my fall baking is not complete without the great products that Rodelle has to offer from their vanilla to their baking cocoa to their pumpkin spice extract.
My favorite fall baking essential is of course their Rodelle Gourmet Vanilla Extract.
As an ambassador for Rodelle I have been using their vanilla for years.
In fact, that is how they found me because I was already using and promoting their vanilla.
I love it because it's pure vanilla extract, it's kosher, and gluten free.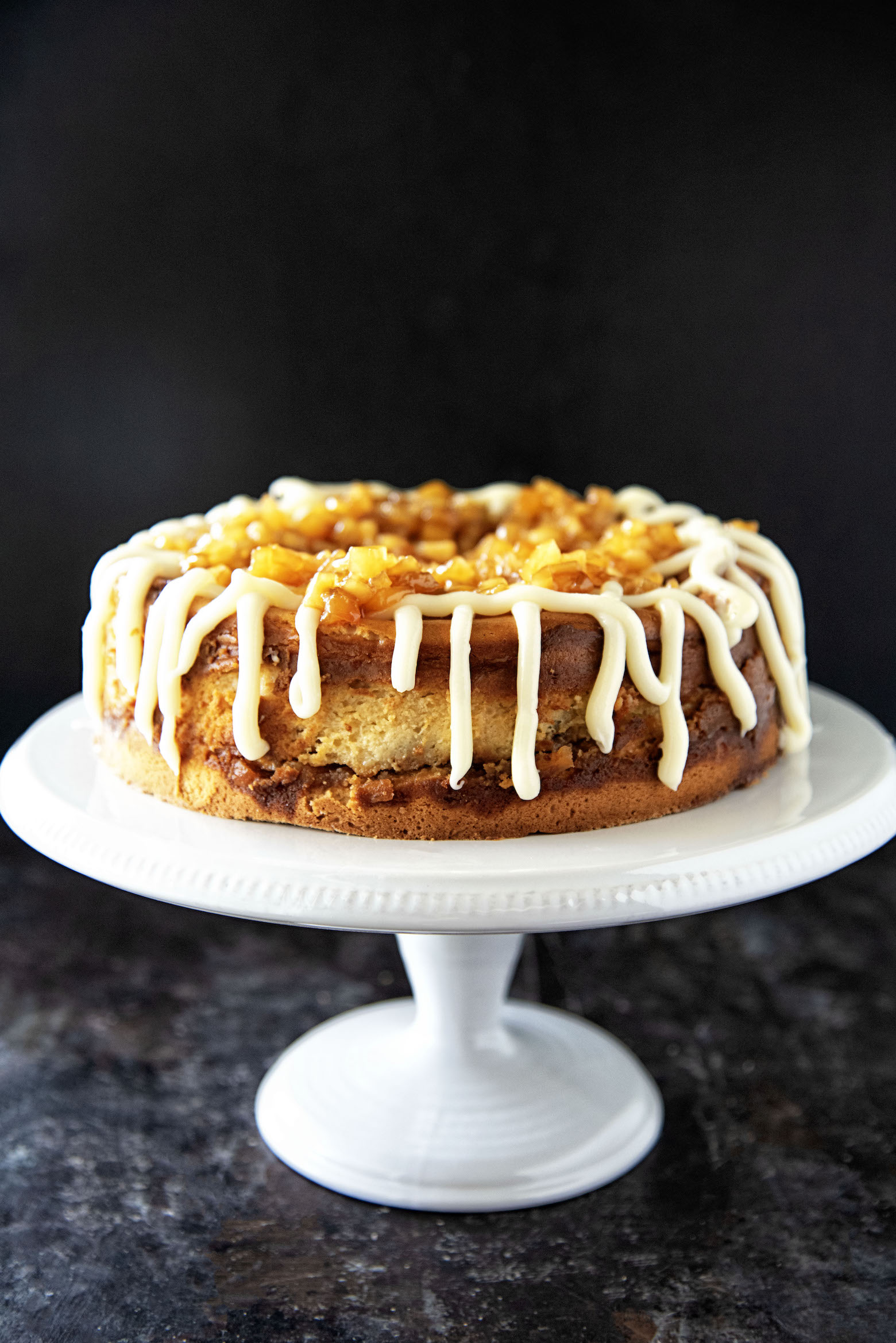 If you have never tried any of their products then you are in luck.
I'm hosting a giveaway with Rodelle to give you a fall starter pack of not only great baking products but Thanksgiving ones as well.
So you can make all the fall baking comfort foods for yourself.

All the details are over on my Instagram and that is where you will enter to win.
Here is what you can win:
one 8oz bottle of Gourmet Vanilla Extract
(1) 8oz container of Whole Cinnamon Sticks
one 16oz container of Wassail Mulling Spice Blend
(1) 2oz bottle of Pumpkin Spice Extract
one 4oz bottle of All-Natural Vanilla Bean Paste
(1) 13oz container of Gourmet Turkey Brine
one 8oz bag of Gourmet Baking Cocoa
Pretty awesome, right?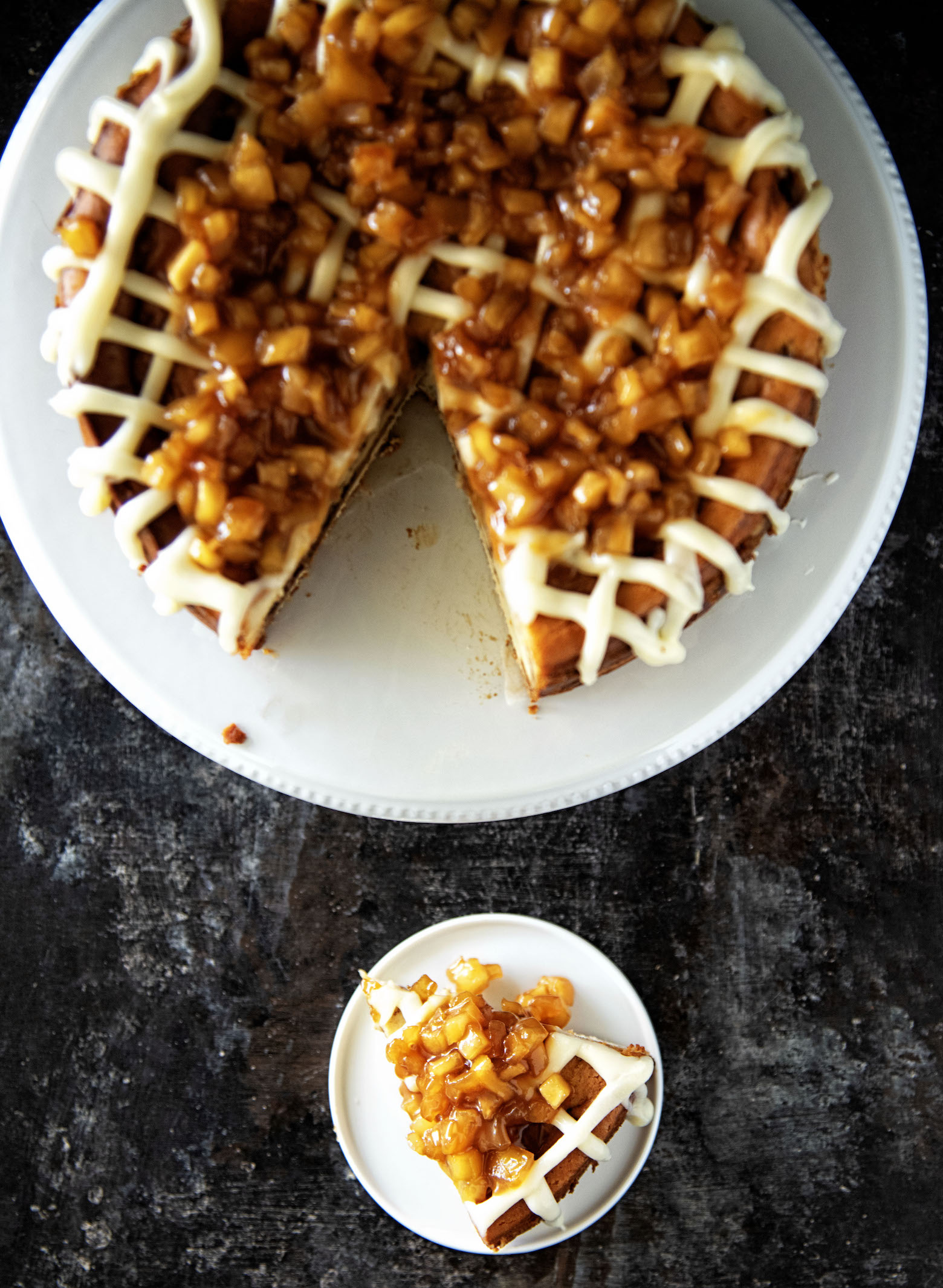 Now on to this cheesecake.
I am blessed to have quite a few apple trees in my backyard.
We did not plant them and so honestly I'm not totally sure what varieties there are especially because the trees were spliced to have more than one apple grow on them.
The first year using the apples was hit or miss as to figuring out what ones worked best for baking.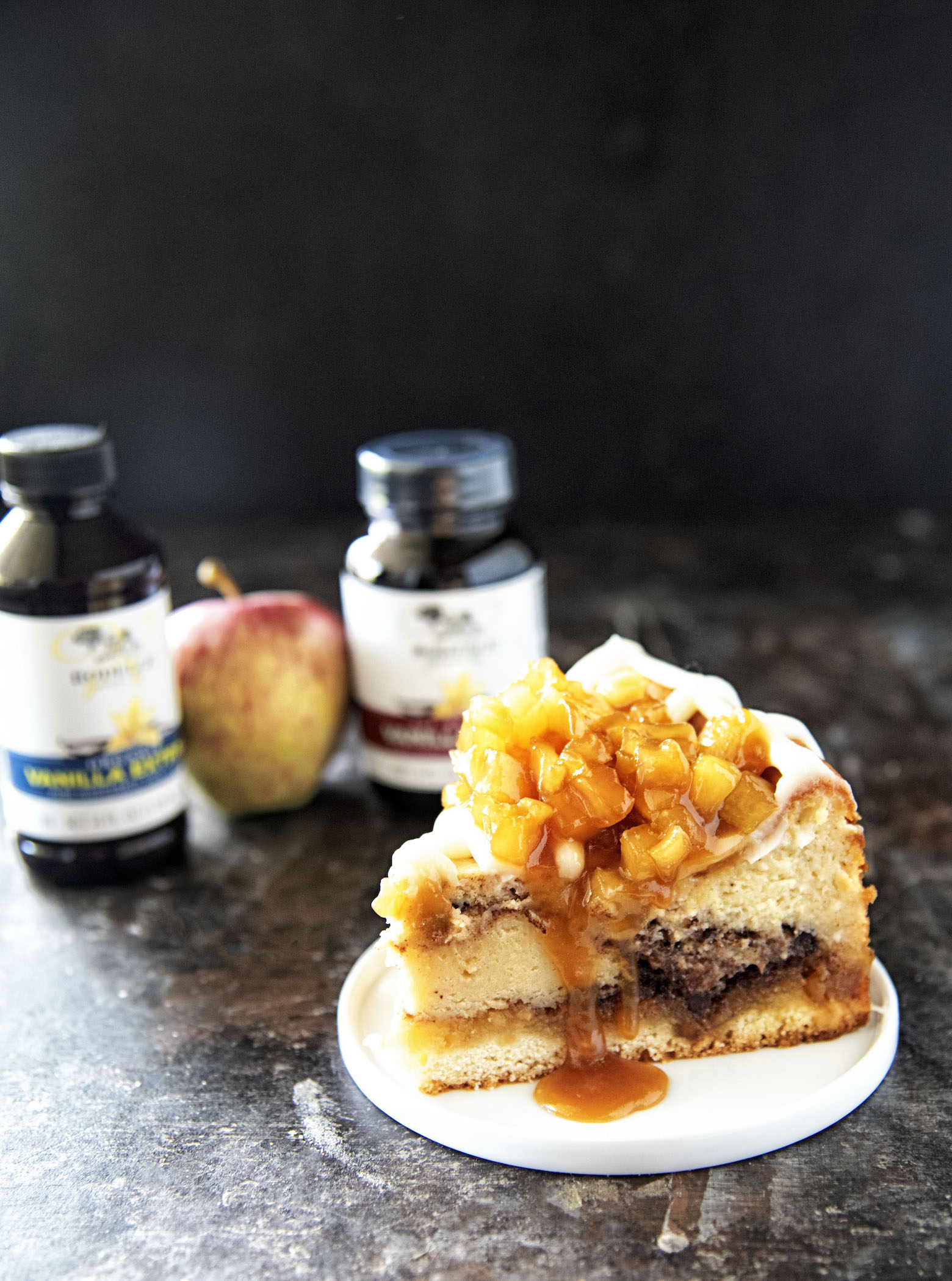 This cheesecake is the ultimate in comfort food.
Part cinnamon roll and part cheesecake.
All parts amazing.
It's also filled and topped with caramel apples.
And since it's a cinnamon roll it has cream cheese frosting as well!
To say this was a huge hit with everyone who got to sample a piece is putting it mildly.
To get the recipe head over to HERE.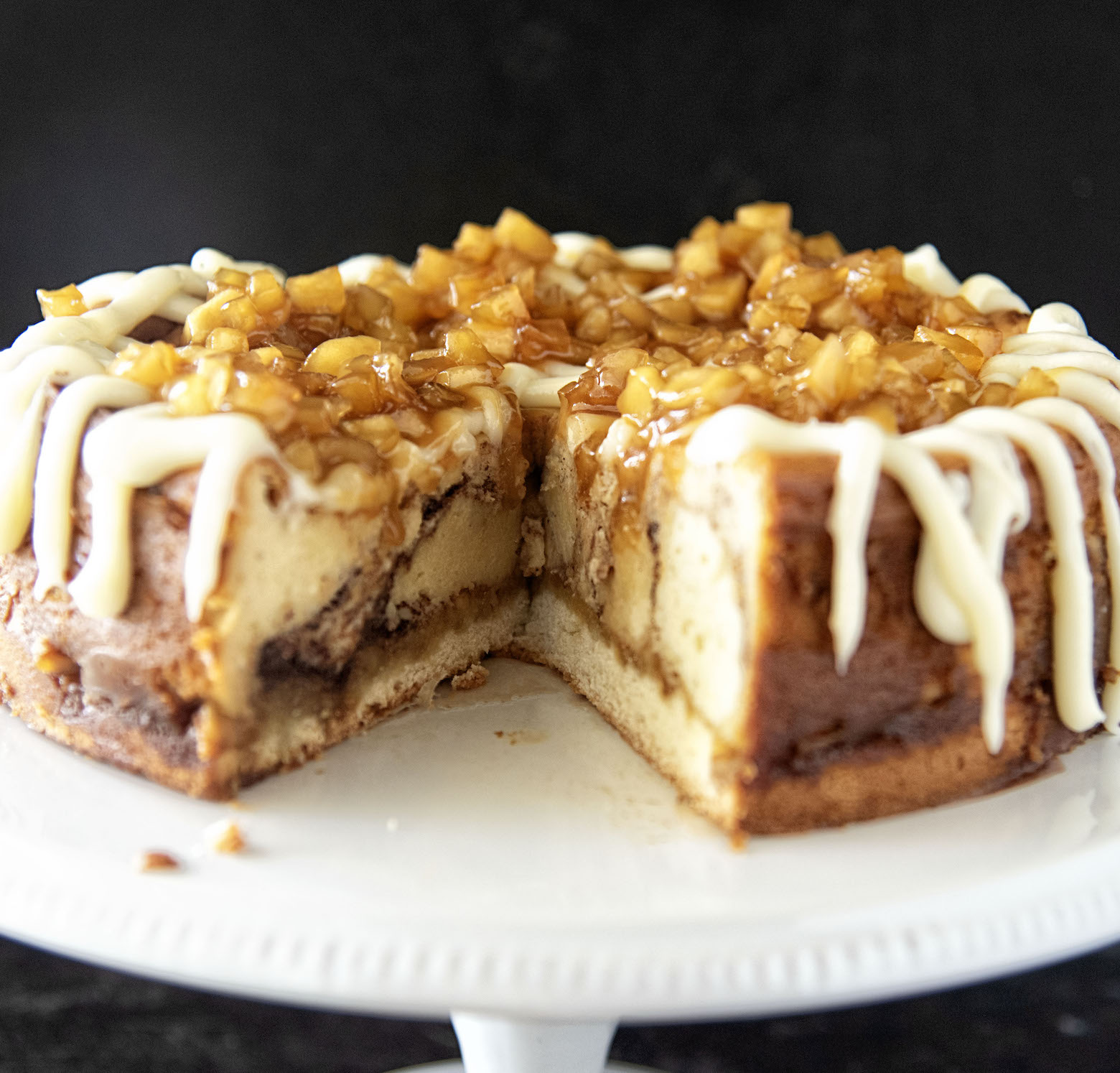 Want More Recipes Using Rodelle?
Chocolate Gingerbread Layer Cake
Chocolate Bourbon Eggnog Cupcakes
Vanilla Bean Caramel Thumbprint Cookies
Chocolate Peppermint-White Chocolate Layer Cake
Vanilla Bean Glazed Soft Pretzel Donuts