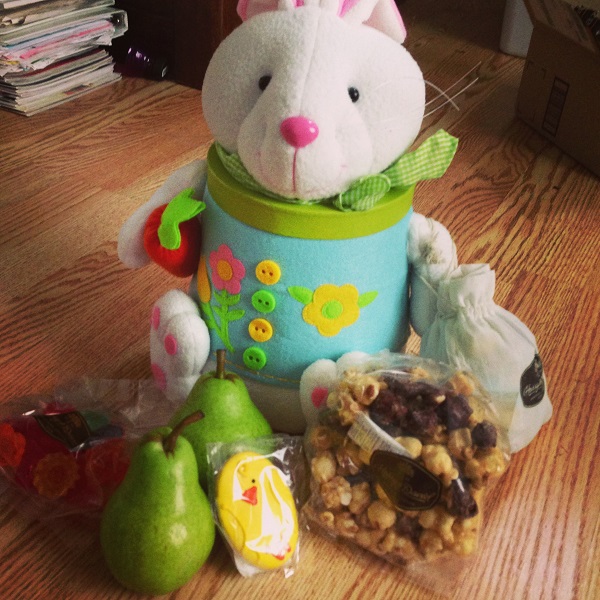 So Hippity-Hoppity Easter is on its way…end of this month in fact! I love Easter for the décor and of course the candy. Cute bunny and chicks everywhere. And it's the holiday that fuels my addiction to jelly beans so there is that.
So when Harry and David asked if I wanted to give away an Easter gift basket I jumped at the chance. I loved Easter baskets as a kid (okay who am I kidding…as an adult). I immediately went and looked and was torn between two baskets but ultimately chose The Big Hopper Easter Basket as that came with candy corn and gummies and the bunny it came in was just too darn cute.
It comes with:
2 Royal Riviera Pears
Milk Chocolate Moose Munch Popcorn (6 oz.)
Gummi Flowers (4 oz.)
Candy Corn (6 oz.)
Chocolate Eggs (4 oz.)
Yellow Chick Shortbread Cookie (0.8 oz.)
And of course it all comes in the adorable bunny!
We have eaten everything but the cookie. It's too cute for me to eat. Someone else will have to I can't take it's happy little chick face looking at me while I eat it. 🙂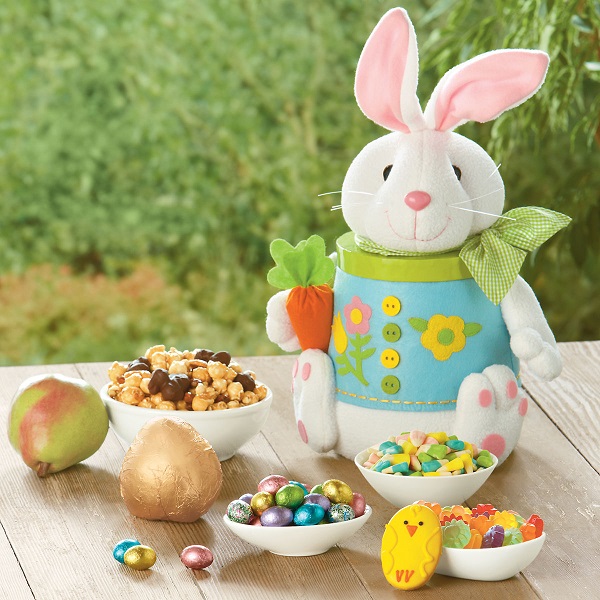 So now's your chance to get one for yourself. You have from now until noon (PST) on March 14th (Pi Day) 2013 to enter. All you need to do is leave a comment telling me what is your favorite treat to find in an Easter Basket? Open to US residents only, sorry. And please make sure that you leave a valid email. I have had a couple giveaways as of late that I had to go to the third or fourth pick because of bad emails or no response. And you don't want to miss out on this adorable bunny basket trust me!