This Vanilla Chai Latte Cheesecake is a multi layer cheesecake a vanilla bean, chia spice, and a chocolate espresso layer.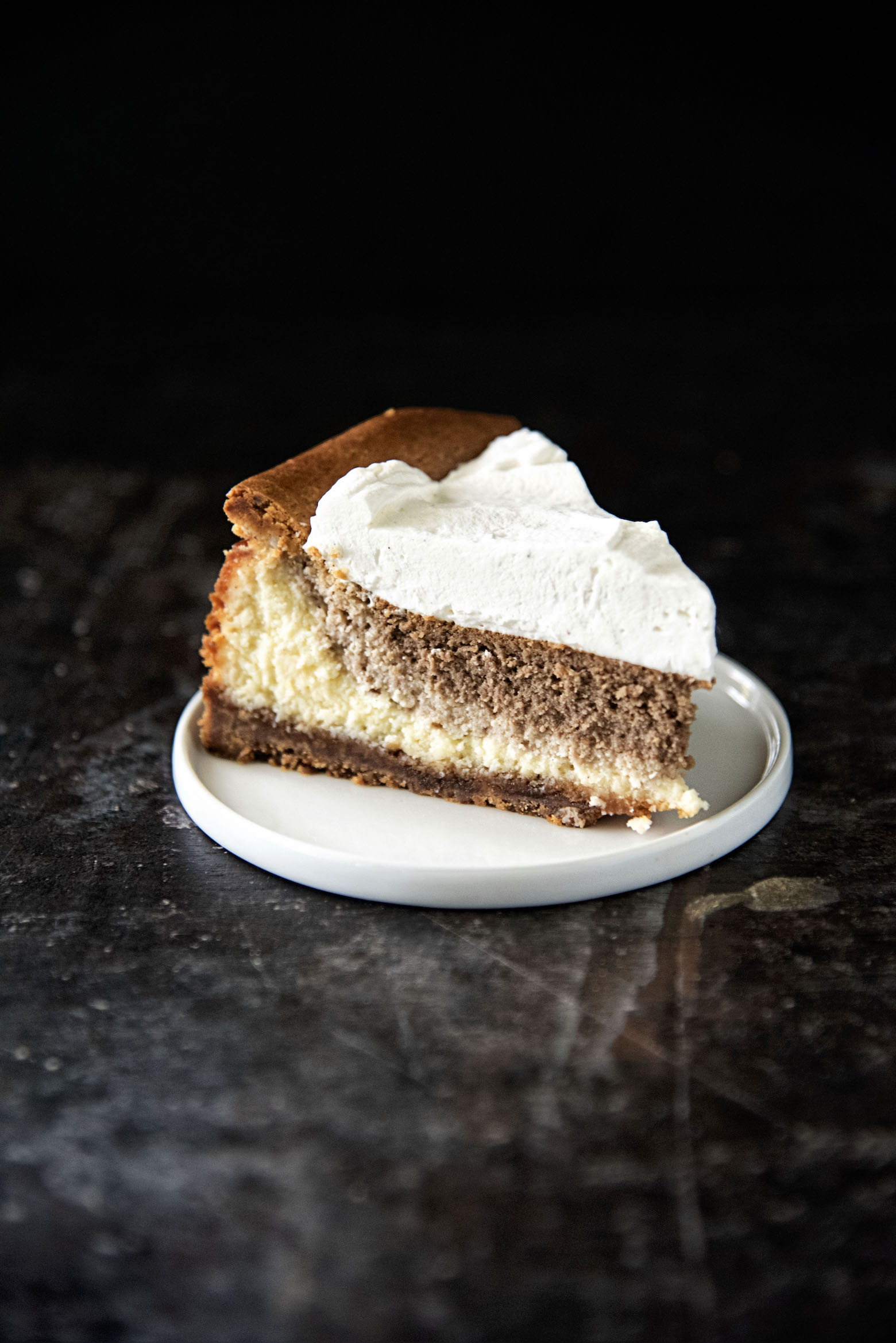 I'm teaming up with Rodelle to help you get ready for fall baking.
This is a sponsored post but anyone who reads this blog knows I have used their products long before I ever started working with them.
To help get you in the mood we will be doing a giveaway of the Rodelle products needed to make this cheesecake.
If you are a avid baker you surely have noticed the price of vanilla going up.
This is due to a lot of factors, mostly due to mother nature not playing nice.
So I'm sure you would love to have some Rodelle Vanilla Extract and Vanilla Beans sent to you.
As well as their wonderful Cocoa Powder.
I'll tell you how to enter at the end of the post.
I decide to make a this Vanilla Chai Latte Cheesecake because last week when I made the Fireball Sour Cream Topped Brown Sugar Cheesecake people went crazy for it.
It reminded me how much people like cheesecake and how I should be making more of them.
While pumpkin and apple are usually all the rage during fall, I think chai spice is a flavor that isn't featured often.
Which is a shame because it's so warm and comforting.
I love me a Vanilla Chai Latte and set out to make a cheesecake with those flavors.
This is a bullseye style cheesecake in which the different batters are layered on top of one another in the center.
It's a little hard to tell but if look closely you will see a Vanilla Bean Layer, a light brown Chai spice layer, and finally a Espresso Chocolate Layer.
What it makes for is a great cheesecake.
My husband isn't even that big of a cheesecake guy and absolutely loved this and you will too.
So about the giveaway.
As many of you know I have been a Rodelle  Brand Ambassador for many, many years now.
All of their products are superior in my opinion and are my absolute favorite to bake with.
I know many of you have written to tell me that you buy Rodelle now because of me and that makes me happy to hear.
I'm happy to hear you love it as much as I do.
So to win some Rodelle Vanilla Beans, Rodelle Vanilla Extract, and some Rodelle Baking Cocoa all you need to do is to leave a comment letting me know what your favorite thing to bake in fall is?
CONTEST IS CLOSED.
*As always, while I was compensated for this post…the opinions, comments, and bad grammar are all mine.
Please support companies who support my blog. 😀
Last but not least…it's a great time to order my cookbook. 😀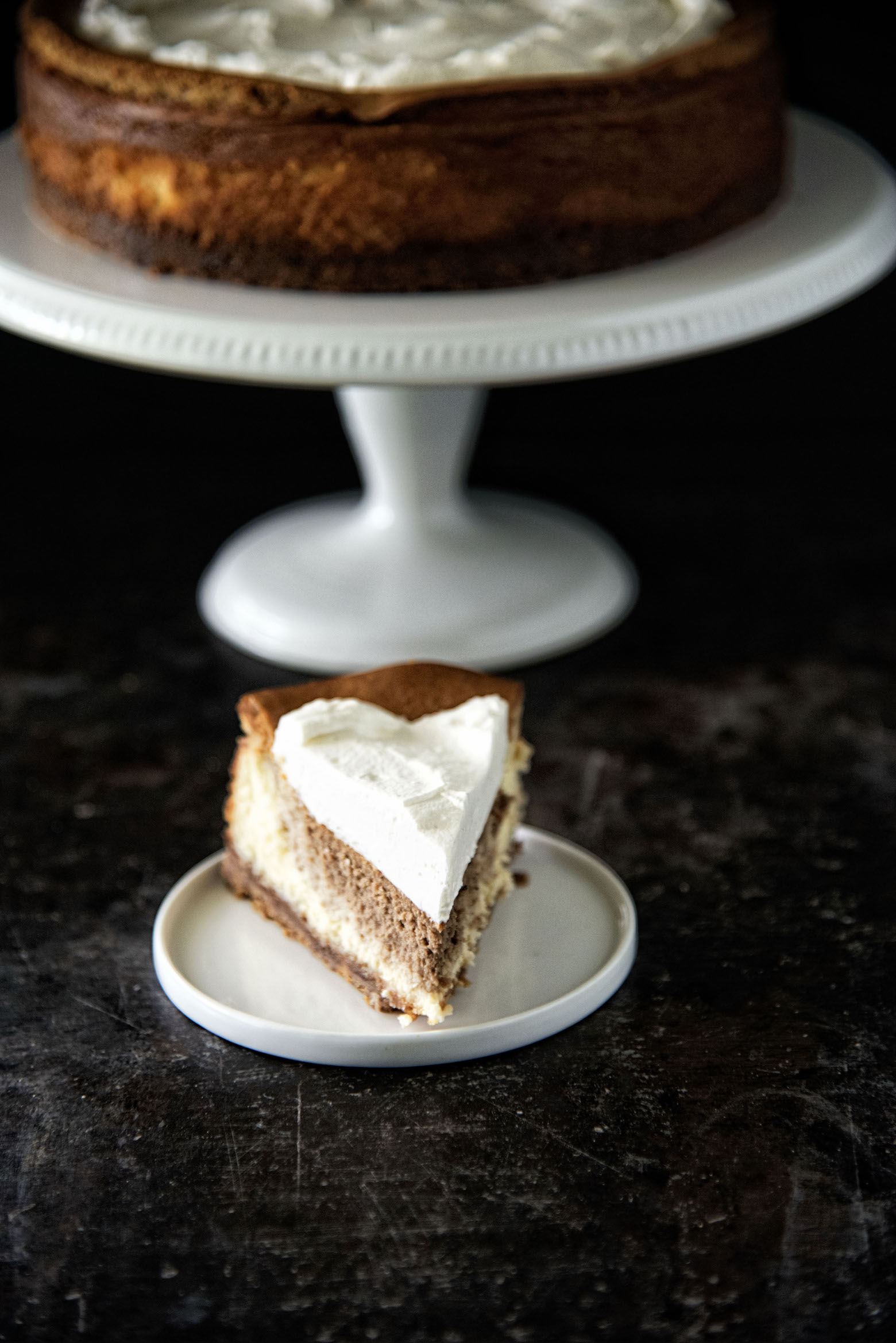 Want More Cheesecake Recipes?
Cinnamon Roll Caramel Apple Cheesecake
Pumpkin Salted Caramel Swirl Cheesecake
Caramel Apple Toffee Cheesecake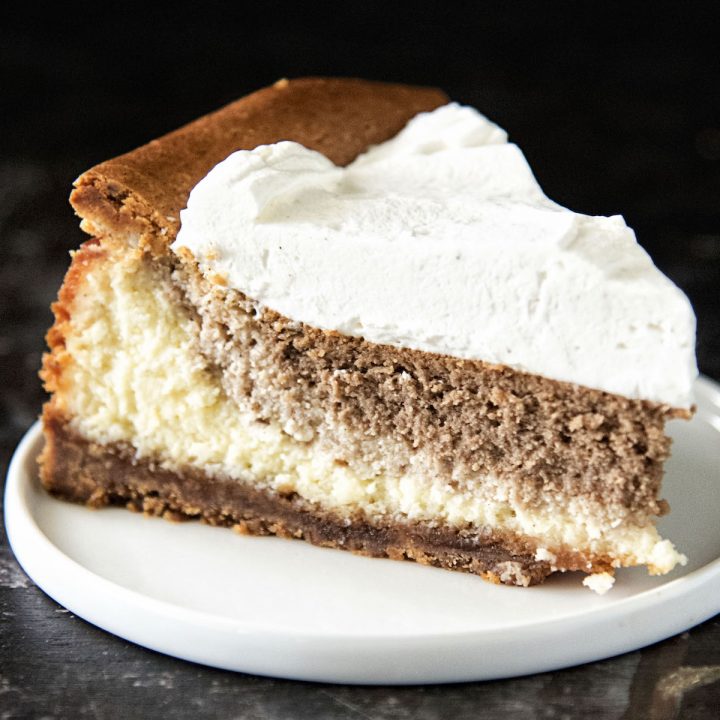 Vanilla Chai Latte Cheesecake
Ingredients
For the Crust:
6 oz vanilla flavored wafer cookies
3 TBSP brown sugar
1/2 tsp. Rodelle vanilla extract
3 oz unsalted butter
For the Filling:
2 1/2 lbs. (5 80z packages) cream cheese, at room temperature
2 1/2 cups granulated sugar
3 TBSP flour
5 eggs
2 egg yolks
1 TBSP Rodelle Vanilla Extract
1 Rodelle vanilla bean, split and seeds used, pod discarded
2 tsp. chai spice
1 1/2 tsp. espresso powder
1 TBSP Rodelle Cocoa Powder
Instructions
For the crust:

Place cookies in a food processor.

Grind to make crumbs.

Add in remaining ingredients.

Process to blend.

Pat crust mixture into a 10 inch springform cake pan.

Bake at 325F for 5-7 minutes.

For the filling:

Cream the cheese on medium speed until very soft and creamy.

With the mixer running, add the sugar.

Beat until well combined.

Stop the mixer and scrape down the bowl.

On low speed add the flour.

Then add the eggs one at a time, stopping the mixer before adding each egg so that shell does not get into the batter.

Scrape down the bowl at least twice while adding the eggs.

Add the vanilla beans and vanilla extract

Scrape down the bowl.

Take out 1/3 of the batter and place into a bowl.

Add the chai spice to that bowl and mix until fully incorporated.

Remove another 1/3 of the batter and put into another bowl and add espresso and cocoa powder and mix until fully incorporated.

Pour 1/3 of the original batter into the prepared pan with crust.

Then pour the chai spice batter on top of that.

Followed by the remaining 1/3 of the chocolate espresso batter.

Bake at 325F for 1 1/2 to 2 hours.

Let cool to room temperature.

Then refrigerate for at least 4 hours, preferably overnight.

Serve with whipped cream.