This Watermelon Cheesecake with Watermelon Fresca is a creamy no bake cheesecake topped with a refreshing watermelon fresca.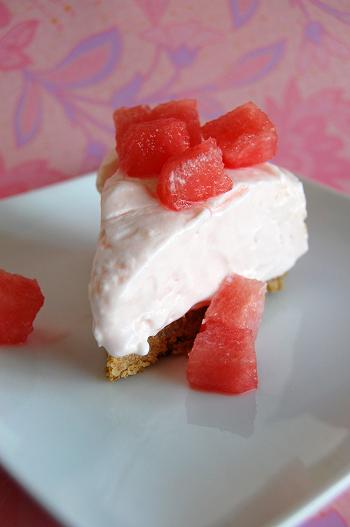 I thought I would take a little time to update you on some previous posts.
The Bachelor: Another one bites the dust.
Shocking as you may find this, this week, Matt Grant(the London Bachelor) was dumped by his actress finance, Shayne Lamas.
Apparently she hooked up with some guy in Vegas.
Hmmm, I thought what happens in Vegas, stays in Vegas?
Guess not.
Or is it, what happens in Vegas stays in Vegas…unless you are on the ABC show the Bachelor, then all bets are off.
Not quite as catchy as the original slogan, but I am sure it will catch on.
I will admit that I have yet to hear anymore about the boner inducing baristas of Bonney Lake(you know the ones who wore bikinis but on Tuesday's wore pasties!).
I do have a reader from Bonney Lake so hopefully they can fill me in after reading this.
My local coffee shack is putting their two cents in though.
They have a sign outside their shack that reads "You don't need pasties to be tasty!"
So true.
So true.
4th of July and Mr. Melodramatic:
It appears that our troll Mr. Melodramatic has left the building, or the blog in this case.
No worries, I am sure some other person, not willing to leave a real website or email address, will be on soon enough to let me know what a moron I am.
Don't bother, I already know. 🙂
And now on to current happenings:
Posting in the next two weeks could be a little sparse.
The in-laws arrive tonight and we will be busy with them.
I will try and post but there are no guarantees.
And now to the food, which in a way is kind of a happening.
You see, every time I come on my blog(and well, you too) I see a slice of watermelon staring at me.
Many people seem to think I love watermelon.
And though I do like it, the only reason I picked it was because at the time it was really the only food related background WordPress was offering(food blogging was not quite the juggernaut it is now).
I realized that in all the years, I have a watermelon on my banner and I have yet to make anything involving watermelon.
Today that changes.
I present to you the no bake watermelon cheesecake with watermelon fresca.
It's a tribute in a way.
You see my little watermelon slice is going bye-bye.
Yes, ladies and gentleman Culinary Concoctions by Peabody is going in for a face lift.
Not for a couple of months but it will be happening.
So enjoy the watermelon slice while you can.
Speaking of watermelon, back to the cheesecake.
It's no bake, which in the Summer works out nicely.
I originally was going to skip the crust but I am so happy I did not.
You really need it to help hold this together.
I was a little curious as to what the flavor was going to taste like.
Think if Jolly Rancher made a creamy version of their watermelon candy(though a little more subtle in the flavor).
I think it is a great dessert to use at a BBQ.
It's so refreshing.
P.S. It's a great day to buy my cookbook Holy Sweet!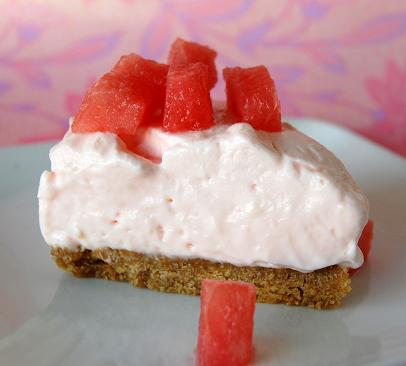 Want more Cheesecake Recipes?
Pumpkin Salted Caramel Swirl Cheesecake
Fireball Sour Cream Topped Brown Sugar Cheesecake
Savory Everything Bagel Cheesecake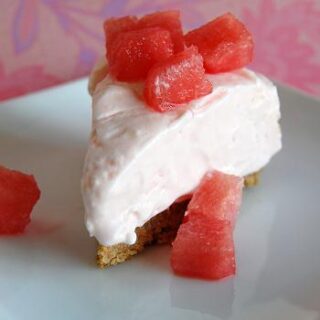 Watermelon Cheesecake with Watermelon Fresca
Ingredients
For the Crust:
1 ½ cups graham cracker crumbs
¼ cup brown sugar
½ cup butter, melted
For the Cheesecake:
2 cups cream cheese, softened
1 cup granulated sugar
2 TBSP watermelon juice
2 TBSP Torani watermelon syrup
1 drop red food color
1 cup heavy cream
For the Watermelon Fresca:
2 cups watermelon, diced
1 TBSP mint, chopped (the mint at the store looked horrible so I skipped it, but I do think it would of added something nice to the fresca)
3 TBSP lime juice
1 TBSP granulated sugar
Instructions
For the Crust:
Combine together the graham cracker crumbs, butter and brown sugar until mixture is fully incorporated and mixture is moist from melted butter.
Press into a springform pan.(9-inch or two 4 ½ -inch). I made the 4 1/2-inch.
Using a stand mixer, cream together the sugar and cream cheese until smooth, about 3 minutes.
Mix in watermelon juice, watermelon flavoring and food color; set aside.
Whip heavy cream to stiff peaks; gently fold into the cream cheese mixture.)
Fill pan cheesecake mixture.
Tap pan to release some air bubbles.
Place in freezer for 2 hours, then transfer to the refrigerator.
Let sit in fridge for another 3 hours.
Top with watermelon Fresca and serve cold.
For the Watermelon Fresca:
Combine ingredients; refrigerate until ready to use.