This Banana Fosters Crumb Cake is made with banana fosters folded right into the batter for a decadent take on coffee cake.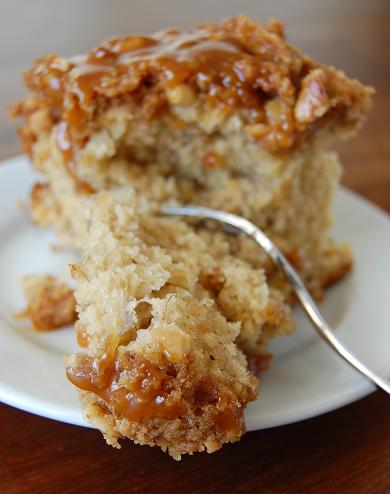 I must confess that I am one of those people who watches the Bachelor/Bachelorette.
I don't really like it but somehow get sucked in.
And I really haven't like a Bachelor since Andrew Firestone and I did like Trista the first Bachelorette.
Though Trista's pink extravaganza wedding on TV did give my husband a slight heart attack as pink is my favorite color.
I think he envisioned that I would want that too.
Luckily for him, I did not.
But more power to her and very sweet of Ryan to go along with it.
If you watch the show (and even if you don't) most of you probably know that things don't work out on that show.
They work out on the show but usually a few weeks (sometimes months) after the show ends they somehow are not together.
Some speculate that no one can fall in love that fast.
I can't jump on that bandwagon as I was engaged to be married after 5 weeks of knowing my husband.
The difference is though that we didn't go on group dates with people or see each other once a week.
We pretty much spent the majority of our time together.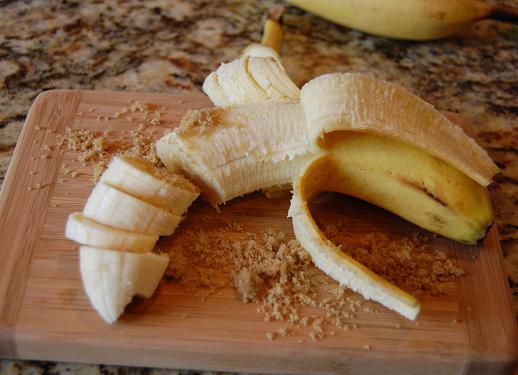 Some speculate it is doomed because now the only people who go on there are the ones who want to launch a career in television and what not.
This could have some validity but even actors and actresses need love too.
I think the down fall of the show are the dates themselves.
You often will catch the girls going on and on about what a fun time it is with the guy…how it's always an adventure.
Of course it is an adventure, you just got back from skiing in the Swiss Alps.
And the Bachelor didn't plan the dates…ABC did (oh yeah, they paid for it too).
He is not the romantic one that set up a table for two in the meadow.
In reality you would have to haul all that out yourself.
Clean up after your ate.
Then take it all back to the car.
Then someone would have to go and clean the dishes afterwards.
If  guy who planned the date went home and washed them…then that would be romantic. 😉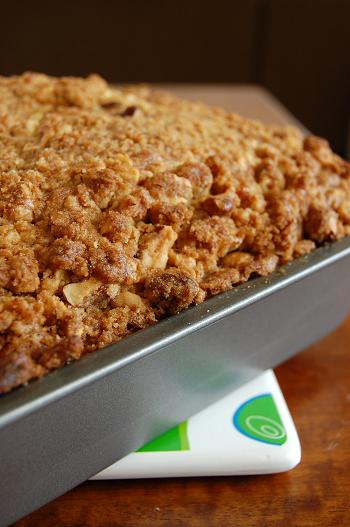 I think for the program to be successful it should be in an everyday setting.
Make them go to work instead of living in a mansion getting to sun tan by the pool all day.
Let the other person see how you handle work stress.
Actually live somewhere comparable to where you live now (like a two bedroom apartment instead of the 10,000 square foot home they have you in).
I want to see them have the kind of dates you have when you are in a long term relationship.
You know the ones where you planned to go home and make a romantic dinner but you are just too tired from work.
So instead the two of you swing by Taco Bell and end up sitting on the couch (together though) watching 80's movies on TBS(the kind that have more commercials that actual movie).
Real life action.
I would pay to see some of these girls(who are always dressed in ball gowns??) putting on used shoes and throwing back beer and neon orange nachos down at the local bowling lanes on $0.99 game night.
Let's put some reality into these reality shows shall we!
Speaking of the real deal…this Banana Fosters Crumb Cake is where it is at.
An experiment of sorts as it was a throw it all together.
And hope it all comes out kind of deal.
I have a small addiction to either caramelizing pineapple or bananas and putting them over vanilla ice cream.
While watching my bananas bubble away in brown sugar and butter the other day I got to thinking wouldn't it be yummy to make it into a cake.
So I did.
You can make them with or without the flambe part and you don't need the splash of liquor if you aren't going to set those baby's on fire.
Though not a true bananas fosters, the flavor is definitely there.
Oh and the caramel in the picture is just some Fran's caramel sauce…no need to make your own when you can buy quality like that.
P.S. This is a good follow up to Three Cheese Hazelnut Pasta.
It's a great day to order my cookbook.
Want More Crumb Topped Recipes?
Creamsicle Crumb Topped Cinnamon Rolls
Cranberry White Chocolate Chip Crumb Topped Muffins
Oatmeal Crumble Caramel Apple Pie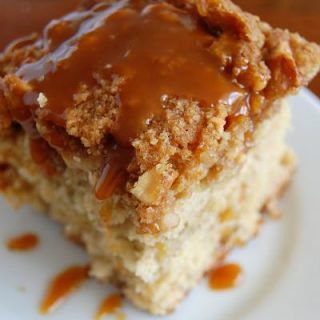 Banana Fosters Crumb Cake
Ingredients
For the Crumbs:
5 TBSP unsalted butter, at room temperature
¼ cup sugar
1/3 cup packed brown sugar
1/3 cup all purpose flour
¼ tsp salt
½ cup chopped walnuts
For the Bananas:
2 TBSP unsalted butter
1/2 cup brown sugar
2 TBSP banana liqueur
2 TBSP dark rum
2 large bananas, sliced in rounds
For the Cake:
2 ¼ cups all-purpose flour
2 tsp baking powder
½ tsp baking soda
¼ tsp salt
½  tsp ground cinnamon
¼  tsp freshly grated nutmeg
1/3 cup granulated sugar
1/3 cup light brown sugar, loosely packed
6 TBSP unsalted butter, at room temperature
2 eggs
1 tsp pure vanilla extract
½ cup buttermilk
banana fosters mixture from recipe above
caramel sauce (if desired)
Instructions
Center a rack in the oven and preheat the oven to 350F.
Butter an 8 inch square pan and put it on a baking sheet.
For the Crumb:
Put all the ingredients except the nuts in a food processor and pulse just until the mixture forms clumps and curd and holds together when pressed.
Scrape the topping into a bowl, stir r the nits and press a piece of plastic against the surface. Refrigerate until needed.
For the Bananas:
Combine the butter and sugar in a flambe pan or skillet.
Place the pan over low heat either on an alcohol burner or on top of the stove, and cook, stirring, until the sugar dissolves.
Stir in the banana liqueur, then place the bananas in the pan.(if not using liqueur, just add bananas)
When the banana slices soften and begin to brown, carefully add the rum. (again, if not using rum, simply take bananas out at this time)
Continue to cook the sauce until the rum is hot, then tip the pan slightly to ignite the rum.
When the flames subside, lift the bananas out of the pan and place aside to cool until needed.
To make the cake:
Whisk together the flour, baking powder, baking soda, salt, cinnamon and nutmeg.
Add the butter and, with the paddle or whisk attachment, or with a hand mixer, beat the sugar with the butter at medium speed until light, about 3 minutes.
Add the eggs one by one, beat for about 1 minute after each addition, then beat in the vanilla extract. Don't be concerned if the batter looks curdled-it will soon smooth out.
Reduce the mixer speed to low and add the flour mixture and the buttermilk alternately, the flour in 3 parts and the buttermilk in 2 (begin with the dry ingredients).
You will have a thick, cream batter.
Add the banana fosters mixture and mix on medium speed for about 30 seconds. You don't really want chunks of bananas, you want them integrated like you would in banana bread.
Scrape the batter into the buttered pan and smooth the top gently with the spatula.
Pull the crumb mix from the refrigerator and, with your fingertips, break it into pieces. There's no need to try to get even pieces-these are crumbs, they're supposed to be lumpy and bumpy and every shape and size.
Scatter the crumbs over the batter, pressing them down ever so slightly.
Bake for 55 to 65 minutes, or until the crumbs are golden and thin knife inserted into the center of the cake comes out clean.
Transfer the cake to a rack and cool just until it is warm or until it reaches room temperature.
Pour caramel sauce over the top if desired.