Samoas Cheesecake Coffee Cake has a coffee cake bottom topped with salted caramel and toasted coconut cheesecake, shortbread, and chocolate.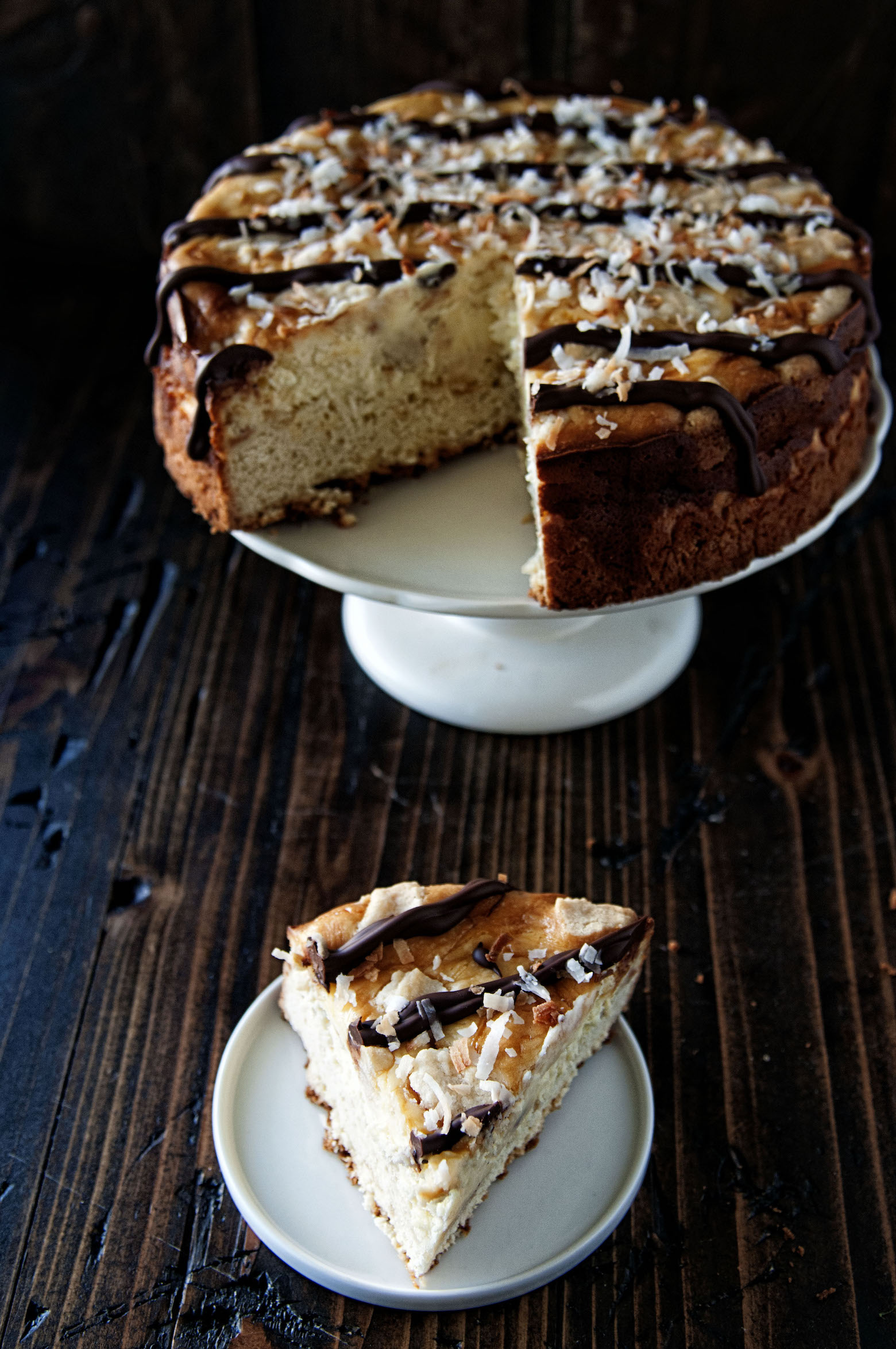 Why yes, I did take a Girl Scout cookie flavor and make it into a cheesecake topped on a coffee cake so you can eat it for breakfast.
You're welcome.
Around this time of year I'm used to making a dessert for the Girl Scouts.
They used to have a contest which I won one year but they either don't have it anymore or don't contact me anymore to enter it.
But whether they have a contest or not I like to make something Girl Scout cookie related because their cookies are addictive and because the Girl Scouts meant a lot to me growing up.
In Washington they haven't started selling our cookies yet.
I mean kids have…you can pre-order but I mean selling in front of the grocery stores.
The cute little cookie dealers out there.
Sometimes they have a sales pitch but at this point most people just see the cookies and make a beeline for them. 🙂
Then you come home and your husband says "more cookies?"
Umm, yes more cookies.
This was a different troop.
I have to be supportive.
When I do buy from my dealer, aka Girl Scout, I always get Samoas and Thin Mints.
I also get Trefoils (Shortbread) because they make great crust.
And I throw I a box of Do-si-Dos for good measure.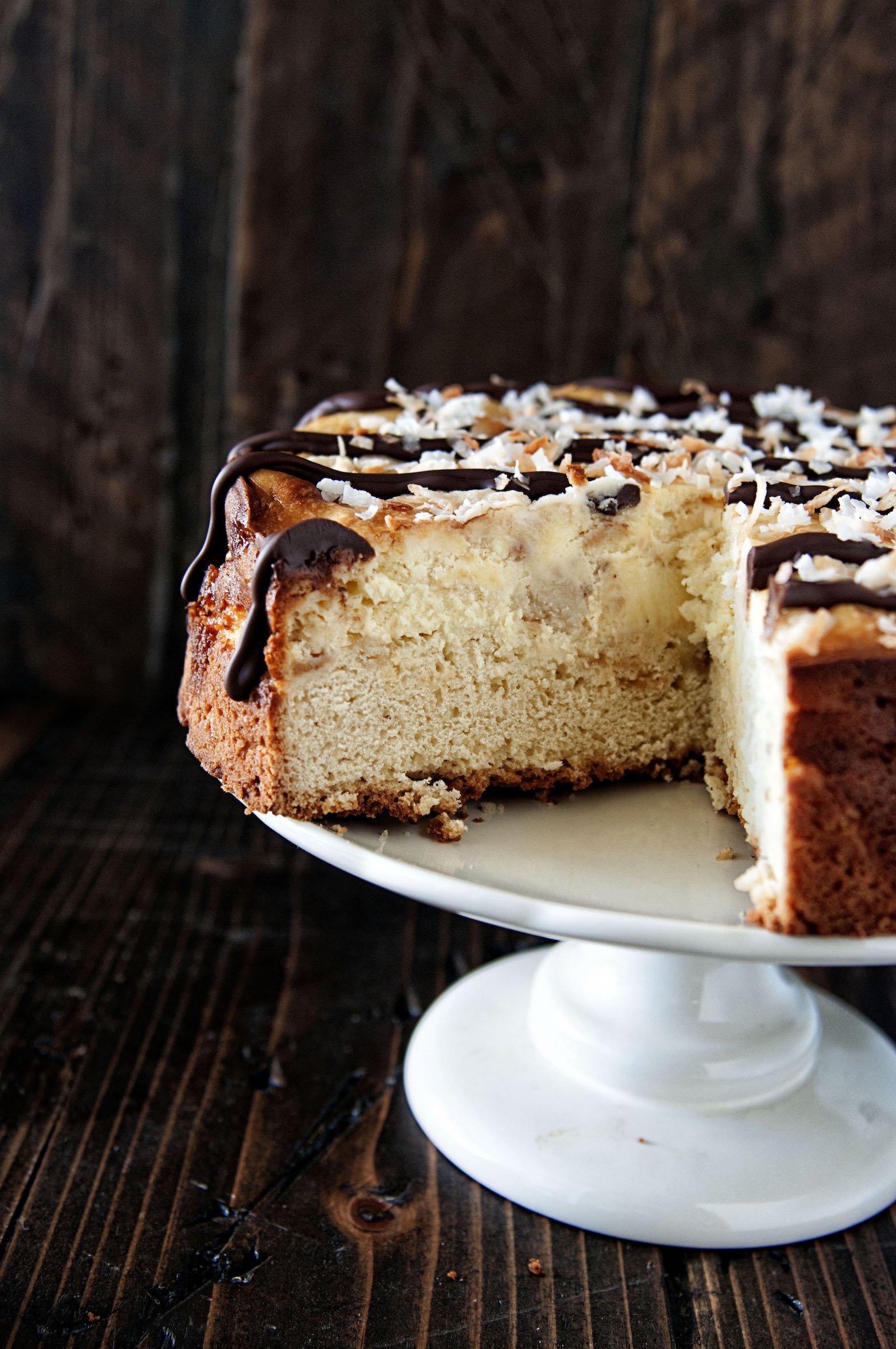 Sadly they don't make Kookaburras any more (not for a long time.…I'm showing my age), I loved those cookies as well.
My husband loves when I made this kind because he says it makes for portable cheesecake…and it does. You can walk around with this in your hand easily. 🙂
The bottom is just the cinnamon roll batter (but no cinnamon) but the top is where I get crazy.
The cheesecake has salted caramel sauce and toasted coconut inside.
Then I drop little balls of shortbread cookie batter.
Bake it and top it with chocolate stripes and more toasted coconut.
And yes, it tastes as good as it sounds.
It's a great day to buy my cookbook Holy Sweet!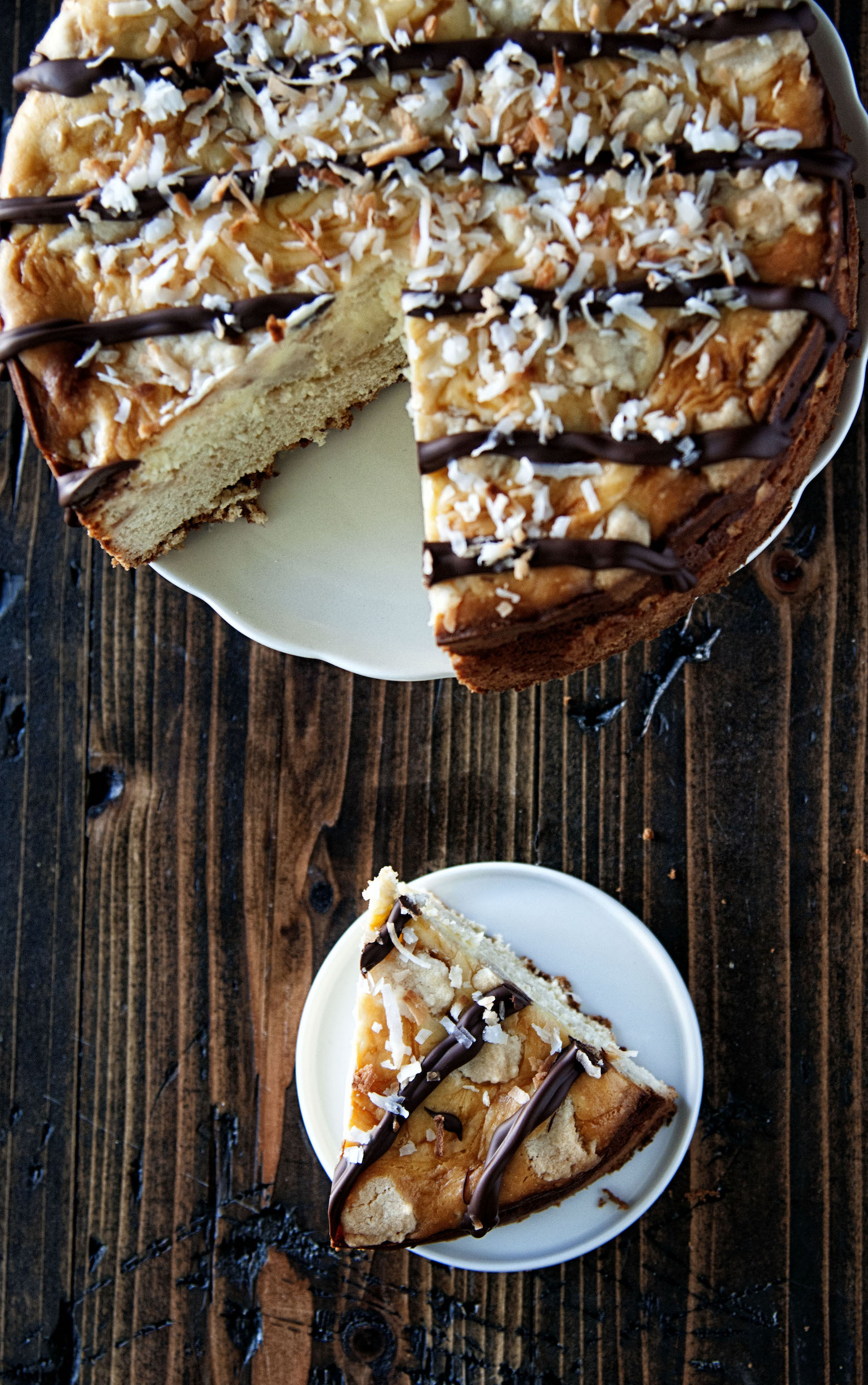 Want More Cheesecake Recipes?
Mini Bailey's Irish Cream Mocha Cheesecake Tarts
Fireball Sour Cream Topped Brown Sugar Cheesecake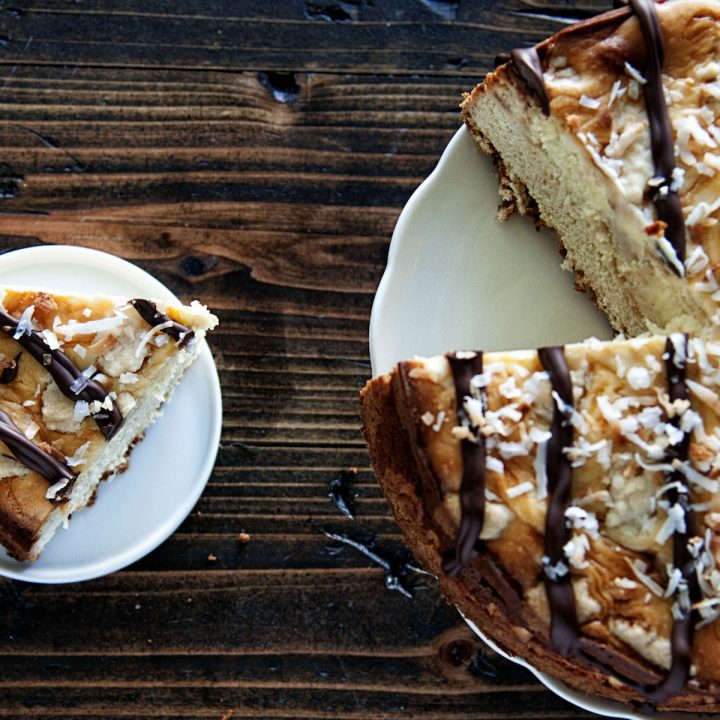 Samoas Cheesecake Coffee Cake
Ingredients
Coffee Cake Batter:
2/3 cup granulated sugar
¼ cup unsalted butter, at room temperature
1 egg
½ cup whole milk (or Darigold Salted Caramel Milk)
1 tsp. vanilla extract
2 cups all-purpose flour
2 tsp. baking powder
1/2 tsp salt
Cheesecake filling:
2 pkg. (8 oz. each) cream cheese, at room temperature
1 cup granulated sugar
1/2 cup salted caramel sauce, divided
2 TBSP all-purpose flour
3 large eggs
1 cup toasted sweetened coconut
Shortbread Cookie Drops:
1/4 cup unsalted butter, melted
1 cup shortbread cookie mix
Chocolate Stripes :
6 oz. semisweet chocolate
1 1/2 TBSP vegetable oil
Instructions
Preheat oven to 350 degrees F.
Grease a 9-inch Springform pan.
For the Coffee Cake Batter:
Using a stand mixer with a paddle attachment (or hand mixer)
cream together the butter and sugar for 3 minutes, until light and fluffy.
Add egg, milk, and vanilla.
Beat for another minute.
Scrape down bowl.
Sift together flour, baking powder, and salt.
Combine the sifted and creamed ingredients together.
Mix on low speed until thoroughly combined.
Spread the batter onto the bottom of the Springform pan. It will be
sticky and thick so spray your hands with baking spray and press
down.
For the Shortbread Drops:
Mix together the melted butter and shortbread cookie mix until
batter forms.
For the Cheesecake Filling:
Using a stand mixer (and a clean bowl) fitted with paddle
attachment, beat cream cheese, 1/4 cup caramel sauce, and
sugar for 2 minutes on medium-high speed.
Add the eggs one at a time, scraping down the bowl after each
addition.
Add the vanilla and flour and beat for another minute.
Fold in the toasted coconut.
Pour 1/2 of the cheesecake batter on top of the coffee cake
batter that is in the prepared pan.
Drop about 1-inch balls of shortbread batter over the cheesecake
filling. Reserve 1/2 of the shortbread batter for another layer.
Pour the remaining cheesecake batter.
Drizzle the remaining 1/4 cup of caramel sauce and swirl with a
knife.
Drop the remaining shortbread cookie batter in 1-inch pieces.
Bake for about 50-55 minutes, cake will be puffy and lightly browned. Let chill for 20 minutes at room temperature and then cover and move to fridge for 4 hours.
Remove cake and let it warm up to room temperature just a bit.
For the Chocolate Stripes:
In a microwave safe bowl add the chocolate chips and oil.
Cook for 1 minute and then in 30 second increments until the chocolate is smooth.
Pipe onto cheesecake in a stripe pattern.
Add toasted coconut if desired.