These Peanut Butter Cup Cakes are filled with peanut butter chips and are glazed in chocolate baked in mini tart pans to look like the candy.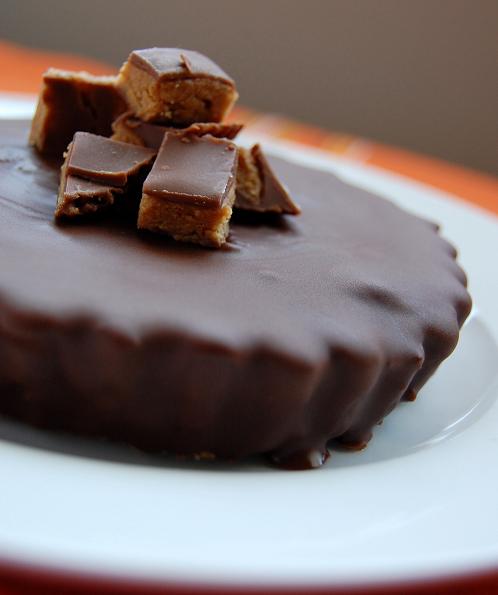 Since I enjoyed turning Almond Joys into bread, I thought I would try once again to take a candy and make it into a baked good, Peanut Butter Cup Cakes.
This time around I thought I would be kind and make something my husband would eat.
Since Reese's Peanut Butter Cups are high on his lists of favorite candies, I decided to pay tribute to those.
Now, I don't nearly enjoy Reese's as much as Almond Joy, though they are good for portion control because I only am able to eat two before I start to get peanut butter overload.
This cake however is a different story.
Not thinking I would really even eat anything more than a piece, I cleared a whole mini cake no problem.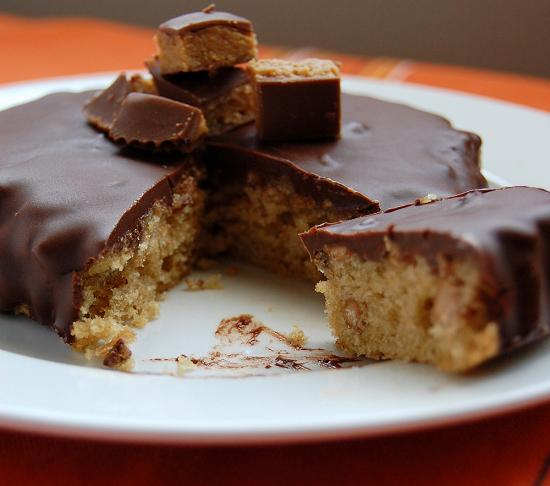 The recipe is nothing new.
Well, the cake part at least.
I have already made this cake a year or so ago, the difference being the use of the peanut butter chips.
The other difference is the use of my mini (4-inch diameter) tart pans.
You can use a regular size tart pan and make one giant one.
If you do end up going that route you will need to shift the amount of time in the oven.
I would guess setting the timer to 30 minutes. Then continue checking until a knife comes out clean.
I used the mini tart pans to give the cake a more peanut butter cup look.
If you don't have little tart pans, you could simply bake it in the rectangular pan and then cut out circles with a cookie cutter.
It won't have that cute peanut butter cup shape but will be tasty nonetheless.
If you get too much rise on your cake you can always trim off the top with a bread knife, which is what I had to do.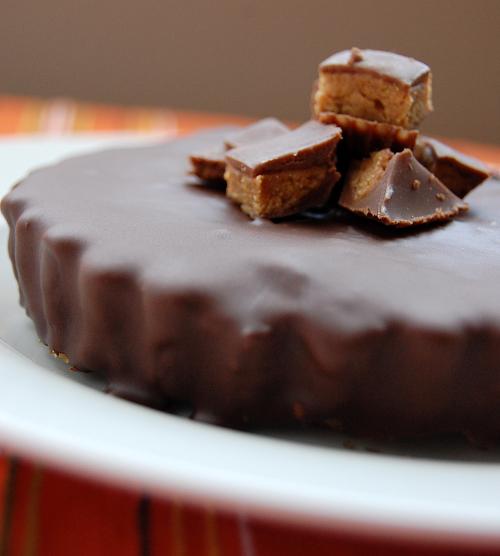 Want More Peanut Butter Chocolate Recipes?
Peanut Butter Cup Brownie Torte
Chocolate Peanut Butter Cobbler
Peanut Butter Cup Peanut Butter Chocolate Chip Cookie Dough Cheesecake Bars
Marshmallow Crunch Peanut Butter Brownie Bars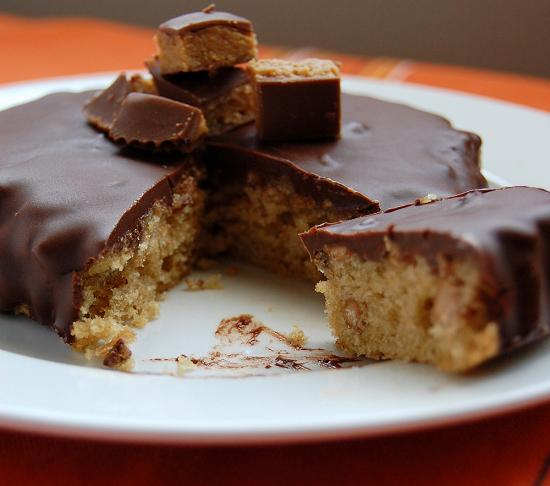 Peanut Butter Cup Cakes
Ingredients
Peanut Butter Cup Cake:
Peanut Butter Peanut Butter Chip Cakes(recipe follows)
Chocolate Glaze(recipe follows)
peanut butter cups, chopped, for garnish
Peanut Butter Peanut Butter Chip Cake:
2 ounces unsalted butter
1 cup all purpose flour
1/4 tsp baking soda
1/4 tsp baking powder
1/4 tsp salt
1/2 cup tightly packed brown sugar
3 ounces creamy peanut butter
1 large egg
1 egg yolk
1/4 cup sour cream
1/4 cup hot water
1/2 tsp pure vanilla extract
1/2 cup peanut butter chips
For the Chocolate Glaze:
6 ounces semisweet chocolate
4 TBSP unsalted butter
chopped peanut butter cups for garnish
Instructions
For the Cake:
Preheat oven to 325F.
Grease 8 mini tart pans.
Spray with baking spray and set aside.
Combine flour, baking powder, baking soda, and salt.
Mix together brown sugar, peanut butter and butter for two minutes.
Add egg and egg yolk and mix for another 2 minutes. Scrape down the sides and mix for another minute.
Add half of the flour mixture and mix until incorporated about 20 seconds.
Then add the sour cream, mixing again for 20 seconds.
Gradually add the remaining flour mixture.
Add the hot water in a slow, steady stream and mix on low to combine, about 30 seconds.
Add the vanilla and mix for another 10 seconds.
Add the peanut butter chips and use a rubber spatula to finish mixing the ingredients until thoroughly combined.
Divide the cake batter into the prepared pans, spreading it evenly.
Bake for about 18-20 minutes. These bake about the same amount of time as cupcakes.
Break chocolate into small pieces and place in a small stainless steel bowl over a pot of hot(not boiling)water.
Melt the 4 TBSP butter in a small saucepan, and skim off the white foam that rises to the top.
When chocolate is just melted, stir in the clarified butter(discard the white solids left behind). Set aside until chocolate is 86F.
To Assemble:
Place cakes on a wire rack.
Place rack on top of a cookie sheet so that the extra chocolate has a place to drip onto.
Pour chocolate glaze over cake and using a narrow metal spatula, quickly pared it evenly over the top and sides of the cake.
Allow chocolate to set to firm consistency before serving.
Garnish with chopped peanut butter cup.
Notes
Source: Adapted from Death by Chocolate Cake by Marcel Desaulniers