These Marshmallow Crunch Peanut Butter Brownie Bars have a brownie base, topped with marshmallow, and peanut butter chocolate crunch top.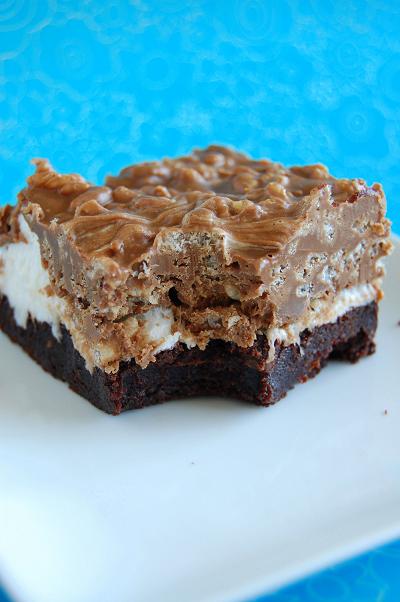 Obviously there has to be a good side to teaching, for if there wasn't, no one would do it.
A side that is as good as these Marshmallow Crunch Peanut Butter Brownie Bars.
There are many great moments in teaching.
Many of those moments you will never know about, and that's the hard part.
So often it is years later after you were that child's teacher that you realize the impact that you made on that child.
And it usually never the kid you would have thought.
Case in point.
I had a student when I taught 6th grade.
Her older brother was in 8th grade and struggling something horrible in science.
At the time the science teacher was what one might call technical (you might know it as dry and boring) and he could just not catch on.
A very shy kid, he finally got the nerve to ask me after school one day for help while his sister was hanging out reorganizing my books (slave labor comes cheap when you have goodie-goodie's in class 😛 ).
I was the type of person who likes to use more real life terms.
I tell people the real term but I also translate to real people speak.
You know like when I go to a fancy restaurant with my husband and the menu says Potatoes Gaufrette, I turn to my perplexed hubby and say "waffle fries" and he understands.
Apparently I had an impact.
So much that his senior year of high school he nominated me for a state award for best teacher throughout his years.
I was not eligible as I was never his actual teacher but the high school was nice enough to forward me the 4 page essay about how my simple after school lessons shaped the boys life.
He is now a science teacher in New Mexico.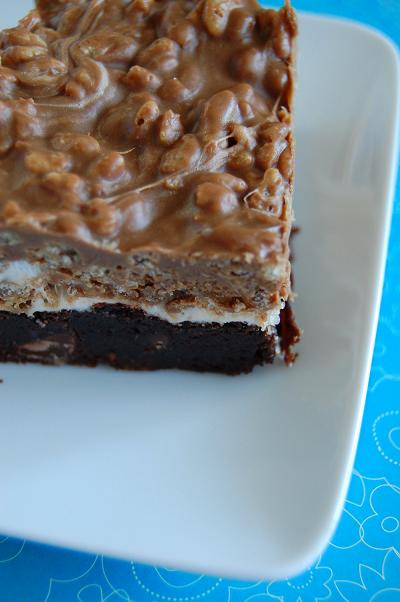 But my proudest moment of all came of at all places the State Fair.
My parents and I were in the livestock section watching cows be judged.
We mostly wanted to just be in the shade as it was a balmy 95F in October in AZ.
My first year of teaching I had a student who was a pain in the ass to put it mildly.
I team taught and so he was not actually in my homeroom, but I saw him for two classes.
M and his dad lived in their car.
I taught in a poor district where 96% the schools students qualified for free lunch.
Many teachers coddled him because of his circumstance, which in turn made him be more of an ass.
I rode him hard all year and he never rose to the challenge.
I chalked M up to one that got away and one that made me drink a lot of beer after work. 🙂
So imagine my surprise when a voice from the past spoke.
"Hello Ms. G, it's a pleasure to see you again."
In a slight state of shock that he even came over to say hi, I asked what he was doing here.
He told me how he had gone to live on a boys ranch for homeless children and how to earn their keep they helped run the farm.
That he had raised a cow and was showing it and hoping to place so that the cow would sale, as he would get to keep the money.
He asked if we would stay and watch his cow.
I said sure.
He was not up for about an hour.
And so he sat with my parents and I going over all the things they look for in the judging and how things were in general in his life, including the program that he felt changed his life.
Then when he got up to go and prepare his cow he said to me, "I want to thank you for never treating me different than any other kid in your classroom. That really meant a lot to me. "
I held back my tears when said that but they minute he left my mother had already pulled the Kleenex from her purse.
That afternoon I watched M get first place for his cow that day. I pretty much was a ball of tears.
So not what I thought my day at the Fair was going to be.
And so not the student I thought I would ever hear that from.
Speaking of good things….these Marshmallow Crunch Peanut Butter Brownie Bars are so very fantastic.
I made them for my husband but I am pretty sure I ate more of them then he did.
You want to talk about a super after school treat…these are it!!!!
Last but not least…it's a great time to order my cookbook. 😀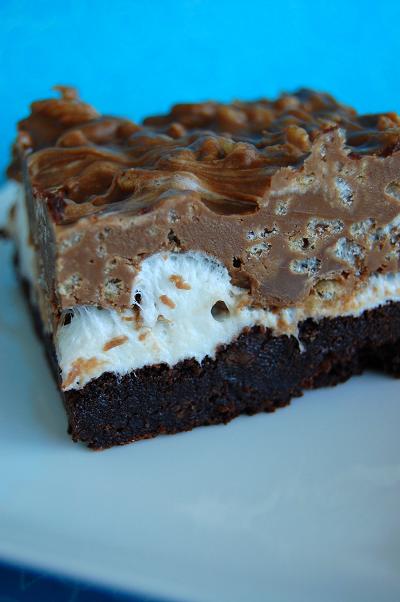 Want More Bar Recipes?
Butterscotch Honey Roasted Cashew Bars
Salted Chocolate Chip Butterscotch Toffee Cookie Bars
Strawberry Lemonade Lemon Bars
Marshmallow Crunch Peanut Butter Brownie Bars
Ingredients
Brownie Ingredients:
4 ounces unsweetened chocolate
2/3 cup unsalted butter
1 ¼ cups semisweet chocolate chips, divided
1 1/3 cups all-purpose flour
1 tsp baking powder
½ tsp salt
4 large eggs, room temperature
2 cups granulated sugar
2 tsp vanilla extract
Topping Ingredients:
7 ounces mini marshmallows
1 ½ cups milk chocolate chips
1 cup Jif peanut butter
1 TBSP unsalted butter
1 ½ cups Rice Krispies
Instructions
Preheat oven to 350F.
Grease a 9x13-inch baking pan.In a medium saucepan, melt the chocolate, butter, and ¾ cup of the semisweet chocolate chips on medium heat.
Stir occasionally while melting. Set aside and cool for 5 minutes.
In a medium bowl, sift the flour, baking powder, and salt. Set aside.
In a large bowl, place the eggs and whisk thoroughly.
Add in the sugar and vanilla.
Stir the melted ingredients into the egg mixture, mixing well.
Stir in the dry sifted ingredients and mix well. Fold in the remaining ½ cup semisweet chocolate chips.
Pour the batter into the prepared pan, and even with a spatula.
Bake for 25 to 30 minutes, or until a cake tester inserted into the corner of the pan comes out with moist crumbs.
Remove the brownies from the oven, and immediately sprinkle the marshmallows over them.
Return the pan to the oven for 3 more minutes.
While the brownies are baking, place the chocolate chips, peanut butter, and butter in a medium saucepan.
Cook over low heat, stirring constantly until melted.Remove from heat, add the cereal,and mix well.
Allow this to cool for 3 minutes or so.Spread the mixture evenly over the marshmallow layer.
Refrigerate until chilled before cutting.