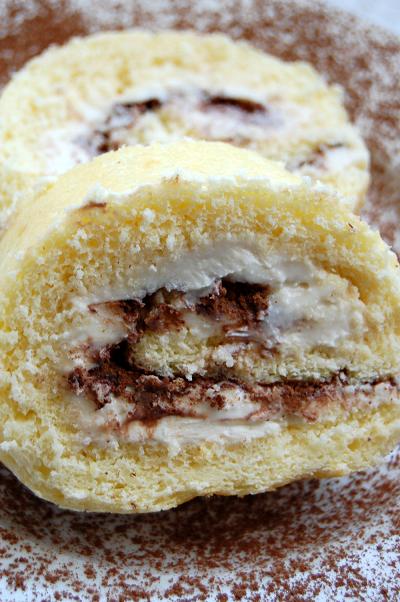 When we arrived in Seattle three years ago(October 1st) I'm surprised I didn't strain my neck somehow. It whipped around the car as we traveled lost through the city in search of our corporate housing. What was causing my head to spin around you ask? Trees. Not just trees, trees turning colors. You see seasons don't exist in Phoenix Arizona unless you consider warm, hot and super crappy hot to be seasons. Oh sure Canada has seasons but I had lived in Arizona so long I forgot how wonderful the changing of the seasons can truly be. My husband having been raised on a tree farm could have cared less and made fun of me most of the day.
I stare out my window at the lone tree that has decided that it is already Fall. Bright red leaves against the sea of green behind it. A symbol of all the wonders that are about to come as the season will be changing. I get to drag out my sweatshirts to help cover up my love of food :P. I get to bust out the flannel sheets and be enveloped by ultimate coziness. I get to start using large amounts of profanity mostly directed at my hockey teams when they are playing less than stellar(Flames first pre-season game on Sunday). Large amounts of profanity coming out of my mouth while I miss the open net by two feet( I go skating next week and might possibly get to play this Fall…fingers crossed everyone). I get to make two separate dinners almost nightly as I will be making soup and my husband wont eat soup so he gets something else. No more sweat rolling down the backs of my knees. No more bugfest. No more abundance of food I am allergic to.
Now this is so not a Fall food. I consider Tiramisu to be a pretty much year round food. In a way this is more of my goodbye to Summer(good riddance). Sponge cake is so light and I almost always just bake it in Summer and Spring. I have no idea what possessed me to make it into a roulade. I love traditional tiramisu and had been looking for a way to do something slightly different to it. This has all of the flavors but is a tad more tricky since you don't just layer it in a dish,  you have to roll it up…which if it wants the roll can have a mind of it's own.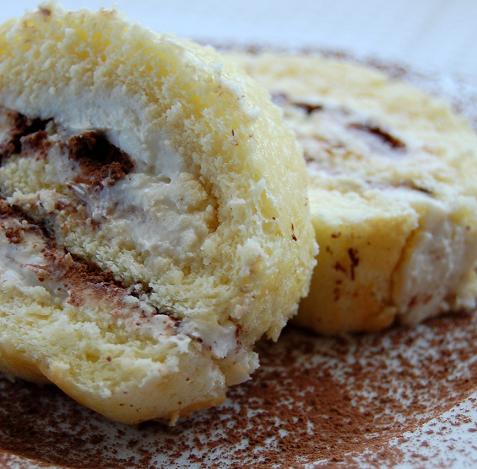 Tiramisu Roulade
sponge cake(recipe follows)
mascarpone filling(recipe follows)
1 cup chocolate shavings
soaking syrup(recipe follows)
cocoa powder for dusting
Sponge Cake
1 cup cake flour
6 TBSP cornstarch
8 large eggs
2 egg yolks
1 cup plus 2 TBSP sugar
1 tsp vanilla
½ tsp cream of tartar
Sift together the starch and flour. Set aside. Preheat oven to 350F. Grease and line a 12 x 17 inch sheet pan. Place down parchment paper. Grease and flour the paper.
Separate 4 of the eggs, placing the yolks in one bowl and whites in the another.
Add the 2 additional yolks and remaining 4 eggs to the yolk bowl. Add 1 cup of sugar to the yolk mixture. Whip mixture on high speed for 5 minutes until it triples in volume. Add vanilla.
Sift the flour mixture over the eggs and fold in gently.
Whip the egg whites with the cream of tartar until foamy. Add in the remaining 2 TBSP of sugar and beat until stiff peaks form. Fold the whites into the other batter. Place batter in prepared pan. Bake until golden about 12 minutes.
After the cake cools about 10 minutes, loosen the sides with a knife. Remove the cake from the pan. Place a piece of parchment paper on top of the cake and flip the cake over. Peel off the paper on bottom of the cake.
Tiramisu Filling 
11 ounces Mascarpone cheese
6 ounces cream cheese
2 cups heavy whipping cream
3 TBSP Kahlua
½ tsp vanilla
1/3 cup powdered sugar
Combine ingredients into a mixer bowl. With whisk attachment, whip until stiff. Set aside.
Soaking Syrup
1 1/2 cup prepared coffee
1 cup Kahlua
Mix all ingredients in heavy large saucepan.
Boil over medium-high heat until mixture is reduced to 1 1/4 cups, stirring occasionally, about 10 minutes.
Cool syrup completely.
Assemble: Brush coffee mixture onto cake, making sure not to make it soggy. Let rest. Spread the tiramisu mixture onto the cake. Sprinkle chocolate shavings. Roll the cake up lengthwise. Sprinkle cake with cocoa powder, cut and serve.