This Peanut Buster Parfait Cake has a vanilla bean cake based covered in fudge frosting, topped with hot fudge and spanish peanuts.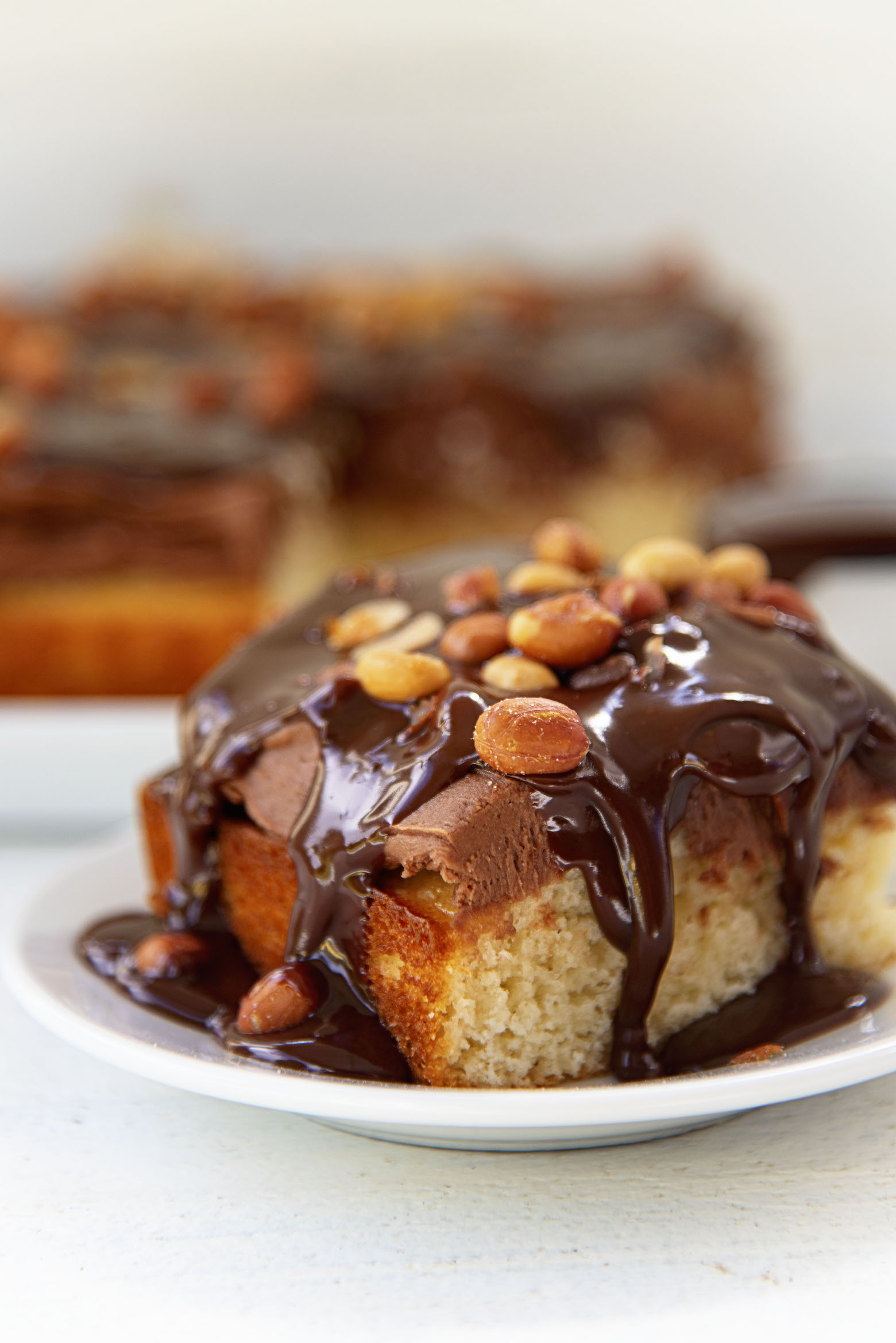 Sweet 16.
That's how old the blog is today.
When I started this blog I'm quite sure I never thought sixteen years later I would still be doing it.
I'm really quite sure the Picky Eater (aka my ex-husband) never thought he would still be running the technical side of the blog for sixteen years either. 🙂
But he does and I greatly appreciate it.
This blog doesn't happen without him.
And yes, at least once a week, I still get asked if I'm friends with my ex-husband.
Yep, I am.
Really he's my family.
My husband thinks of him as family as well.
When I started this blog it had a different name.
A long name with a nightmarish long URL.
Culinary Concoctions by Peabody.
And so it changed a few years ago to Sweet ReciPEAs which fits the blog and me so much better.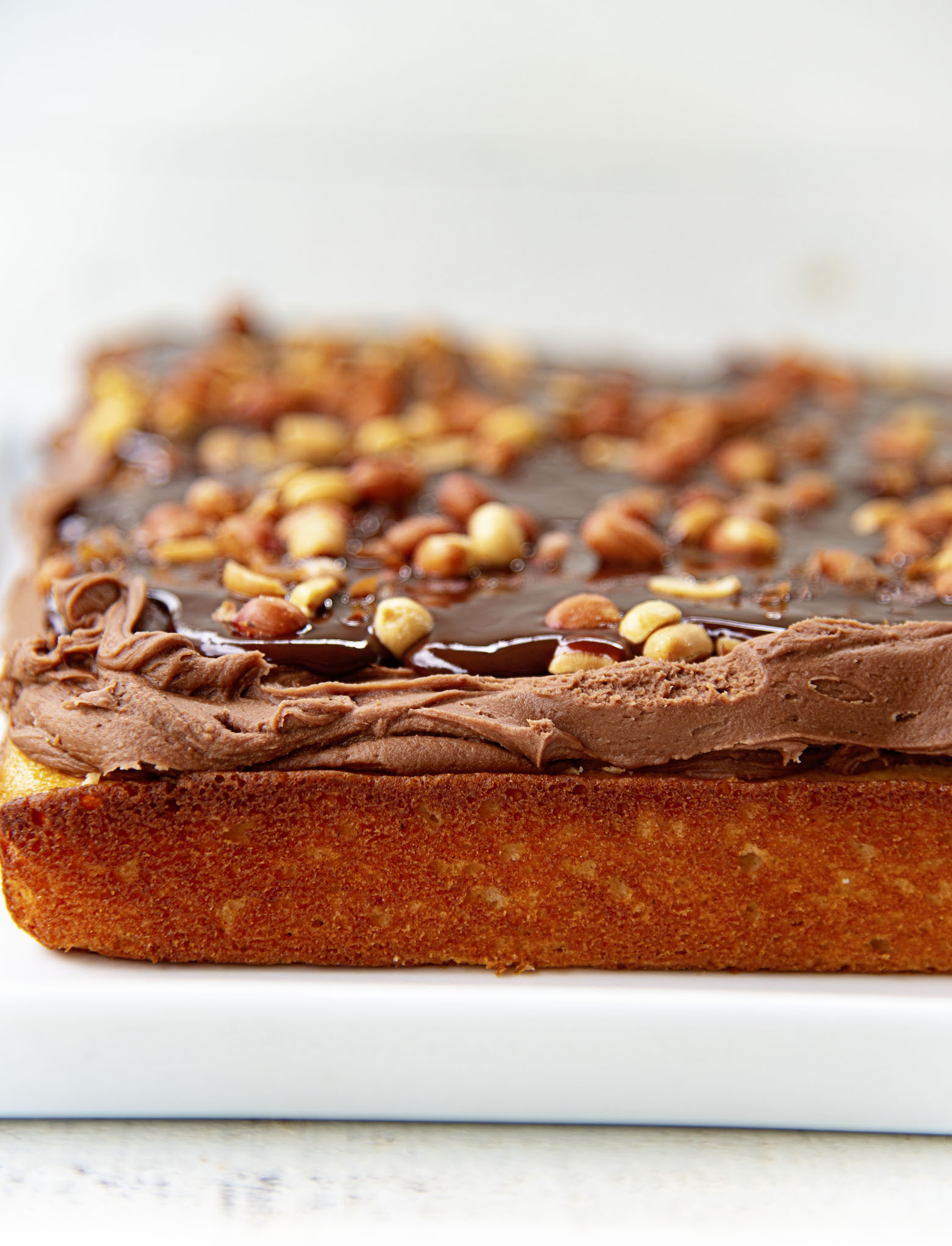 When I started back in 2005 I had to explain to people over and over again what a food blog was.
I still have to explain it to my mother to this day.
Which is why she's so happy I wrote a cookbook and she can just tell people I'm a cookbook author. 😀
It was such a strange concept to people.
They would ask "so you make a recipe and take a photo of it? And people come and comment about it?"
Yep.
Back then I had a point and shoot camera.
I was one of the few food blogs that had pictures at the time.
Most blogs from that time just would tell a story and then post a recipe.
Readers today would freak out.
I mean they get upset that I write so much before the recipe.
Non-longtime readers of the blog accuse me of rambling on to get more ads to load.
Nope.
I've always been a rambler.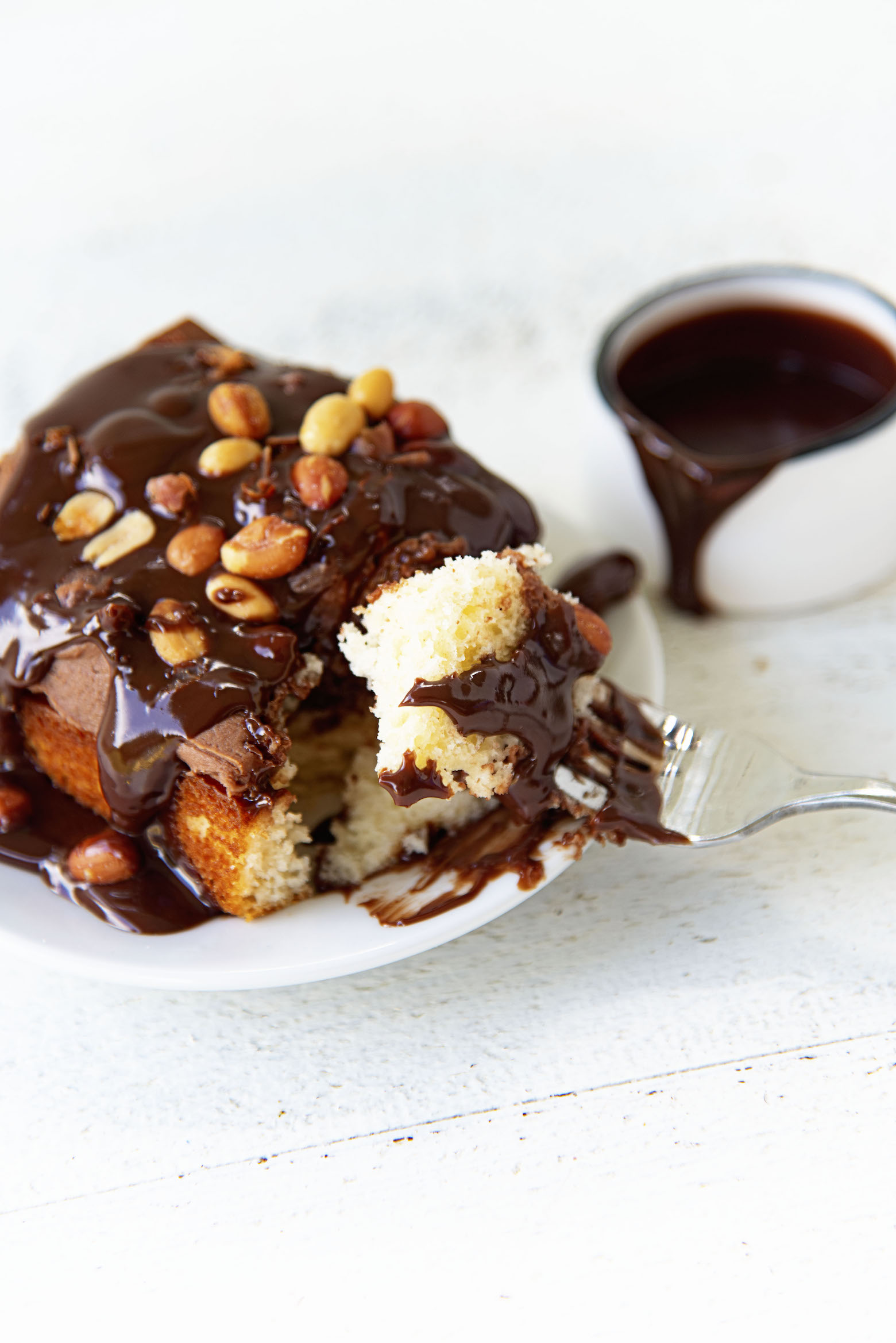 And if you go back to the beginning you will see that.
I also hardly ever talk about the recipe.
Because blogs, not recipe sites, tell a story and share recipes.
Recipe sites just share recipes.
Usually that they have stolen from a blogger.
But to the story haters that's why there is a Jump to the Recipe button on the top.
Of most blog post.
Some of the older ones do not.
I have literally thousands of recipes on here so I can only update so many post at a time. 🙂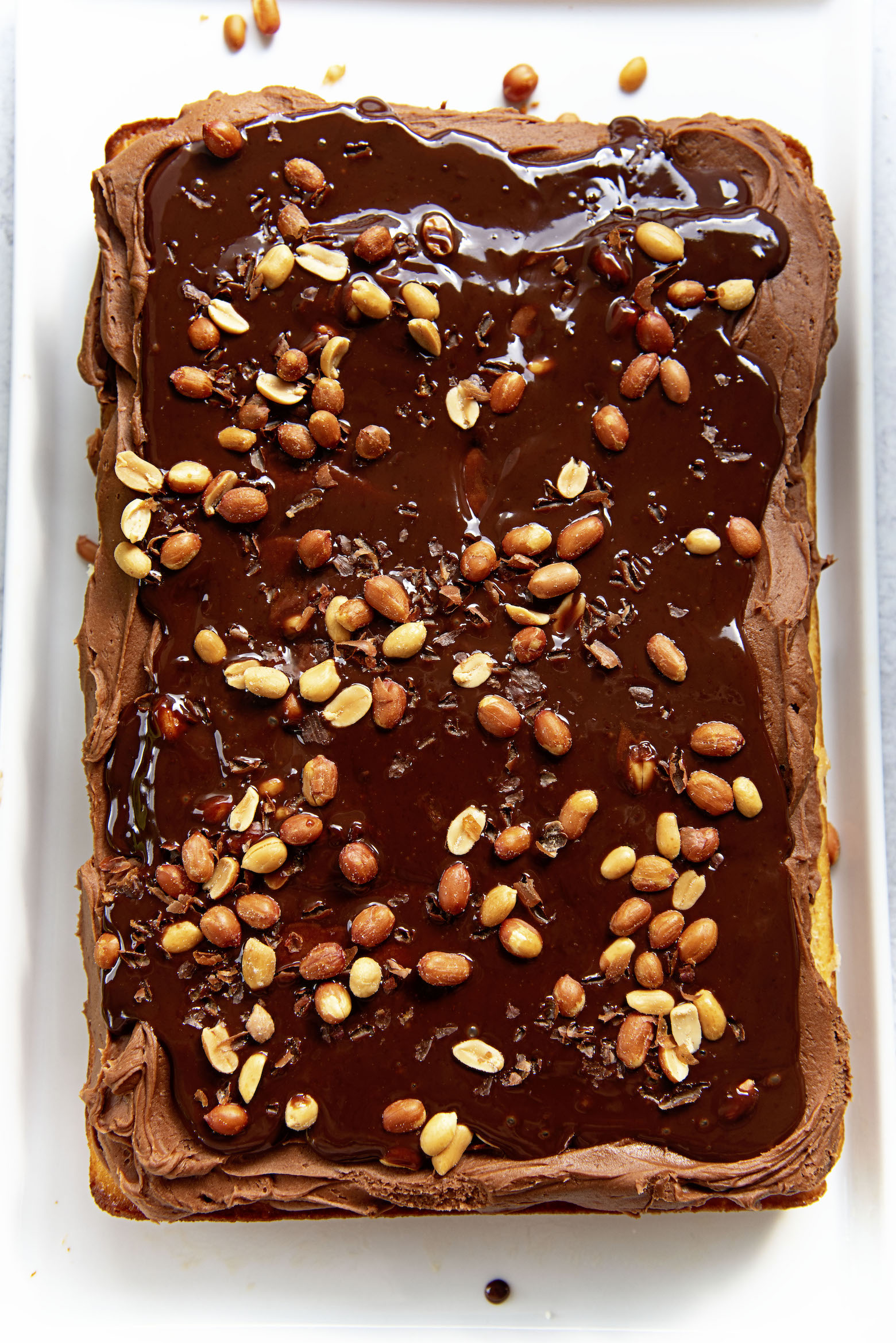 Every year when the blog anniversary (or birthday) rolls around I spend way too much time analyzing what I should make to celebrate it.
Obviously I settled on this Peanut Buster Parfait Cake.
When I was looking up recipes to see if anyone had made a Peanut Buster Parfait Cake all I could find were ice cream cakes.
Which is not what I wanted. I wanted a cake.
I settled on a vanilla bean base.
Which has some vanilla soft serve ice cream mix in there as well.
Then it's topped with my favorite fudge frosting.
And then it's covered in hot fudge for overkill.
Because I'm all about overkill.
And topped with Spanish peanuts.
Spanish peanuts are the ones that have the red skin still on them.
And I use the term "still on them" loosely as the skins always seem to fall off right away.
So a big thank you to my longtime readers who have stuck with me all this time.
A big hello to the newer readers that have recently discovered the blog.
And a big thank you to everyone in between.
Hope you are with me for many years to come.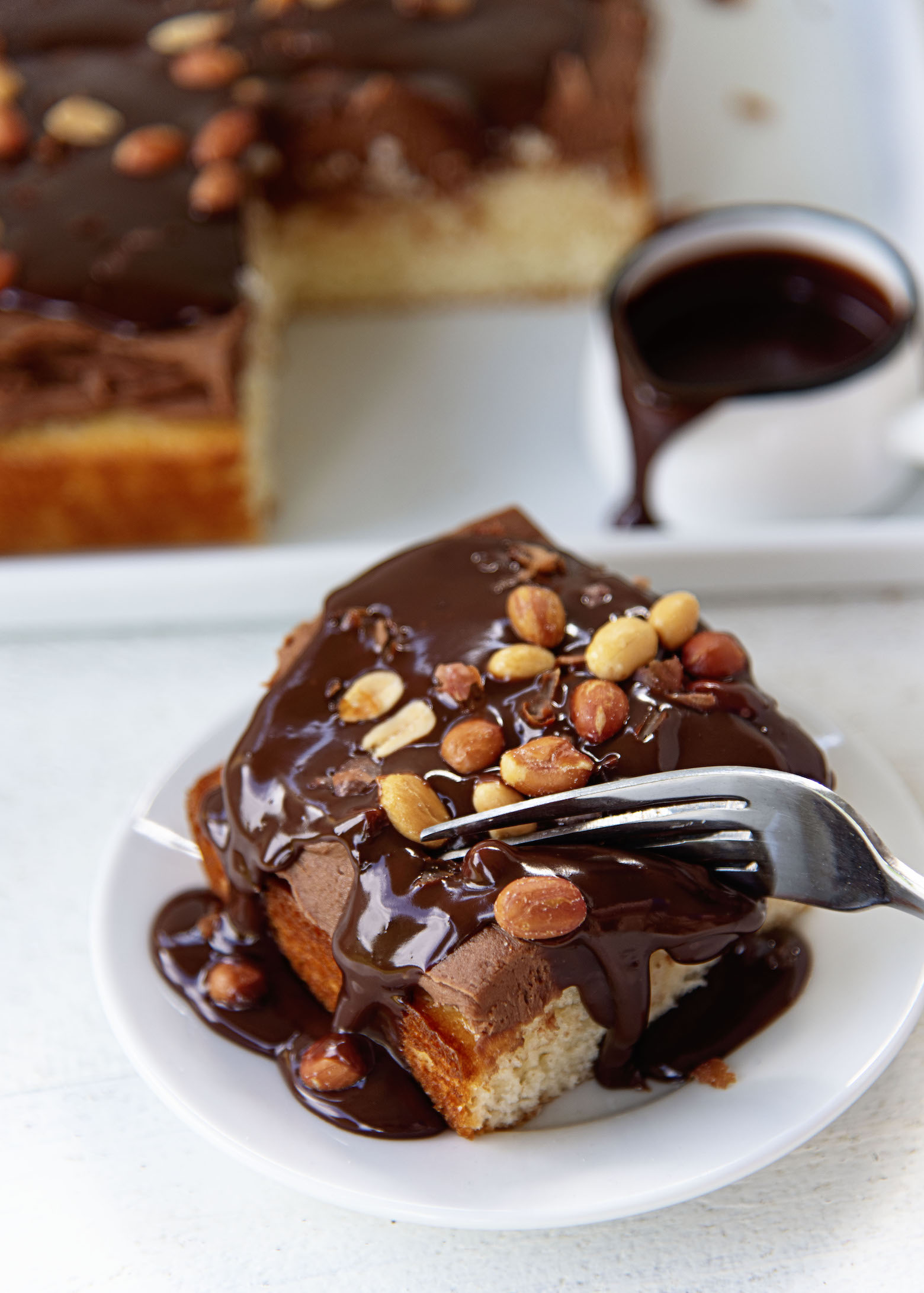 Want More Cake Recipes?
Chocolate Salted Caramel Popcorn Cake
Chocolate Peanut Butter Stout Layer Cake
Vanilla Cheesecake Funfetti Pink Ombre Layer Cake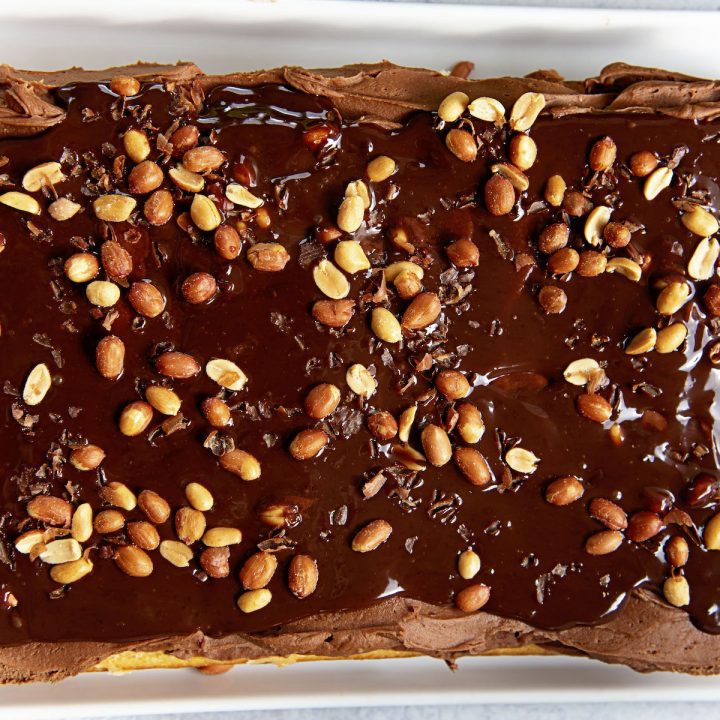 Peanut Buster Parfait Cake
Ingredients
For the Cake:
2 ½ cups all purpose flour*
1 TBSP baking powder (YES TABLESPOON)
½ tsp salt
1/3 cup vanilla soft serve mix
1 ¾ cups granulated sugar
½ cup vegetable or canola oil
2 large eggs, room temperature
2 large egg whites, room temperature
2 tsp vanilla bean paste
1 1/3 cups full fat buttermilk 
Ultimate Fudge Frosting:
2 cups unsalted butter, at room temperature
12 ounces semisweet chocolate, melted, slightly cool
4 cups powdered sugar
2 TBSP unsweetened cocoa powder
For the Hot Fudge:
9 oz semisweet chocolate chips
1 TBSp corn syrup
1 1/2 cups heavy whipping cream
1 cup Spanish peanuts
Instructions
For the Cake:
Preheat oven to 350°F with a rack placed in the center.
In a medium bowl, whisk flour, baking powder, salt, and vanilla soft serve mix until combined. Set aside.
Using a stand mixer fitted with the paddle attachment (preferred) or a hand mixer, beat sugar, oil, eggs, egg whites, and vanilla bean paste until combined.
Add half the buttermilk and beat until combined.
Add half of the flour mixture, beating until just combined.
While still beating, slowly add the remaining buttermilk, then the remaining flour mixture. Scrape the sides and bottom of the bowl as needed. Be careful not to over mix it.
Pour the batter into a greased 9x13 baking pan and smooth the top. Tap/gently drop the pan on the countertop a couple times to remove any air bubbles.
Bake for 30-35 minutes, until a toothpick inserted into the center comes out clean. If necessary, rotate the pan once during bake time to ensure even browning. Place the pan on a rack to cool completely
For the Frosting:
Using a stand mixer with the paddle attachment, cream butter and 2 cups sugar until fully combined.
Add melted chocolate and cocoa powder, and beat on low speed until fully incorporated.
Add the remaining two cups of sugar. You might need to thin it out, I never had.
This is a fantastic frosting and I don't even really like chocolate that much…yeah I know, but you could seriously bath in this.
For the Hot Fudge:
Add all the ingredients into a saucepan and put over medium low heat.
Whisk until it is all melted and creates a smooth thick sauce.
Assemble the cake:
Frost the cake with the fudge frosting. It will be a very thick layer of frosting.
Drizzle half the hot fudge sauce over the cake and top with Spanish peanuts.
Save the sauce to drizzle more on after the cake is cut.