This Peanut Butter Chocolate Chip Cake is a peanut butter and chocolate lovers dream. Peanut butter cake chocolate chips cake and rich chocolate ganache.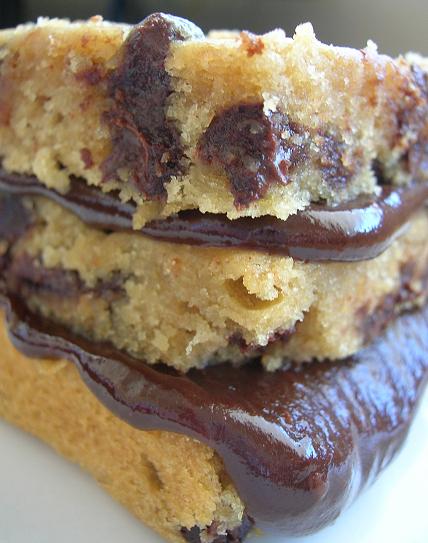 So it is cruel irony that I made this cake and don't get to eat it(dreaded diet).
Fortunately this is something my husband will gladly eat.
But enough about my sorrows.
One of my favorite chefs of all time is Marcel Desaulniers.
He is most known for his one cookbook, Death By Chocolate.
But I fell in love with his cooking watching his PBS cooking show, which many people never saw.
He is very creative and in my opinion greatly overlooked. I had the chance to eat at his wonderful restaurant, the Trellis, in Williamsburg, VA.
If you are ever in the neighborhood I suggest you stop by.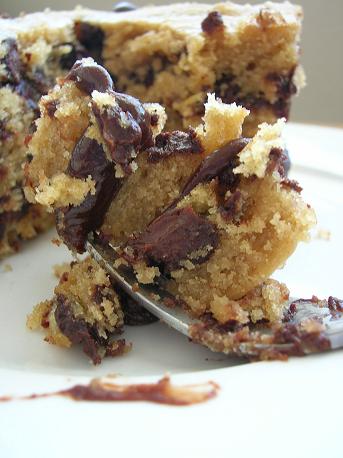 And as much as I love him he does have a downfall…he makes really complicated desserts.
And though I personally have the time and patience, not many other people do.
What stops me from making his stuff all the time?
Cost.
All of his stuff takes a lot of ingredients and since I am snob about chocolate and what not, the price can add up.
The recipe I did today is only part of a whole cake.
The original cake is a Peanut Butter Chocolate Chip Ice Cream Cake.
I chose not to make the whole thing since many of my friends say my food is lovely but they wouldn't have the time to make it.
So this Peanut Butter Chocolate Chip Cake is hopefully a recipe they can make.
The cake itself is actually great by itself but for the food porn factor I had to make the icing.
Last but not least…it's a great time to order my cookbook. 😀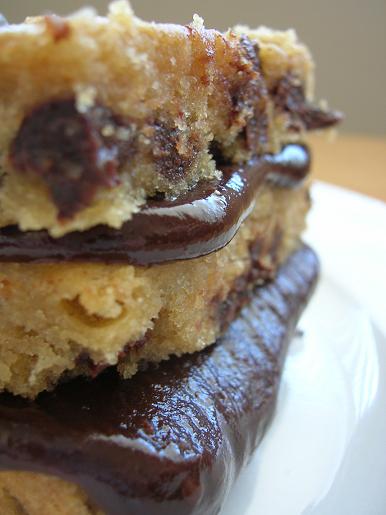 Want More Peanut Butter Recipes?
Rich Peanut Butter Brownie Torte
Boozy Peanut Butter Grape Jelly Jell-O Shots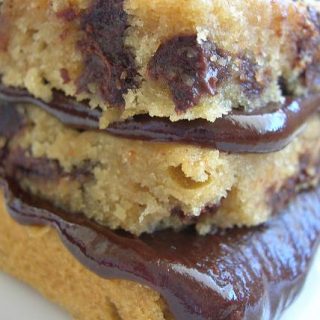 Peanut Butter Chocolate Chip Cake
Ingredients
For the cake:
2 ounces unsalted butter
1 cup all-purpose flour
1/4 tsp baking soda
1/4 tsp baking powder
1/4 tsp salt
1/2 cup tightly packed brown sugar
3 ounces creamy peanut butter
1 large egg
1 egg yolk
1/4 cup sour cream
1/4 cup hot water
1/2 tsp pure vanilla extract
1/2 cup semi sweet chocolate chips
For the chocolate peanut icing:
5 ounces semisweet chocolate, coarsely chopped
1/2 cup heavy cream
1/8 cup granulated sugar
2 TBSP peanut butter
1 TBSP unsalted butter
Instructions
Preheat oven to 325F.
Grease three 9 x 1 1/2 inch pans.(I personally used just one 9 x 13 pan).
Line your bottoms with parchement. Set aside.
Combine flour, baking powder, baking soda, and salt.
Mix together brown sugar, peanut butter and butter for two minutes. Add egg and egg yolk and mix for another 2 minutes. Scarpe down the sides and mix for another minute.
Add half of the flour mixture and mix until incorportated about 20 seconds.
Then add the sour cream, mixing again for 20 seconds.
Gradually add the remaining flour mixture.
Add the hot water in a slow, steady stream and mix on low to combine, about 30 seconds.
Add the vanilla and mix for another 10 seconds.
Add the chocolate chips and use a rubber spatula to finish mixing the ingredients until thoroughly combined.
Divide the cake batter into the prepared pans, spreading it evenly. Bake for about 22 minutes.
Place the chocolate in a bowl and set aside.
Heat the cream, butter, peanut butter and butter in a saucepan over medium heat.
When hot, stir to dissolve sugar and peanut butter.
Bring to a boil.
Pour the cream mixture over the chocolate.
Wait 5 minutes and stir the mixture until smooth. Place in fridge for about 5-10 minutes and place into a pipe bag.
Assemble:
Cut cake into square pieces.
Place one piece on your plate.
Pipe your icing just around the perimeter of the cake.
Place another piece of cake on top.
Again, pipe around the perimeter and follow up with one last piece of cake.