This Peanut Butter Cup Brownie Torte has layers of brownie, peanut butter mousse, peanut butter cup pieces, all drenched in ganache.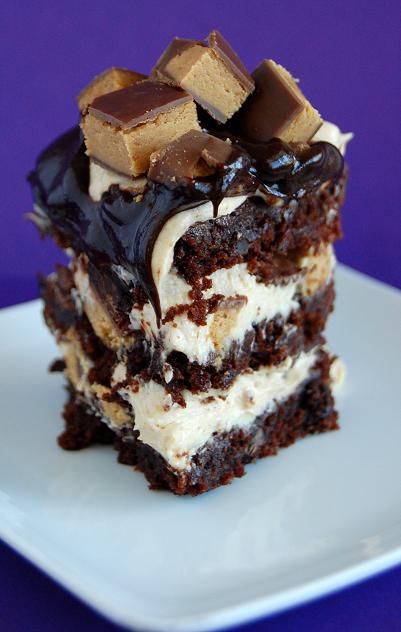 *This post is from 2009.
It is one of my most pinned recipes and many a person has made and loved this recipe.
I have thought many a time about remaking this and updating the smaller photos.
But the first photo actually won me two photo contests.
This was back in the days when food bloggers didn't have super fancy cameras and elaborate set ups.
And so I'm actually rather fond of it. *
Original Post:
So the In-Laws have left and I have been doing my best to get back into the swing of things.
Not easy to do.
I love having people visit but hate having my routine get all thrown out of whack.
And it is extra out of whack since there is no hockey right now so I am not scorekeeping at night.
Though that means more baking time. 😉
Thought I would be nice to the husband and make him something with peanut butter and chocolate since I haven't really done much with his favorite flavor combo in awhile.
So this amazing Peanut Butter Cup Brownie Torte came about.
This is torte is about as rich as it looks in the photo.
Now, in the real recipe, you don't want to use as much mousse as I did in the photo…it was just for photographic purpose.
If you used that much it would be a little too much in my opinion.
But if you are a peanut butter mousse fan maybe it won't be overkill for you.
I say don't be shy with the peanut butter cup pieces.
You rarely ever hear someone comment that they wish there were less peanut butter cups on something. 🙂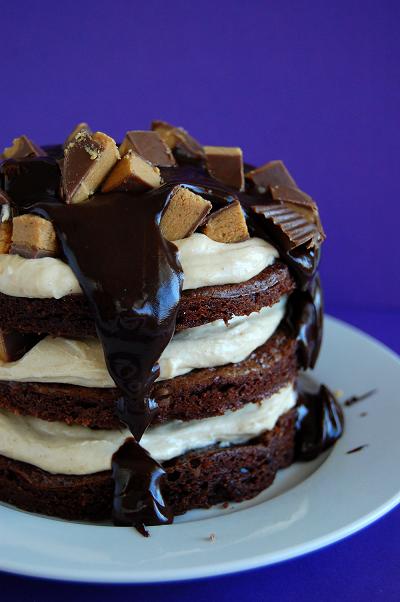 I did have a slightly amusing moment while out getting the Peanut Butter Cups.
I stopped off on way home to the Starbucks to get my afternoon Refresh Tea.
While standing in line I notice that the barista and what appears to be her boyfriend arguing.
Which then turned into a shouting match, in which he called her a whore.
I really wanted to point out the the guy, that though she may be a slut, she is most likely not a whore, as I doubt she was getting paid for putting out.
I'm a stickler for semantics.
But since the guy looked a little unstable, I felt it best to keep my mouth shut this time around. 😉
Sadly, the took the rest of the argument outside.
However, I don't feel that she will be having her job there anymore.
Perhaps I should offer them both a piece of this Peanut Butter Cup Brown Torte to make two very unhappy people get in a better mood.
Last but not least…it's a great time to order my cookbook. 😀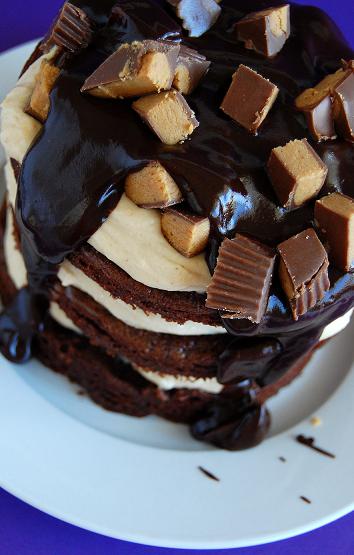 Want more recipes like this Peanut Butter Cup Brown Torte? Try these:
Peanut Butter Cup- Peanut Butter Chocolate Chip Cookie Dough Cheesecake Bars
Creamy Peanut Butter Cup Cheesecake
Peanut Butter Cup Pots de Creme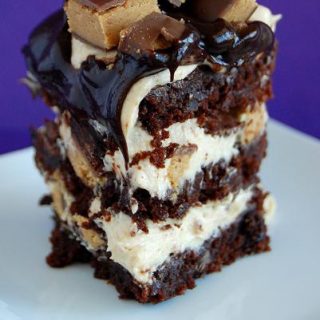 Peanut Butter Cup Brownie Torte
Ingredients
You will need:
6 brownie rounds (recipe follows)
peanut butter cream cheese mousse (recipe follows)
lots and lots of peanut butter cup pieces (I chopped up about 15 Reese's Peanut Butter Cups)
chocolate ganache (recipe follows)
Brownie Rounds:
7 TBSP unsalted butter, melted
1 cup granulated sugar
1 egg
1 egg yolk
½ tsp vanilla extract
¼ cup cocoa powder ( I used Green and Blacks)
½ cup all-purpose flour
¼ tsp baking powder
pinch of salt
½ cup semi-sweet chocolate chips
Peanut Butter Cream Cheese Mousse:
½ cup whipping cream, chilled
5 ounces cream cheese, at room temperature
1/3 cup plus 2 TBSP powdered sugar
1/3 cup peanut butter
Chocolate Ganache:
4 ½ ounces semi-sweet chocolate, chopped finely
½ cup heavy whipping cream
Instructions
For Brownie Rounds:
Preheat oven to 325F.
Butter and flour Six 4 ½ -inch Diameter Spring Form Pans. Set aside.
Using a stand mixer with the paddle attachment, mix together butter and sugar, about 2 minutes.
Add in egg, egg yolk, and vanilla. Beat another minute.
Pour in cocoa, flour, baking powder and salt.
Mix on low speed until fully incorporated.
Fold in chocolate chips until completely distributed throughout the brownie batter.
Using measuring cups, pour a heaping 1/3 of a cup into each of the 6 prepared pans. If there is any batter left over, try to as evenly as possible, add to the prepared pans.
Bake for 20-23 minutes.
Remove from oven and let cool.
Peanut Butter Cup Mousse:
Using a stand mixer with the whisk attachment, whisk the whipped cream on high until stiff peaks form.
Place into a bowl and set aside.
Add the cream cheese and peanut butter and whisk on medium speed, until fully incorporated.
Add powdered sugar and mix until combined.
Add whipped cream back into bowl and whisk on medium high until peanut butter mixture and whipped cream are fully incorporated and the texture is light and fluffy.
Place into a medium sized bowl and set in fridge while brownies fully cool. At least 30 minutes.
Chocolate Ganache:
In a small saucepan bring cream to a boil. Once the boil starts, pour over chocolate.
Let sit 5 minutes.
Whisk until mixture is smooth and glossy.
To Assemble the Torte.
Remove brownie from spring form pans. If still too warm, place in freezer for about 10 minutes.
Place one brownie circle on a plate.
Add about a 1/8 cup of peanut butter mousse (I added much more to mine and actually doubled the recipe…but for photo reasons only. That much filling would be too much).
Scatter a handful of peanut butter cups.
Place another brownie round on top of the that.
Then add another 1/8 cup peanut butter mousse.
Then peanut butter cups.
Place third and final brownie round on top of the second layer.
Add a ¼ cup for the top layer of peanut butter mousse.
And more peanut butter cups.
Pour ½ the ganache over the top of the torte.
It might take some peanut butter cup pieces with it down the side.
Just add more on top, you know you wanted to anyway.
Repeat and make a second torte. You should have two total. You can share…but why would you?