This Almond Joy Bread is filled with chocolate chips and coconut, covered in a coconut glaze, and drizzled with chocolate ganache.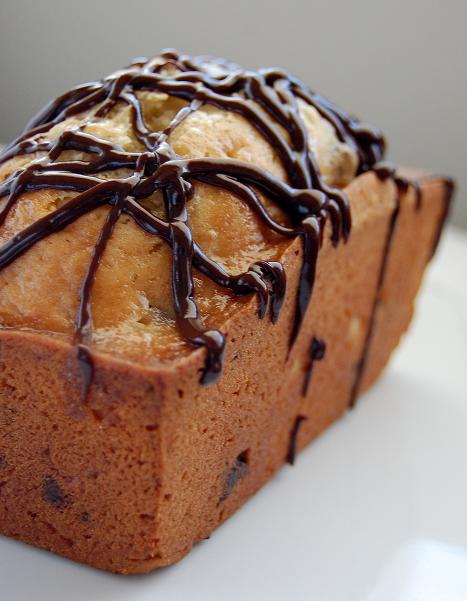 Halloween candy can be found everywhere. Yay!
Oh evil, evil Halloween candy, how I love you so.
Bags and bags of my favorite candies conveniently miniaturized for my candy eating pleasure.
Only problem is, I have no problem throwing back 6 mini Snickers only to be horrified by reading the nutrition label.
Why is it that I would never sit down and eat 3 Snickers bars in a row but I eat 6 mini ones that are the equivalent of 3 Snickers bars!
Oh my.
I go through phases when it comes to buying Halloween candy.
On years when I am dieting of course we hand out candy that I don't really want to eat…which it is pretty hard to find a candy I don't really like.
In recent years, I have been buying candy that my husband likes to eat.
In the last 3 years we have had 2 whole trick-o-treaters. Two. 🙁 .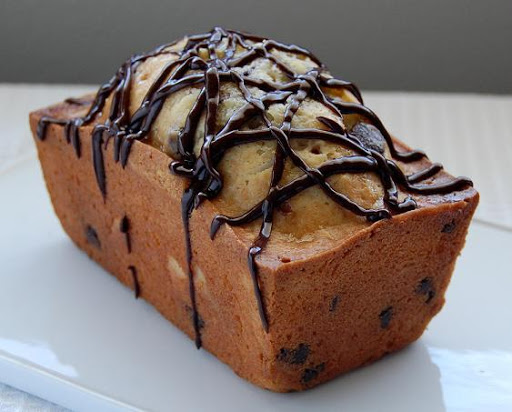 So we just buy what he will eat so that he can put them in his lunch.
Now I must shamefully admit that I was one of those people that trick-o-treated all the way up until I was a senior in high school.
But I will admit that at least I would go all out with my costume.
Not like what they come as now a days…in street clothes and a mask…that they are usually holding in their hand.
I've been a fish aquarium.
7-UP can(that was part of a 6 pack).
Dasher (one of Santa's reindeer) with my other friends as the 8 other reindeer and our Jewish friend L as Santa Claus.
So why would a 17 year old go out and trick-o-treat?
I just could not give up the idea of free candy.
Lots and lots of free candy!
I almost always filled up my pillowcase (screw that little plastic pumpkin crap) all the way up to the top.
And then I would come home and dump my candy on the floor.
My parents would do their "safety inspection" aka stealing the candy they wanted.
This always led to a struggle.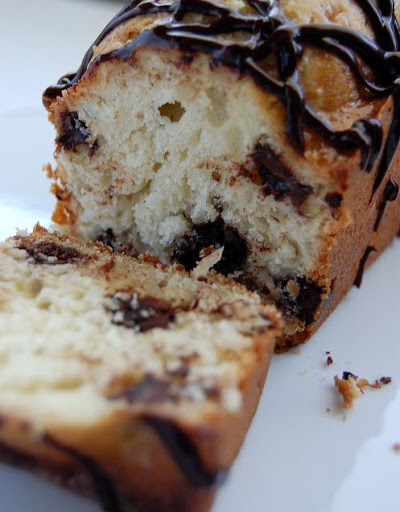 You see, both my mother and I love Mounds and Almond Joys…and well, other people must not because I hardly ever got any.
It got to the point that as I go older I would pick them out before we got home and I would hide them in the planter and go get them later :P!
Sharing is not one of my strong points. 🙂
So with all this Halloween candy around I decided to make a tribute to the most fought over candy in our household (well my parents household…my hubby wouldn't touch those…fine by me!)…the Almond Joy…in quick bread form.
This Almond Joy Bread is a coconut bread base with chocolate chips and almonds.
I would have used milk chocolate but I was out of it thanks to the Daring Bakers Milk Chocolate Caramel Tart.
Plus, I like the semisweet better.
This is called bread…but in all reality is probably more cake like than bread.
Perhaps as Halloween gets closer more and more candy conversions will be happening on my blog.
P.S. It's a great day to buy my cookbook Holy Sweet!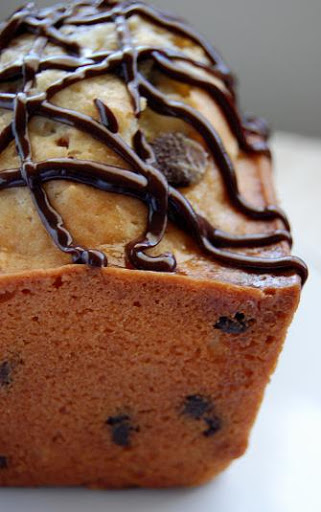 Want More Quick Bread Recipes?
Salted Caramel Apple Fritter Bread
Chocolate Peanut Caramel Quick Bread
Mini Caramel Glazed Honey Crisp Apple Bread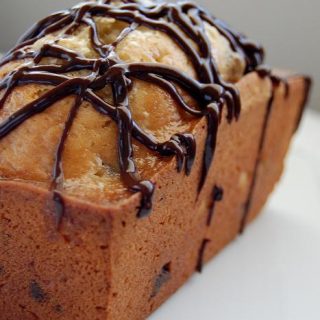 Almond Joy Bread
Ingredients
For the Bread:
4 eggs
2 cups sugar
¾  cup canola oil
¼ cup melted unsalted butter
1 tsp vanilla
1 tsp coconut extract
3 cups all-purpose flour
½ tsp baking soda
½ tsp baking powder
½ tsp salt
1 cup buttermilk
1 cup sweetened coconut
½ cup raw almonds, chopped
1 cup chocolate chips
For the Coconut Glaze:
1 cup sugar
½ cup water
1 TBSP unsalted butter
1 tsp coconut extract
For the Chocolate Ganache:
8 ounces semisweet chocolate, chopped
¾ cup heavy cream
Instructions
For the Bread:
Combine the first 6 ingredients into the bowl of an electric mixer.
Using the paddle attachment, beat ingredients on medium speed for 2 minutes.
In a separate bowl, sift and combine flour, baking soda, baking powder and salt.
Starting with the flour mixture alternate flour, buttermilk, flour, buttermilk and flour...in that order.
Mix until just combined, like you would if you were making muffins.
Fold in coconut, chocolate chips and almonds.
Pour into two loaf pans or 8 mini loaf pans that have been greased and floured.
Bake at 350F for 1 hours (minis take only about 10 minutes less).
Remove from oven and place on rack to dry.
While breads are still warm, poke several holes in the top of the bread with a wooden skewers.
Drizzle Coconut Glaze (recipe follows) into the holes.
Finish glazing cake by taking a pastry brush and brushing on remaining glaze(as much or as little as you would like).
When cake is completely cool, drizzle chocolate ganache over cake(I used a piping bag).
For the Coconut Glaze:
Place ingredients into a small saucepan.
Bring to a boil.
Allow to boil for about a minute.
Turn heat off but leave saucepan on burner.
Glaze bread as instructed above.
For the Chocolate Ganache:
Place chocolate into a bowl.
Place cream in a saucepan and bring to a boil.
Once cream has boiled pour over chocolate.
Let sit for 3 minutes.
Stir with whisk until smooth and glossy.