Enjoy a New England summertime classic with this Lobster Sweet Corn Chowder full of fresh sweet corn and chunks of lobster.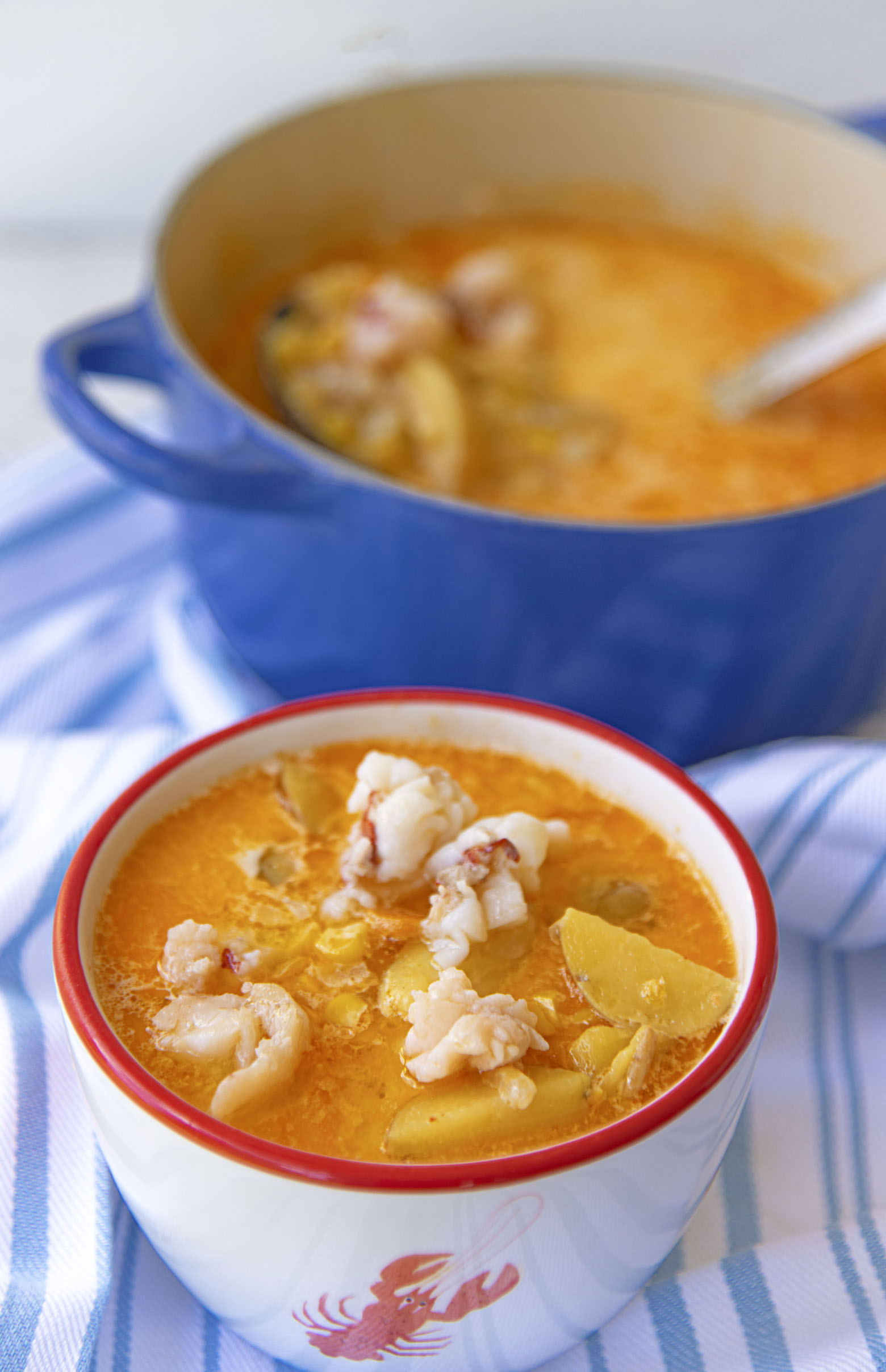 This Lobster Sweet Corn Chowder was my go to dish each New Years Eve.
I am a stay at home kind of gal for NYE.
And it was good.
But you have to use frozen corn in December.
Since I was a school teacher when I first started this tradition buying lobster was a once of year kind of thing.
When I moved to Washington state and started getting to have sweet corn from the farms around me, I realized I should make it in the summer and not winter.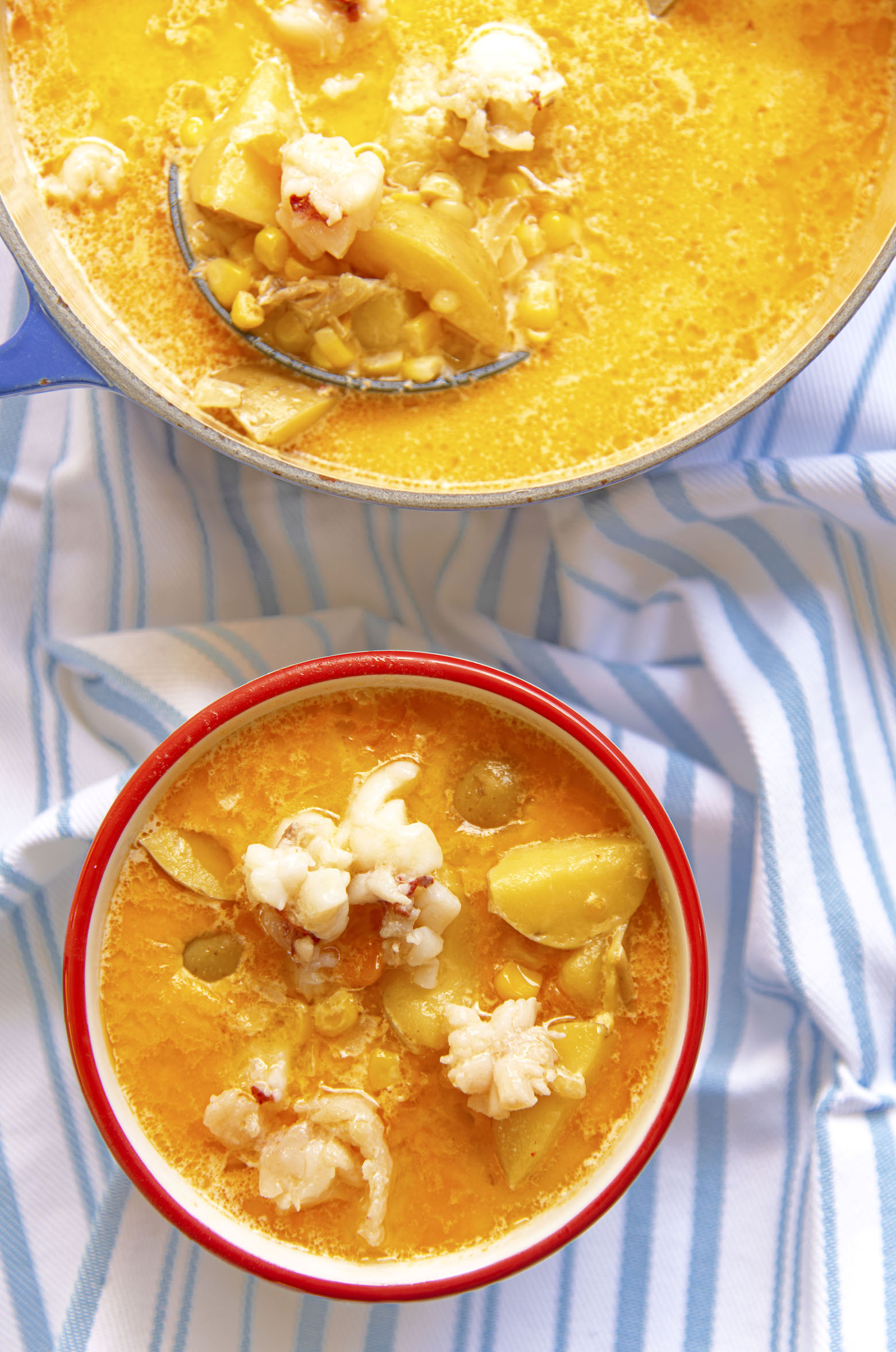 We are at the start of our sweet corn season here.
Something I look forward to each year.
I'm a cornaholic.
I love to make sweet corn ice cream.
Love to eat it just freshly cooked in butter with a sprinkle of fresh basil.
Or cooked in a butter cream combo and cover mashed potatoes with it.
And, of course, I love to just eat it as corn on the cob.
It also means that I make this chowder.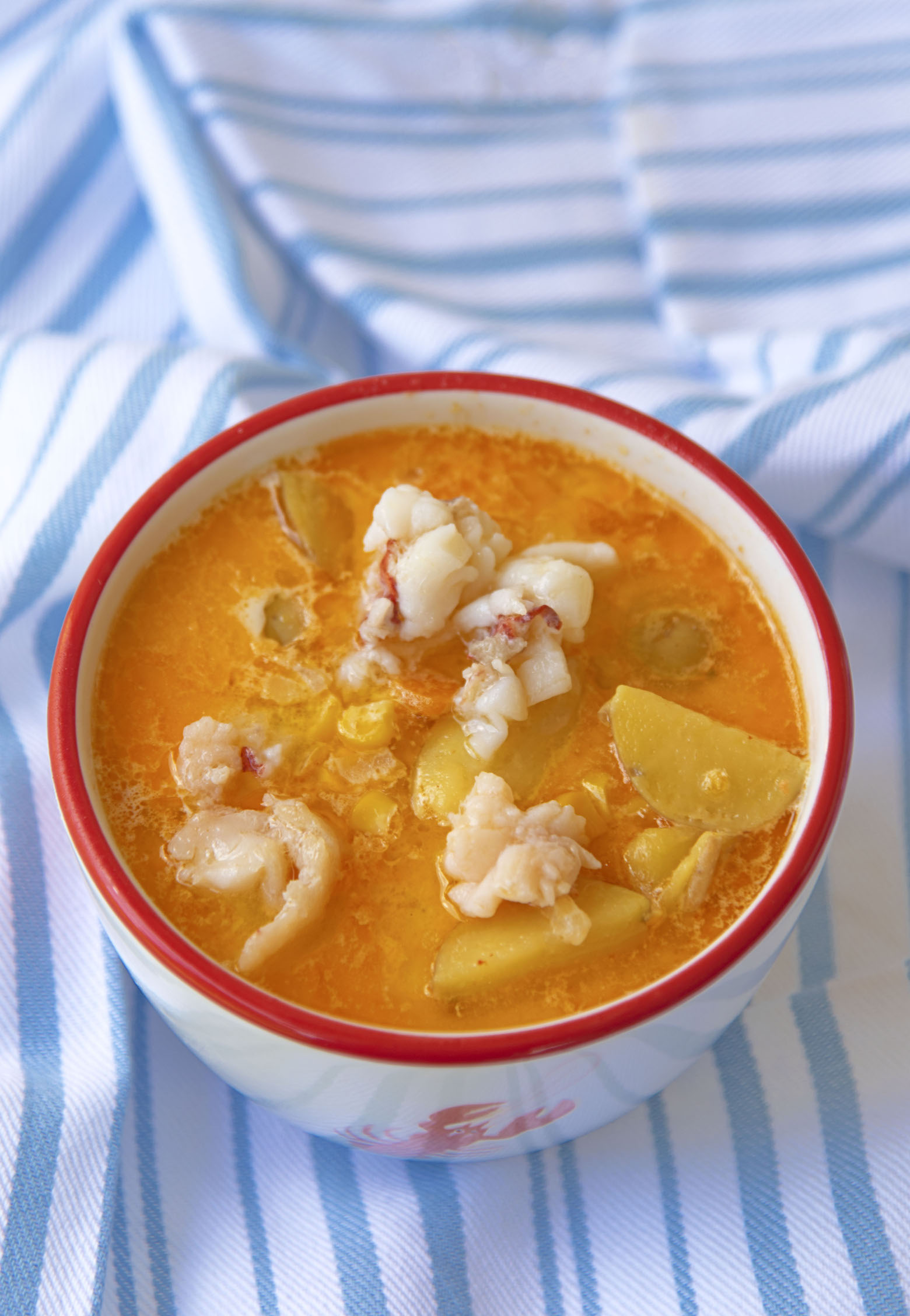 What Makes Chowder a Chowder?
Chowders almost always have cream in them or a creamy base (some vegan ones use a cashew cream).
Chowder also almost always have potatoes in it.
They are considered more hearty and more filling.
And almost all of them contain some form of chowder.
Clam chowder being the most famous example.
The chunks of the vegetables and seafood are usually larger than what you find in a soup.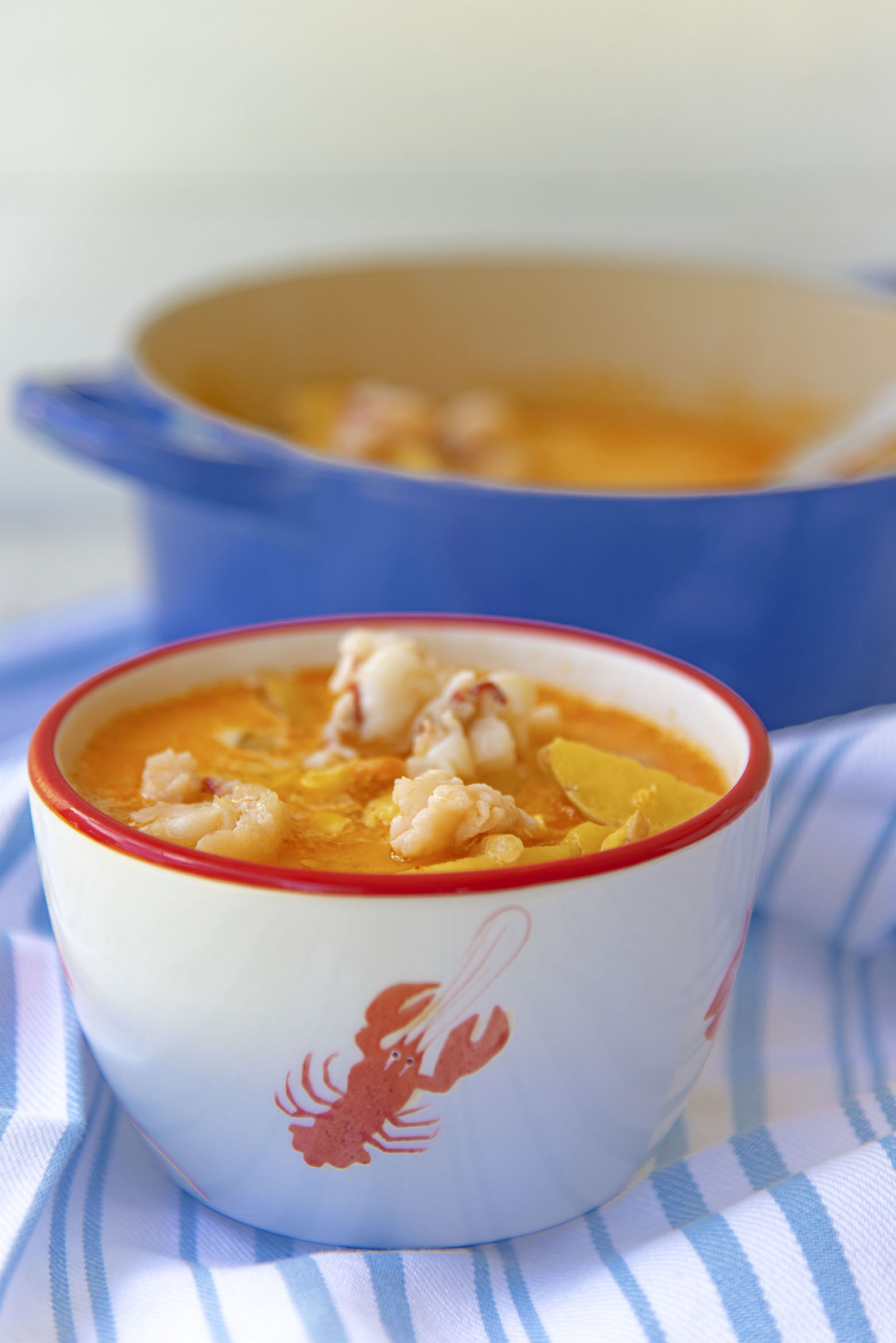 I chose to use mini yellow potatoes and just quarter them, keeping the skins on.
Sometimes I make this with Russets and make them into a large dice.
Potato choice is pretty much up to you.
I buy my lobster stock which is actually a base.
Some of my grocery stores carry it but I just buy it online.
You an also make your own if that is your preference.
I personally, like the easy route, especially when it tastes the same. 🙂
This recipe also calls for a TBSP of chicken base.
Which we don't eat (pescatarian) so we use the no chicken chicken base and that works great as well.
Don't skip the chicken base.
It adds another layer of flavor that gives depth to the chowder.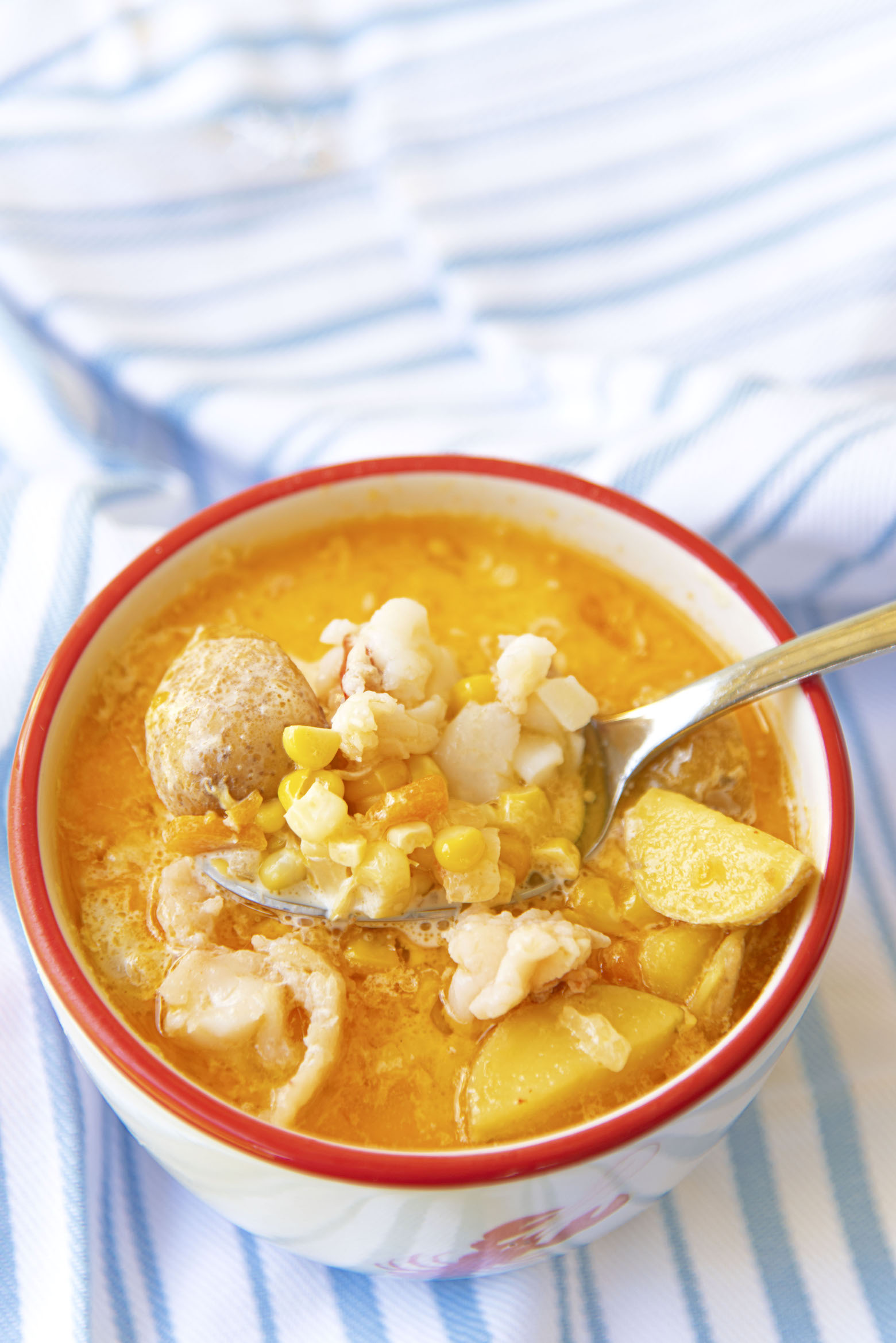 Do you have to use heavy cream?
Yes.
This is an indulgence.
Lobster deserves heavy cream.
Not the time to use 2% milk to save a few calories.
Plus, chowders are supposed to be creamy…which means cream. 😀
And speaking of calories, yes, you do need the butter.
It adds a whole new level of luxurious taste and feel.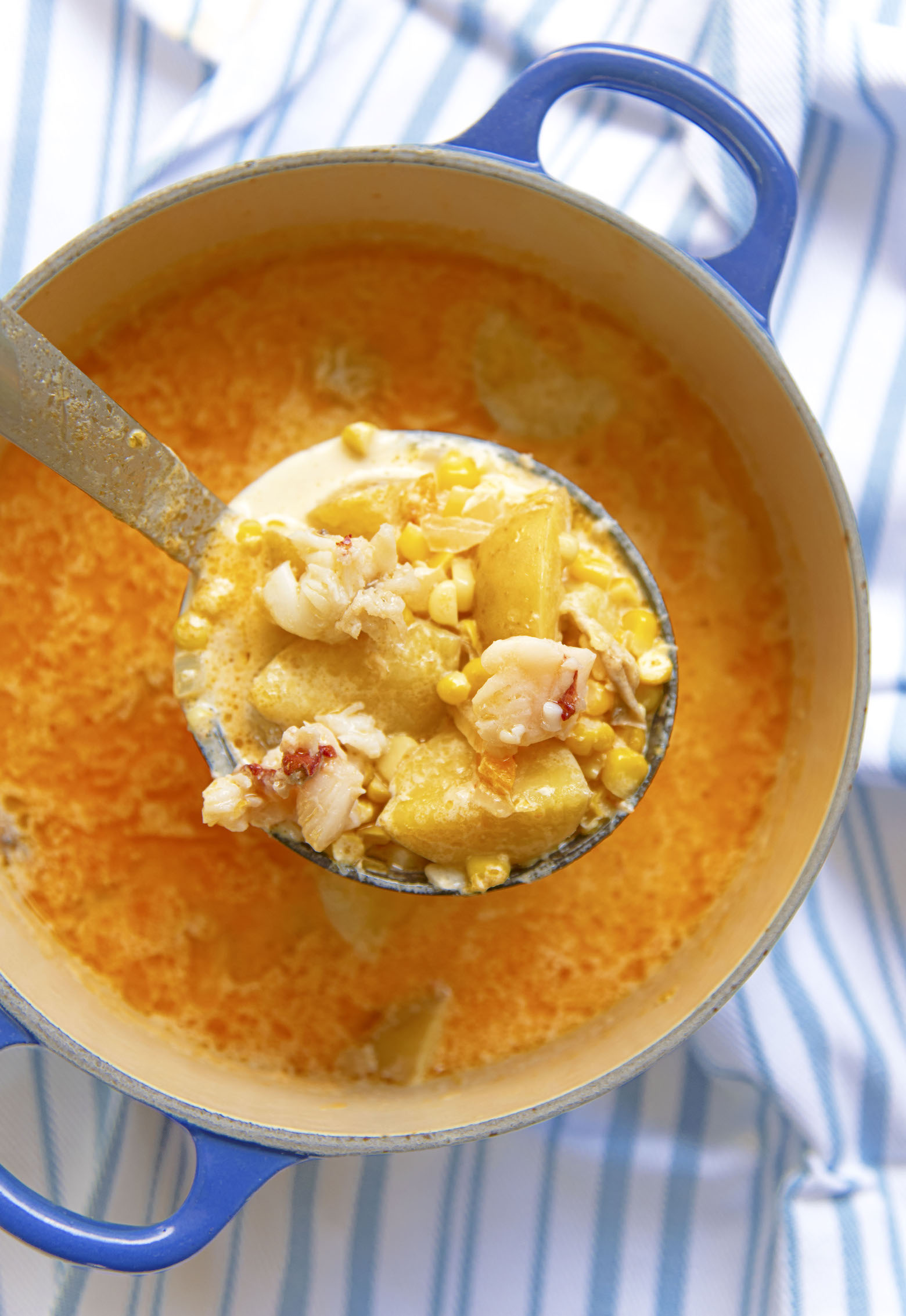 Can I use something besides lobster?
If lobster is out of your price range…it is for me most of the time I would look for langostino.
You can sometimes find it at Trader Joes and our local restaurant supply store carries them as well.
Sometimes you can find them in the grocery store.
They are almost always in the frozen section.
Not sure I've ever seen them fresh.
You will definitely get the same flavor.
What about shrimp?
Some claim that Argentinian red shrimp taste like lobster.
I've never had it so I can't say.
But I have made this chowder with shrimp and it tastes good as well.
Crab could work too.
Basically any seafood you would dunk in butter would go with this.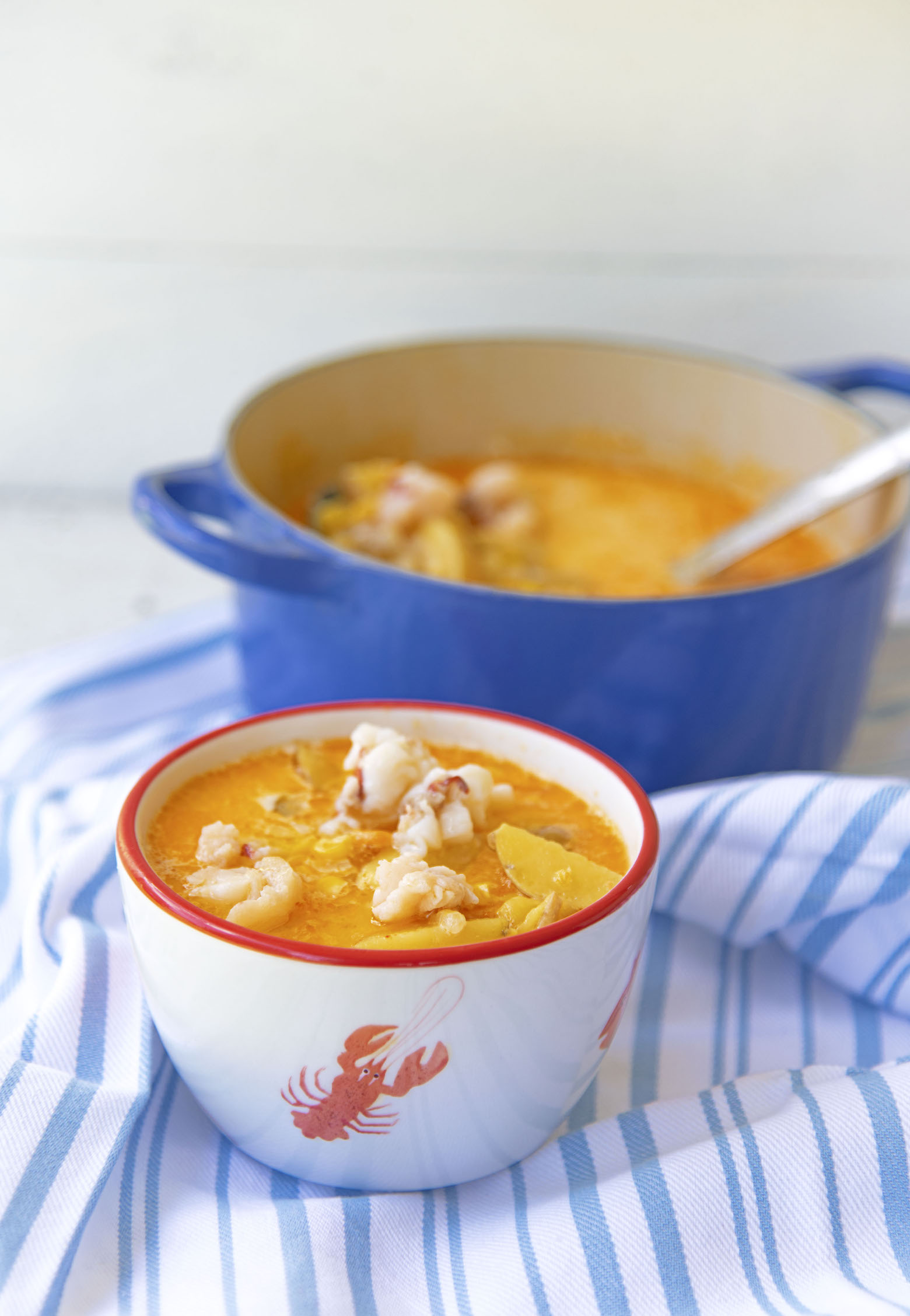 P.S. It's a great day to buy my cookbook Holy Sweet!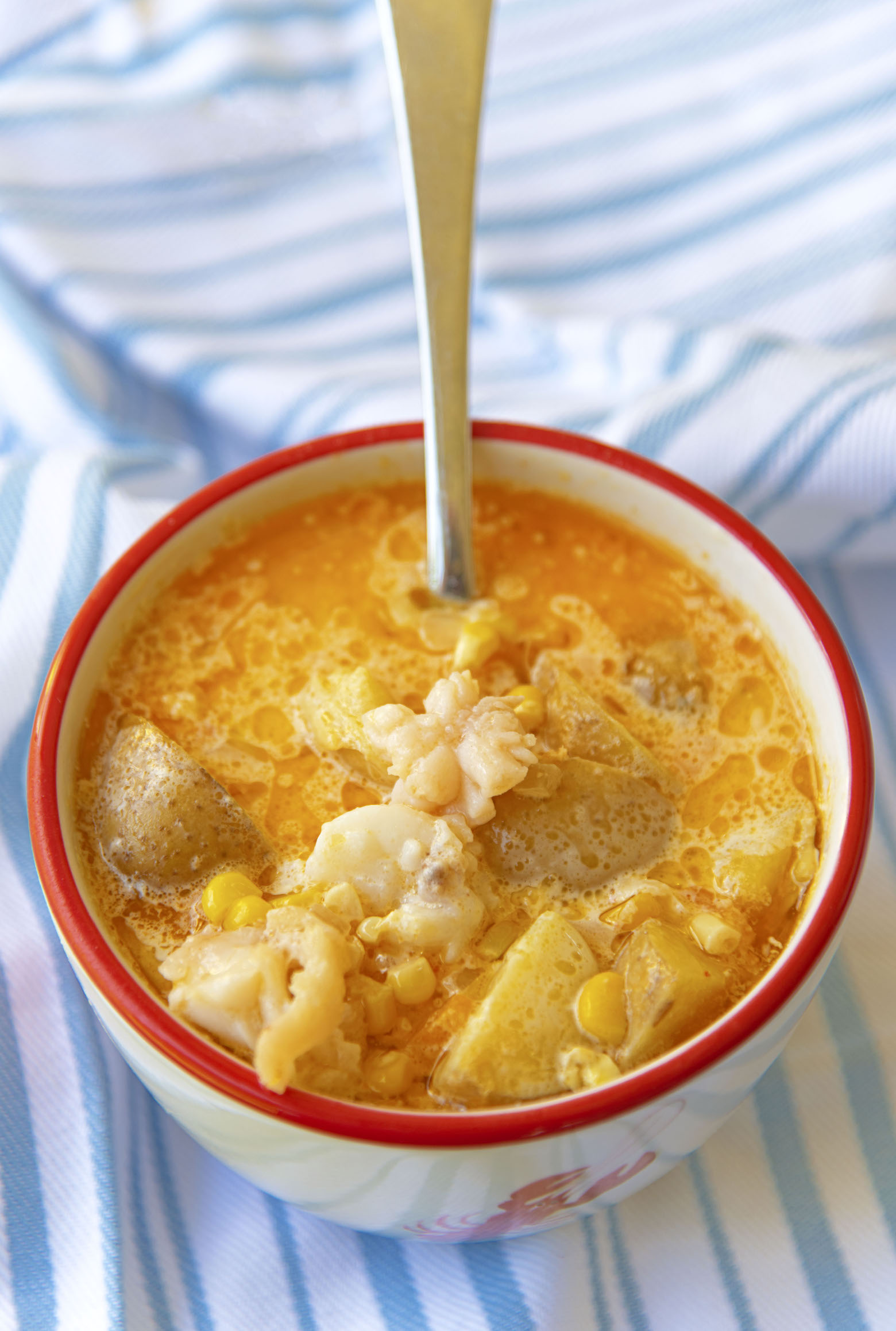 Want More Soup Recipes?
Apple White Cheddar Onion Soup
Smoked Bacon Corn Cheese Chowder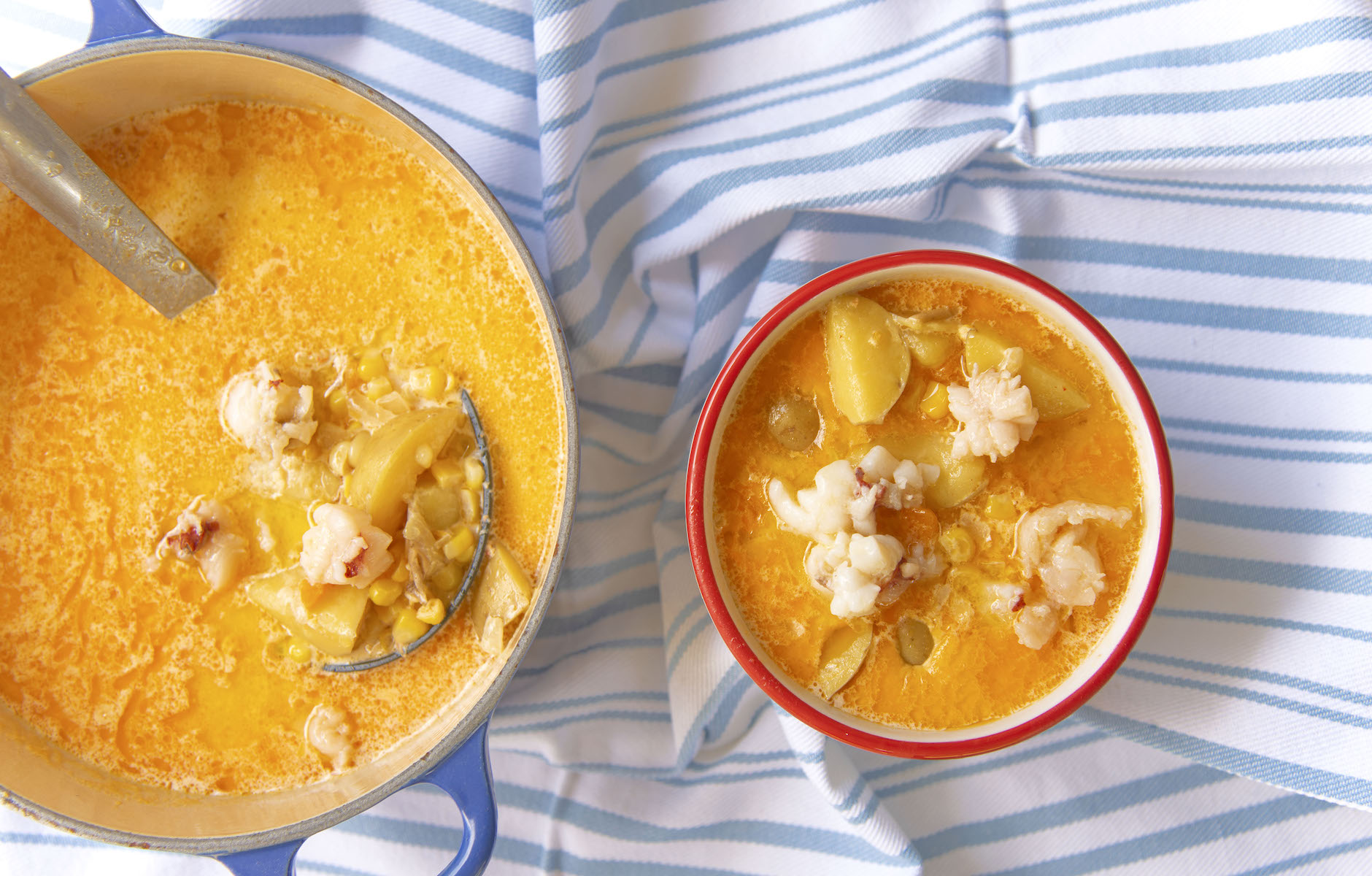 Lobster Sweet Corn Chowder
Ingredients
¼ cup diced celery
¼ cup diced onion
¼ cup diced carrot
1 garlic clove, chopped
¼ cup of butter plus one TBSP
2 cups small yellow potatoes, quartered
½ tsp coriander
a dash of white pepper
sea salt to taste
4 cups of lobster stock
1 TBSP chicken flavor base
2 ½ cups heavy cream
1 pound of lobster, raw, cut into bite sized pieces
2 cups grilled fresh corn, cut off of the cob after grilling
Instructions
In a large stock pot, cook celery, carrot, onion and garlic in 1 TBSP of butter.
Saute for about 5 minutes, until tender.
.Add potatoes, coriander, white pepper and lobster stock. Bring to a boil.
Cover and reduce to a simmer.
Simmer for about 30 minutes, while the stock reduces.
Add chicken base, cream and ¼ cup butter (bad I know but really good).
Simmer another 20 minutes.
Check soup to see if it needs salt, it might not.
Stir in the lobster and the corn.
Wait for lobster to turn pink and curl up, about 2 minutes.
Ladle into bowls and sprinkle with parsley or chives.