Creamy and delicious Apple White Cheddar Onion Soup with warm up your whole family on chilly nights. Don't forget the Apple Bacon Jam Toasts!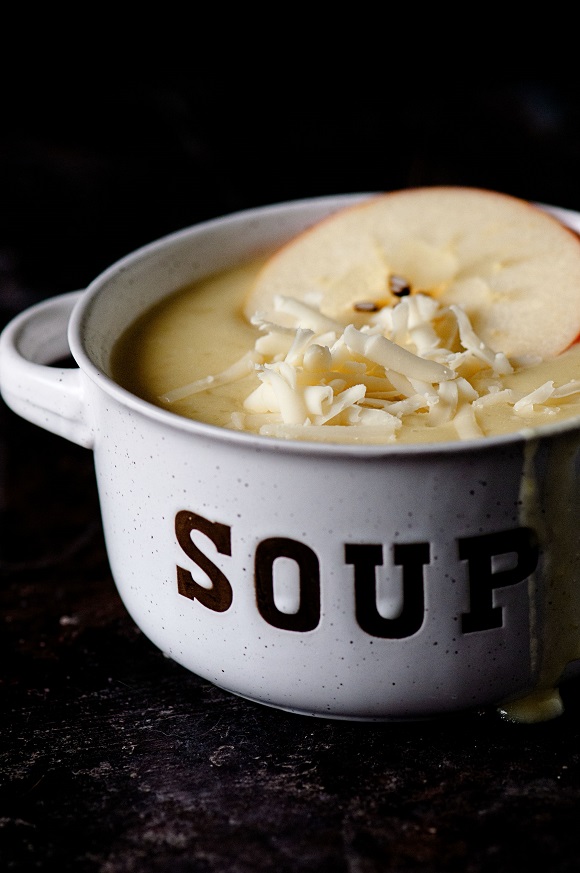 I love soup.
One of the things I looked forward to the most when it was the holidays was that my mom would make either Split Pea Soup or Navy Bean Soup to use up the ham and ham bone.
Though my mom never really got into cheese based soup…which is sad since back then it's the only way I would eat broccoli.
Oh, who am I kidding, it's still the only way I eat broccoli. 😀
I really enjoyed working with the Darigold Crèma Agria Mexicana and they were very happy with the work I did with it so Darigold offered for me to make a recipe with their new product…but they didn't tell me what it was.
I've loved every one of their products so I figured whatever it was I would probably love it.
I was right.
Nothing like getting a bunch of cheese sent to your house.
White Cheddar to be exact.
No color added white cheddar to be more exact.
Really good freaking cheese to be even more exact. 🙂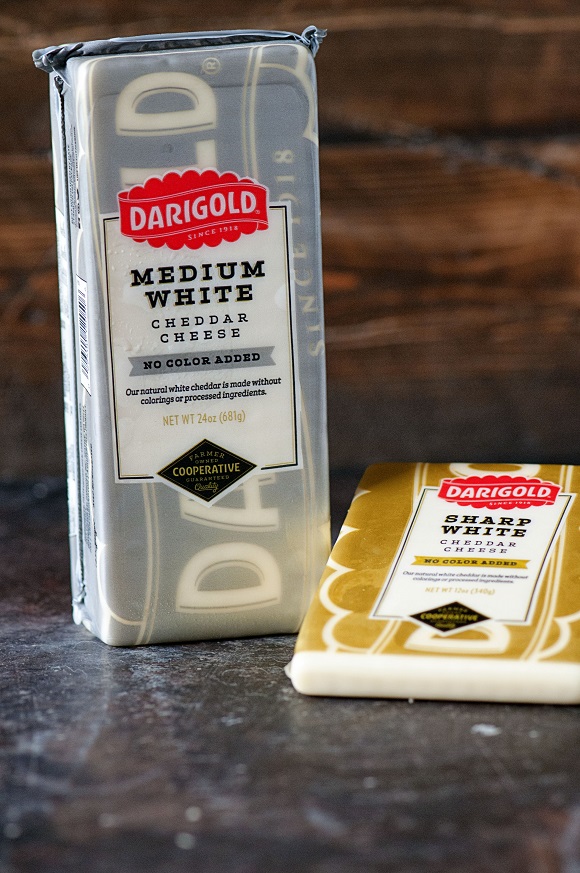 My mind immediately went to soup.
This Apple White Cheddar Onion Soup is perfect for a cold October Pacific Northwest day.
I chose to use a mix of the mild and sharp cheddar.
I personally would have gone all sharp but not everyone likes that sharp of cheese.
But if you are a sharp cheese fan by all means go all sharp!
While the soup is tasty on its own, the Apple Bacon Jam Toasts really take it over the top and should not be missed.
The leftovers of it make for a great grilled cheese FYI, which I made with Darigold White Cheddar slices.
Holy yum.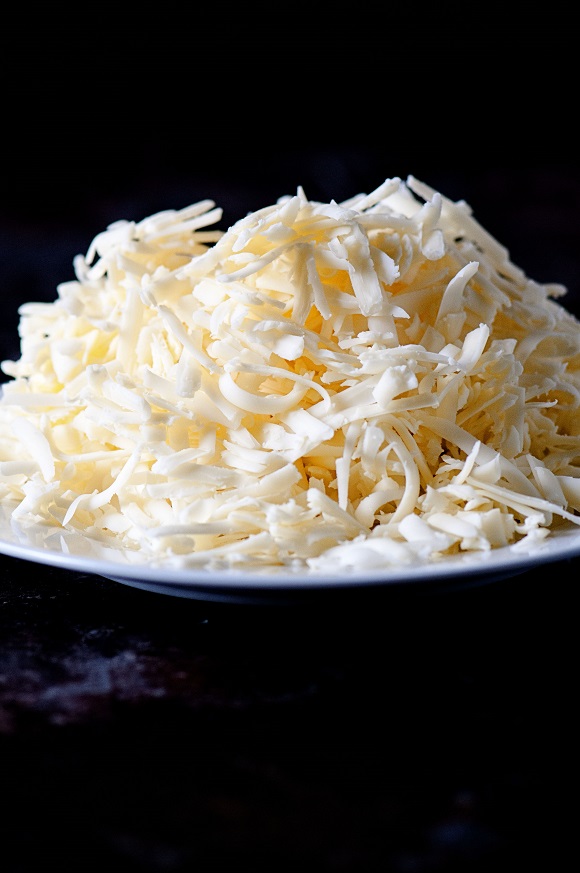 If you are in the PNW be on the lookout for Darigold's new cheese.
The naturally white cheddar cheese will be available in medium, sharp, and Mexican blend and offered in the following forms: loaf, sliced, shreds or a wedge (perfect for a cheese plate).
The suggested retail pricing for medium 12 oz. wedges is $4.99; medium 24 oz. loaves are $7.99; and medium 8 oz. slices and shredded cheese are $3.99. Darigold's all-white cheddar cheese can be found at grocery stores in the Pacific Northwest.
You can follow their Facebook page or Twitter.
Yes, this post was sponsored by Darigold.
I appreciate working with companies like them.
They are not only local but their products are rBST-free.
All the opinions, bad grammar, and overuse of smiley faces are all mine. 🙂
P.S. It's a great day to buy my cookbook Holy Sweet!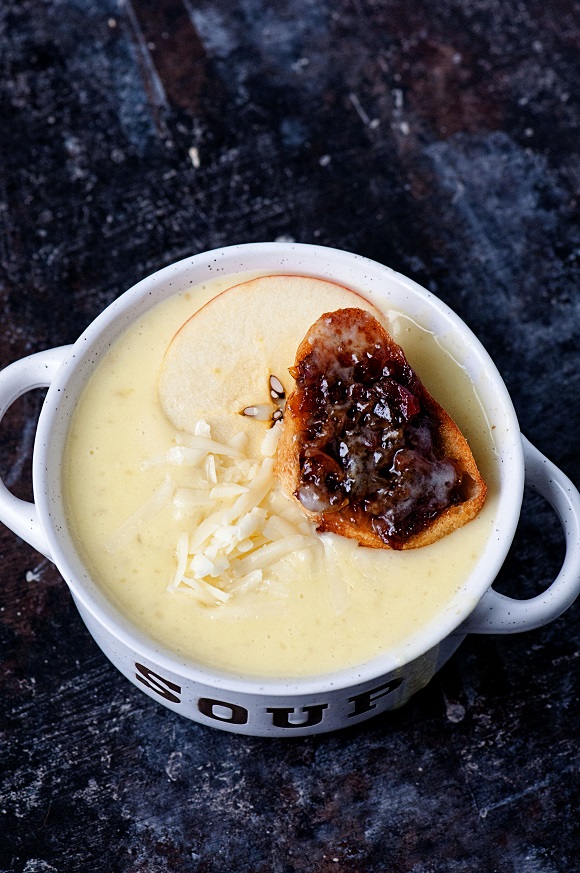 Want More Soup Recipes?
Caramelized Onion Potato Ale Soup
Vegetarian Vegetable No-Beef Soup
Roasted Garlic Chili White Bean Soup
Dill Pickle Cheddar Cheese Soup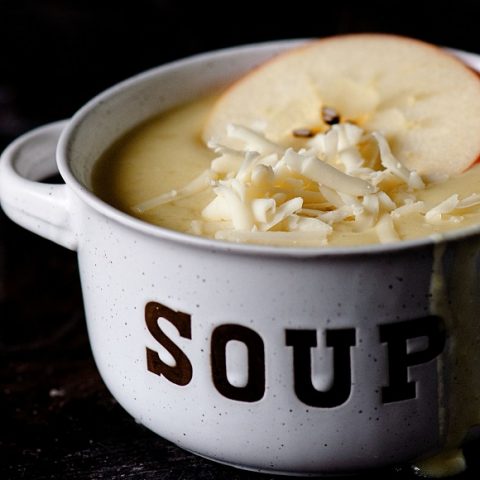 Apple White Cheddar Onion Soup
Ingredients
For the Soup:
5 cups chicken stock or vegetable stock
1 cup yellow potatoes, chopped (I left skin on)
2 cooking apples (I chose piñata) , peeled, cored and chopped
1/2 cup onion, chopped
1/4 cup celery, chopped
1 tsp. thyme
2 TBSP corn starch
2 TBSP cold water
2 cups Darigold Medium White Cheddar Cheese, grated
2 cups Darigold Sharp White Cheddar Cheese, grated
1/3 cup heavy
1/8 tsp nutmeg, preferably freshly ground
Salt and white pepper to taste
For the Apple Bacon Jam:
1 pound bacon, cooked until crumbly
1 large apple, peeled, and diced
1 large sweet onion (such as Walla Walla or Maui)
2 TBSP minced garlic
¼ cup apple cider vinegar
½ cup brown sugar
¼ cup apple juice
Salt and pepper to taste
For the Apple Bacon Jam Toast:
½ recipe Apple Bacon Jam
½ cup shredded Darigold Sharp White Cheddar Cheese
8-12 baguette slices, depending on how many servings
2 TBSP unsalted butter, melted
Instructions
For the Soup:
Combine chicken stock broth, potato, apples, onion, celery and thyme in a medium stock pot.
Bring just to boil, reduce heat and simmer 45 minutes or until vegetables are tender.
Puree mixture in food processor. (will need to be done in batches.)
Return soup to stock pot.
Mix cornstarch with cold water and stir into soup.
Cook over medium heat until slightly thickened, stirring constantly.
Add cheese and cook, stirring until cheese is melted. Add cream, nutmeg and white pepper.
Simmer for 5 minutes to incorporate flavors.
Salt to taste.
Top each serving with cheese, apples, and bacon jam toast.
For the Apple Bacon Jam:
In a medium sized saucepan add the oil and onions and sauté for about 2 minutes.
Add apples, vinegar, sugar, cayenne and salt.
Bring to a boil stirring the whole time.
Then reduce to a simmer.
Simmer until the liquids have gone and you have a jam-like consistency.
Fold in the bacon pieces.
For the Apple Bacon Jam Toast:
Brush sliced baguette pieces with melted butter.
Place under broiler until lightly toasted.
Add apple bacon jam and top with cheese.
Put bacon under broiler until cheese melts.
Place on top of soup.