This Fried Pimento Cheese Salad has fried pimento cheese, spiced pecans, and cornbread croutons covered in a red pepper jelly vinaigrette.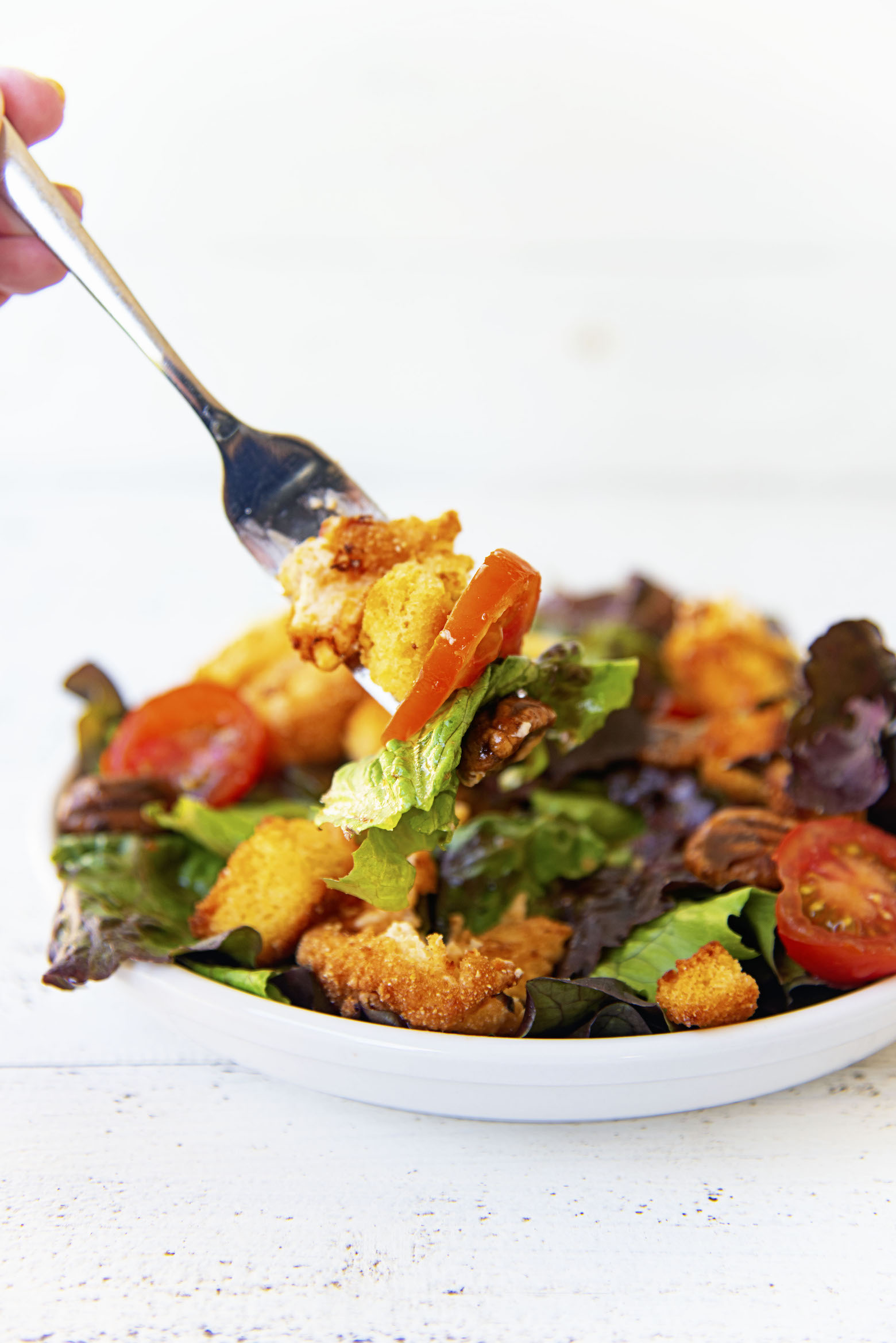 This Fried Pimento Cheese Salad is basically the South on a plate.
The idea for this came from watching somewhere to eat show on Cooking Channel.
They didn't actually feature the salad but another recipe.
And so I looked up the restaurant and saw that they had a pimento cheese salad.
However, their salad was just lettuce and pecans with a big scoop of pimento cheese.
Covered in a red pepper jelly dressing.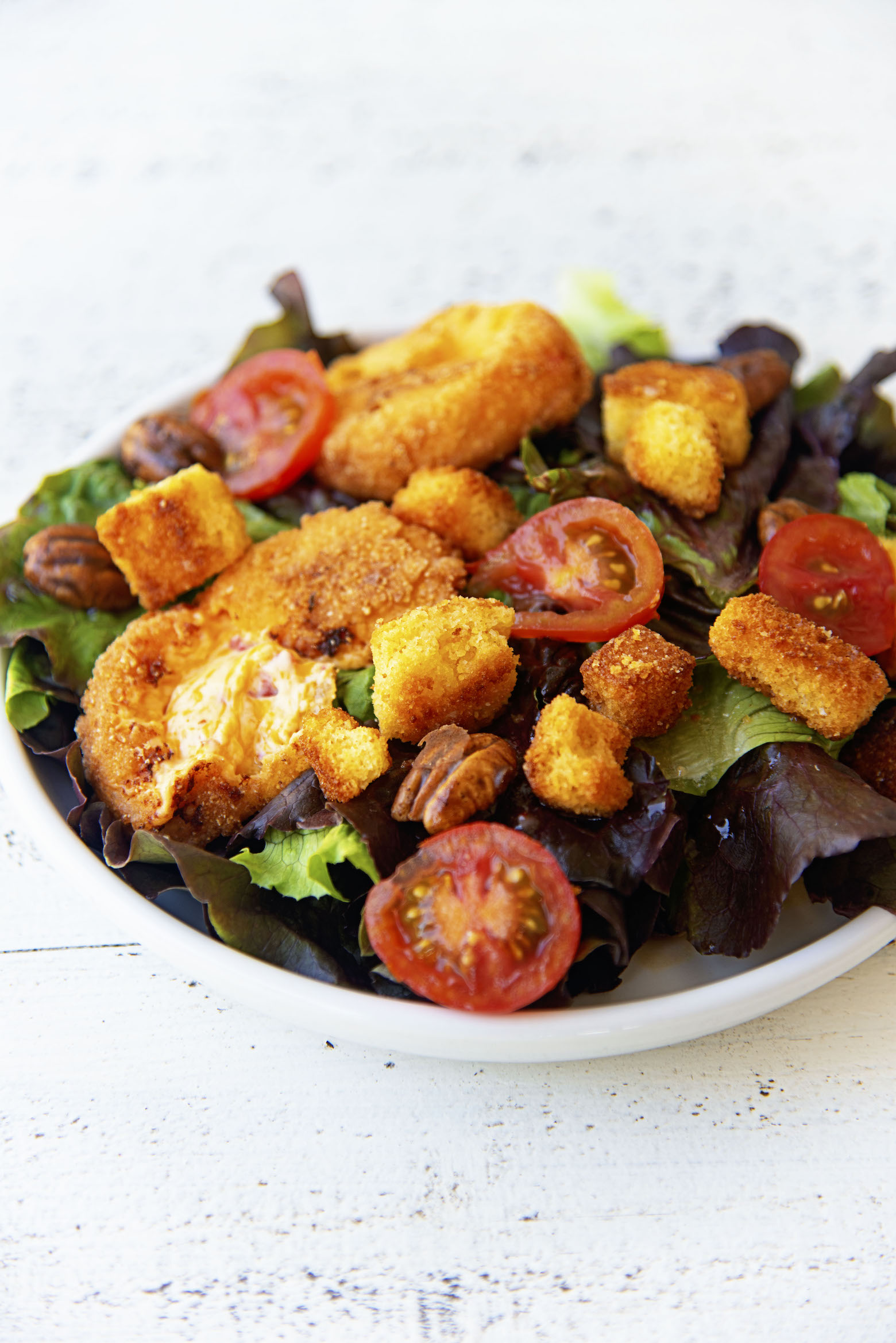 While it sounded good I thought to myself why didn't they deep fry the cheese?
The South loves to fry things.
And why not have cornbread croutons.
Also, instead of just plain pecans why not spiced ones?
Never having their salad I don't know how good it is.
But if it's even half as good as this one then it's amazing.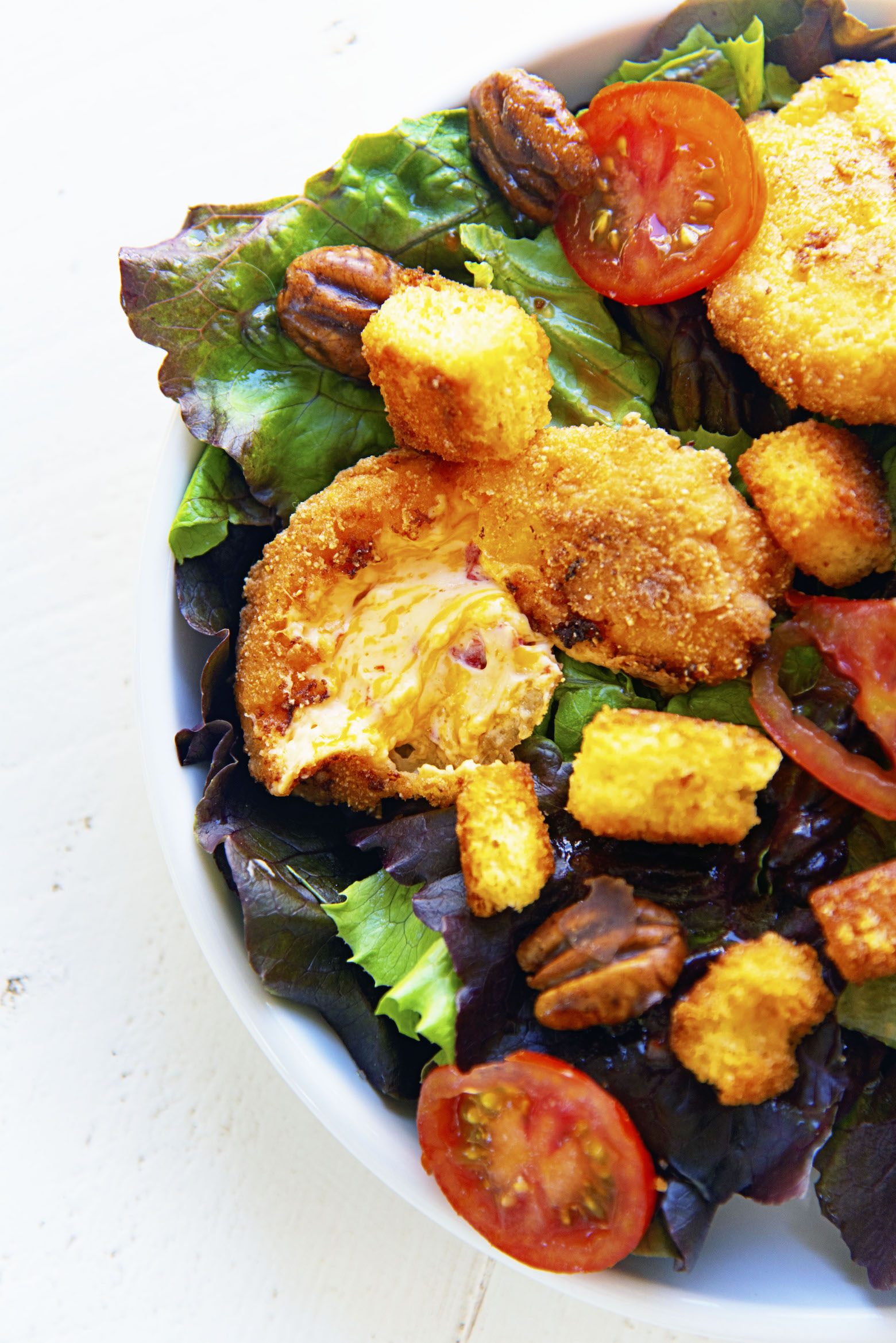 This salad is a touch intimidating.
There are a lot of things in it.
But other than frying the pimento cheese you can actually do the other stuff ahead of time.
The pecans can be prepared and kept in an airtight container for a week at room temperature.
The croutons can be made a day ahead of time…and even longer actually.
Red Pepper Jelly Vinaigrette can be made a day or two before.
The pimento cheese can be made and kept in the freezer for a week.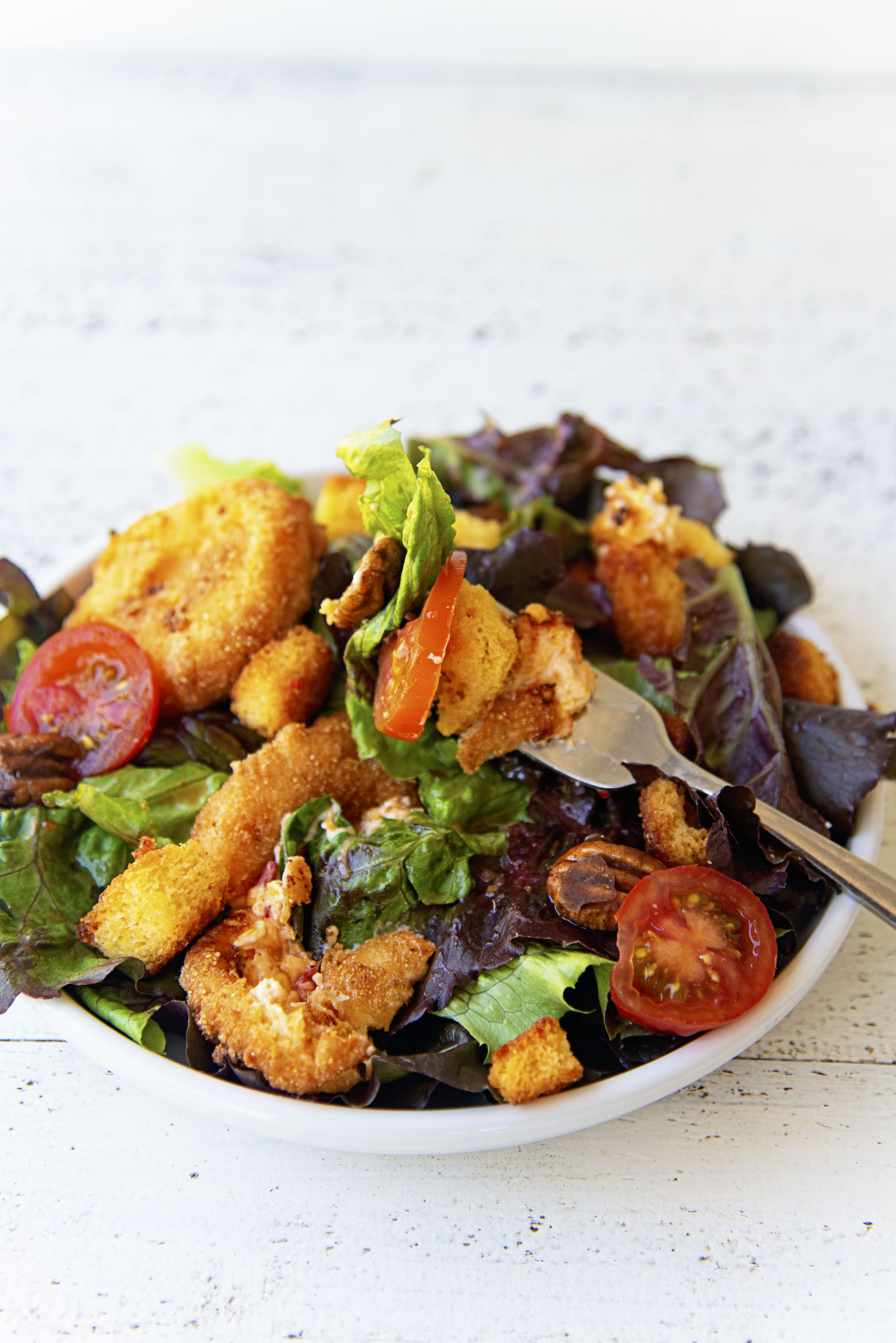 Is this salad healthy?
Just like most salads in the South and Midwest…this salad is not exactly healthy. 🙂
I mean I did put fried cheese on it.
But I put that fried cheese on lettuce so that should count for something. 😛
Speaking of lettuce, I used lettuce from my CSA (community supported agriculture) but feel free to use whatever lettuce is your favorite.
You may or may not end up using all the croutons and pecans.
Just snack on them…seriously I've eaten cornbread croutons as a snack several times this week.
The fried pimento cheese slices also make a good grilled cheese.
Just replace cheese with those and so tasty.
P.S. It's a great day to buy my cookbook Holy Sweet!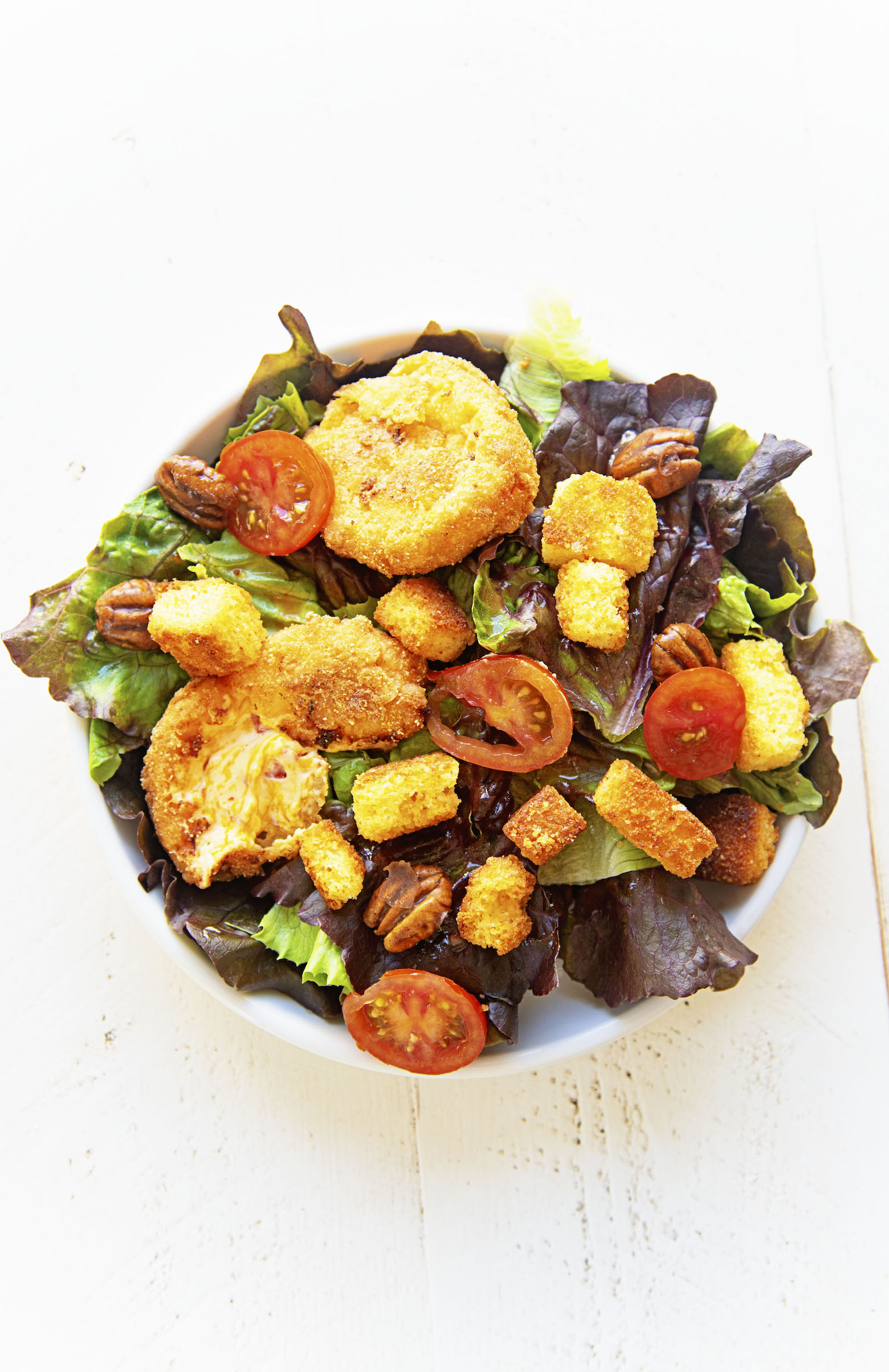 Want More Pimento Cheese Recipes?
Pimento Cheese Mashed Potatoes
Peanut Butter Bourbon Bacon Jam Pimento Cheese Potato Chip Sliders
Peach Sweet Tea Southern Veggie Burger
Pimento Cheese and Cornbread Quiche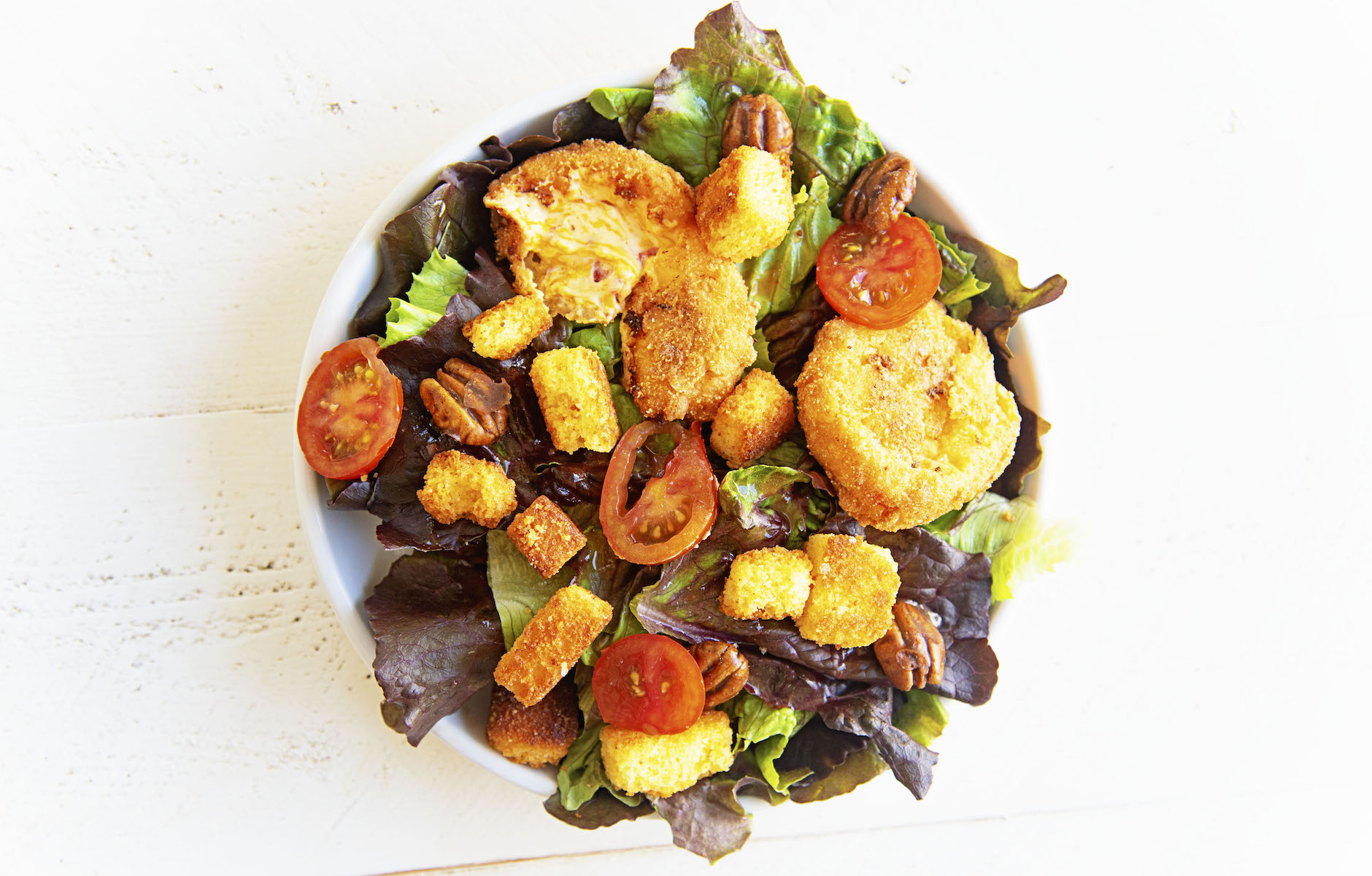 Fried Pimento Cheese Salad
Ingredients
1 head of lettuce (I used what was in my CSA box)
For the Cornbread Croutons:
4 cups cornbread, cut into 1-inch squares
2 TBSP olive oil
3/4 tsp salt
For the Pimento Cheese:
1/4 cup mayonnaise
8 oz cream cheese, at room temperature
2 cups Vermont Sharp Cheddar Cheese, finely shredded
3 TBSP chopped pimentos
1/2 tsp. smoked paprika
1 tsp. garlic powder
1/2 tsp. salt
For the Pimento Cheese Coating:
⅔ cup all-purpose flour
2 eggs, lightly beaten
1 ½ cups cornbread mix
vegetable or canola oil for frying, you will need a few inches in a saucepan
For the Spiced Pecans:
6 TBSP brown sugar
1 tsp ground cinnamon
1/2 tsp fine sea salt, see notes
Pinch cayenne pepper, optional
1/2 tsp vanilla extract
1 1/2 TBSP water
2 cups unsalted pecan halves
For the Red Pepper Jelly Vinaigrette:
1/3 cup red wine vinegar
1/4 cup olive oil or vegetable oil
1/2 cup red pepper jelly
1 small shallot (1-2 tablespoons), minced
1 TBSP mustard
1/4 tsp salt
1/4 tsp fresh ground black pepper
Instructions
For the Cornbread Croutons:
Preheat oven to 350F.
Place cornbread cubes into a large bowl.
Drizzle 1 TBSP oil over the cubes and gently toss.
Drizzle the remaining oil over the cubes and gently toss again.
Pour the cornbread onto a baking sheet that has been lightly greased with oil, in one single layer.
Sprinkle the salt over the cornbread squares.
Bake for 7 minutes then flip the cornbread pieces over (carefully).
Bake for another 6-7 minutes until they are golden brown.
For the Pimento Cheese:
Using a stand mixer with a paddle attachment cream together the cream cheese and mayo.
Add in the cheddar cheese, pimentos, smoked paprika, garlic powder, and salt.
Mix until fully combined and smooth with just chunks of pimento not being smooth.
Lay out wax paper or cling wrap and shape the cheese into a log.
Wrap the paper or cling wrap around the log and freeze for at least 2 hours.
For the Spiced Pecans:
Line a baking sheet with parchment paper or a silicone baking mat.
Add brown sugar, cinnamon, salt, cayenne, vanilla, and water to a medium skillet.
Place the skillet over medium heat and cook, stirring often until the brown sugar melts into a bubbling sauce, about 1 minute.
Stir in the pecans so that the brown sugar sauce coats them. Cook, stirring the entire time, until the pecans look candied and smell nutty, 2 to 3 minutes.
As the nuts heat up in the pan, the sauce will slowly coat them and become shiny. Watch closely as the nuts cook so that they do not burn.
Transfer the candied pecans to the prepared baking sheet and spread into one layer. Allow the pecans to cool down, and then break them up before serving.
Store cooled candied nuts in an airtight container. They will last at room temperature for one week, in the refrigerator for a few weeks and in the freezer for a month, if not longer.
To Fry the Pimento Cheese;
Remove the pimento cheese log from the freeze and slice it into 3/4 inch thick rounds. Like slice and bake cookies.
Place three bowls or plates in an assembly line.
Fill the first with the flour, the second with the eggs and the third with the cornbread mix.
Line a plate with a paper towel.
Dip a slices in the flour, then the egg, then the cornbread mix. You can fry 2 to 3 slices at a time without the oil temp dropping too much, but I wouldn't do more than 3.
Fry for about 2 minutes - watch them the entire time and use a slotted spoon to flip them and move them around so the entire round crisps up.
Remove them with the slotted spoon and place them on the paper towel lined plate. Repeat with the remaining pimento slices.
For the Red Pepper Jelly Vinaigrette:
Place all ingredients in a medium bowl and whisk well.
To make the Salad:
Chop up or tear apart lettuce and place in a large bowl.
Toss with the dressing (how much depends on how much you like your lettuce dressed.
Add the pecans and cornbread croutons.
Place one or two slices of fried pimento cheese and serve.
Add some sliced tomatoes if desired.