This Sweet Corn and Raspberry Swirl Ice Cream is super creamy with a rather unique but delicious flavor of sweet corn and raspberry.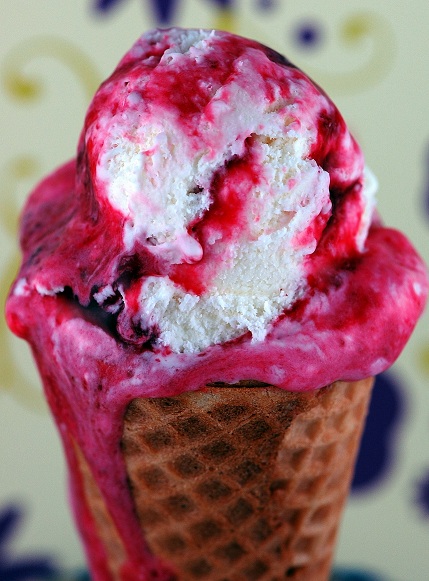 I have what I feel is an unnatural addiction to corn (not to be confused with porn…spelling is very important here kids).
For years growing up it was one of the few *vegetables* I would eat (along with the other fake vegetables of peas and potatoes).
Oh and green beans, I loved those as well.
Really should have been born somewhere in the Midwest as I would gladly eat corn with every meal.
I put it in my scrambled eggs with a little basil…mmmm.
And I eat giant bowls of it with just butter and sea salt as a meal.
Of course on the cob.
Creamed.
You named it.
So naturally, years ago when passing a corn stand and seeing "try our corn ice cream" I decided why the heck not.
And holy goodness.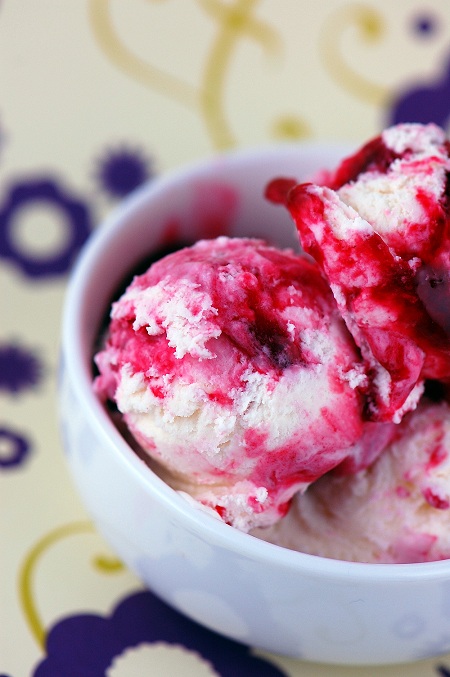 So when I got ahold of Jeni's Splendid Ice Cream book and the first things I saw in the summer section was a recipe for Sweet Corn Ice Cream with Black Raspberry sauce I KNEW that was the first thing I was making no questions asked!!!
But mine turned into Sweet Corn and Raspberry Swirl Ice Cream.
It did not let me down.
If you even remotely like corn then you will love this ice cream.
Words seriously can't describe how I feel about this ice cream other than to say it was worth the 4 allergy pills I have to take each time to eat it.
It's that worth it to me…as well as the eczema that comes with it as well.
Run don't walk to make this!
The sheer fact that there are fruit and veggies in it means it is the perfect food.
Last but not least…it's a great time to order my cookbook. 😀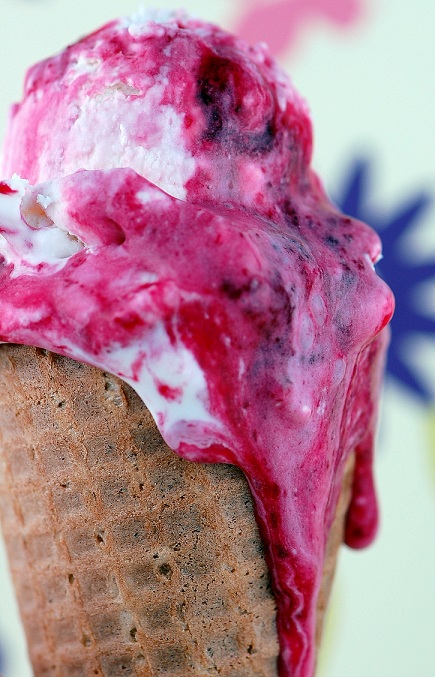 Want More Ice Cream Recipes? Try these:
Peanut Butter and Pretzel No-Churn Ice Cream
Circus Animal Cookie Ice Cream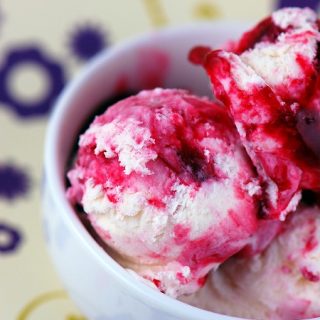 Sweet Corn and Raspberry Swirl Ice Cream
Ingredients
1 ear sweet corn, husked
1 cup whole milk
1 TBSP plus 1 tsp. cornstarch
1½ ounces cream cheese, at room temperature
¼ tsp. sea salt
2 ¼ cup heavy whipping cream
2/3 cup sugar
2 TBSP light corn syrup
For the Raspberry Sauce:
Raspberry Sauce
2 cups raspberries, black raspberries or blackberries
1 cup sugar
Instructions
For the Sweet Corn Ice Cream:

Slice the kernels from the corn cob, then "milk" the cob by scraping it with the back of your knife to extract the liquid; reserve the kernels and the liquid.
Mix about 2 tablespoons of the whole milk with the cornstarch in a small bowl to make smooth slurry.
Whisk the cream cheese and salt in a medium bowl until smooth.
Fill a large bowl with ice and water.
Combine the remaining milk with the cream, sugar, corn and juices and corn syrup in a 4-quart saucepan; bring to a rolling boil over medium-high heat and boil for 4 minutes.
Remove from the heat, and force the mixture through a sieve into a bowl, leaving the corn "cases" behind.
Return the mixture to the saucepan and gradually whisk in the cornstarch slurry.
Bring back to a boil over medium-high heat and cook, stirring with a heat-proof spatula, until slightly thickened, about 1 minute. Remove from the heat.
Gradually whisk the hot-milk mixture into the cream cheese until smooth. Pour the mixture into a 1-gallon Ziploc freezer bag, and submerge the sealed bag into the ice bath. Let stand, adding more ice as necessary, until cold, about 30 minutes. I then moved the bag into a medium bowl and let sit in fridge for several hours.
Pour the ice cream base into a frozen canister, and spin until thick and creamy.
Pack the ice cream into a storage container, alternating it with layers of the Black Raspberry Sauce (see below) and ending with a spoonful of sauce; do not mix. Press a sheet of parchment directly against the surface, and seal with an airtight lid.
Freeze in the coldest part of your freezer until firm, at least 4 hours (I did overnight).
For the Raspberry Sauce:
Combine the berries and sugar in a small saucepan, and bring to a boil over medium-high heat.
Continue boiling, stirring occasionally, until it reaches 220ºF (5 to 8 minutes).
Let cool slightly, then force through a sieve to remove seeds (or leave a few seeds in there just to prove you made it). Refrigerate until cold before using.