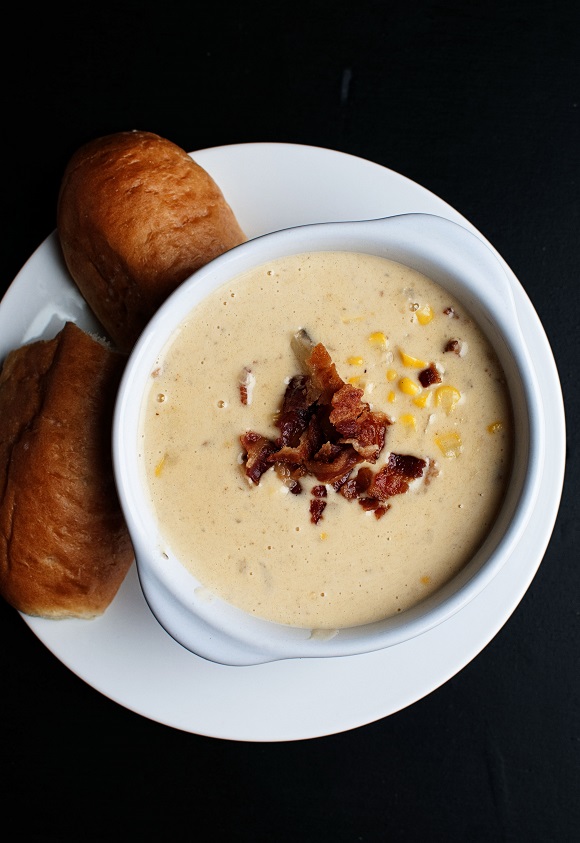 October. It just smells different to me. The crispness in the air awakens my soul. It tells me all my scarves get to come out. It tells me hockey is on. It tells me pumpkin patches will be walked through. It tells me I get to wear plaid whenever I want. It tells me the leaves will soon be putting on a beautiful Technicolor display that reminds me why I don't live where there aren't seasons anymore. It tells me The Spiffy Cookie and Pass the Sushi are coming to my house at the end of the month! It tells me that there will be a lot more baking. It tells me there will be a lot more soup.
Soup is not exciting. Soup is not sexy. Soup is the least pinned thing on Pinterest. And yet I could not get through fall and winter without soup. However, unless you are making crab or lobster bisque, soup is pretty cheap to make. Throw some bread on the side and you have a pretty filling meal. We lived off this soup for quite a few days and I was pretty bummed when we ran out of it yesterday. If at all possible use fresh corn (you can still find it now) but use frozen if you can't. Also good smoked bacon is a really key element to the soup so make sure you find a smoked bacon. This soup now ties with my favorite one of all time: Roasted Onion and Gorgonzola Soup.
What about you? Are you a soup person? If so what's your favorite and are you willing to share the recipe?
P.S. Don't forget I am giving away a copy of How Sweet It Is Seriously Delish cookbook.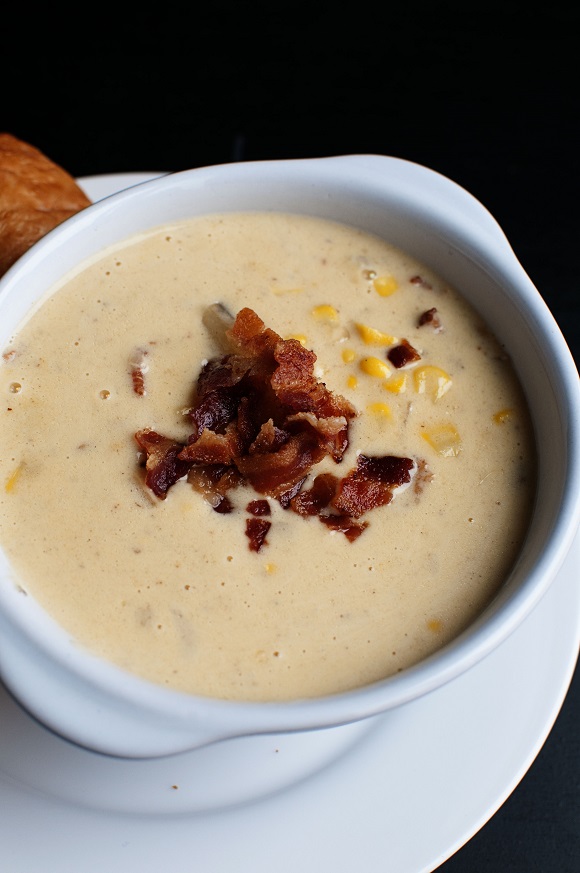 Smoked Bacon Corn Cheese Chowder
16 ounces smoked bacon, chopped
1 large sweet onion (such as Walla Walla), small dice
3 TBSP flour
6 cups chicken stock
2 TBSP garlic, minced
5 yellow potatoes, diced (I keep skin on)
4 ears corn on the cob, corn removed from cob
2 cups heavy cream
2 cups cheddar cheese
¾ cup grated Parmesan cheese
Salt and pepper to taste
In a large stockpot over medium-high heat, cook the bacon until the bacon is crisp, about 5 minutes.
Remove the bacon with a slotted spoon and reserve.
Reduce the heat to medium, add the onions and potatoes to the bacon fat. Cook until the onions are translucent.
Add the garlic and cook for another minute.
Stir in the flour and cook for 3 minutes.
Add the chicken stock and bring to a boil. Once at a boil reduce to a simmer and continue to simmer uncovered for 20 minutes.
Add corn and cook for another 5 minutes.
Add the heavy cream and cheeses. Cook for 5 more minutes, until the cheese is melted.
Season, to taste, with salt and pepper. Serve hot with a garnish of bacon.