Potato Three Cheese Soup: Creamy and hearty soup with diced potatoes, Parmesan cheese, cheddar cheese, and smoked gouda cheese. Perfect for cheese lovers.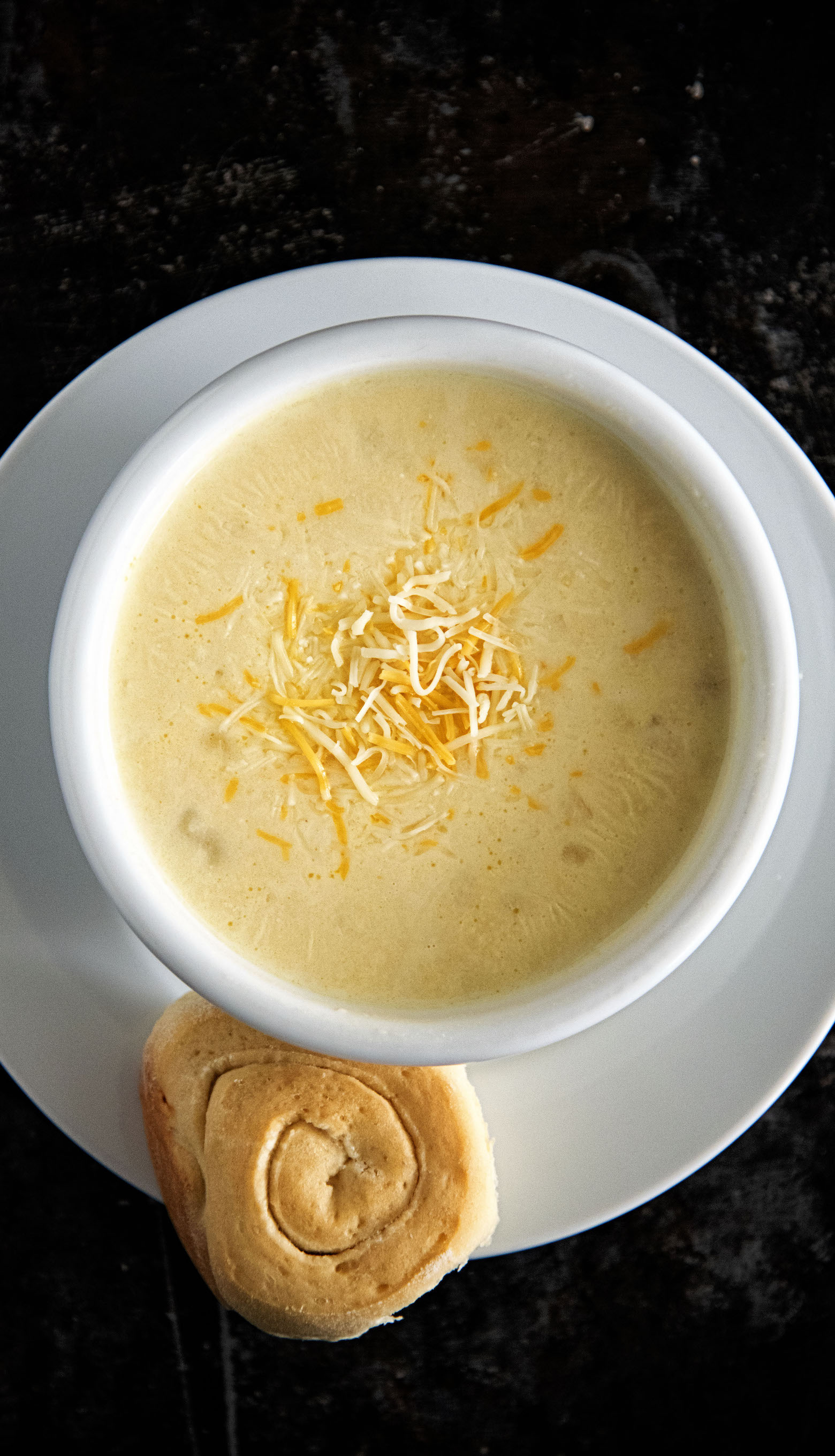 Growing up we ate a lot of soup.
A lot.
I love soup so I never stopped to pause and wonder why we had so much soup growing up.
That was until I was living with my now husband and his twins had turned 13.
Which meant I had a 13 year old boy to feed.
If you are unfamiliar with 13 year old boys, they are like pregnant women with triplets.
They are eating for four.
Except there is one of them.
This doesn't stop once they aren't 13, it's just around the age it seems to happen.
It slows down greatly when they have to start paying for their own food. 😛
But when they came to live with us I asked my mom how she did it.
Both my brother and step-brother were around the same age and I do remember them eating a lot.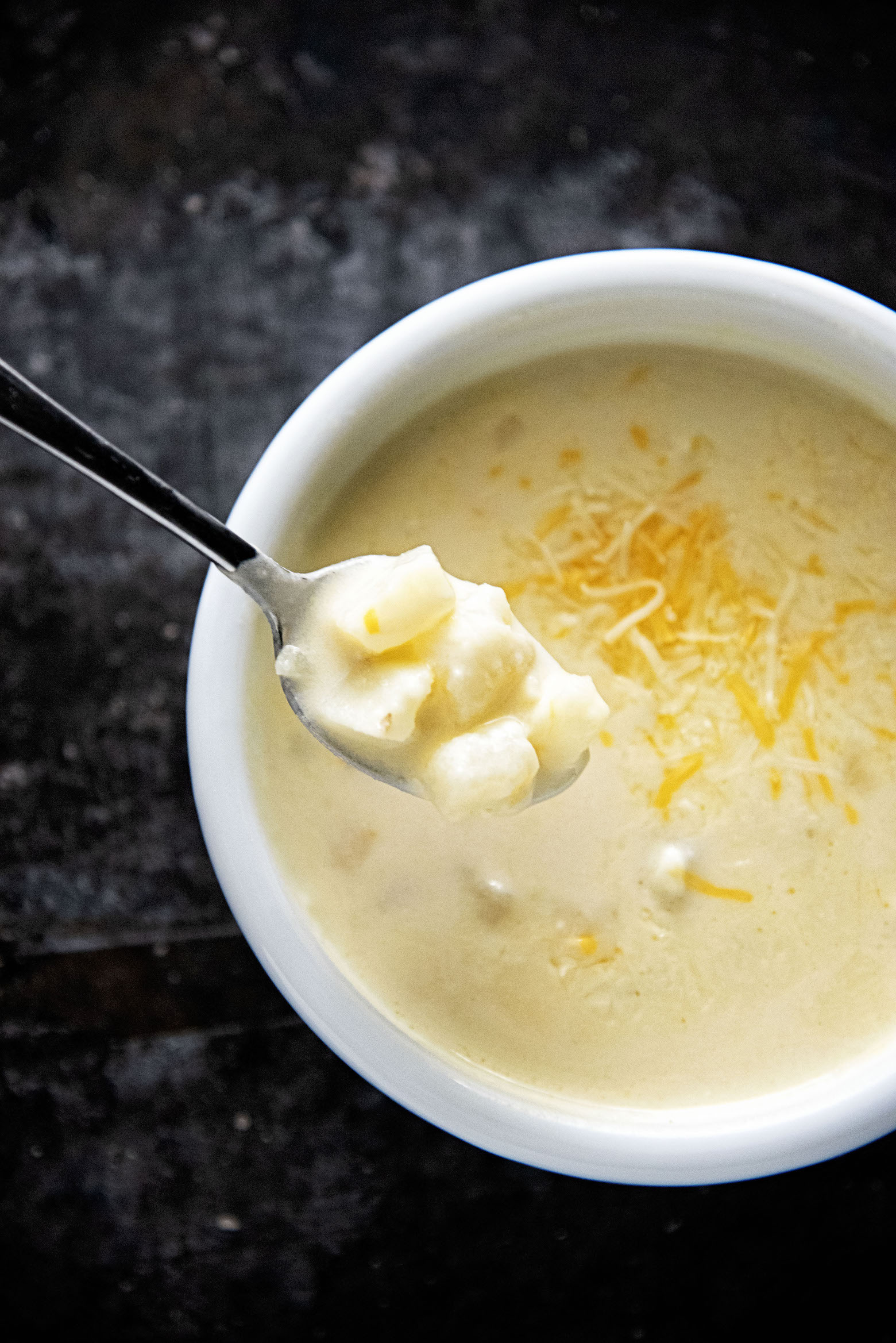 She discussed how soup was good because it had some meat for them which they wanted.
But you could stretch that meat out big time by putting it into soup.
Plus serve it with bread and you get a very filling meal.
Navy Bean and Split Pea were made often at our house.
Mostly because my mom made ham a lot.
She would buy them at the holidays and freeze them.
Now, I don't eat meat anymore but I do love soup.
Not only is it tasty but it is filling and is rather economical.
I must admit I really do enjoy not feeding a teenage boy anymore. 🙂
I love potato cheese soup and I make many variations of this soup.
Feel free to add meat if that's your thing.
My guess is bacon would go best.
P.S. It's a great day to buy my cookbook Holy Sweet!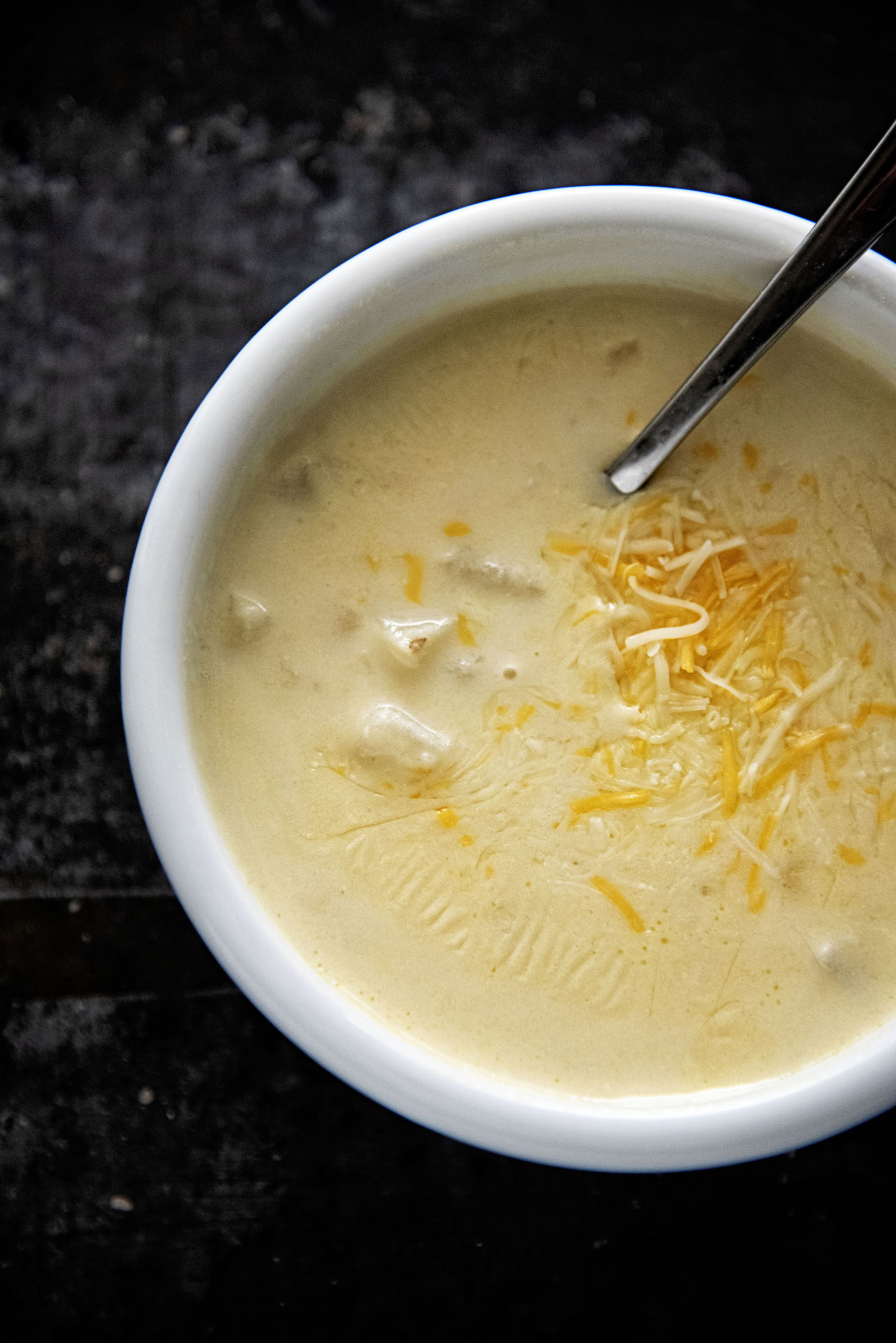 Want More Soup Recipes?
Apple White Cheddar Onion Soup
Smoked Bacon Corn Cheese Chowder
Dill Pickle Cheddar Cheese Soup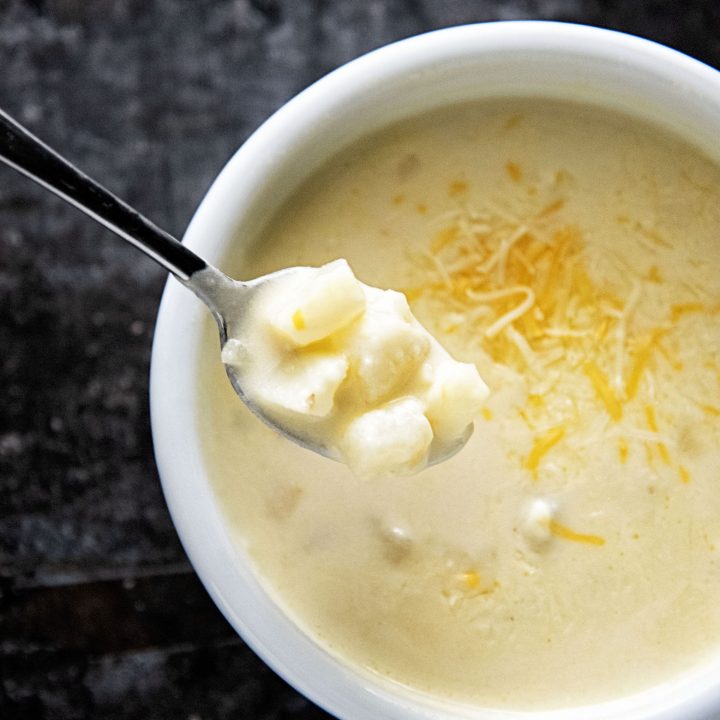 Potato Three Cheese Soup
Ingredients
1 large sweet onion (such as Walla Walla), small dice
2 tsp. olive oil
3 TBSP flour
6 cups vegetable or no chicken stock
2 TBSP garlic, minced
5 yellow potatoes, diced
2 cups heavy cream
1 cup cheddar cheese, shredded
1 cup smoked gouda cheese, shredded
¾ cup grated Parmesan cheese
Salt and pepper to taste
Instructions
In a large stockpot turn heat to medium, add the olive oil, onions, and potatoes.
Cook until the onions are translucent.
Add the garlic and cook for another minute.
Stir in the flour and cook for 3 minutes.
Add the stock and bring to a boil.
Once at a boil reduce to a simmer and continue to simmer uncovered for 20 minutes.
Add the heavy cream and cheeses.
Cook for 5 more minutes, until the cheese is melted.
Season, to taste, with salt and pepper.