Couch Potato Beer Cheese Soup: Potatoes, beer, Velveeta, beef stick, pretzels all in one soup. It's your snack food fantasy in soup form. Perfect soup for a chilly night binge watching your shows and being a couch potato.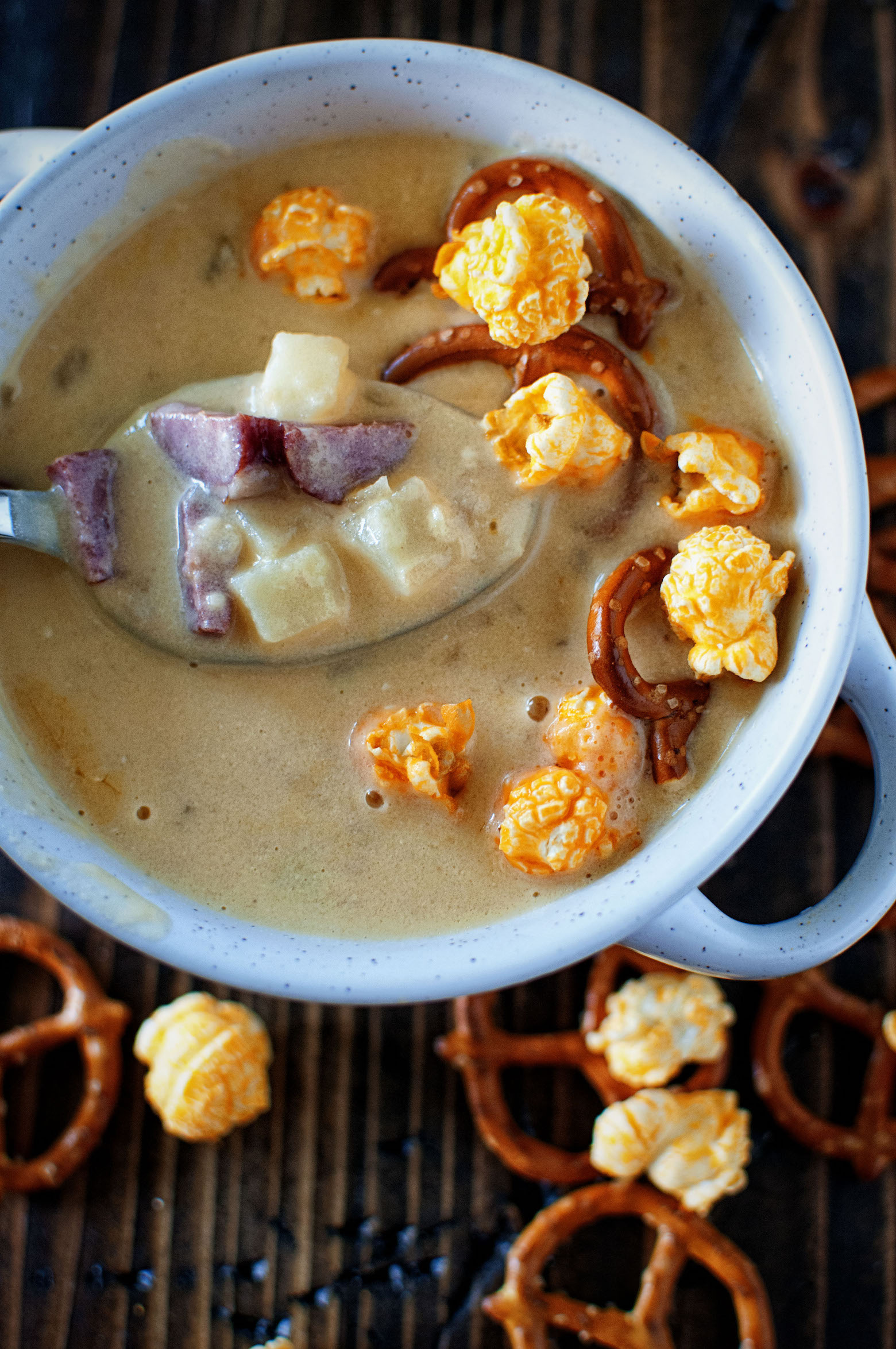 Facebook. Twitter. Instagram. Snapchat.
They are all filled with comments and photos about being at the gym, tracking eating and eating their version of right (this changes depending on if you are low carb, vegan, low fat etc).
Then there is me.
Gee, I think I'll make a soup with beer, Velveeta, Slim Jims, and pretzels today. 😀
I saw this soup in a magazine a few years back and then forgot about it as I often do.
I'm just going to come out and say it…this soup is not that great for you, health-wise. I mean you have processed cheese, Pabst Blue Ribbon, and beef snack stick (aka Slim Jim's) in it topped with cheese popcorn.
That being said this Couch Potato Beer Cheese Soup is really freaking good.
How good?
I made it last night.
There are only two of us.
It's gone now.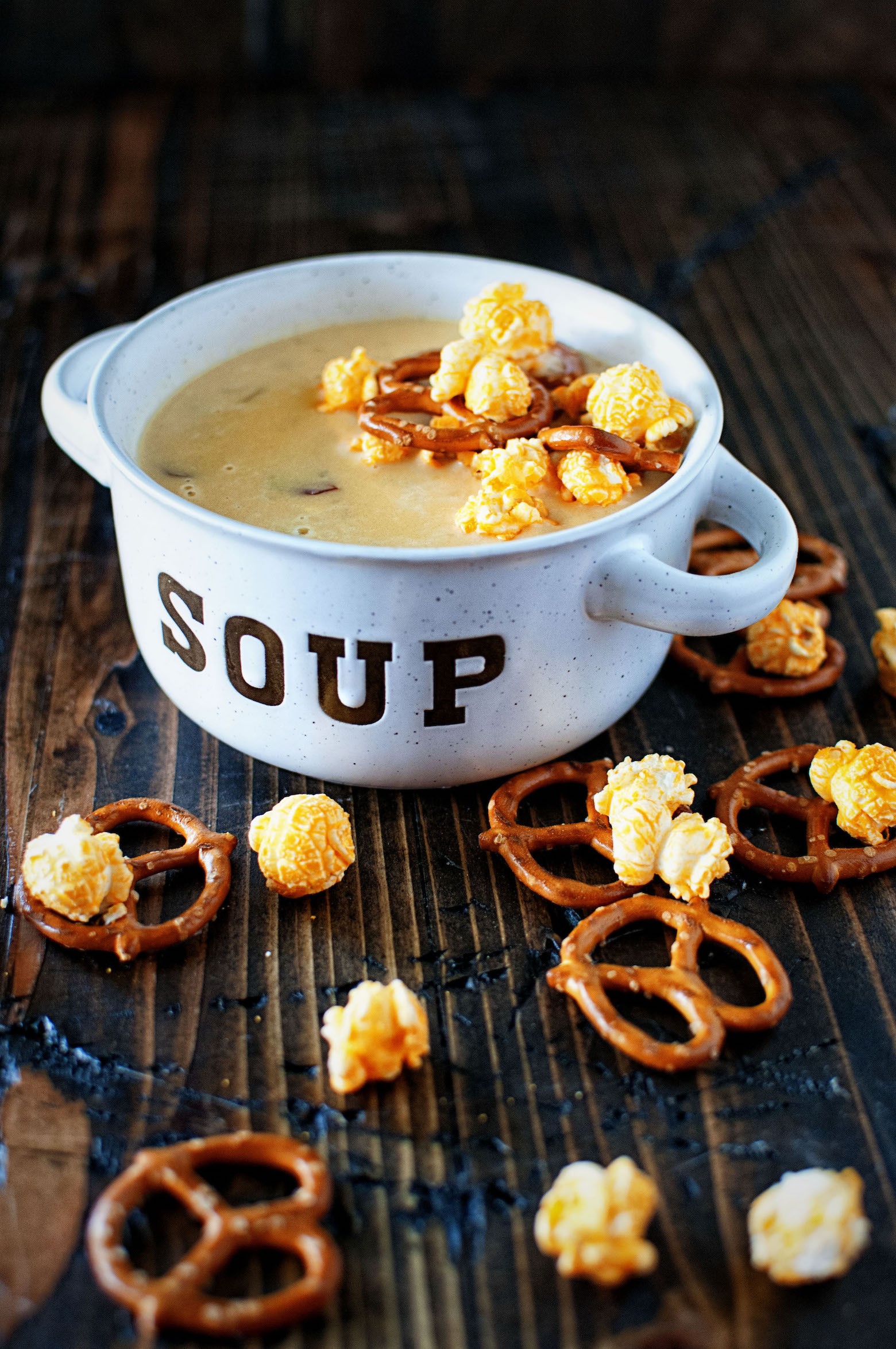 It does have onions, garlic, and potatoes…those are healthy. 🙂
I changed the recipe in a few ways.
One of those ways was adding powdered white cheddar cheese.
If you are saying what on Earth is that…think Kraft Dinner (Mac and Cheese).
I always have it in my cupboard.
You can make your own mac and cheese with it.
It's great on popcorn.
And I always add it to my cheese soups.
It also called for cheddar flavored Velveeta shreds which I have never seen in my life so I just used more regular Velveeta and just some shredded sharp cheddar cheese.
This is basically an awesome soup to be a couch potato (hence the name), pile on the blankets…and spaniels in my case, and binge watch TV shows all while eating this soup.
P.S. It's a great day to buy my cookbook Holy Sweet!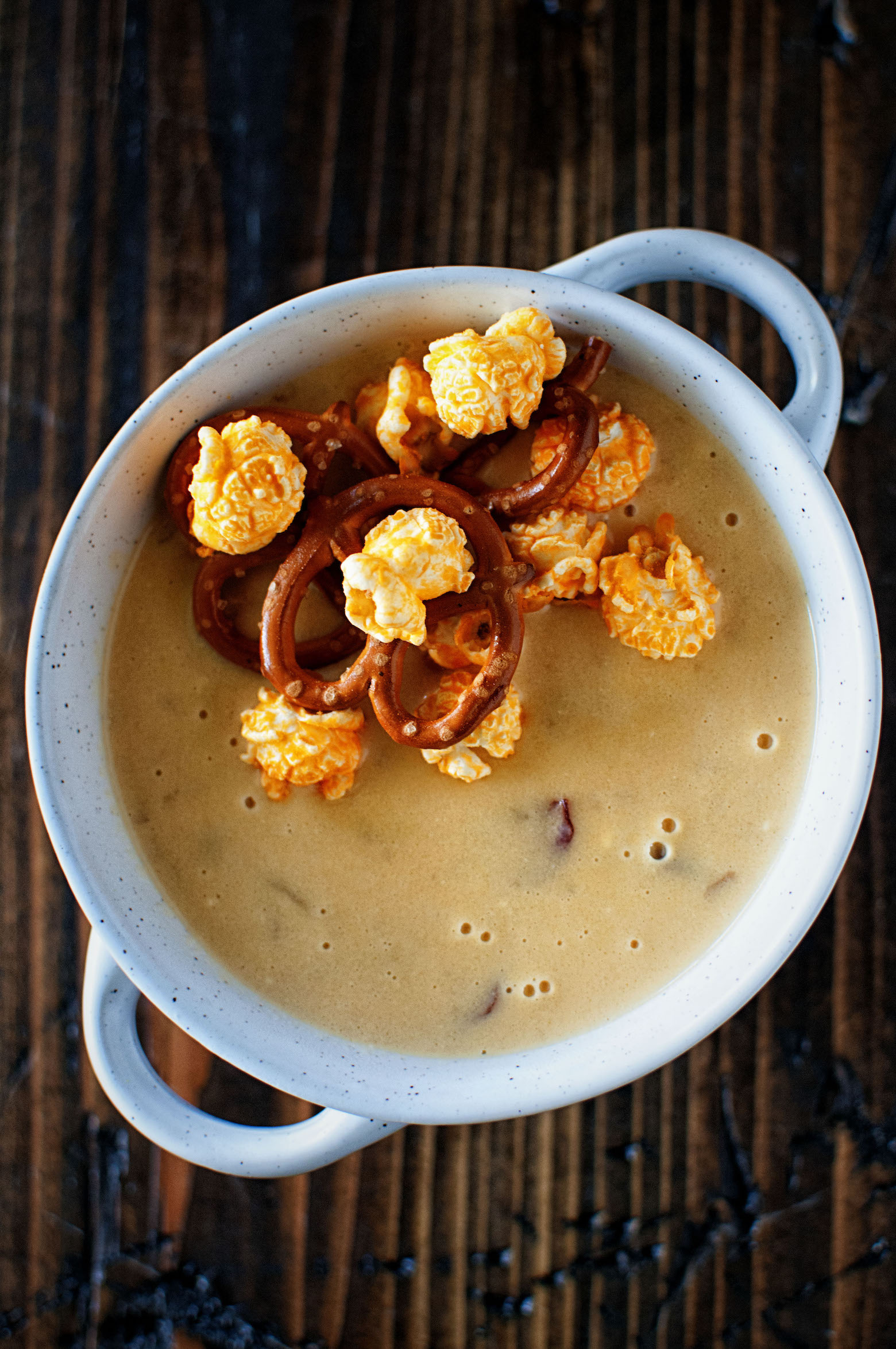 Want More Soup Recipes?
Vegetarian Vegetable No-Beef Soup
Chickenless-Chicken Noodle Soup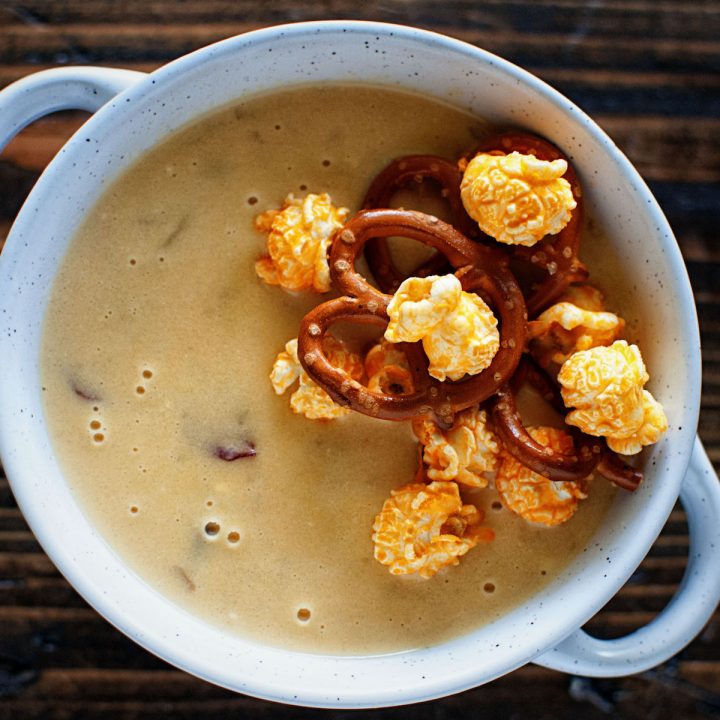 Couch Potato Beer Cheese Soup
Ingredients
2 TBSP unsalted butter
1 cup onion, diced
2 TBSP garlic, minced
1/4 cup finely crushed pretzels
12 oz. lager beer (I used Pabst Blue Ribbon)
4 cups chicken broth
4 cups potatoes, peeled and diced small
1/2 cup heavy cream
1/3 cup sour cream
2 oz. cream cheese, cubed, at room temperature
6 oz. Velveeta, cut into cubes
4 oz. cheddar cheese, shredded
2 TBSP powdered white cheddar cheese
1 cup smoked beef sticks (like Slim Jim), cut into small pieces
Garnish: Pretzels and Cheese Popcorn
Instructions
Melt butter over medium-high heat in a large pot.
Once melted the onions and cook until translucent, about 5 minutes.
Add the garlic and cook another minute.
Sprinkle the pretzels over the onions and garlic and mix until fully combined.
Deglaze the pot with the beer.
Add the chicken broth and bring to a boil and cook for 6-8 minutes.
Then add the potatoes and cook until they are fork tender, about 15 minutes.
Whisk in the heavy cream, sour cream, and cheeses.
Whisk until all the cheese is melted and the cheese is fully combined.
Fold in the beef stick pieces and cook for another 5 minutes.
Pour into bowls and add pretzels and cheese popcorn if desired.