This Vegetarian Avgolemono Soup is a simple Mediterranean soup of eggs, lemons, and chicken which is made vegetarian by using meatless chick'n and broth.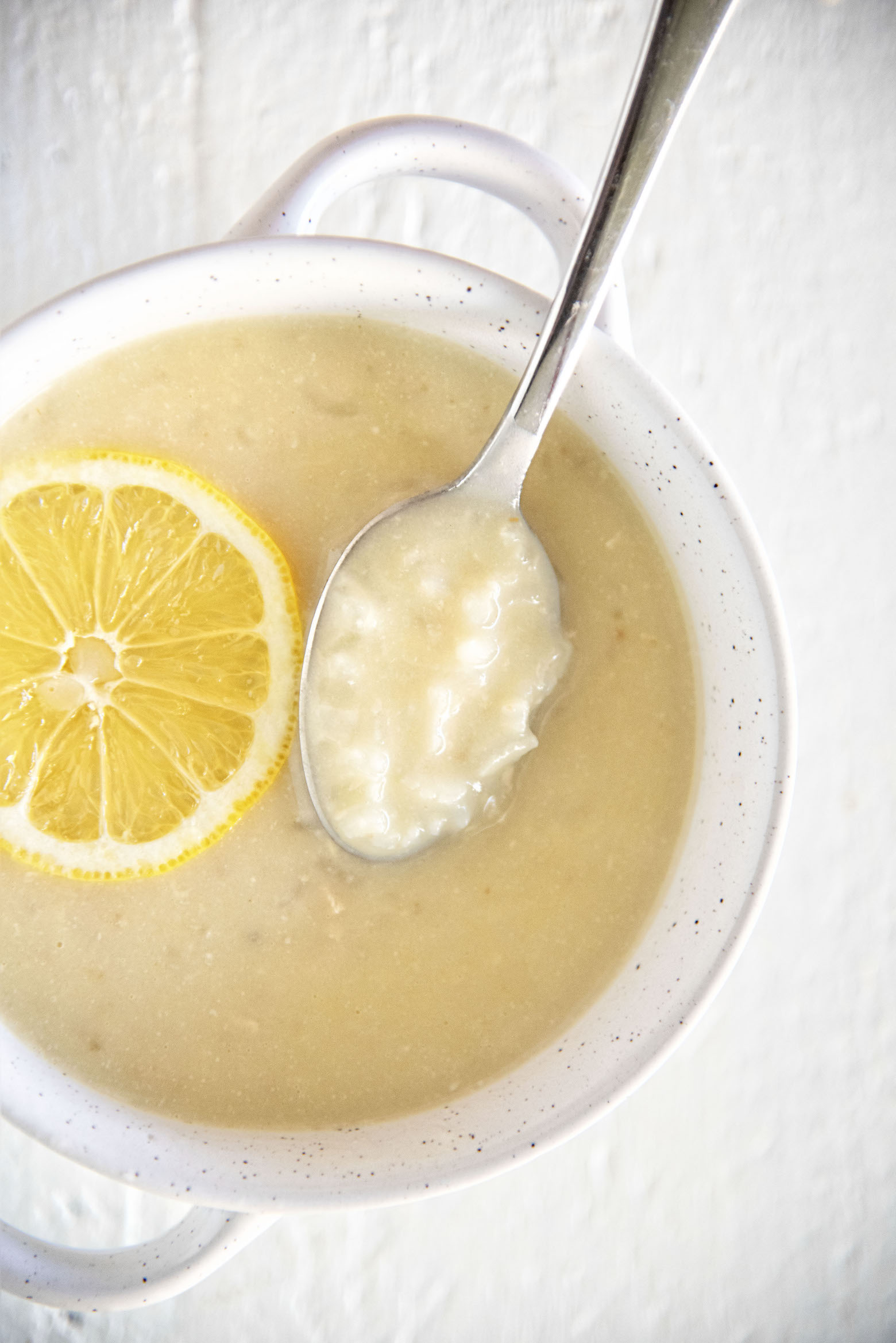 Besides French Onion Soup, the other soup I missed greatly when turning vegetarian was Avgolemono Soup.
It's the greek answer to chicken noodle soup.
Our local Greek restaurant makes a wonderful one.
And I used to eat it a lot.
We still go to Greek food all the time because they do have a ton of vegetarian options.
And when I see it I really want and miss it.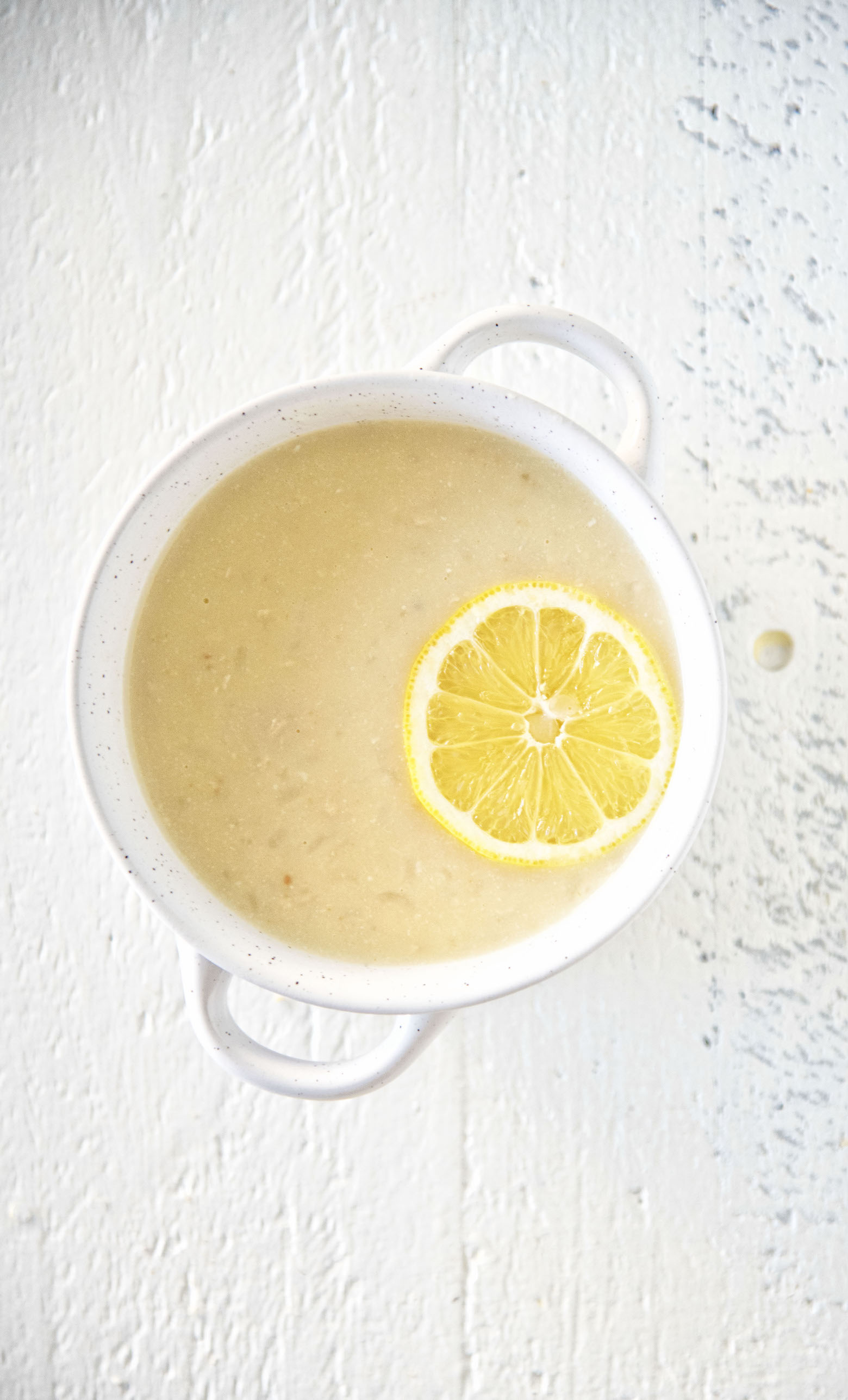 So once I figured out how to make a good vegetarian french onion soup I set my sites on making Vegetarian Avgolemono Soup.
There are not that many ingredients to this soup.
And it's certainly not a pretty soup.
But it is a tasty one.
Some recipes call for Orzo instead of rice.
I always use rice.
The rice is a much better thickener than the orzo.
Orzo tends to make it gummy in my opinion.
I personally like the soup without the added chicken.
But I added the shredded chick'n for my husband who likes his a little more meaty.
It's all up to your preference.
But I am happy to be able to have one of my favorites again!
Last but not least…it's a great time to order my cookbook. 😀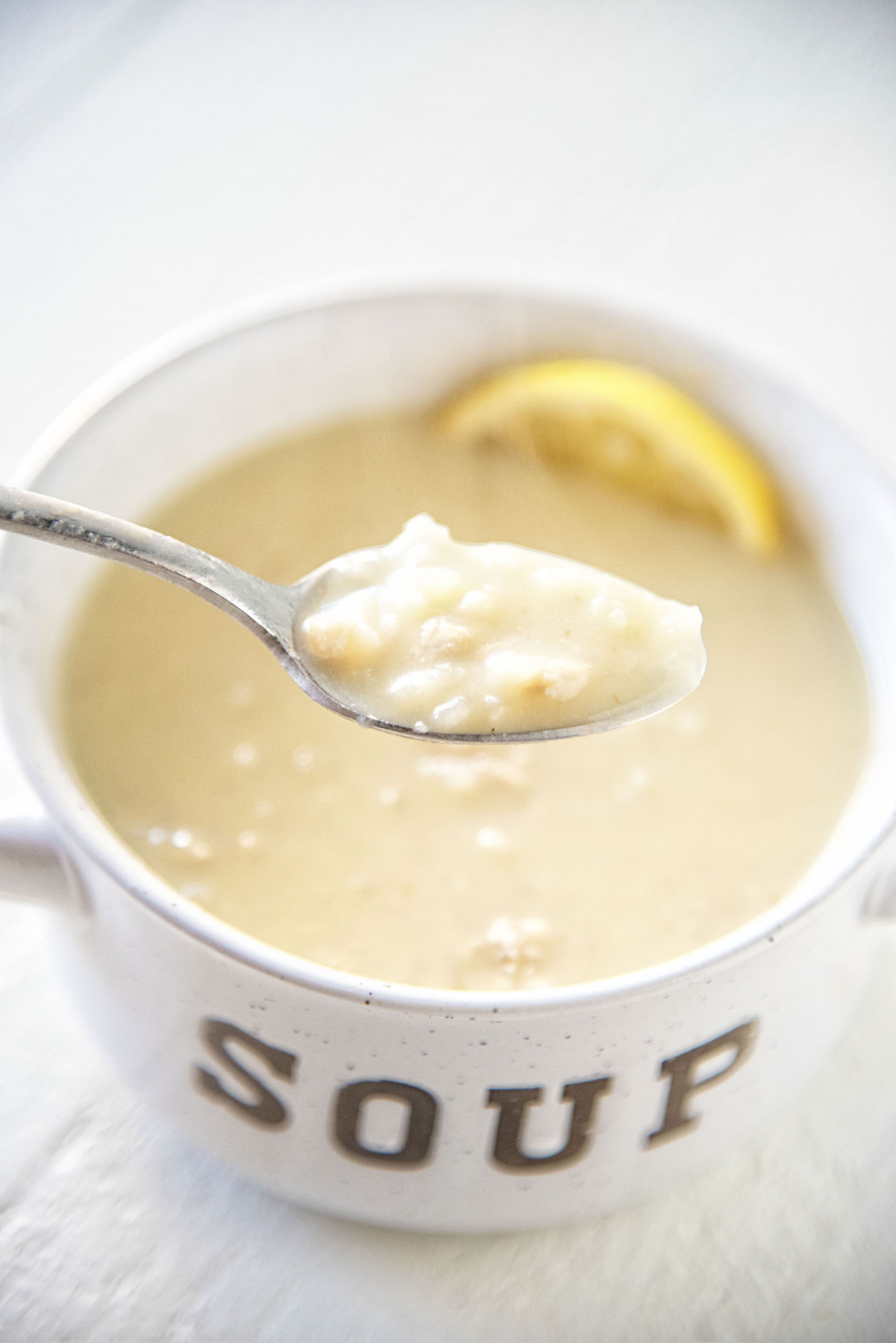 Want More Soup Recipes?
Dill Pickle Cheddar Cheese Soup
Vegetarian Vegetable No-Beef Soup
Roasted Garlic Chili White Bean Soup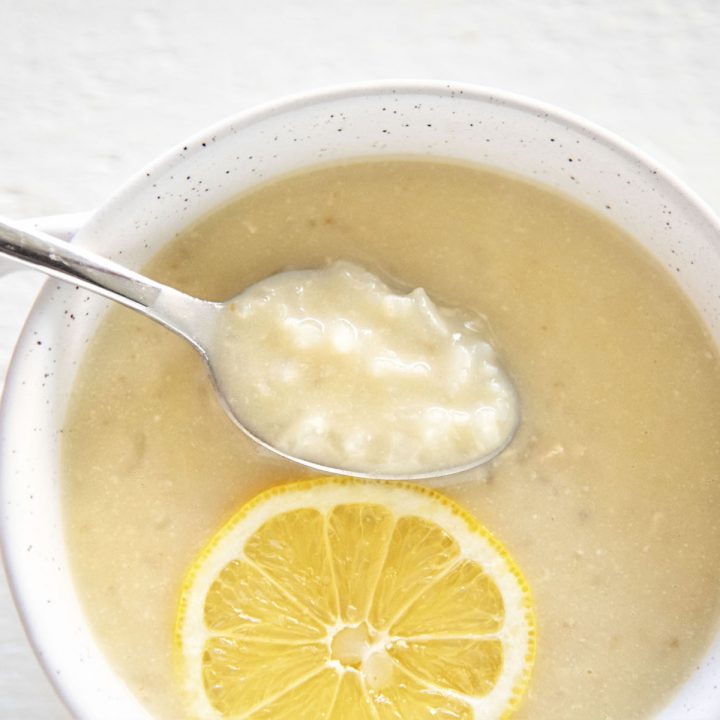 Vegetarian Avgolemono Soup
Ingredients
1 cup long-grain white rice
4 eggs
Juice of 3 lemons (about 1/2 cup)
Kosher salt and freshly ground black pepper, to taste
1 1/2 cups meatless chick'n strips I use Gardein), optional
Instructions
Bring 8 cups of stock to a boil in a 4-qt. saucepan over high heat. If you are adding the meatless chick's strips then use 12 cups of stock.

Reduce heat to medium and stir in rice; cook, partially covered and stirring occasionally, until rice is tender, about 20 minutes.

Whisk eggs and juice in a bowl until frothy, add 1 cup of the simmering stock and whisk to combine; transfer back to the pot.

Cook, while stirring, about 2 minutes more; season with salt and pepper.

If using the meatless chick'n strips, prepare as package says.

Then shred the chick'n best you can. I find using the whisk attachment in the mixer (or a hand mixer) is a great way to shred chicken and chick'n strips.

Add the shredded chick'n to the soup.

Serve immediately.