These Gingerbread White Chocolate Cupcakes has a spicy gingerbread cupcake base topped with white chocolate Swiss meringue buttercream.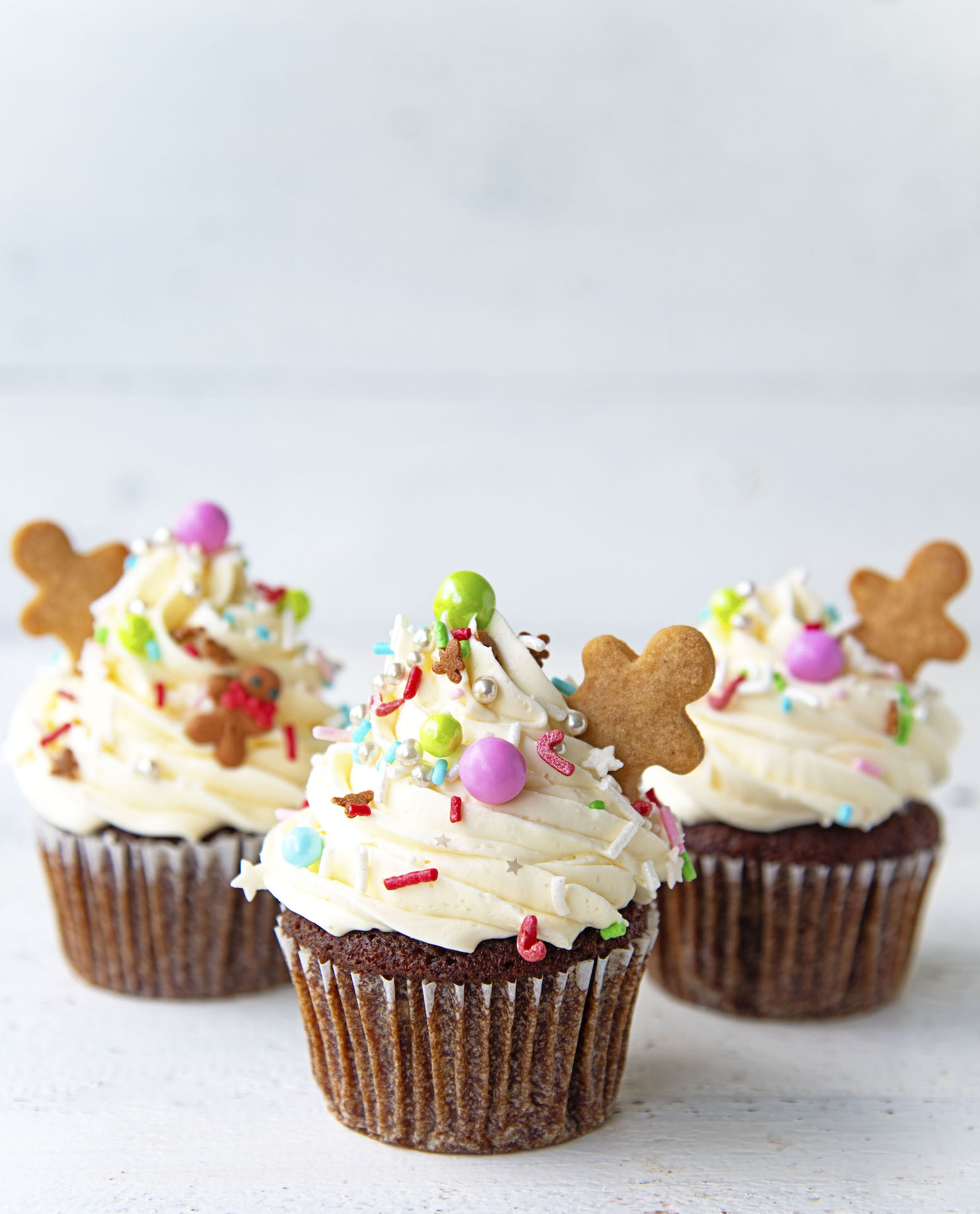 I love the combo of gingerbread with white chocolate.
One of the most searched for cookies on here are my White Chocolate topped Gingerbread Cookies.
And for good reason.
They are good.
People make them year after year for their holiday cookie tray.
So I figured why not put those flavors in cupcake form.
Making Gingerbread White Chocolate Cupcakes.
With one of my favorite gingerbread cupcakes bases.
And one of my favorite Swiss meringue buttercream frostings.
All topped with a mini gingerbread shortbread cookie and festive sprinkles.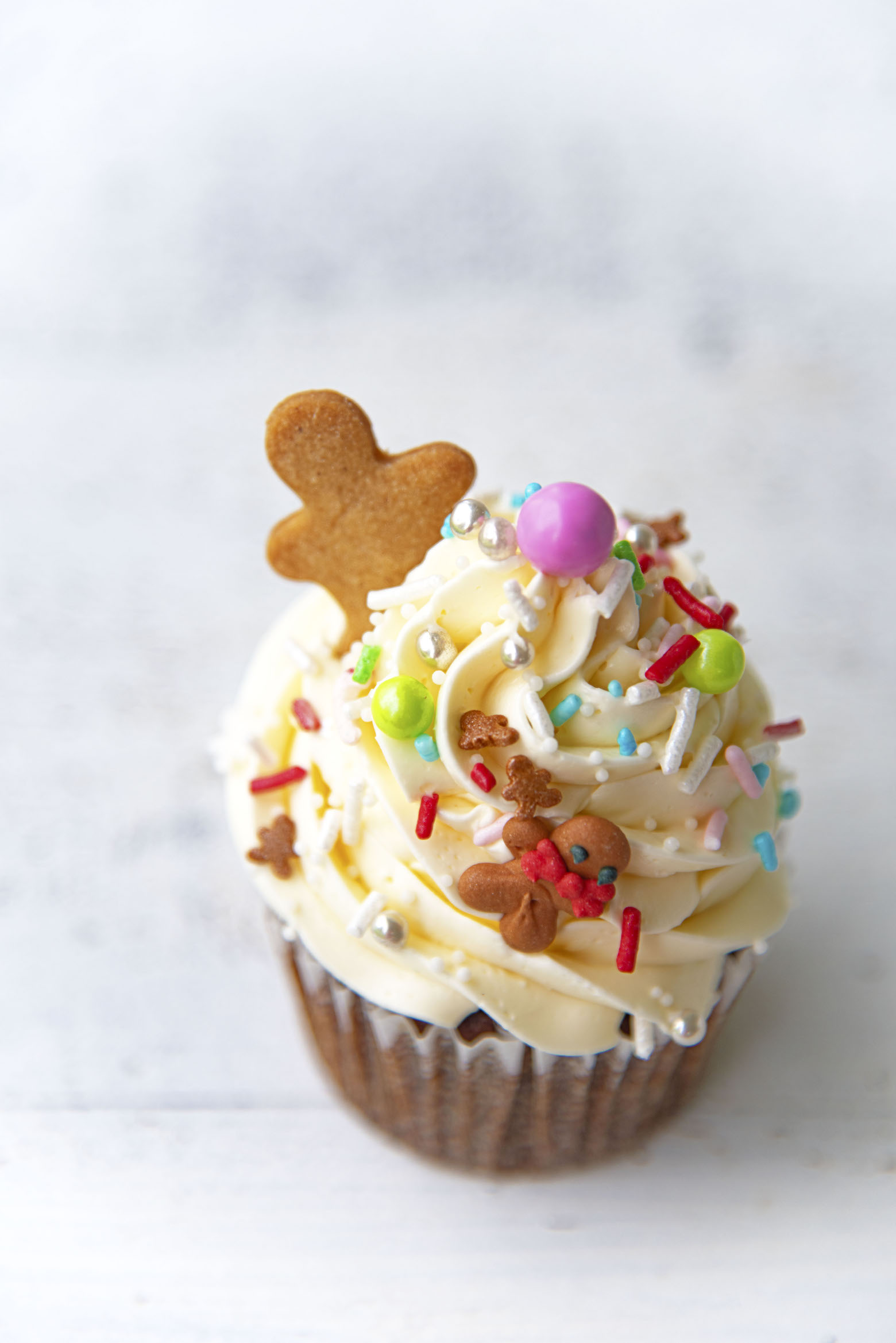 One thing that people shy away from with this recipe is that the batter has to sit overnight.
You really don't want to skip this step.
I have done it both ways and I can tell you it makes a difference in the texture and how they taste.
So simply make the gingerbread cupcake batter the night before.
Cover the batter in plastic wrap and then get up in the morning and scoop them out and bake them.
While they cool off you can make the frosting.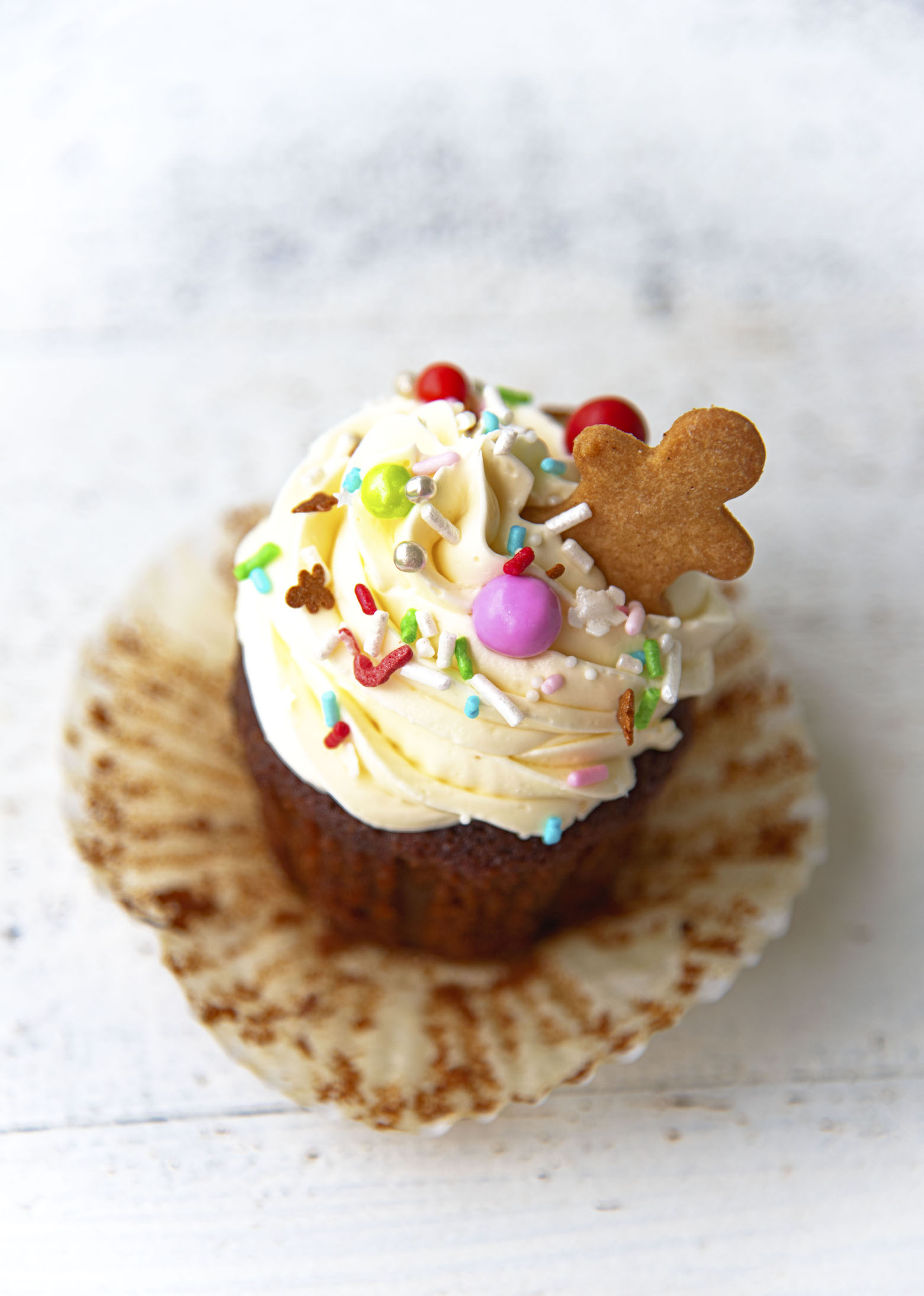 The frosting is my go to Swiss meringue buttercream that I use all the time.
The white chocolate version is particularly one of my favorites.
Swiss meringue frosting is often intimidating because you have to heat the eggs and sugar and make it into a meringue (hence the name).
But I assure you that learning how to make it is totally worth it.
If you are wanting to add the little gingerbread man cookie like I do you have a couple options.
Option one is you can just buy some.
But I never find really small ones when I do that.
Option two is to make mini traditional gingerbread men cookies.
Option three is what I went with which was making my gingerbread shortbread.
The gingerbread shortbread is my husband and I's favorite form of gingerbread cookie.
You get all the buttery goodness of shortbread and the texture but with gingerbread flavor.
These are the cookie cutters I used.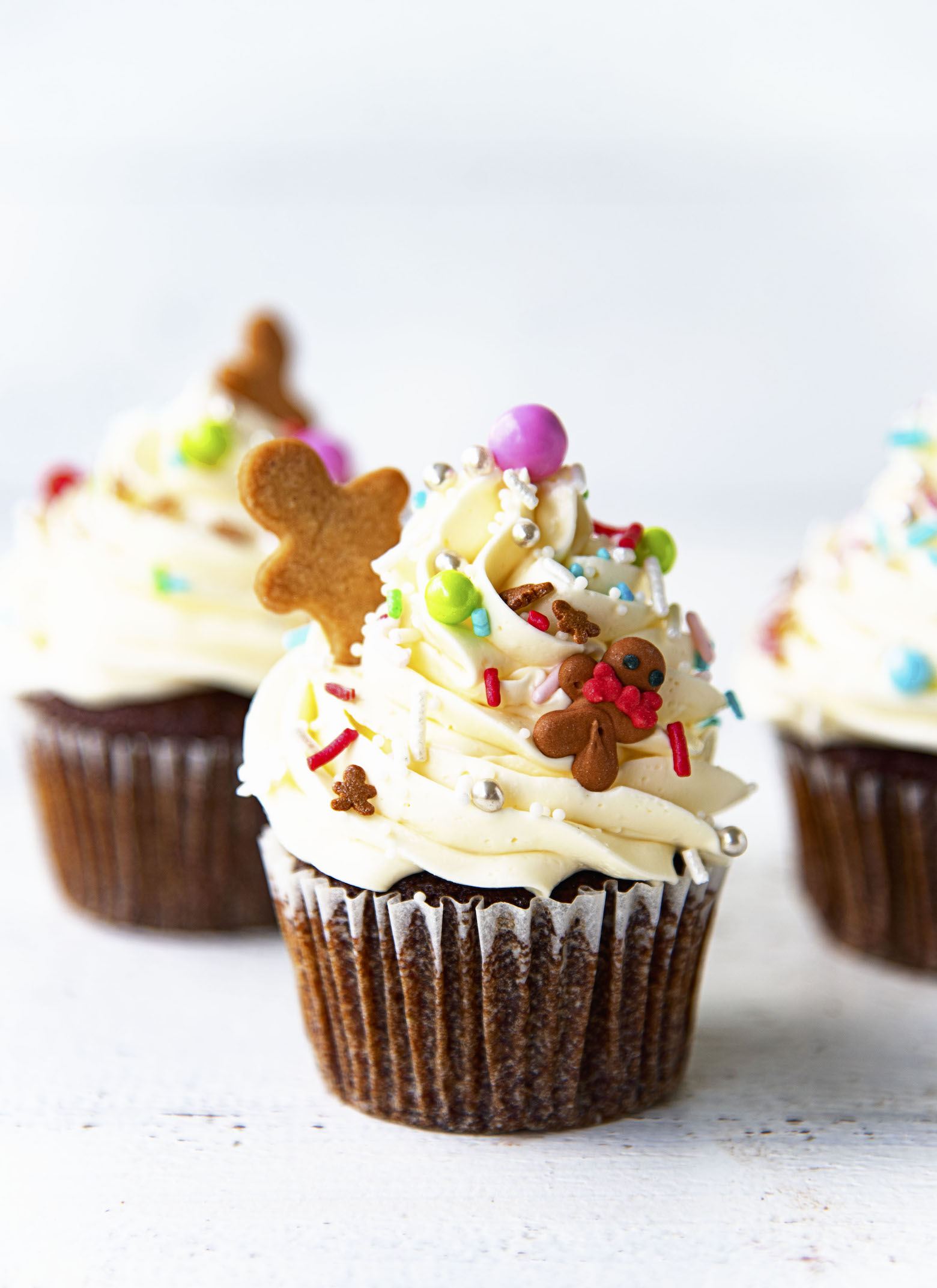 And then there are the sprinkles.
I bought the sprinkles last year.
The mix was called Santa's Workshop.
But I only cared that it was cute and had gingerbread men.
Because I love all things gingerbread men.
The mix has a variety of sprinkles in it as you can see.
In addition to the sprinkles the mix has a couple of larger fondant gingerbread men as you can see.
The mix only has a few of those in there but I know you can order more if you want.
You can of course use whatever sprinkles you want but I really like these ones.
Or you could skip the sprinkles and just do the cookie coming out of the cupcake if you are more of a minimalist.
P.S. It's a great day to buy my cookbook Holy Sweet!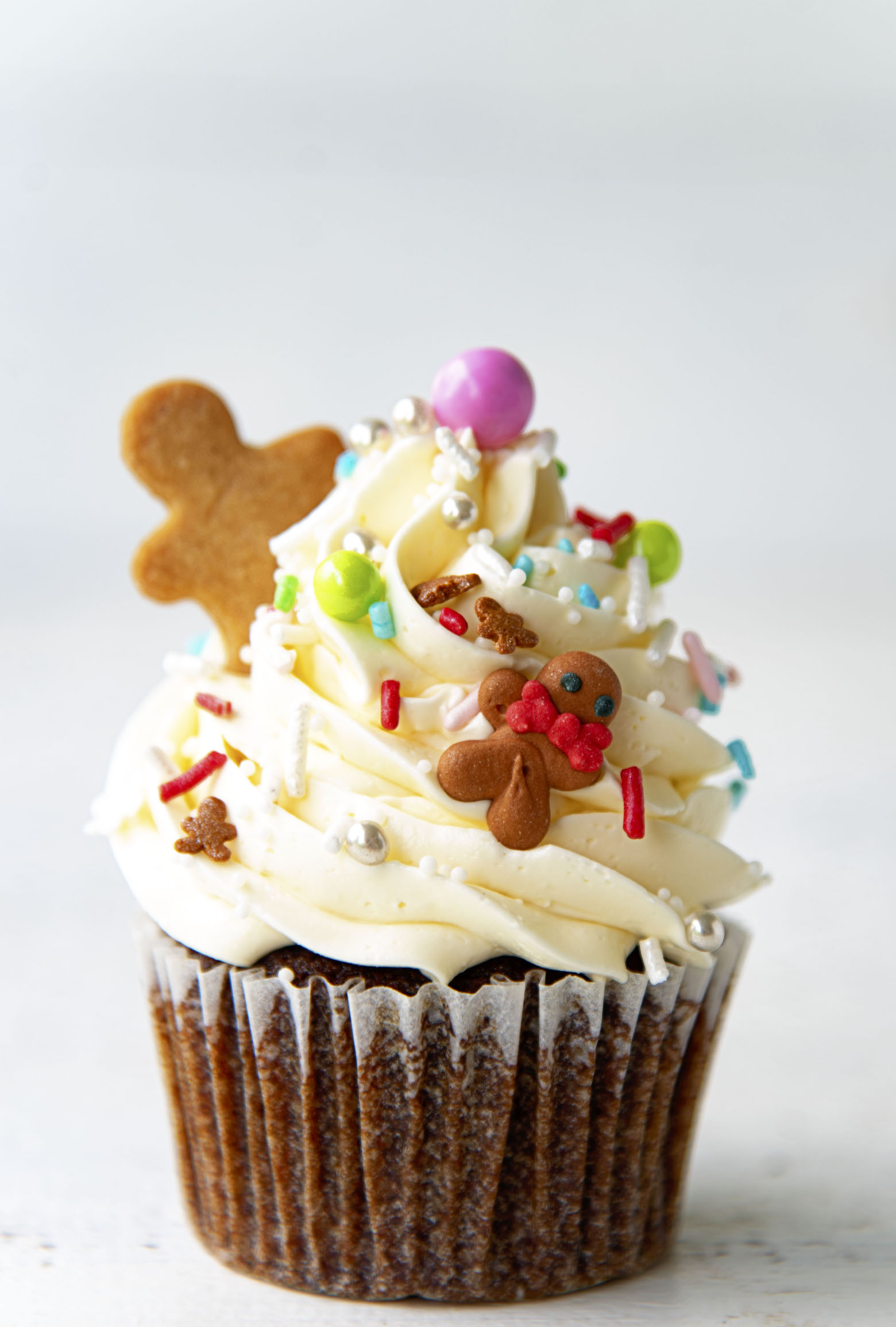 Want More Holiday Cupcakes?
Chocolate Dipped Gingerbread Cupcakes
Eggnog Cupcake with Spiced Rum Caramel Buttercream
Peppermint Bark Red Velvet Cupcakes
Peppermint Mocha Latte Cupcakes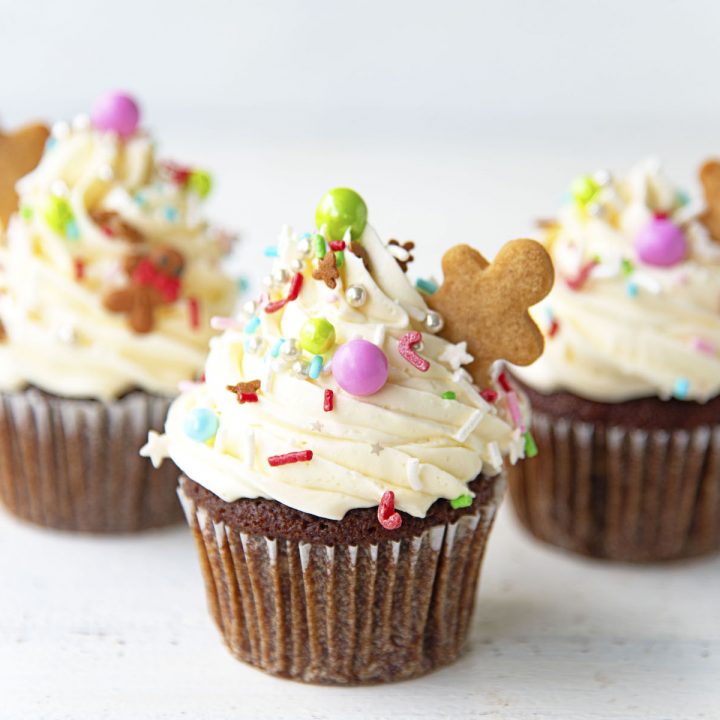 Gingerbread White Chocolate Cupcakes
Ingredients
For the Cupcakes:
1 cup grapeseed or canola oil
1 cup granulated sugar
3 large eggs
1 cup molasses
2 tsp. Baking soda
2 tsp. Hot water
2 cups all-purpose flour
1/2 tsp. Salt
4 tsp. Gingerbread spice
1 cup boiling water
For the White Chocolate Buttercream:
1 cup (about 9) egg whites
2 cups granulated sugar
3 cups unsalted butter, cubed and at room temperature
2 tsp. vanilla extract
1/4 tsp. salt
10 oz. white chocolate melted and cooled slightly
Instructions
For the Cupcakes:
Preheat oven to 350F.
Line cupcake pans with 24 baking cups.
Using a stand mixer with the paddle attachment beat together the oil, sugar, eggs, and molasses until fully combined.
In a small bowl mix together the baking soda and hot water.
Add to the molasses mixture and mix for another 30 seconds.
Sift together the flour, salt, and gingerbread spice.
Add to the mixer and beat on low until fully combined.
Add the 1 cup boiling water, quickly turning the mixture to high for 3 minutes.
Refrigerate the batter overnight. Yes, you must do this.
Scoop the batter into the prepared baking cups, filling them 2/3 of the way up.
Bake for 20-25 minutes.
Remove cupcakes from oven to cool while you make the frosting.
For the Frosting:
Place the egg whites and sugar in the metal bowl of a stand mixer and set over a small pot of simmering water (the bowl should not touch the water).
Heat, stirring occasionally, until mixture is 160F or hot to the touch.
Transfer bowl to stand mixer and beat on high speed with a whisk attachment to medium stiff peaks, about 8 minutes.
Reduce mixer speed to medium low and add butter a tablespoon at a time, letting it incorporate into the meringue for few moments before adding more.
Add vanilla extract, melted white chocolate, and salt and beat on high for 1-2 minutes until smooth and creamy.
Pipe frosting onto cupcakes. I used a star tip.
Add festive sprinkles. I used these.