These White Chocolate Topped Gingerbread Cookies are soft and chewy molasses cookies rolled in sugar and topped with white chocolate.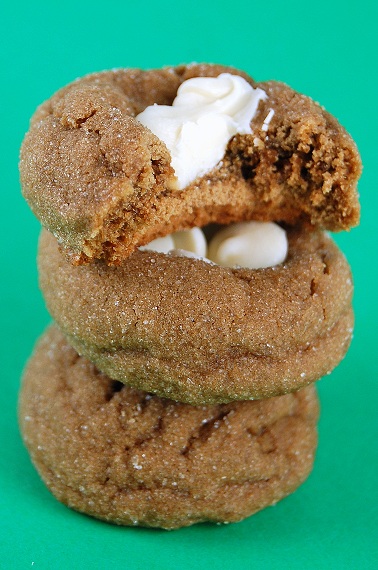 This is an updated version of an old post originally in 2010.
You never know what is going to be popular on Pinterest.
I never thought these would be.
But boy these sure are.
Year after year they are THE cookie that people pin for holiday baking.
I mean don't get me wrong they are really tasty.
I'm just surprised at the amount of repins it gets.
It also surprises me that they are popular all year long.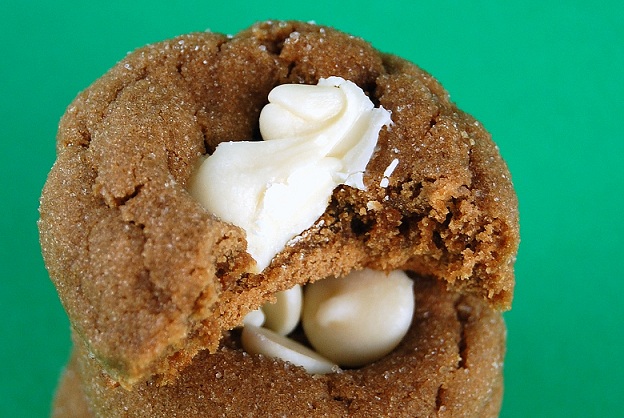 Why are these White Chocolate Topped Gingerbread Cookies so popular?
Good question.
My first guess is because they are so simple.
They really are.
I originally made these because I was going to a cookie exchange but had hardly any ingredients in the house.
So the ingredients are readily available in most households.
Well, in most households where you bake a lot.
Some of you may have to head for the store.
But all the ingredients can be found year round.
They also have a lot of flavor.
Most gingerbread cookies do.
For an extra special touch these cookies are rolled in sugar giving them a nice crunch.
And then as the name implies topped with white chocolate chips.
It's a great day to order my cookbook.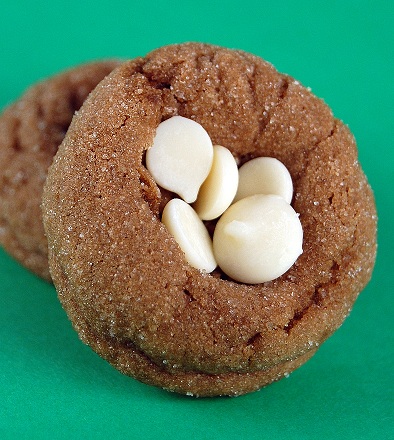 Want More Holiday Cookies?
Mini Chocolate Gingerbread Men Sandwich Cookies
Shortbread Roll Out Sugar Cookies
Cranberry Orange Pistachio Cookies
Vanilla Bean Caramel Thumbprint Cookies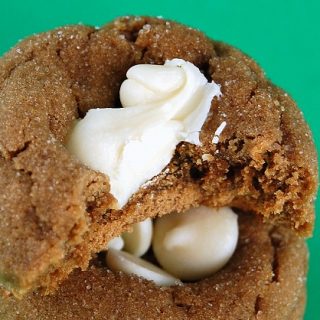 White Chocolate Topped Gingerbread Cookies
Ingredients
3 cups flour
2 tsp. ground ginger
1 tsp. ground cinnamon
1 tsp. baking soda
1/4 tsp. fresh ground nutmeg
1/4 tap salt
3/4 cup (1 1/2 sticks) unsalted butter, at room temperature
3/4 cup firmly packed brown sugar
1/2 cup molasses
1 egg
1/4 cup granulated sugar
1 tsp. vanilla extract
1 cup white chocolate chips
Instructions
Mix flour, ginger, cinnamon, baking soda, nutmeg and salt in large bowl.
Beat butter and brown sugar in large bowl with electric mixer on medium speed until light and fluffy.
Add molasses, egg and vanilla; beat well.
Gradually beat in flour mixture on low speed until well mixed.
Press dough into a thick flat disk.
Wrap in plastic wrap. Refrigerate 4 hours or overnight.
Preheat oven to 350°F.
Shape dough into 1-inch balls.
Roll in granulated sugar.
Place 2 inches apart on ungreased baking sheets.
Bake 8 to 10 minutes or until edges of cookies just begin to brown.
Immediately press about 5-6 white chocolate chips into center of each cookie.
Remove to wire racks; cool completely.
Store cookies in airtight container up to 5 days.
Notes
Adapted from McCormick and Company Inc.