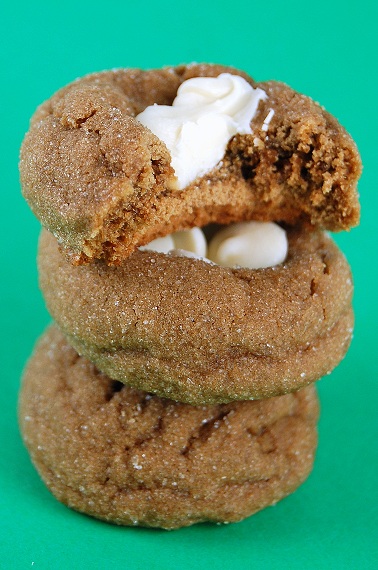 No real time for a post. I don't have a ton of access to a computer right now. Which also means, once again, I can't be answering your baking questions. I know you have them because they keep getting asked. Just an FYI- they aren't going to get answered until after the new year, just like I have said over and over again in previous posts.
Okay enough of that. I have two cookie exchanges this year. I had zero time and hardly any ingredients around so I had to find something simple, yet festive for my first exchange. These I found on the McCormick Spice website. You would be amazed what great recipes they actual websites of the makers of the product have. I think all too often we just focus on food blogs and forget about that (and no, they aren't paying me to say that). Anyway, the original recipe calls for a Hersey's Hug to go on top. But they don't seem to have those out right now this time of year, so I went with just white chocolate chips. Which made them look like birds nests, but whatever. 🙂 They are a nice soft cookie that tastes just like a nice piece of gingerbread cake, but in cookie form.
Hope all is well with everyone.

White Chocolate topped Gingerbread Cookies…
Author:
Ingredients
3 cups flour
2 tsp. Ginger, Ground
1 tsp. Cinnamon, Ground
1 tsp. baking soda
1/4 tsp. Nutmeg, Ground (I used fresh)
1/4 tap salt
3/4 cup (1 1/2 sticks) unsalted butter, at room temperature
3/4 cup firmly packed brown sugar
1/2 cup molasses
1 egg
1/4 cup granulated sugar
1 tsp. Vanilla Extract
1 cup white chocolate chips
Instructions
Mix flour, ginger, cinnamon, baking soda, nutmeg and salt in large bowl.
Beat butter and brown sugar in large bowl with electric mixer on medium speed until light and fluffy.
Add molasses, egg and vanilla; beat well. Gradually beat in flour mixture on low speed until well mixed. Press dough into a thick flat disk. Wrap in plastic wrap. Refrigerate 4 hours or overnight.
Preheat oven to 350°F. Shape dough into 1-inch balls. Roll in granulated sugar. Place 2 inches apart on ungreased baking sheets.
Bake 8 to 10 minutes or until edges of cookies just begin to brown. Immediately press about 5-6 white chocolate chips into center of each cookie. Remove to wire racks; cool completely. Store cookies in airtight container up to 5 days.
Adapted from McCormick and Company Inc.