These Frosted Sugar Cookie Cupcakes have a sugar crusted sprinkle filled vanilla cupcake topped with Sugar Cookie buttercream frosting.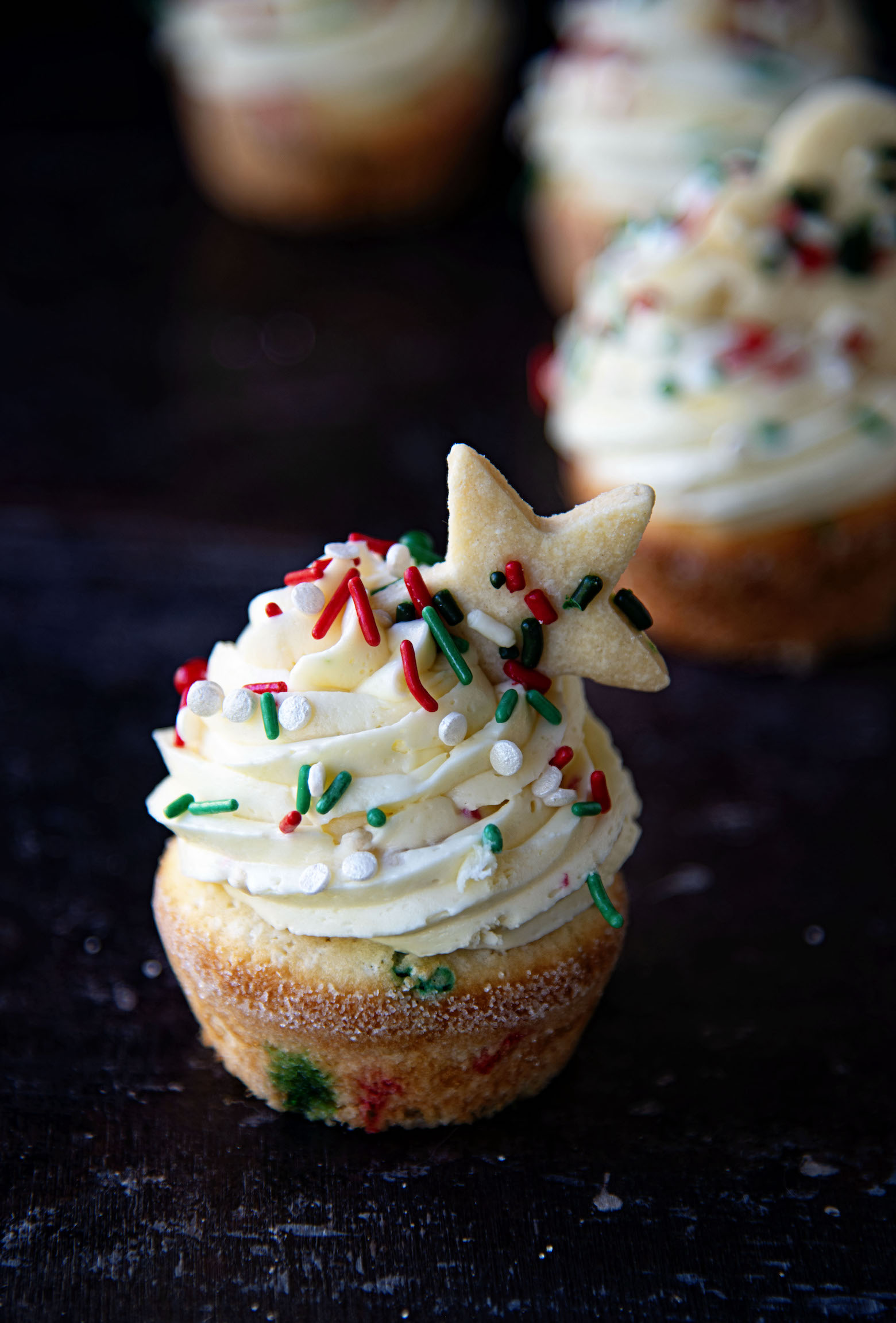 Each year it seems like there is a flavor of the year.
Hershey's Kisses have a holiday flavor.
M and M's. Ghirardelli has a holiday flavored square.
Pop Tarts.
Etc….
This year I lucked out because the flavor was sugar cookie.
And I LOVE sugar cookies.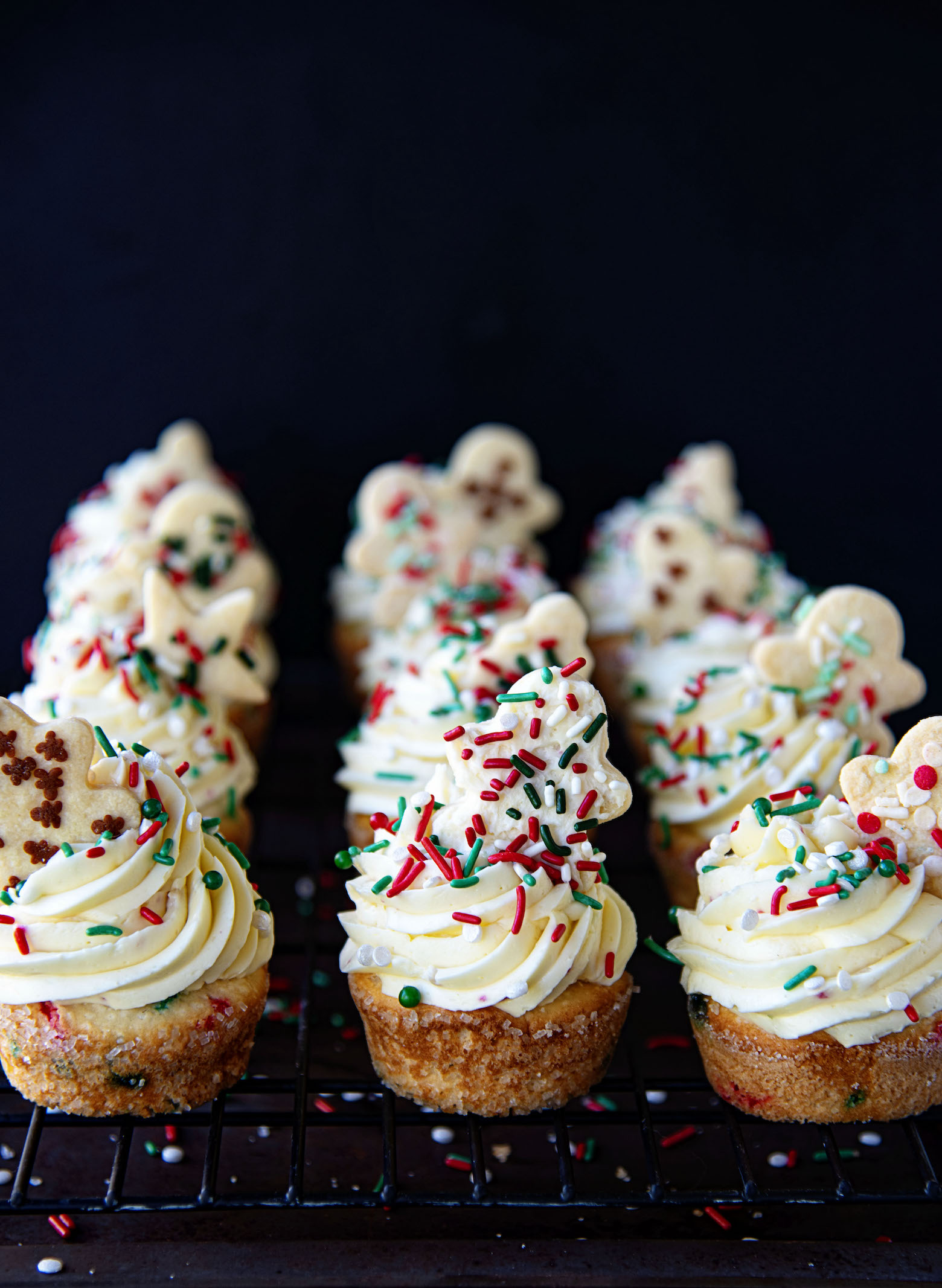 Many recipes on this blog are sugar cookie themed.
But no cupcakes.
Enter Frosted Sugar Cookie Cupcakes.
Needless to say I was beyond excited to see it all.
If you cannot find the Ghirardelli White Chocolate Sugar Cookie Squares I suggest subing with white chocolate and some LorAnn Buttery Sweet Dough Bakery Emulsion.
It won't be an exact match but it will give a little more sugar cookie flavoring.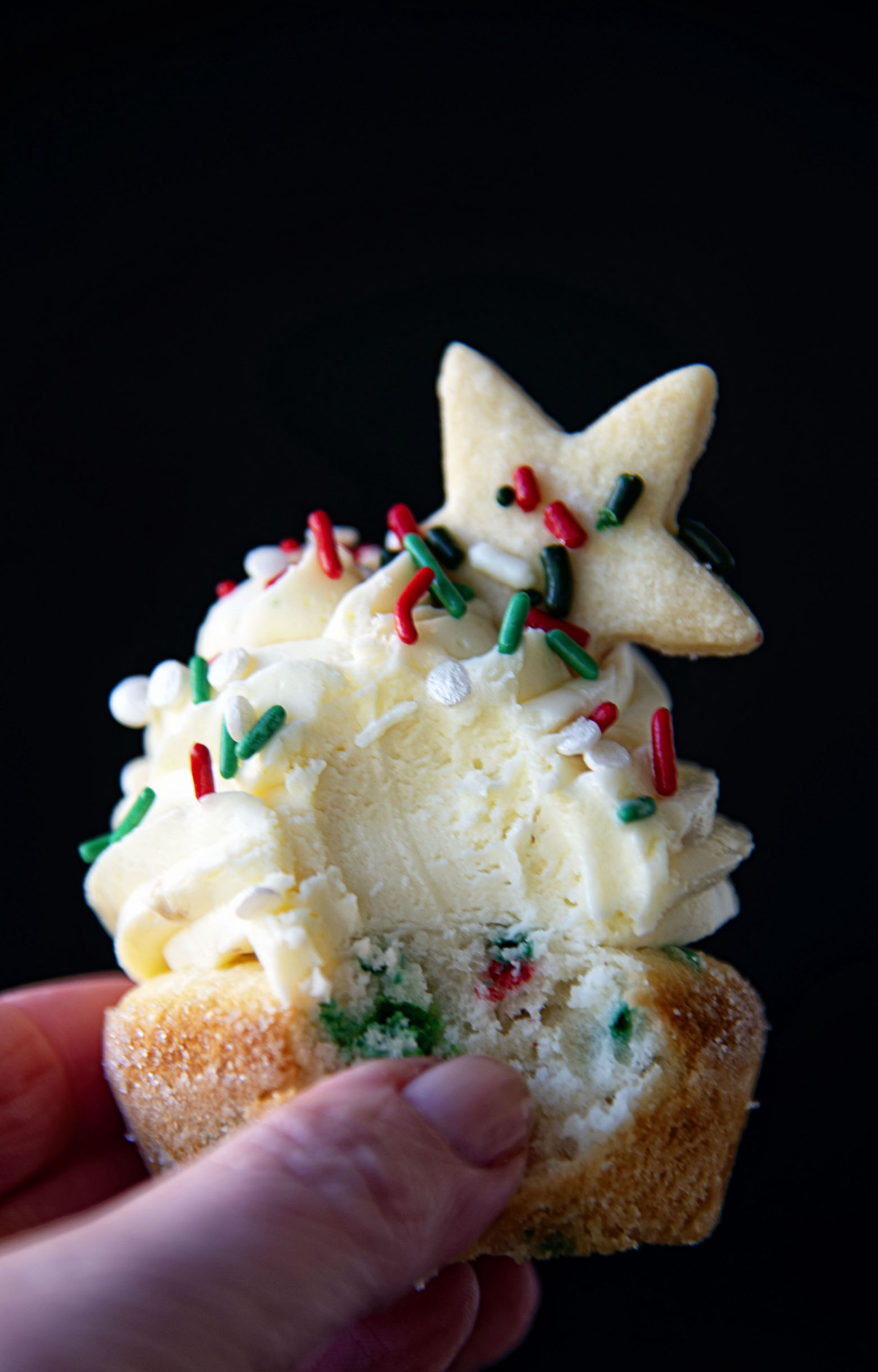 I only filled my cupcake half way but suggest you do 3/4 of the way.
I did half way because I was going for a certain look with the cupcake.
That look was a lot of frosting. 🙂
The frosting is a Swiss Meringue Buttercream so it's not as sweet as American frosting.
Therefore pile it on. 🙂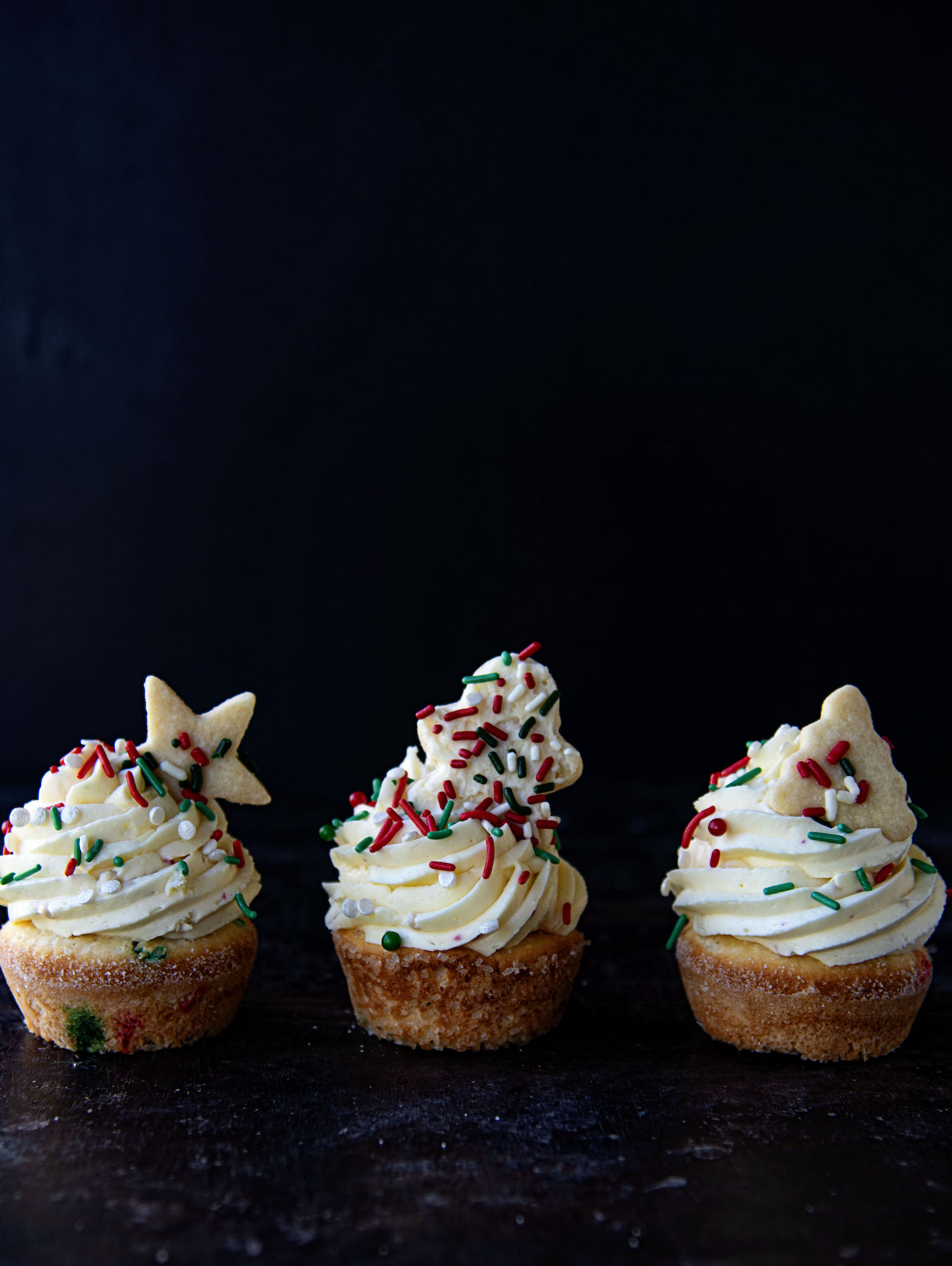 You don't have to make mini sugar cookies to decorate with.
Whenever I make sugar cookies I make sure to make mini ones just for things like this.
And my sugar cookie pie I made earlier this year.
The extras are always good to have around.
Sugar cookies freeze really well and so make a large batch and freeze some for later.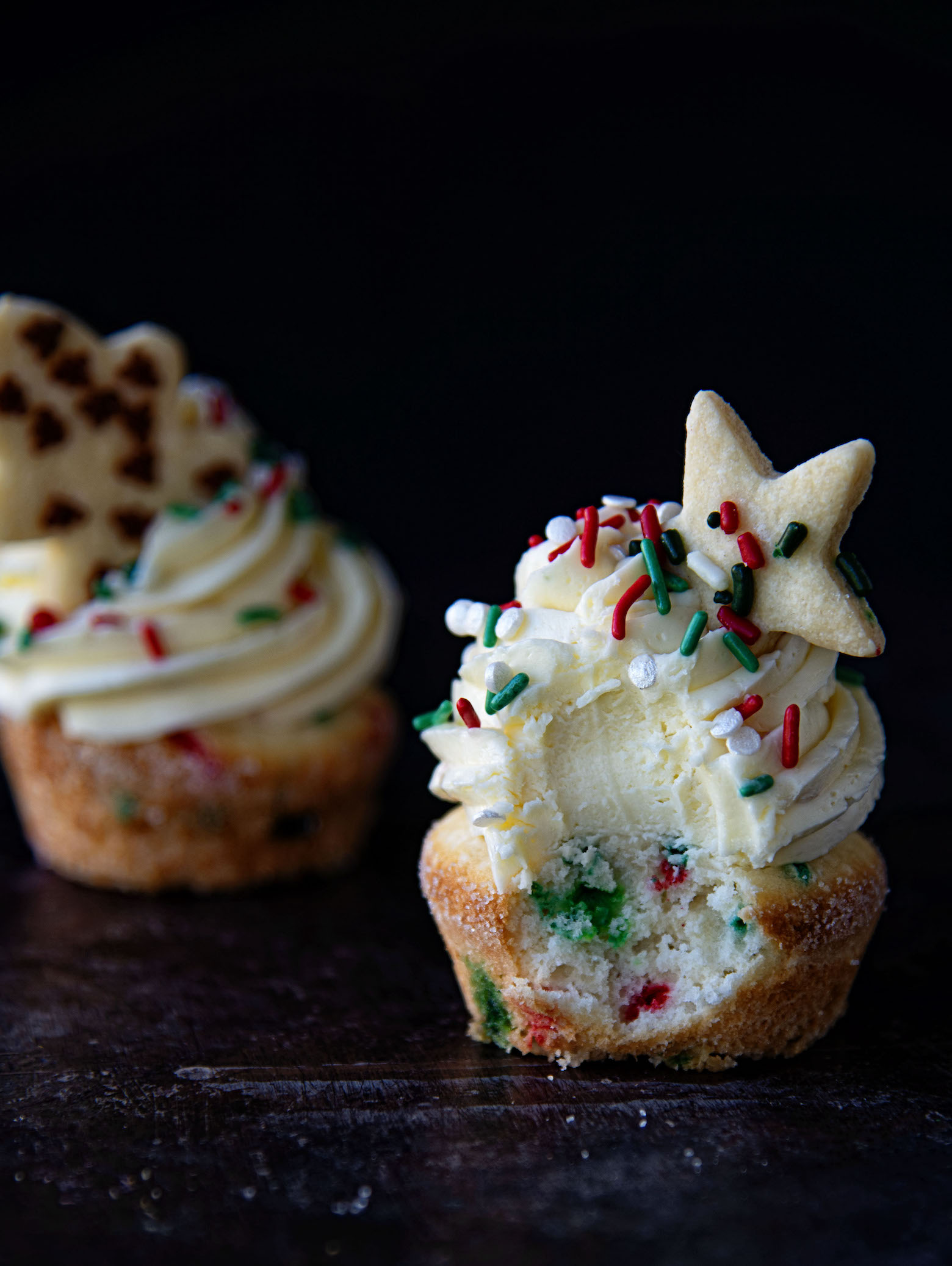 These cupcakes are also lined in sugar.
It gives a crunchy sugary coating that give a nice texture contract.
You can skip that step though if it's not your thing.
So bust out the sprinkles and make these.
By the way, it's a great day to buy my cookbook !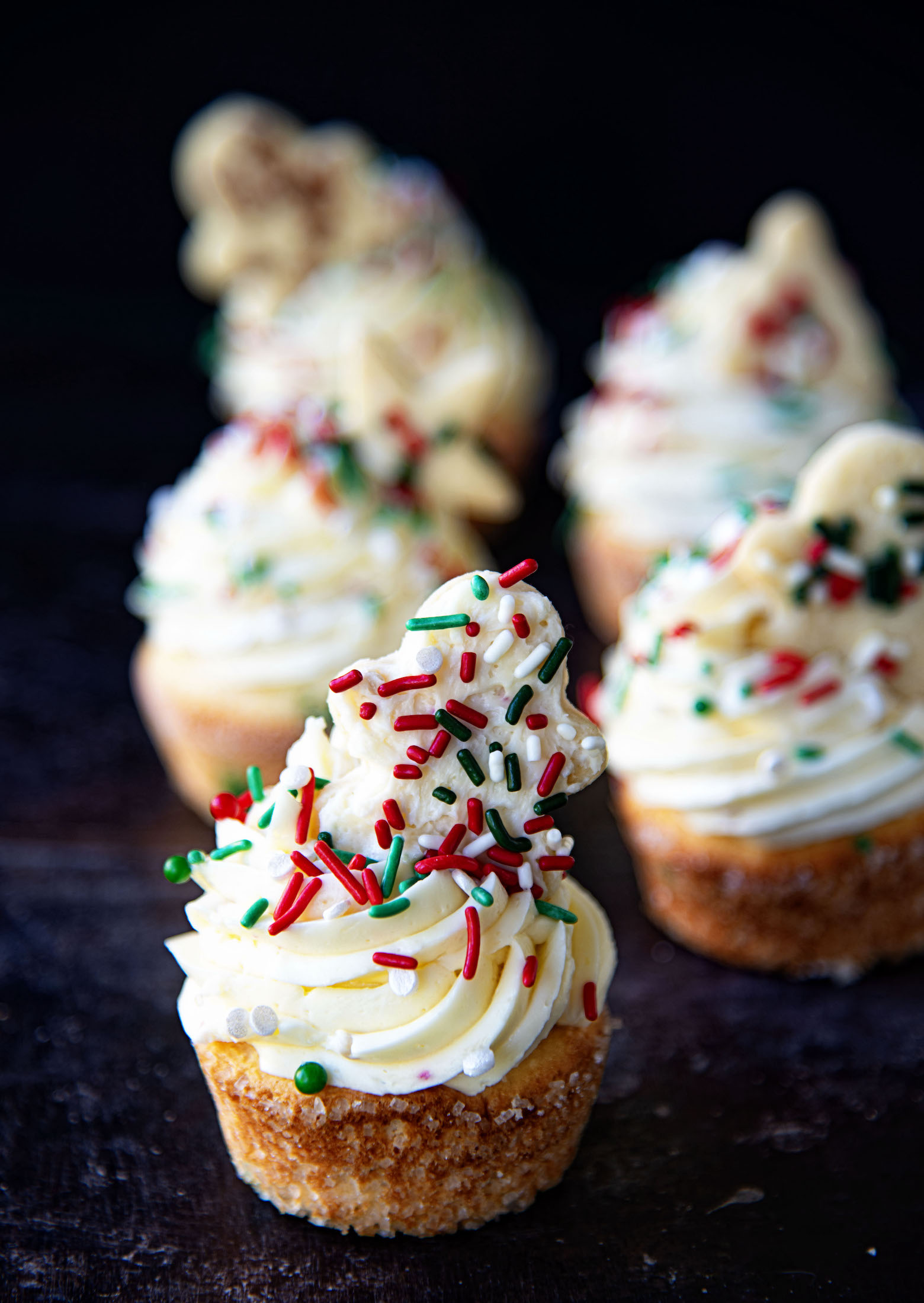 Want More Sugar Cookie Ideas?
Sugar Cookie Cheesecake Cheeseball
Sprinkle Sugar Cookie Cheesecake Bars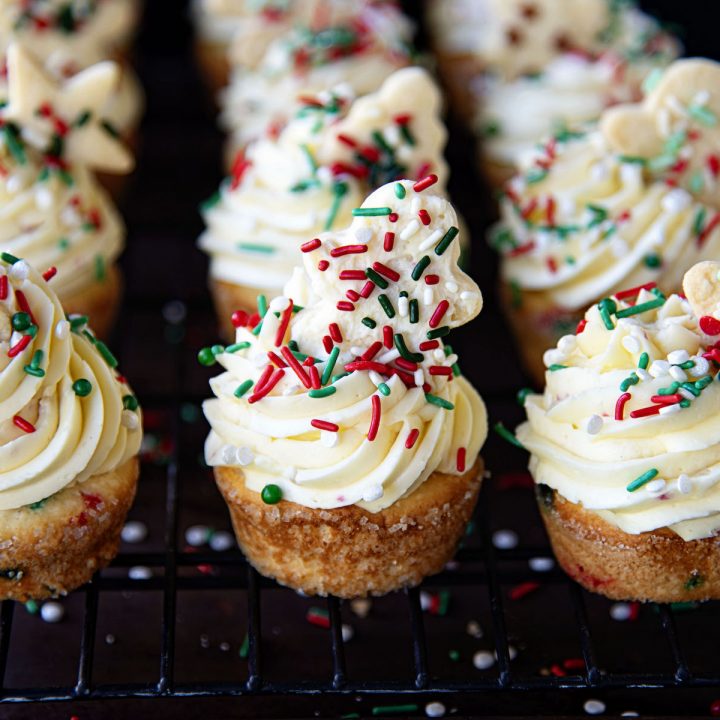 Frosted Sugar Cookie Cupcakes
Ingredients
To Line the Cupcakes:
1 cup sugar
1/4 cup melted butter
For the Cupcakes:
2 ¾ cups all-purpose flour
2 ½ tsp baking powder
1 tsp salt
1 cup whole milk
2 tsp vanilla extract
2 1/2 cups granulated sugar
1 cup vegetable oil
4 large eggs
3/4 cup sour cream
1/2 cup red and green sprinkles
For the Swiss Meringue Buttercream:
1 cup (about 9) egg whites
2 cups granulated sugar
3 cups unsalted butter, cubed and at room temperature
1/4 tsp. salt
10 oz Ghirardelli White Chocolate Sugar Cookie Squares (I got mine at Target), melted and slightly cooled
Instructions
To Line the Cupcakes:
Brush all but two of the cups of two standard 12-cup muffin tins with melted butter.
Spoon about 1 TBSP of sugar into greased cups and shake and tap around to cover the bottom and the sides of the cups completely with a thick coat of sugar. Tap out any excess sugar.
For the Cupcakes:
Preheat the oven to 350 F.
Sift together the flour, baking powder, and salt and set aside.
Combine the milk, Buttery Sweet Dough Bakery Emulsion, and vanilla in a measuring bowl with a spout and set aside.
Combine the sugar, oil, and eggs in the bowl of a stand mixer fitted with the paddle attachment and beat on medium speed until well combined and slightly thickened.
Mix in the sour cream on medium speed until just combined.
Add half the sifted dry ingredients and mix on low until halfway combined.
Add half the milk and vanilla mixture and mix until just combined.
Add the other half of the flour mixture, beat, then add the rest of the milk mixture, and beat until just combined. Don't overmix.
Fold in the sprinkles.
Fill 22 cupcake liners three-quarters full and bake for 19 to 21 minutes, or until a pick comes out almost clean and the center springs back slightly.
Cool the cupcakes in the pan for 10 minutes and then transfer to a wire rack to cool completely before frosting.
For the Swiss Meringue Buttercream:
Place the egg whites and sugar in the metal bowl of a stand mixer and set over a small pot of simmering water (the bowl should not touch the water).
Heat, stirring occasionally, until mixture is 160F or hot to the touch.
Transfer bowl to stand mixer and beat on high speed with a whisk attachment to medium stiff peaks, about 8 minutes
Reduce mixer speed to medium low and add butter a tablespoon at a time, letting it incorporate into the meringue for few moments before adding more. It will looks curdled and you will freak out. Don't worry it comes together when you continue to beat it.
Add vanilla extract and salt and beat on high for 1-2 minutes until smooth and creamy.
Add in the melted Ghirardelli White Chocolate Sugar Cookie Squares and beat on high for another minute.
Pipe frosting onto the cupcakes.
Garnish with more sprinkles and mini sugar cookies