These Eggnog Cupcake with Spiced Rum Caramel Buttercream are Eggnog flavored cupcakes topped with spiced rum caramel buttercream dipped in white chocolate.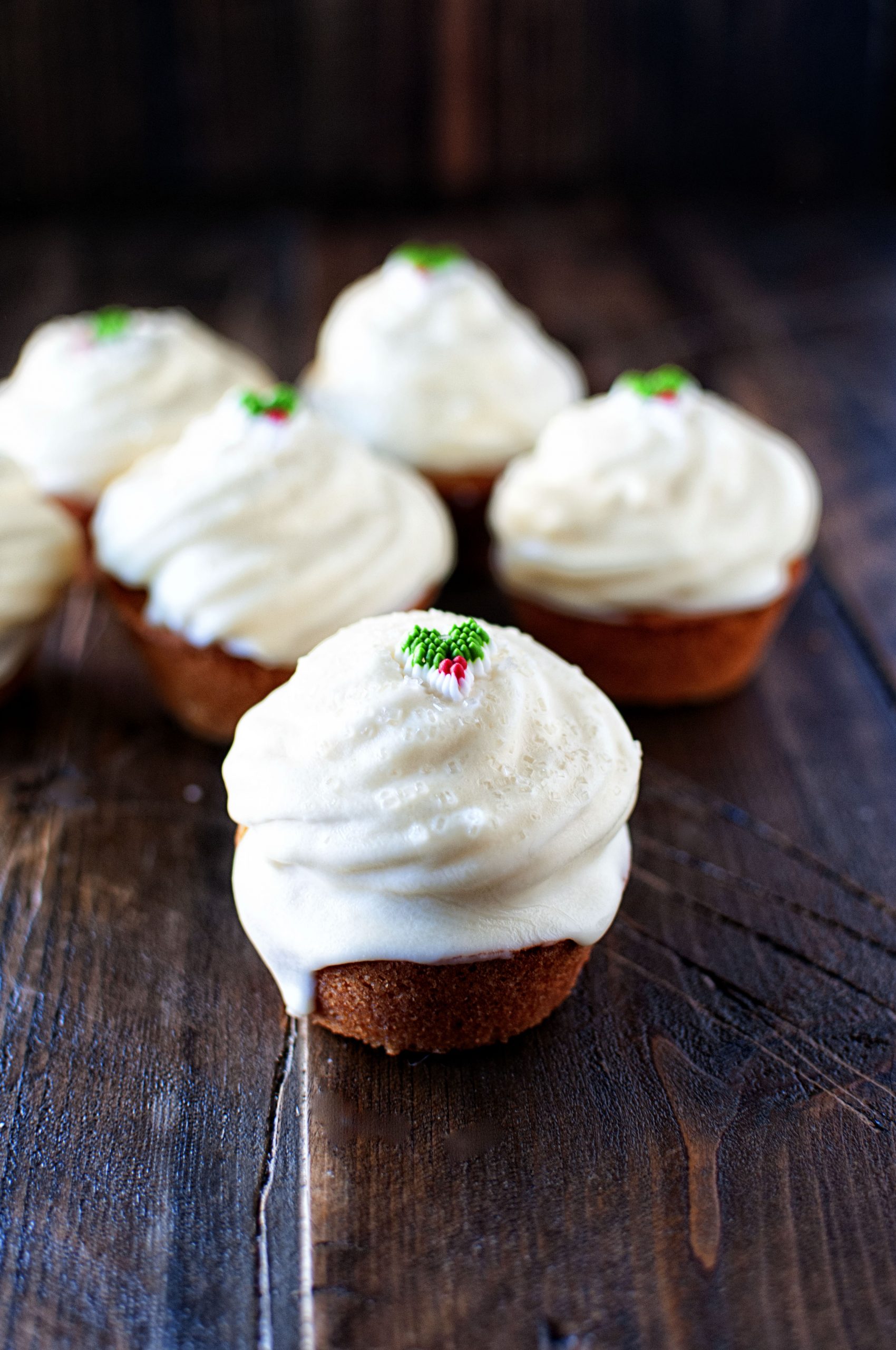 I get asked a lot if I eat all my baked goods?
Yes and no.
I taste all of them so I know what they taste like.
But since I bake so much I usually do give it away.
The hockey team gets some but mostly it's my husband's co-workers.
I'm fortunate enough that my reputation among them is good and so even if they don't think they will like it they will try it if it came from me.
Like the year I made fruit cake that was gone in an hour.
They have however become obsessed with they cupcakes I made last week. 
The ones that have Swiss meringue buttercream dipped in chocolate.
What they wanted was for me to make those again.
Hubby had to explain to them that doesn't happen when your wife runs a baking blog.
He told them I could make cupcakes like that but not the same flavors.
That I simply didn't work that way as I needed new recipes for the blog all the time.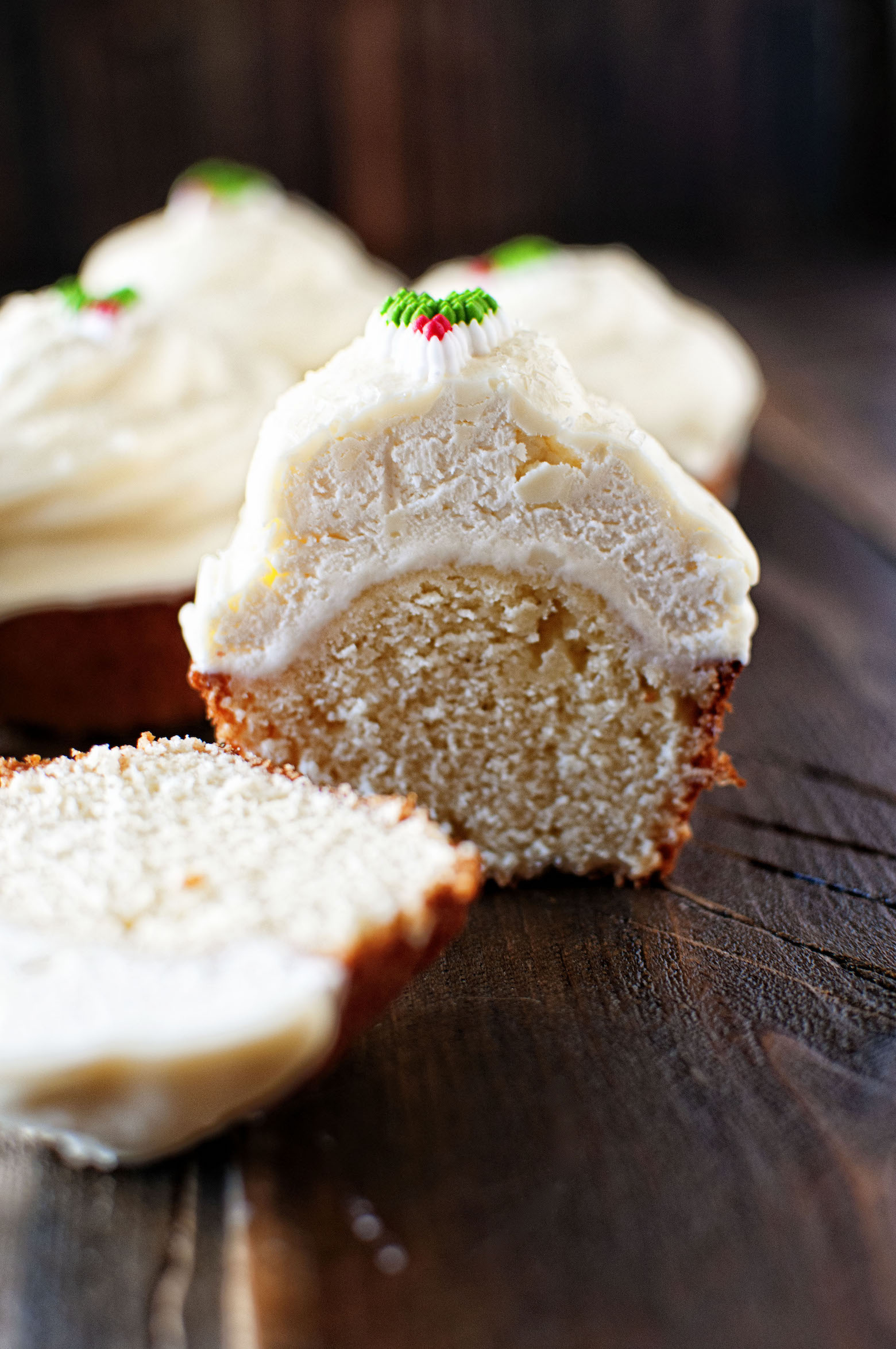 So with the eggnog and spiced rum already out for the bread pudding I made these Eggnog Cupcake with Spiced Rum Caramel Buttercream.
The frosting has no eggnog.
It does have the spiced rum caramel sauce I used for the bread pudding. 
You don't need to add the sparkling sugar and the holly decor.
I just did because it makes them look pretty.
Expect a few more cupcakes that are dipped in chocolate in the coming weeks since apparently the people have spoken.
P.S. It's a great day to buy my cookbook Holy Sweet!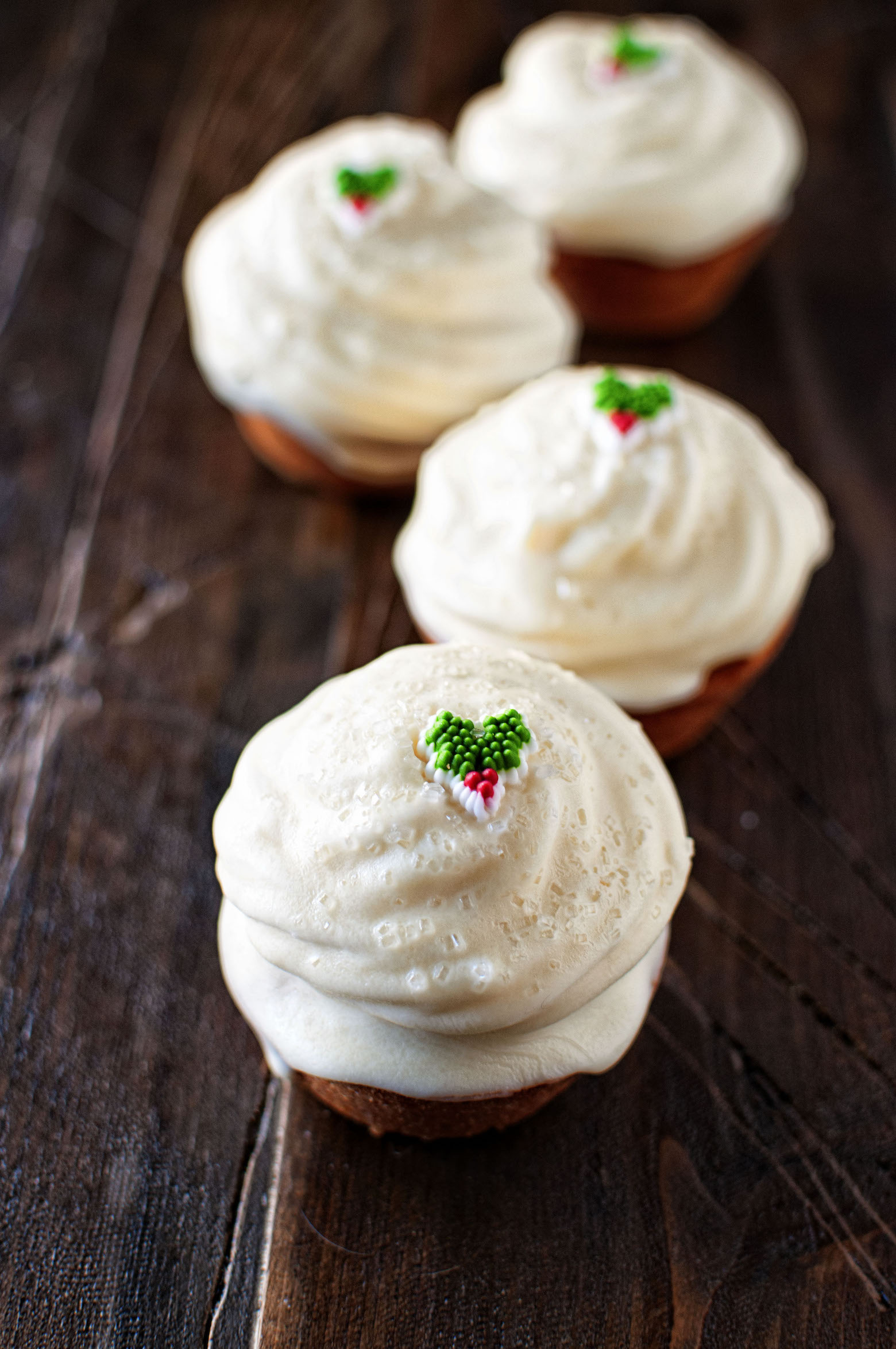 Want More Eggnog Recipes?
Eggnog Chocolate Fudge Bundt Cake
Chocolate Bourbon Eggnog Cupcakes
Gingerbread Oatmeal Eggnog Cream Pies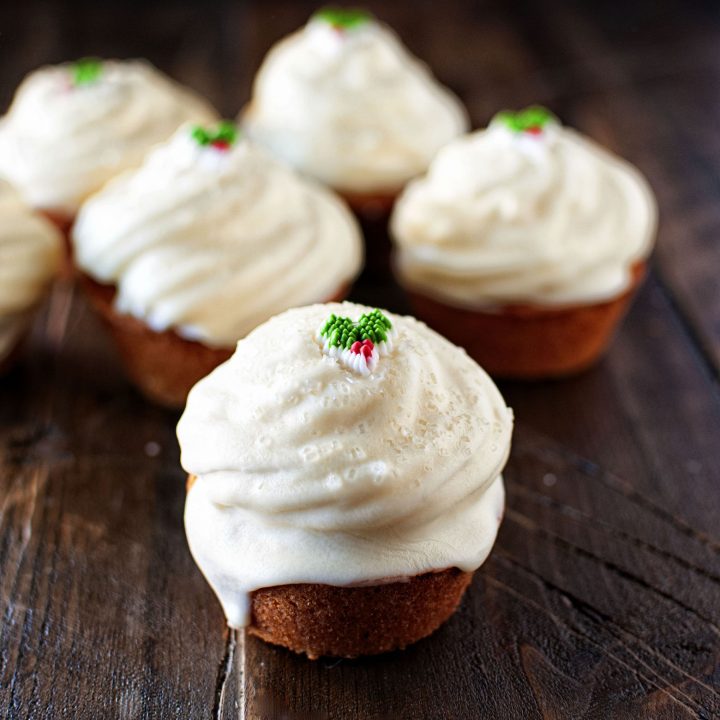 Eggnog Cupcakes with Spiced Rum Caramel Buttercream
Ingredients
For the cupcakes:
2 3/4 cups all-purpose flour
1 1/2 tsp. baking powder
1/2 tsp. freshly ground nutmeg
1/2 tsp. salt
1 cup unsalted butter, at room temperature
2 cups granulated sugar
4 large eggs, at room temperature
1 cup Eggnog
1 tsp. vanilla extract
For the frosting:
1 cup (about 9) egg whites
2 cups granulated sugar
3 cups unsalted butter, cubed and at room temperature
4 TBSP Spiced Rum Caramel (see notes)
1/4 tsp. salt
6 oz. white chocolate melted and cooled slightly
For the white chocolate coating:
12 oz white chocolate, finely chopped
3 TBSP vegetable oil
Instructions
For the Cupcakes:
Preheat oven to 350 degrees.
Spray two muffin pans with baking spray.
In a large bowl, on the medium speed of an electric mixer, cream the butter until smooth.
Add the sugar gradually and beat until fluffy, about 3 minutes.
Add the eggs, one at a time, beating well after each addition.
Add the dry ingredients in three parts, alternating with the eggnog and vanilla.
With each addition, beat until the ingredients are incorporated but do not overbeat.
Using a rubber spatula, scrape down the batter in the bowl to make sure the ingredients are well blended.
Carefully spoon the batter into the muffin pan, filling them about three-quarters full.
Bake for 20-25 minutes, or until a cake tester inserted into the center of the cupcake comes out clean.
Cool the cupcakes in the tins for 15 minutes.
Remove from the tins and cool completely on a wire rack before icing.
For the Frosting:
Place the egg whites and sugar in the metal bowl of a stand mixer and set over a small pot of simmering water (the bowl should not touch the water).
Heat, stirring occasionally, until mixture is 160F or hot to the touch.
Transfer bowl to stand mixer and beat on high speed with a whisk attachment to medium stiff peaks, about 8 minutes.
Reduce mixer speed to medium low and add butter a tablespoon at a time, letting it incorporate into the meringue for few moments before adding more.
Add spiced rum caramel, melted white chocolate, and salt and beat on high for 1-2 minutes until smooth and creamy.
Frost the cupcakes.
Prepare the White Chocolate Coating:
Combine white chocolate and oil in a medium heat-proof bowl set over a medium saucepan of barely simmering water; stir until melted and smooth.
Transfer to a small bowl, and let cool about 15 minutes.
Holding each cupcake by its bottom, dip cupcake in the chocolate to coat frosting, allowing excess to drip off.
Transfer to a baking sheet fitted with a wire rack.
Spoon more coating around edge of cupcake.
Add sparkling sugar and holly decor if desired.
Notes
Recipe for Spice Rum Caramel Sauce is HERE