These Peppermint Mocha Latte Cupcakes are mad with a chocolate espresso cupcake, chocolate peppermint Swiss meringue buttercream, and dipped in chocolate.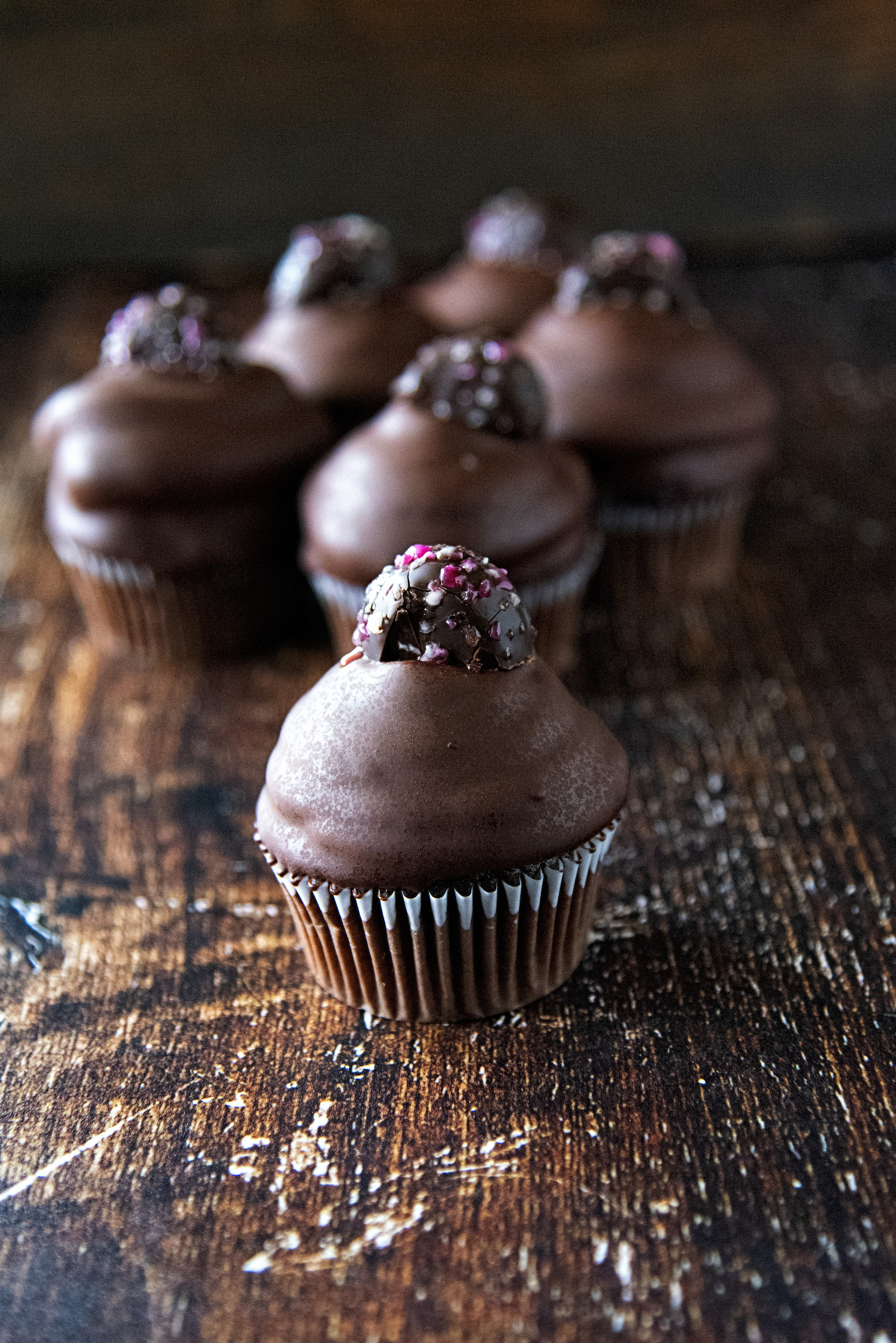 I obviously bake all the time.
The majority of my treats go to two places.
My husband's work.
And my hockey team.
My hockey team only gets select desserts since certain desserts don't work out in a locker room.
If I were to make a cheesecake and bring it to the locker room I would have to bring plates, forks, etc…and I just can't carry all that and a giant hockey bag and sticks.
My husband's work however has a kitchen and what not so they get all of that kind of stuff.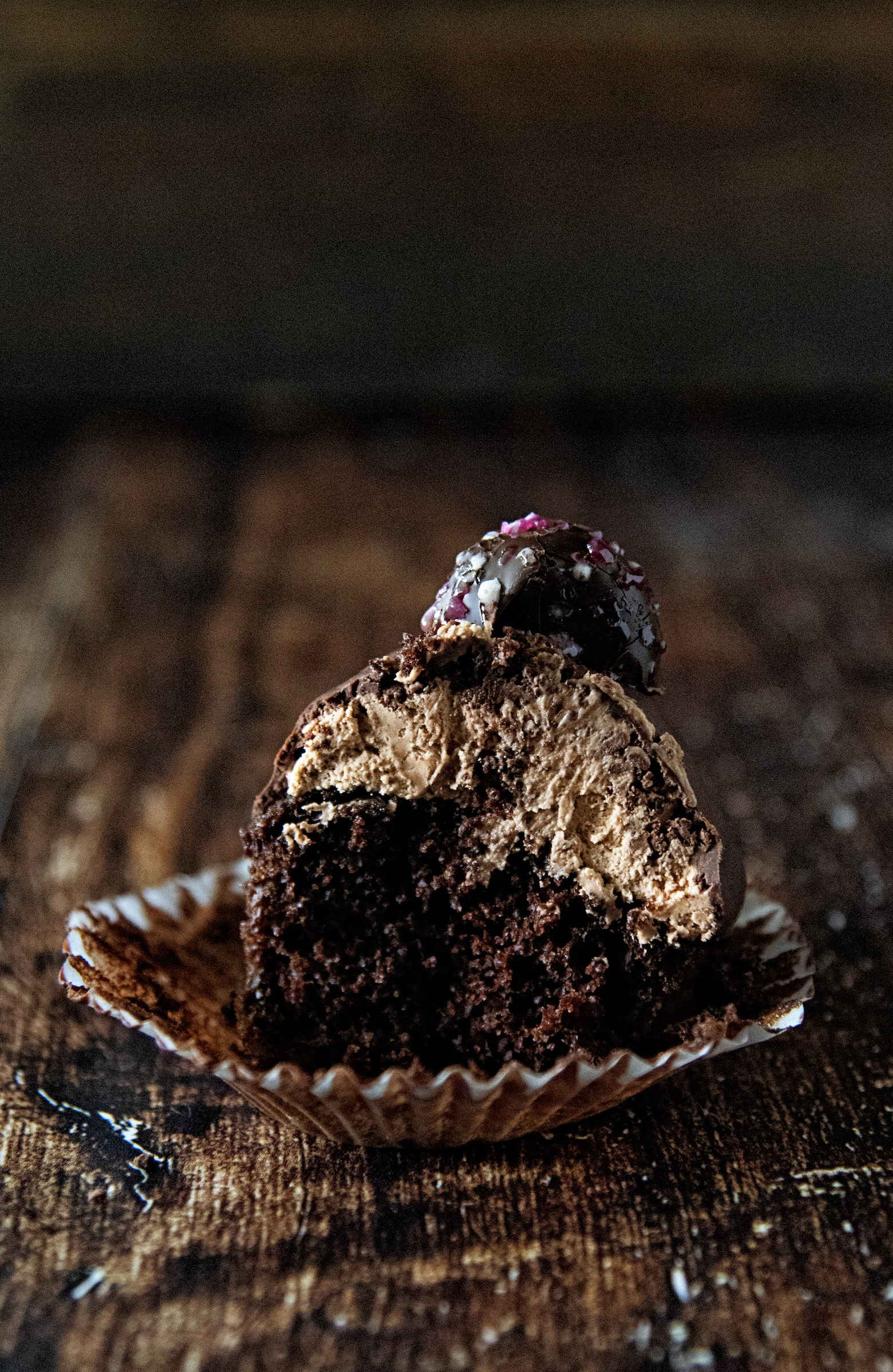 Cupcakes can go to hockey and do often.
The boys especially love the holiday ones because I usually chocolate dip everything.
I sometimes have way more food than players.
Often another player takes the rest home.
But if I take it back home and there are still treats in there I tend to just pass them out to random strangers in the rink as we leave the arena.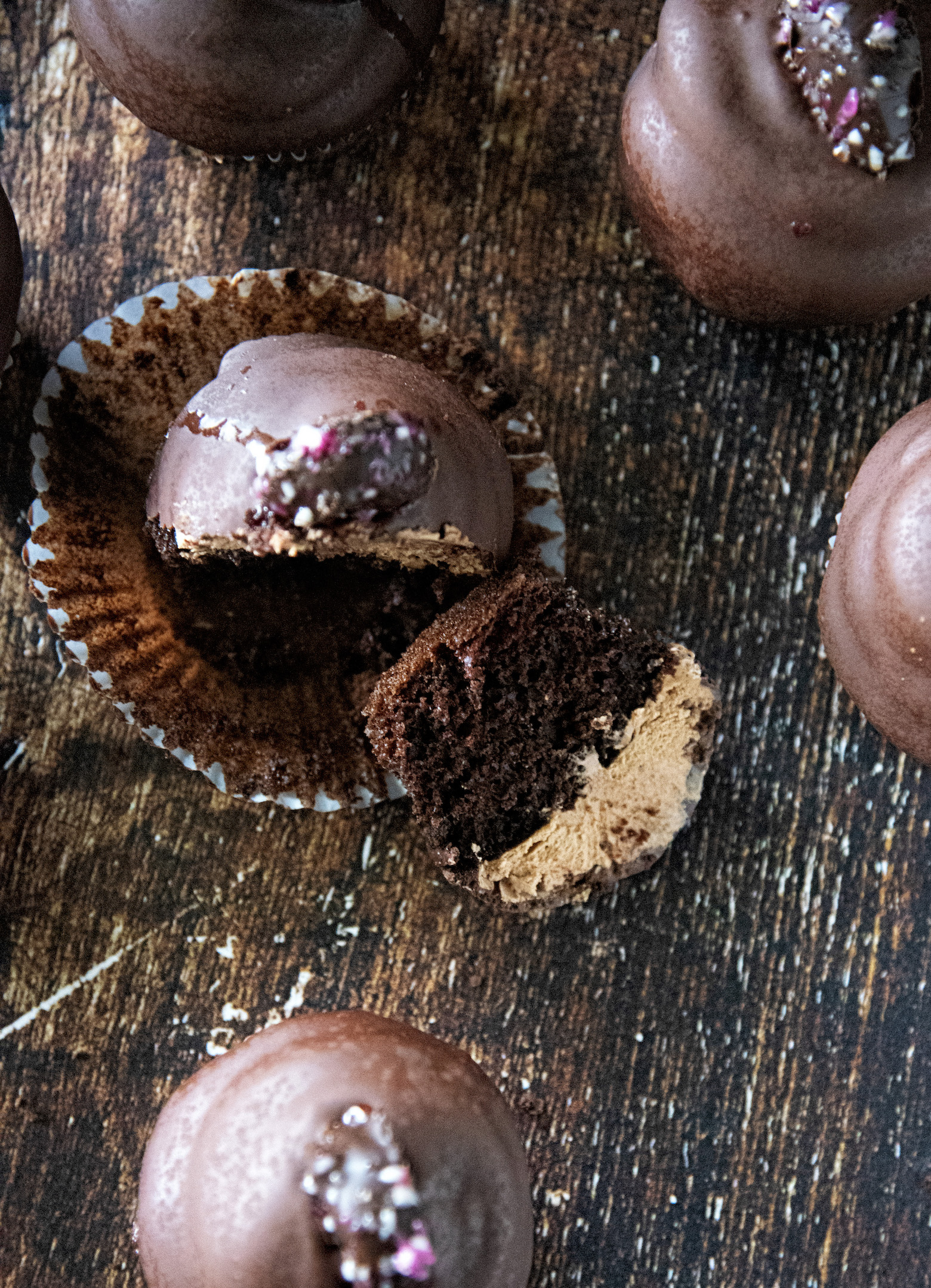 A few weeks ago when I brought these Peppermint Mocha Latte Cupcakes to the rink.
I had some left over and was handing them out when we ran into a friend of ours.
He owns a local BBQ place and ironically I have photographed his food for the restaurant's social media accounts.
The ironic part is that he has never had any of my food.
I asked if he wanted a cupcake and he said sure.
And then he bit into it.
Replied Holy Sh!t Peabody these are amazing and his facial expressions matched his words.
I joked that this is what I do for a living you know.
He commented he knew that but just kept saying wow while inhaling the cupcake.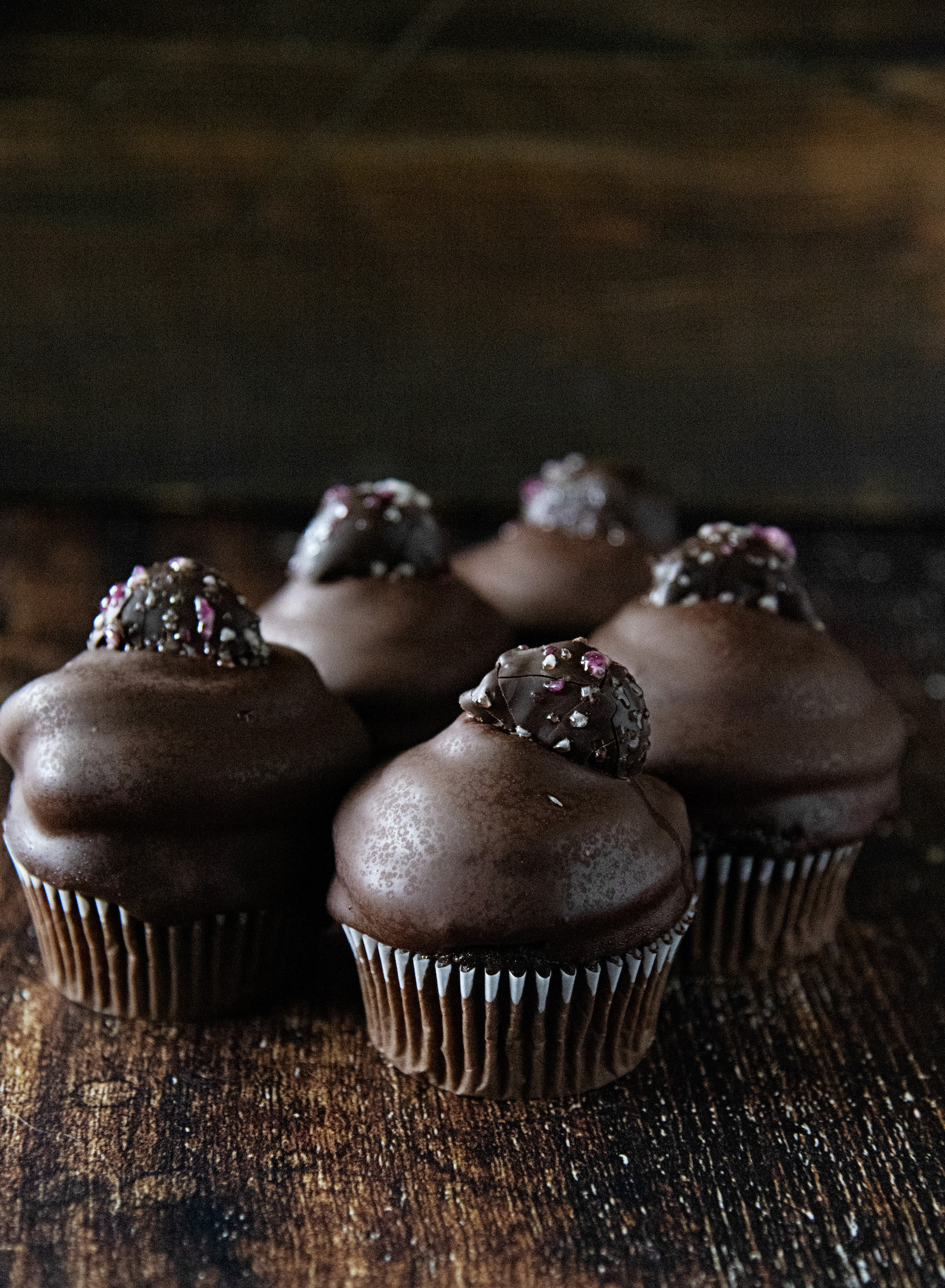 I think anytime I use Swiss meringue buttercream, especially the chocolate one, people are so surprised how much they love it.
Because not that many places use it (so not cost effective).
People see all that icing and freak out a little and think it's going to be too much.
And it's not. It's so not.
It was a reminder to me though that there are a lot of people in my life that have actually never had my baking. I need to work on spreading it around more.
Though I think my husband's work would highly protest that. 🙂
These cupcakes are chocolate espresso based.
Topped with a chocolate peppermint Swiss meringue buttercream.
Then dipped in semisweet chocolate coating.
Make them and probably your friends and family will have the same reaction as my friend did. 🙂
And as always it's a great day to order my cookbook.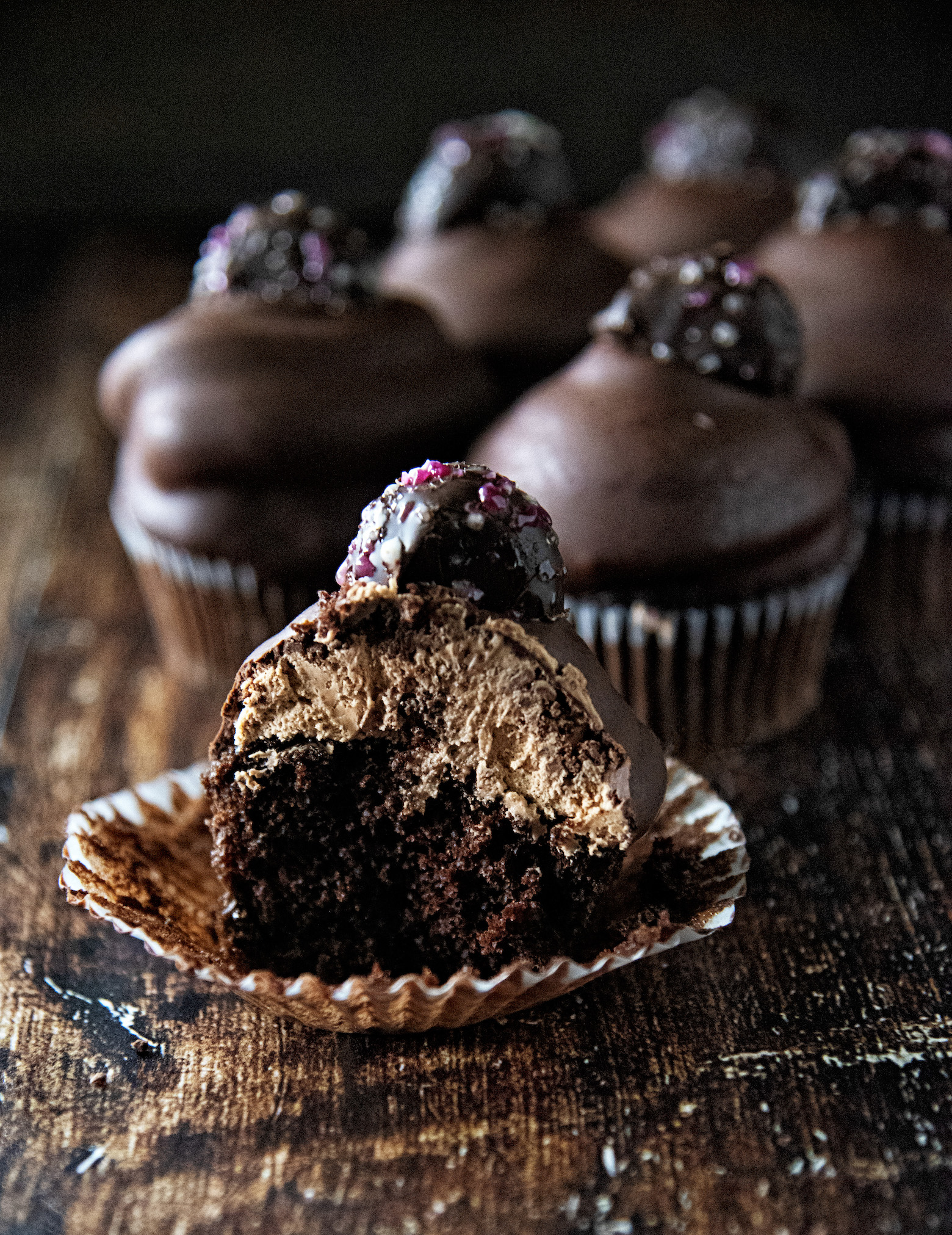 Want more Peppermint Recipes?
Peppermint Mocha Latte Sweet Rolls
Peppermint Bark Red Velvet Cupcakes
Milk Chocolate Peppermint Fudge
Chocolate Dipped Chocolate Peppermint Cupcakes
Peppermint Mocha Blossom Cookies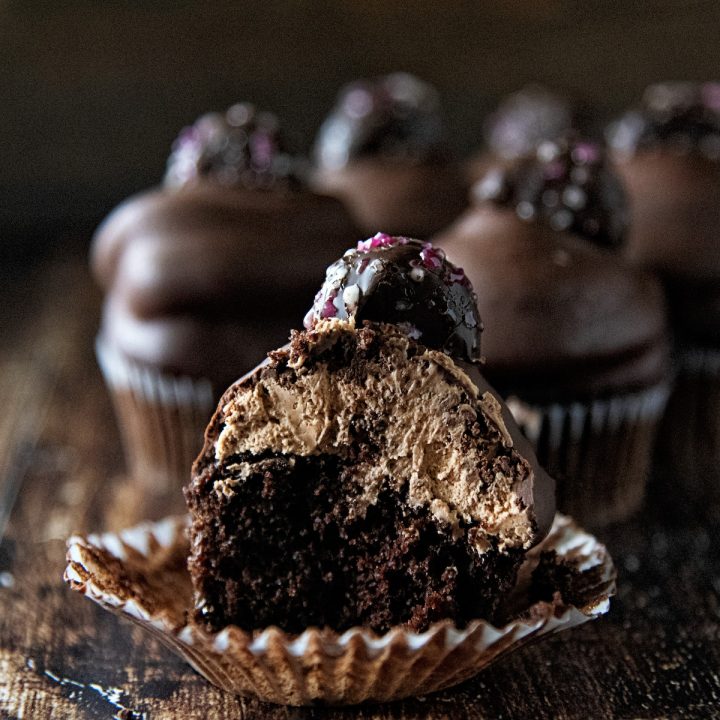 Peppermint Mocha Latte Cupcakes
Ingredients
Chocolate Espresso Cupcake:
2 cups all-purpose flour
1 tsp. baking soda
2 tsp. espresso powder
1 cup unsalted butter, at room temperature
1 cup granulated sugar
1 cup firmly packed light brown sugar
4 large eggs, at room temperature
6 ounces unsweetened chocolate, melted
1 cup buttermilk
1 tsp. vanilla extract
Chocolate Peppermint Swiss Meringue Buttercream:
1 cup (about 9) egg whites
2 cups granulated sugar
3 cups unsalted butter, cubed and at room temperature
1TBSP peppermint extract
1/4 tsp. salt
10 oz. semisweet chocolate melted and cooled slightly
Chocolate Coating:
12 oz. semisweet chocolate, finely chopped
3 TBSP canola or vegetable oil
Instructions
For the Cupcakes:
To melt the chocolate, place in a double boiler over simmering water on low heat for 5-10 minutes (about; stir occasionally until completely smooth and no pieces remain; remove from heat and let cool 5-15 minutes or until lukewarm.
Line two 12-cup muffin tins with baking spray; set aside.
In a bowl, sift the flour and baking soda together; set aside.
In a big mixing bowl, cream the butter, using an electric mixer on medium speed, until smooth.
Add the sugars and beat for about 3 minutes or until fluffy.
Add the eggs, one at a time, beat well after each addition.
Add the chocolate, mixing until well incorporated.
Add the dry ingredients, in three parts, alternating with the buttermilk and vanilla.
With each addition, beat until ingredients are incorporated but do not overmix.
Scrape down the batter from the sides of the bowl, using a rubber spatula, to make sure the ingredients are well blended and the batter is smooth.
Carefully spoon batter into cupcake pans; filling each one 3/4 full.
Bake in a 350° oven for 20-25 minutes or until pick comes out clean.
Cool in tins for 15 minutes.
Remove from tins and cool completely on a wire rack.
Ice when completely cool.
For the Buttercream:
Place the egg whites and sugar in the metal bowl of a stand mixer and set over a small pot of simmering water (the bowl should not touch the water).
Heat, stirring occasionally, until mixture is 160F or hot to the touch.
Transfer bowl to stand mixer and beat on high speed with a whisk attachment to medium stiff peaks, about 8 minutes.
Reduce mixer speed to medium low and add butter a tablespoon at a time, letting it incorporate into the meringue for few moments before adding more.
Add peppermint extract, melted semisweet chocolate, and salt and beat on high for 1-2 minutes until smooth and creamy.
Frost the cupcakes.
Prepare the chocolate coating:
Combine chocolate and oil in a medium heat-proof bowl set over a medium saucepan of barely simmering water; stir until melted and smooth.
Transfer to a small bowl, and let cool about 15 minutes.
Holding each cupcake by its bottom, dip cupcake in the chocolate to coat frosting, allowing excess to drip off. Transfer to a baking sheet fitted with a wire rack.
Spoon more coating around edge of cupcake and any exposed frosting.
Garnish with a chocolate peppermint candy if desired.
Let cupcakes stand at room temperature 15 minutes.
Cover, and refrigerate for 2 hours more.
Cupcakes can be refrigerated for up to 3 days.