These Chocolate Dipped Gingerbread Shortbread Men are a mix of shortbread and gingerbread dipped in chocolate to make them special.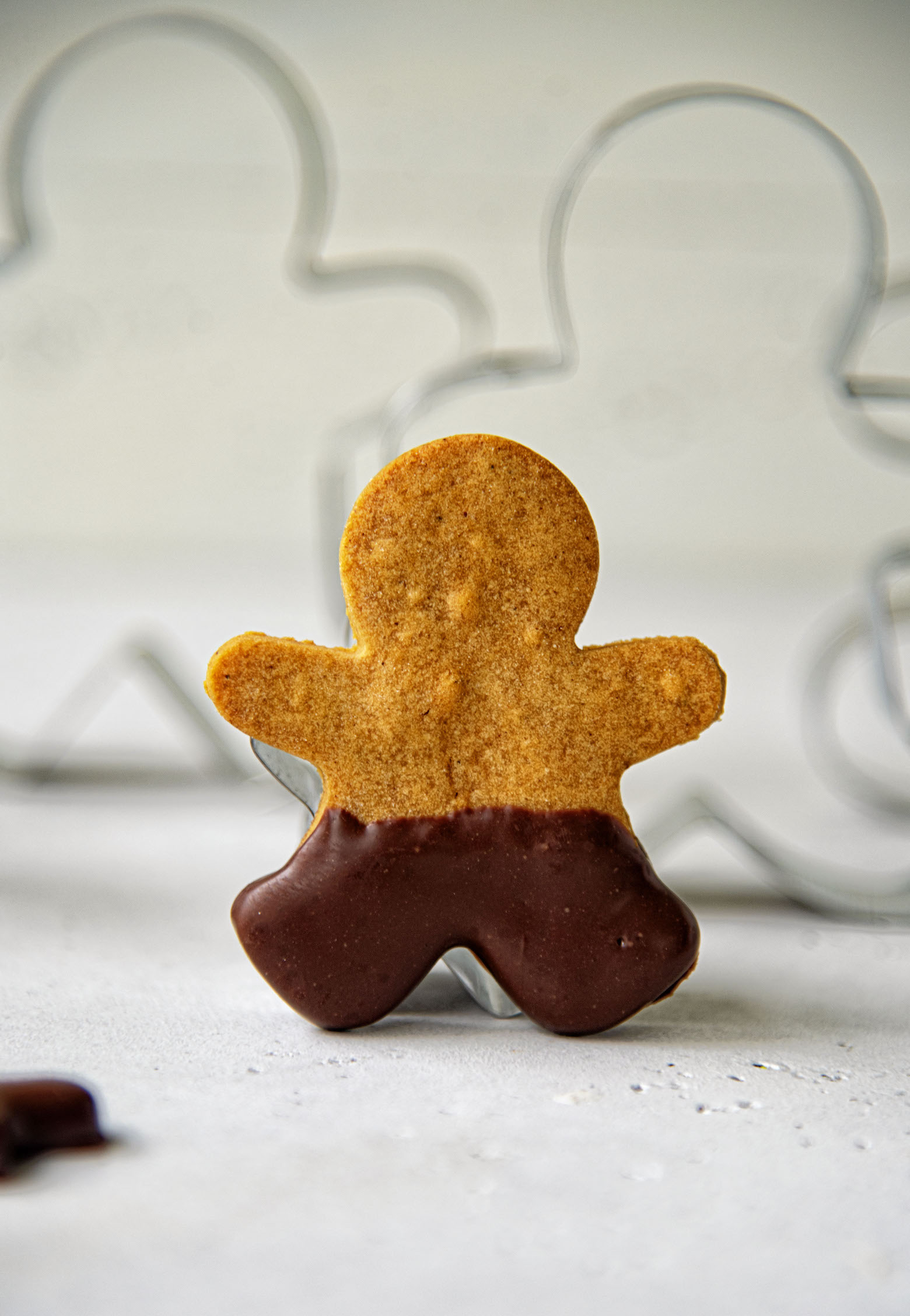 A couple weeks ago Walkers Shortbread sent me the biggest and most awesome Christmas gift package.
And among all the yummy treats were these gingerbread men shortbread.
Which were shortbread with a hint of gingerbread spice.
I thought to myself why on Earth have I never thought of combining the two?
Every year my roll out cookies I make for the holidays are always shortbread (recipe at the bottom of post for those).
My favorite shape is the gingerbread man.
As you can see by my large collection of gingerbread man cookie cutters…and this is just a fraction of them.
Yes, I have a gingerbread man cookie cutter problem.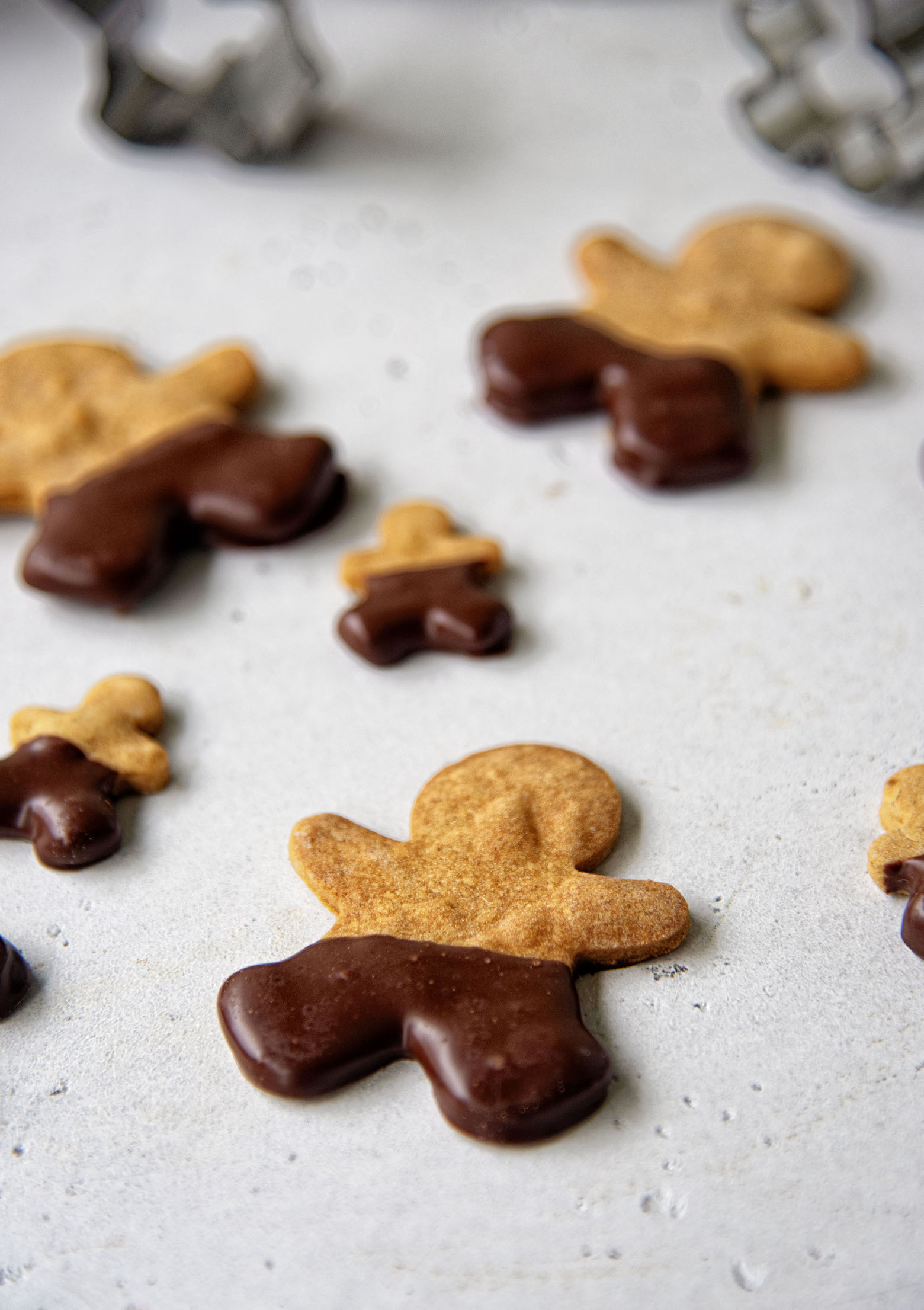 Since I try to be lazy when I can, I set out to see if anyone already had a recipe for them.
And one did.
Which always makes me happy because I don't have to work quite a hard. 🙂
Bonus, the recipe worked too.
That's not always the case when I discover a new to me blogger.
Anyway these were exactly what I was looking for.
A little bit of gingerbread man with the shortbread structure and buttery taste.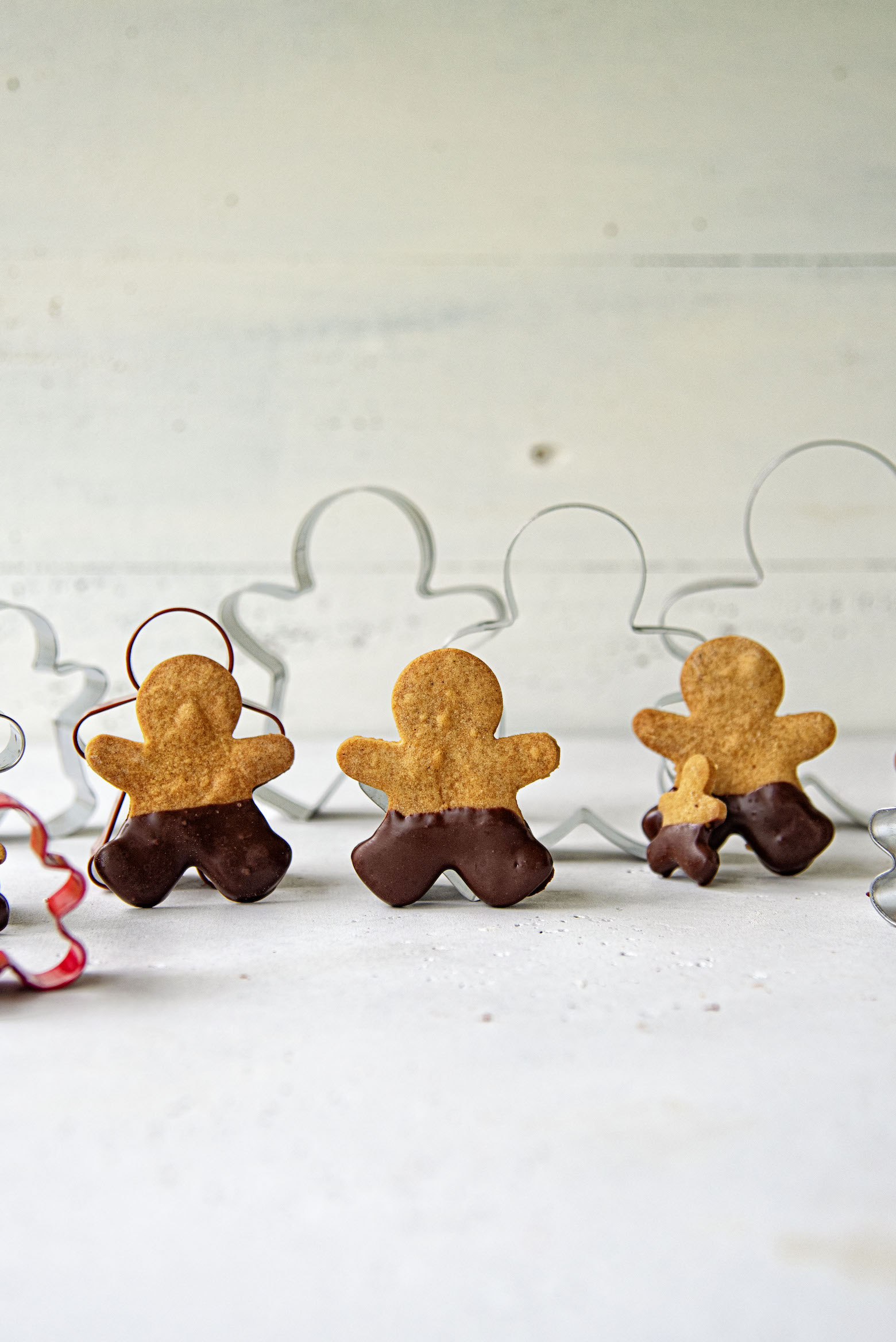 I had grandiose plans to decorate them.
But after spending all the time making my Gingerbread House Gingerbread Layer Cake the other day I was over decorating. 😀
But I hate a naked gingerbread man.
So they became Chocolate Dipped Gingerbread Shortbread Men.
Because they needed little pants on.
The original recipe used Crisco with the chocolate but I use butter.
You can use whichever you prefer.
I like butter because it's a buttery shortbread.
Anyway, it's a good recipe for those of use you prefer a hint of gingerbread but all the buttery goodness of shortbread.
P.S. It's a great day to buy my cookbook Holy Sweet!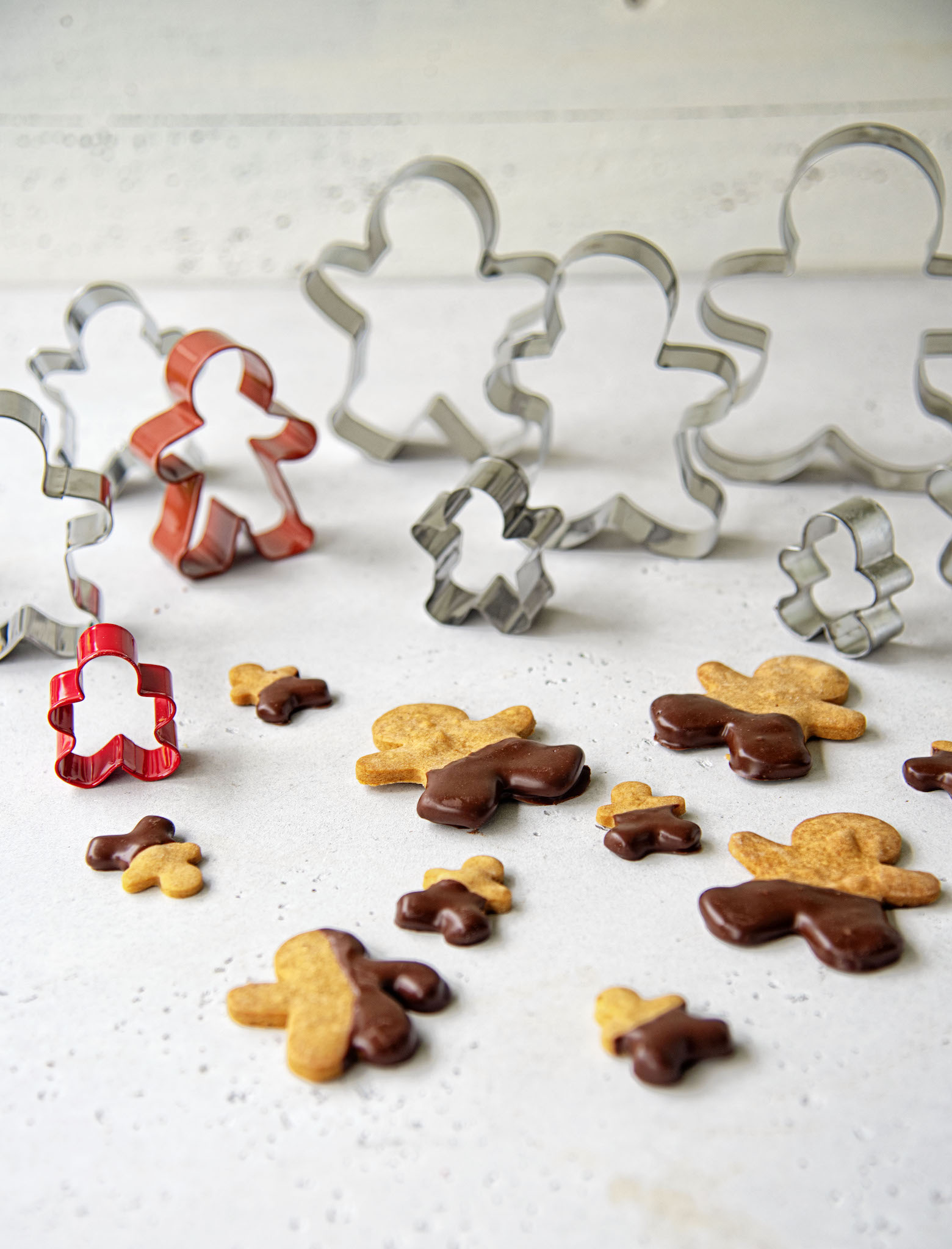 Want More Cookie Recipes?
Roll Out Shortbread Sugar Cookies
White Chocolate Chip Creamsicle Cookies
Vanilla Bean Caramel Thumbprint Cookies
White Chocolate Dried Pineapple Salted Macadamia Nut Cookie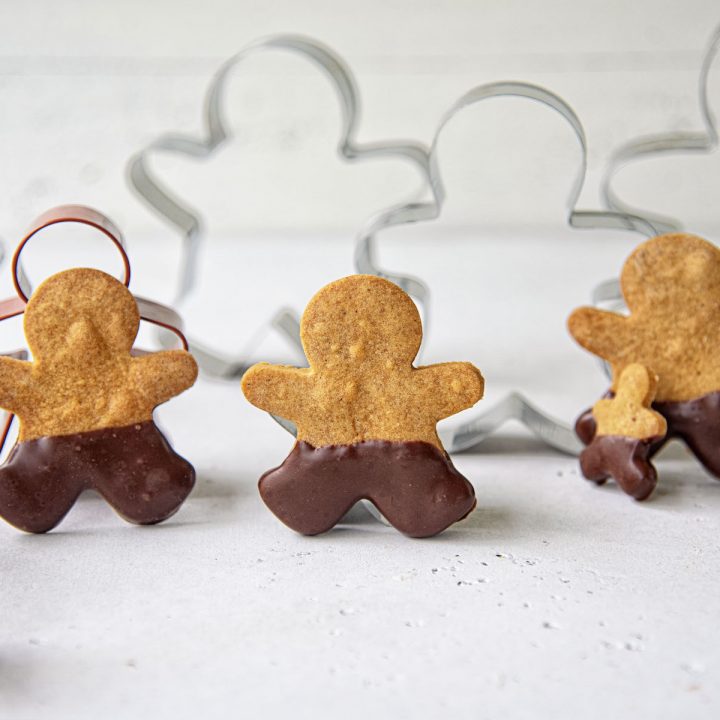 Chocolate Dipped Gingerbread Cookie Men
Ingredients
For the Cookies:
1 1/2 cups unsalted butter, at room temperature
3/4 cup powdered sugar
4 1/2 TBSP molasses
1 1/2 tsp vanilla extract
3 cups all-purpose flour
1 1/2 TBSP gingerbread spice
1/4 tsp salt
For the Chocolate Coating:
12 oz semisweet chocolate chips
3 TBSP unsalted butter
Instructions
Preheat oven to 350 degrees. Line three 1/2 baking sheets with parchment paper.
Using a stand mixer fitted with paddle attachment cream together the butter and powdered sugar together on medium-high speed until light and fluffy, about 3 minutes.
Add molasses and vanilla and beat until combined, about 30 seconds.
With the mixer on low speed, slowly add spices and salt until just combined.
Add the flour 1 cup at a time until just combined. Do not overmix.
Form the dough into a disk and wrap in plastic wrap. Place in refrigerator for 30 minutes.
Remove dough from fridge and place on lightly floured surface.
Roll dough out to about 1/4-inch thickness. Cut out with gingerbread man cutters.
Transfer to prepared sheets placing 1 inch apart. Place sheets in refrigerator for 10 minutes.
Remove trays from refrigerator and bake 12-14 minutes for regular size gingerbread men. 10-12 minutes for mini gingerbread men. And 14-16 for large gingerbread men.
Let cool on sheet for 5 minutes, then remove to wire rack to cool completely. Repeat with remaining dough until you've used it all.
For the Chocolate Coating:
Combine the semisweet chocolate and butter in a medium heat-proof bowl set over a medium saucepan of barely simmering water; stir until melted and smooth.
Transfer to a small bowl, and let cool about 15 minutes.
Dip part of each cookie into the chocolate and transfer to wax paper or parchment paper.
Let chocolate set for about 30 minutes before serving.