These Peanut Butter Raspberry Jello Shots are made with raspberry gelatin, raspberry jam, peanut butter whiskey, and Chambord.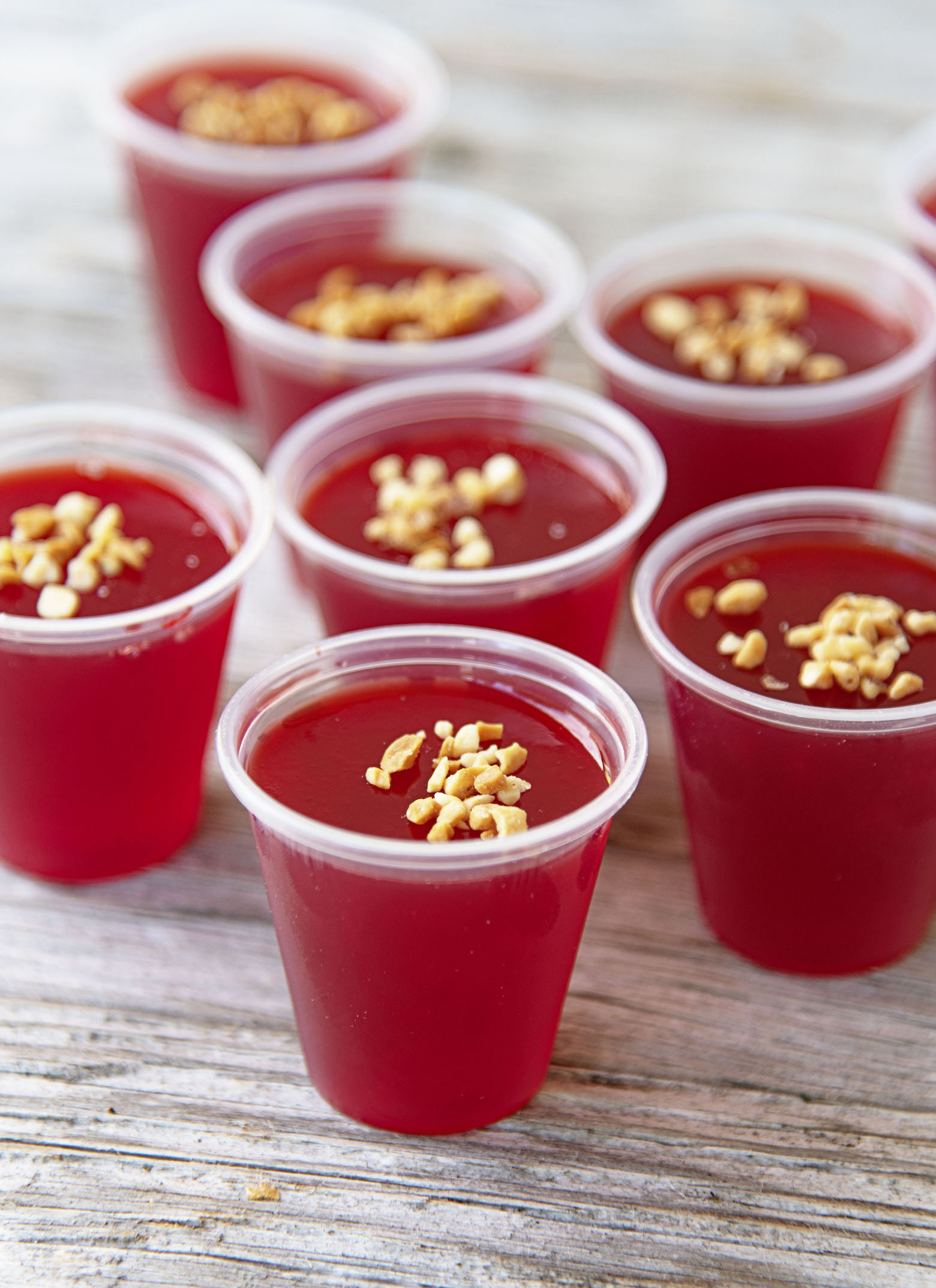 I get people all the time, especially from my husband's workplace, asking me to create a jello shot recipe.
Out of one of their favorite drinks or a drink they had at a bar.
I'm always willing to give it a try.
And I appreciate the suggestions as they help me be creative.
A few years back I found a bottle of Skrewball.
Which is peanut butter whiskey.
I didn't buy it because I thought oh gee peanut butter whiskey sounds good.
I bought it because of the label.
My hockey team is called the Black Sheep.
And well, the label has a black sheep on it.
Turned out I really like peanut butter whiskey. 🙂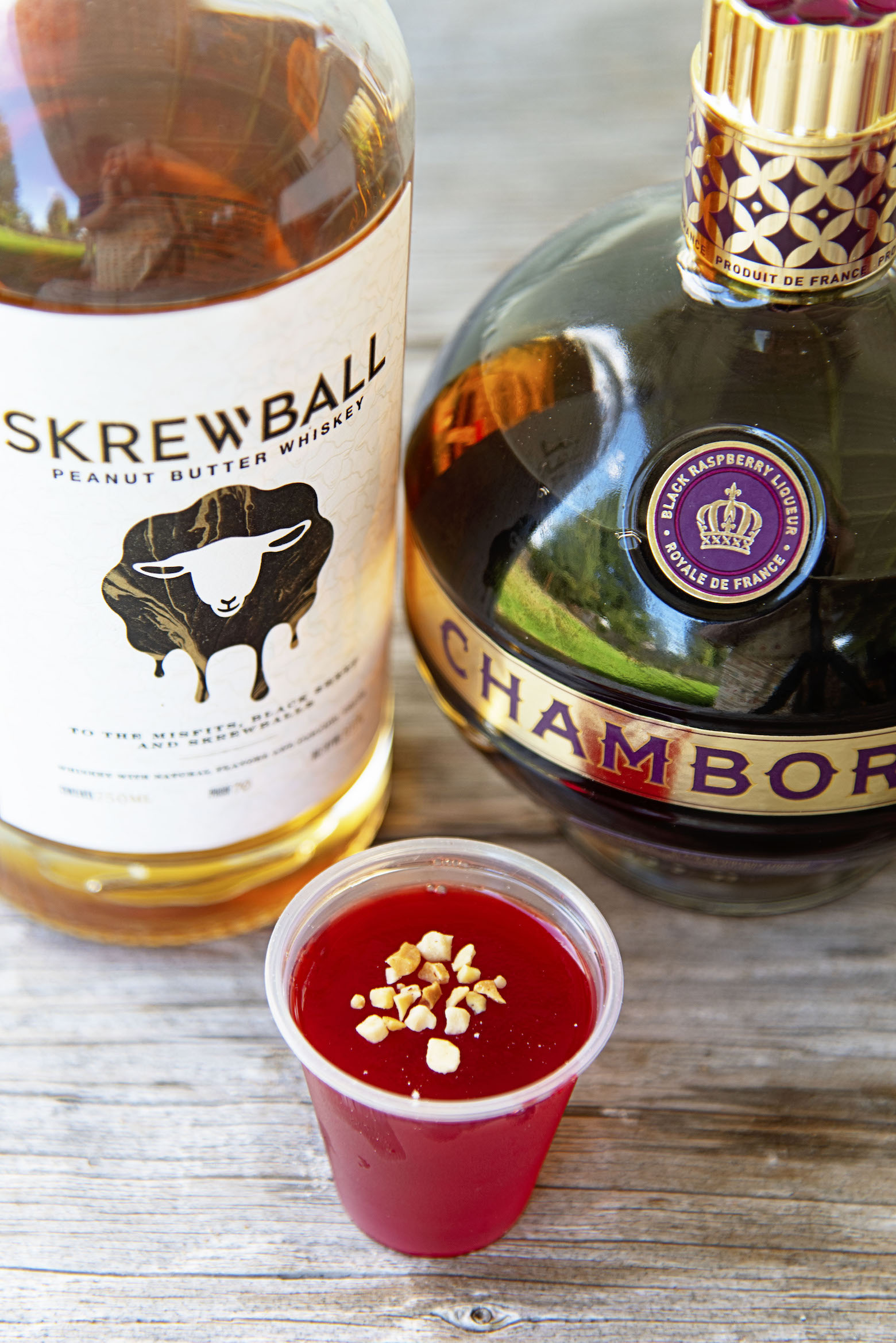 It was suggested to me at the time I bought it to try it with grape soda.
Which is how these came about.
But apparently my husband's co-worker didn't realize I had made those.
She had a cocktail of Skrewball and Chambord and wanted to know if I could make that in Jello Shot form.
I could.
If you are unfamiliar with Chambord it's a lovely raspberry liqueur out of France.
You can find it most places as it's been around for quite some time.
And with that Peanut Butter Raspberry Jello Shots were made.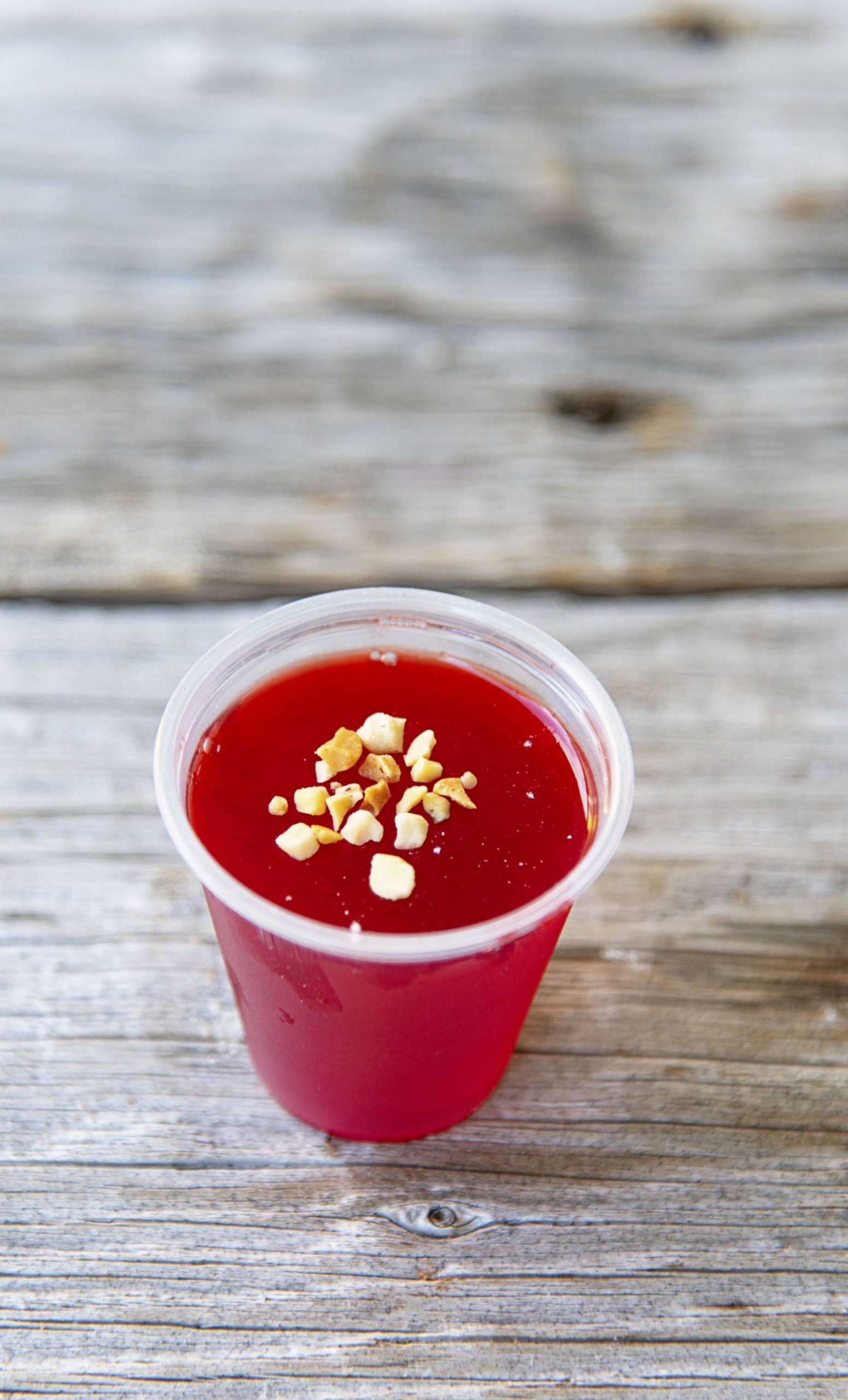 This time around I did add actual jam to the shot.
I do think it adds an extra layer of flavor and helps it taste more like a PB and J.
I used just water in these but you could substitute the water with some raspberry seltzer water if you wanted a little more flavor.
Both my husband and his co-worker say don't skip the chopped peanuts as garnish.
They both say it really adds something to the shots.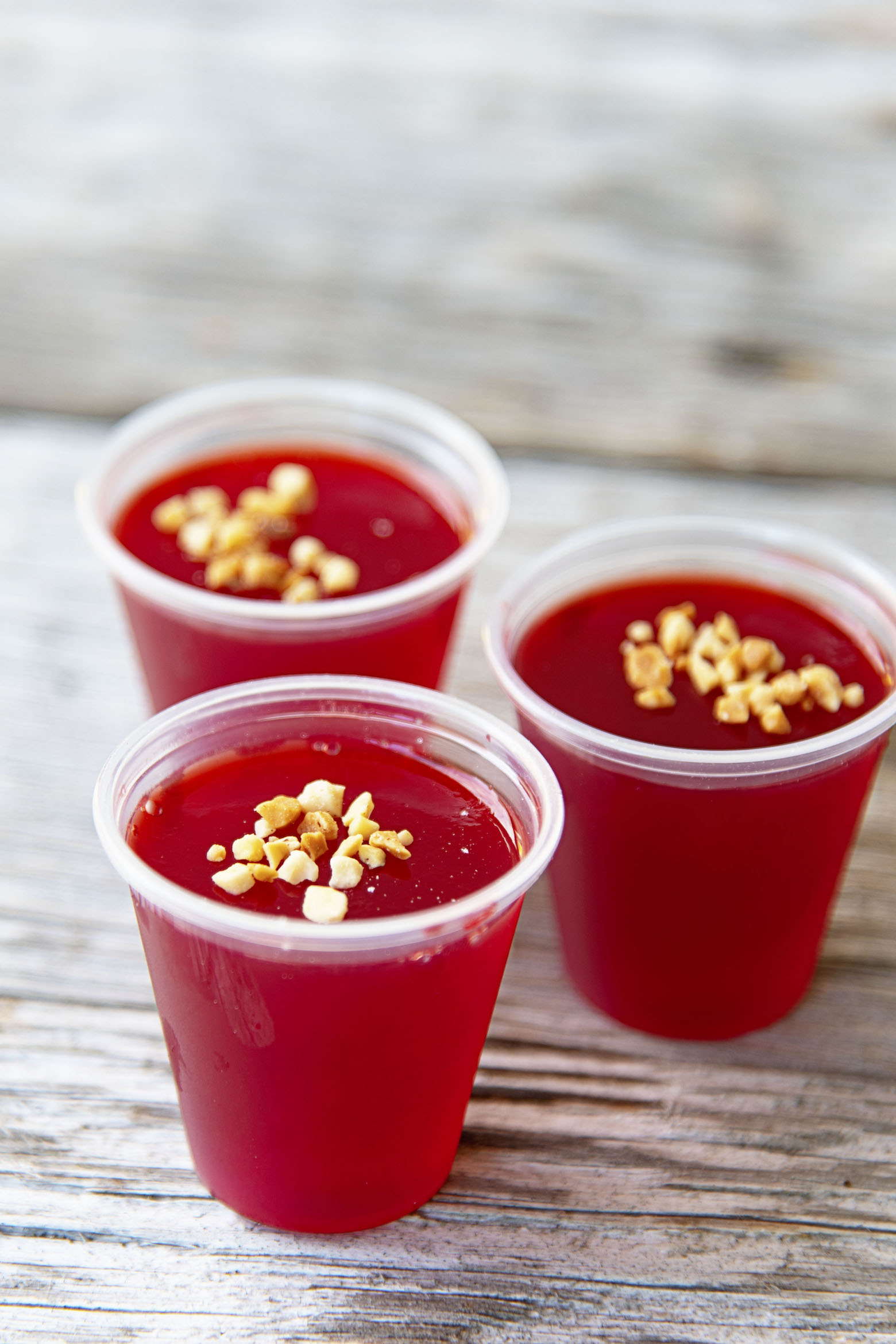 So there you have it.
If you have a cocktail you would like me to try and see if I can make into a jello shot, I'm more than willing to try.
So just let me know.
Cheers!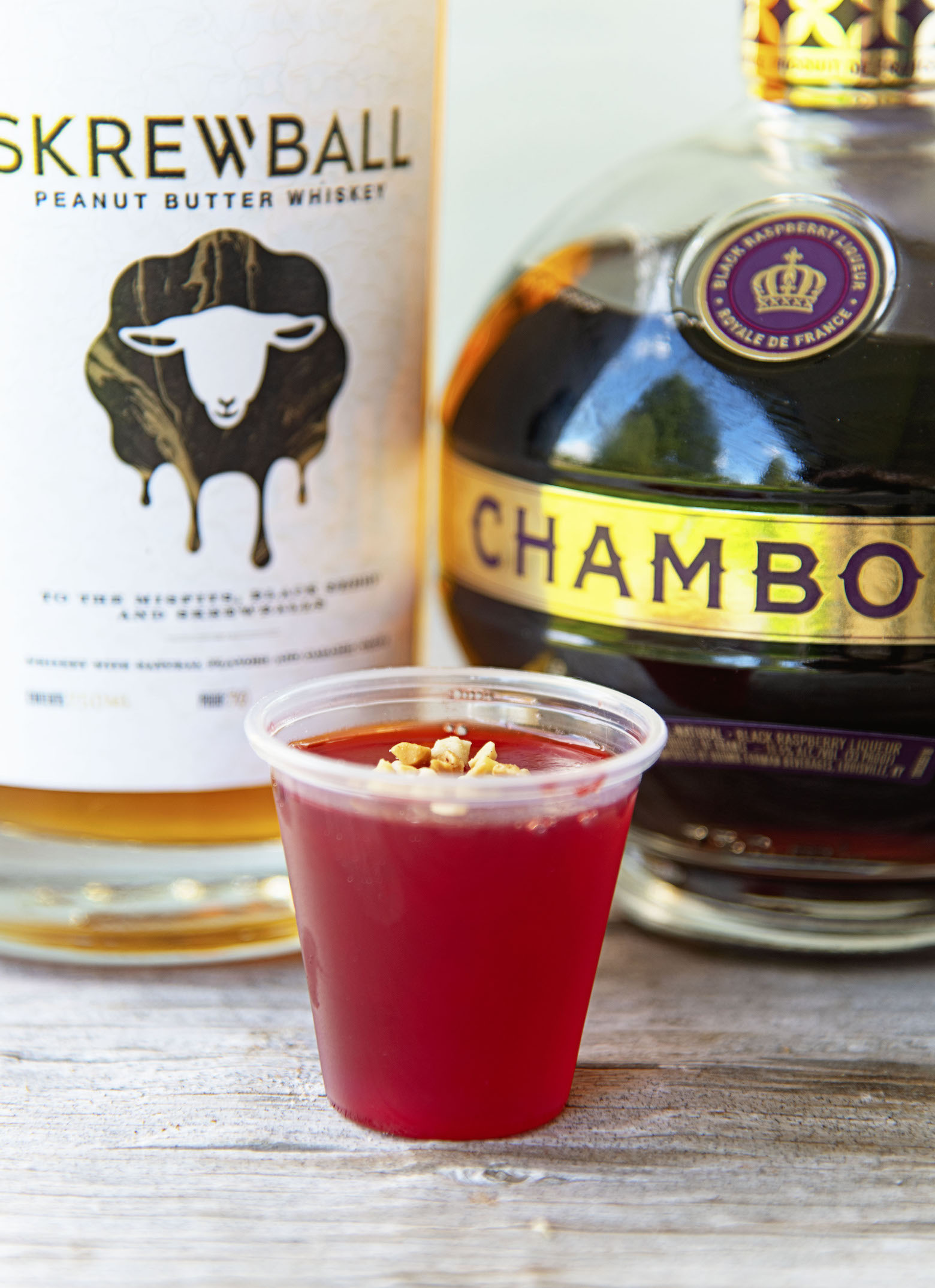 Things to remember when making Jello Shots.
When throwing a party, you'll probably want to prepare 4-6 Jello Shots for each guest.
This batch uses 6 ounces of gelatin and so you will get around 18-20 Jello shots.
If doing a half recipe and only using 3 ounces of gelatin you will only get 8-10 Jello shots depending on how you pour.
If using a garnish, don't place the garnish on the jello shot until just ready to serve.
And as always it's a great day to order my cookbook.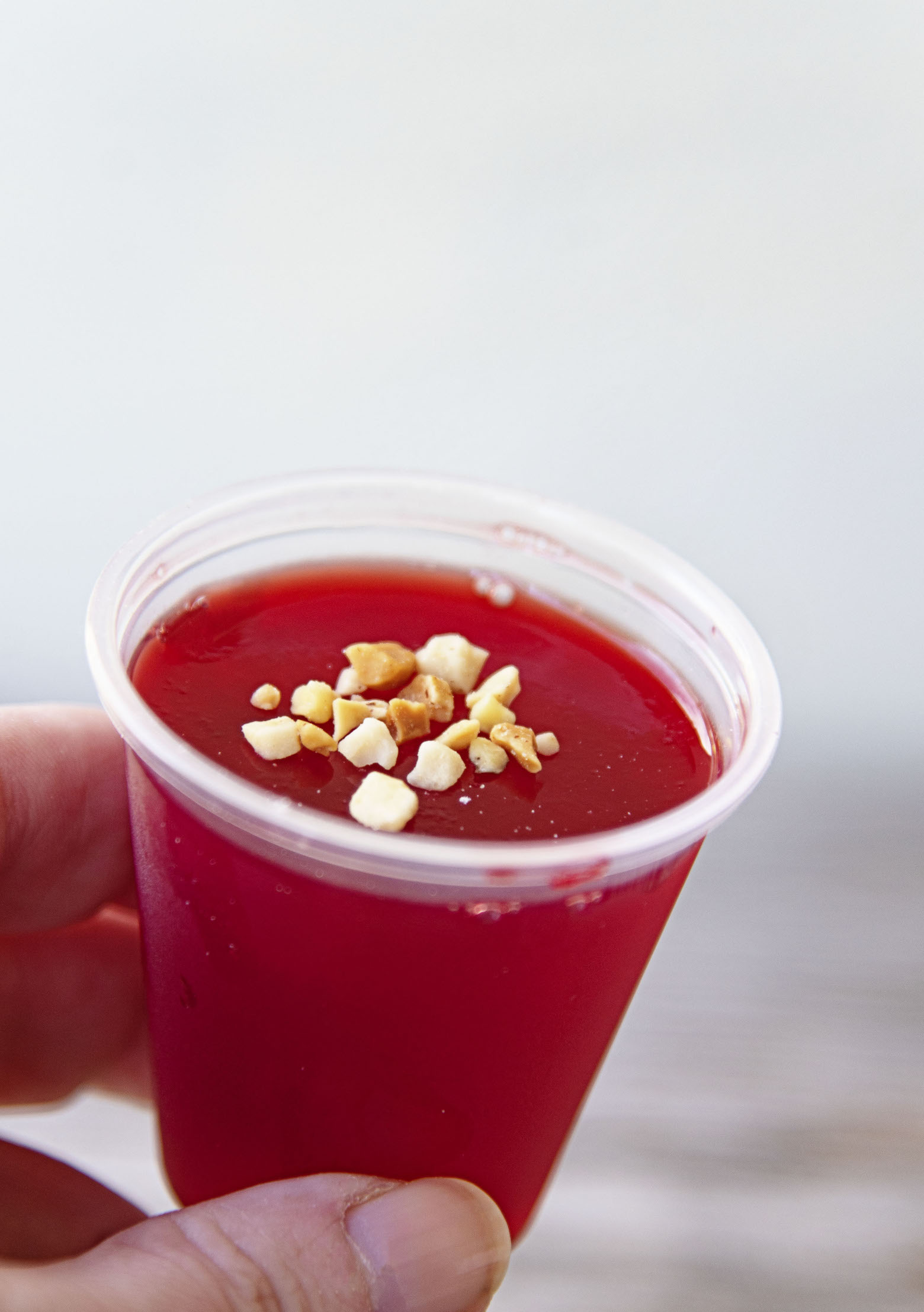 Want more Jello Shot recipes?
Blue Hawaiian Rainbow Jello Shots
Cinnamon Candied Apple Jello Shots
Strawberry Pina Colada Jello Shots
Apple Cider Moscow Mule Jello Shots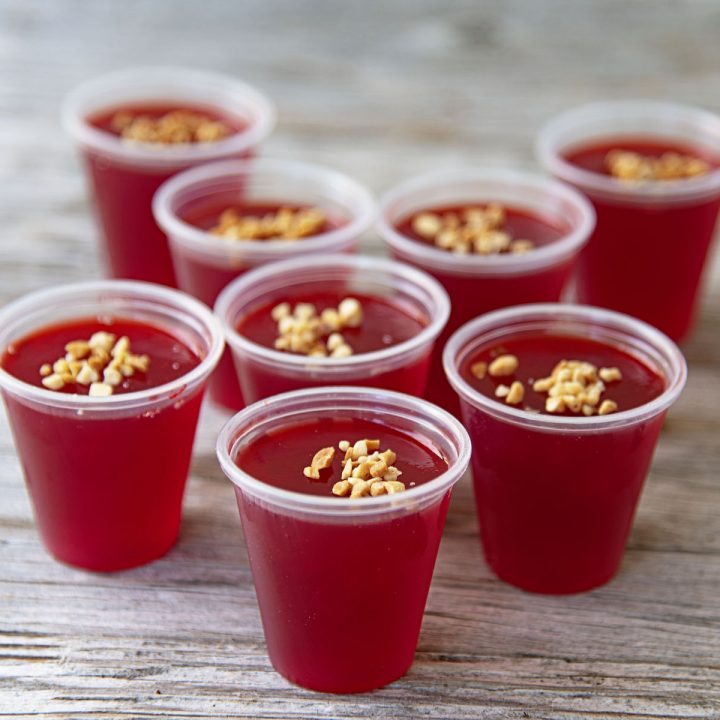 Peanut Butter Raspberry Jello Shots
Ingredients
3 cups water, divided
2 (3 oz) packages Raspberry Jello
1/4 cup raspberry jam
3/4 cup Skrewball Peanut Butter Flavored Whiskey
1/4 cup Chambord liqueur
crushed peanuts for garnish
Instructions
Bring 2 cups water to a boil.
Empty gelatin powder into a large mixing bowl and add the boiling water.
Continue stirring for two minutes or until the jello is completely dissolved.
Whisk in the raspberry jam and whisk until the jam has completely dissolved.
Add in the remaining cup of cold water, peanut butter whiskey, and Chambord.
Stir until mixed and pour into 2oz. cups filled 1/2 to 3/4 of the way.
Put in fridge for at least 4 hours to set up.
Add crushed peanuts as garnish if desired when ready to serve.