These Cinnamon Candied Apple Jello Shots are made with apple gelatin, cinnamon red hots candy, Crown Apple, and apple cider.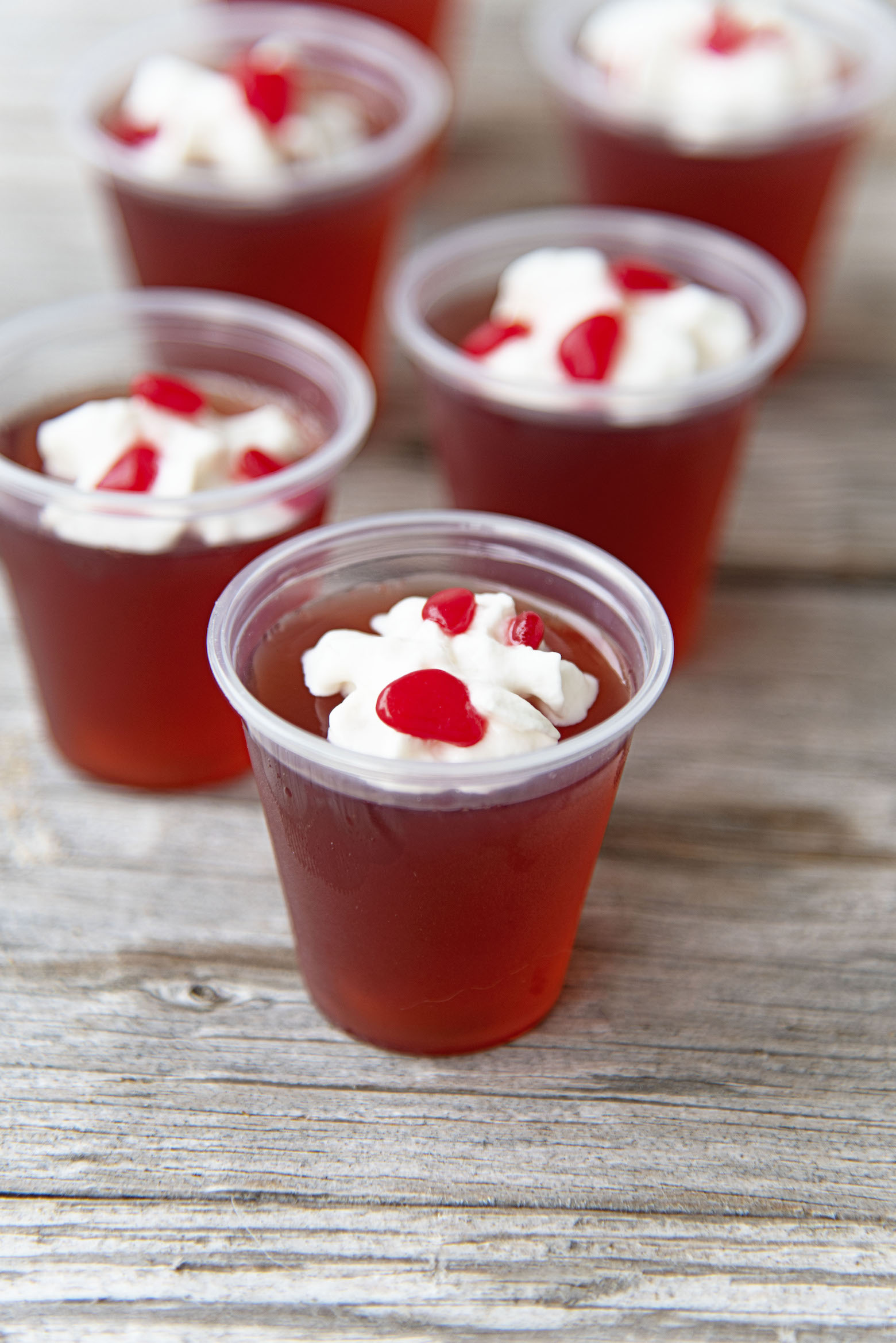 When I was younger we lived on a cul-de-sac.
Back then neighbors did things together.
You held large BBQ's.
Coordinated decorations for holidays.
And in my neighborhood they really coordinated for Halloween.
We would always have a Halloween party before Trick or Treating.
Back then people didn't worry about their neighbor trying to kill them with razor blades or poison or LSD in their candy.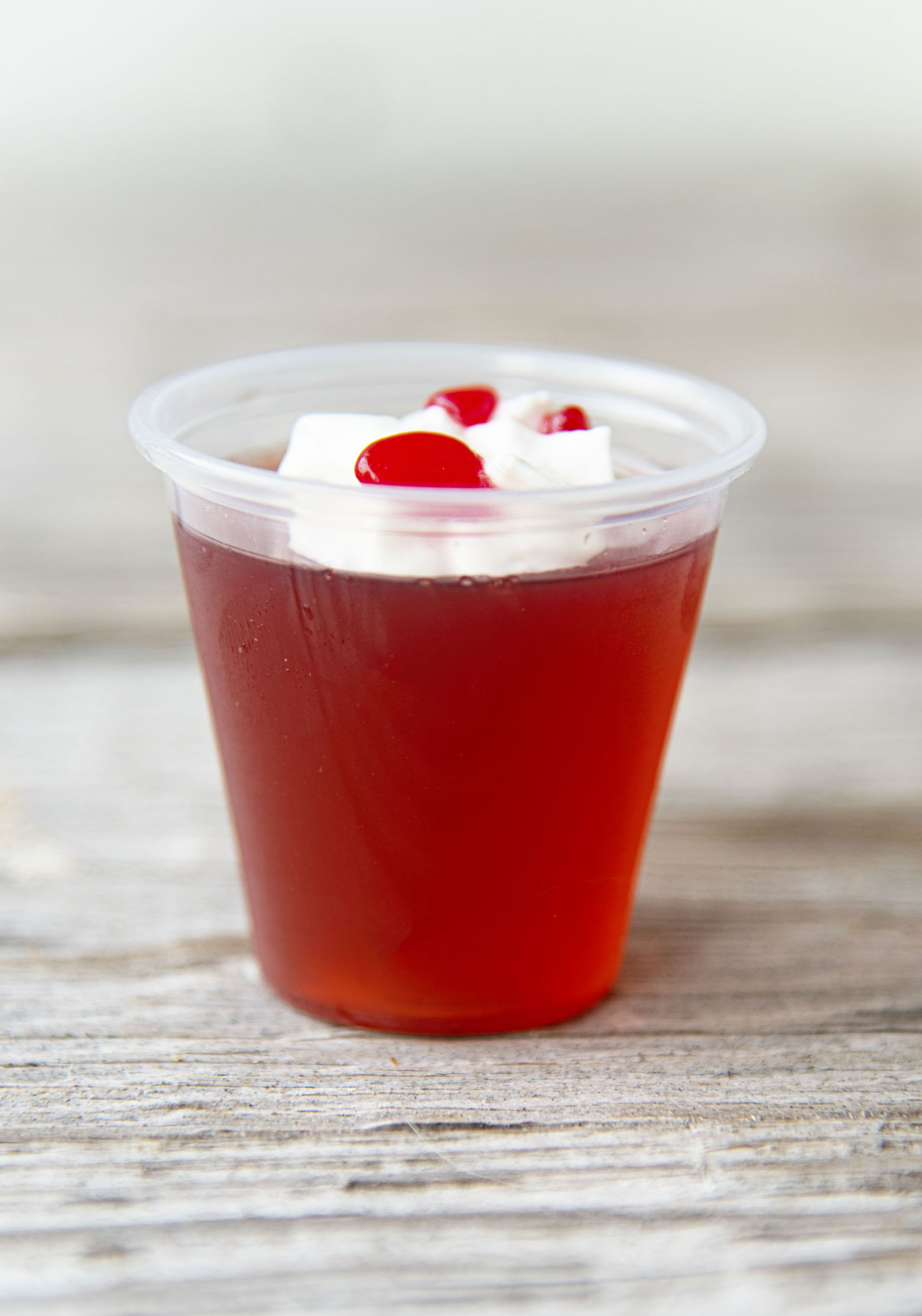 So we got things like homemade popcorn balls and candied apples.
Candied apples and caramel apples are very different.
I mean sure, they both have apples.
And both can cause some damage to your teeth.
Plus both of them involve dipping the apples.
But they are different.
With caramel apples you can lose a tooth.
But candied apples is really where you can risk something.
As you break the hardened candied shell shards of the hard candy break off.
Shards.
Stab you in the mouth shards.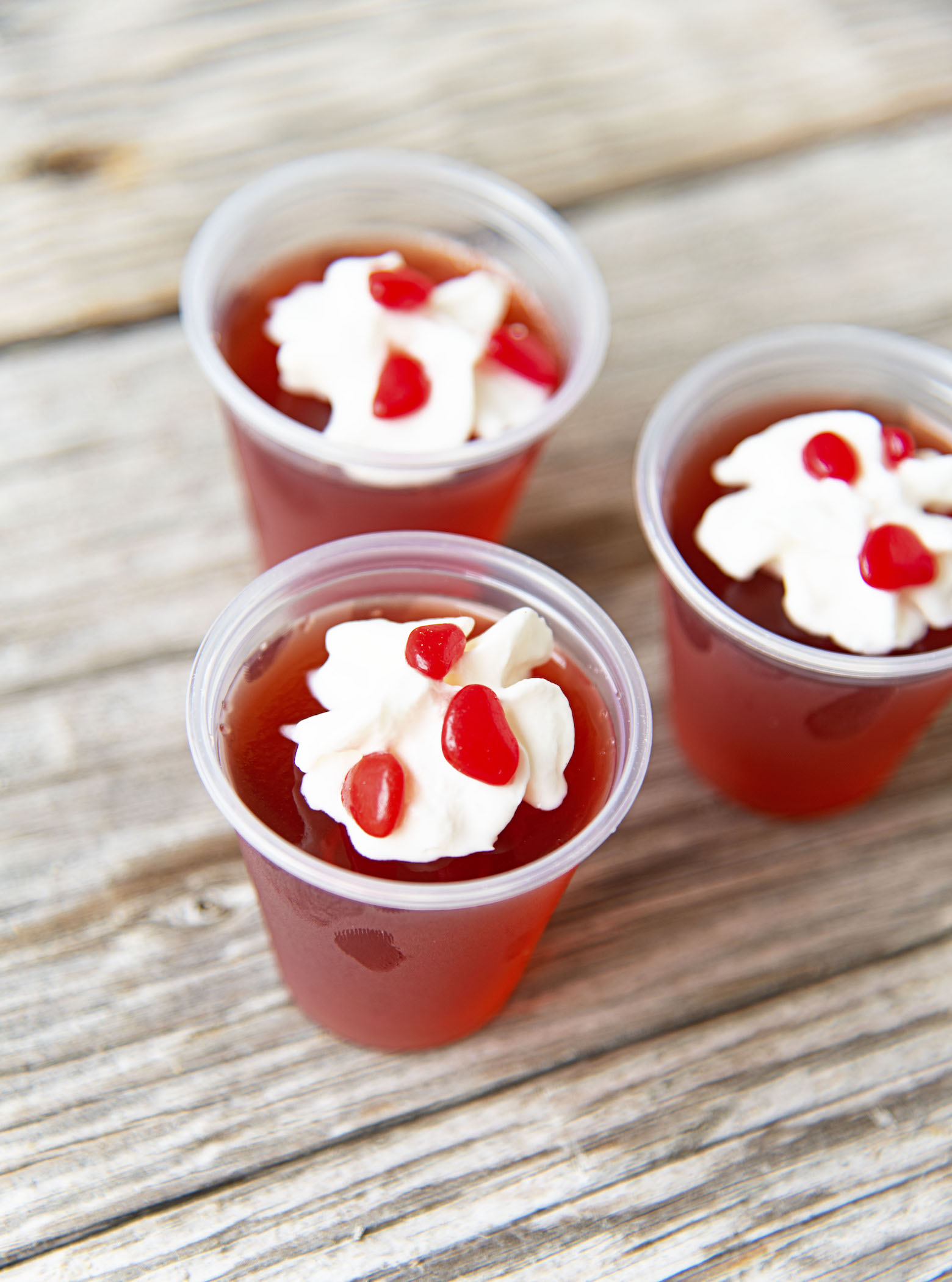 So in attempt to make candied apples that didn't involve possibly losing parts of my mouth I made Cinnamon Candied Apple Jello Shots.
They are only dangerous if you consume too many at a time.
And even then the chance of your mouth bleeding are far less than eating a candied apple. 😀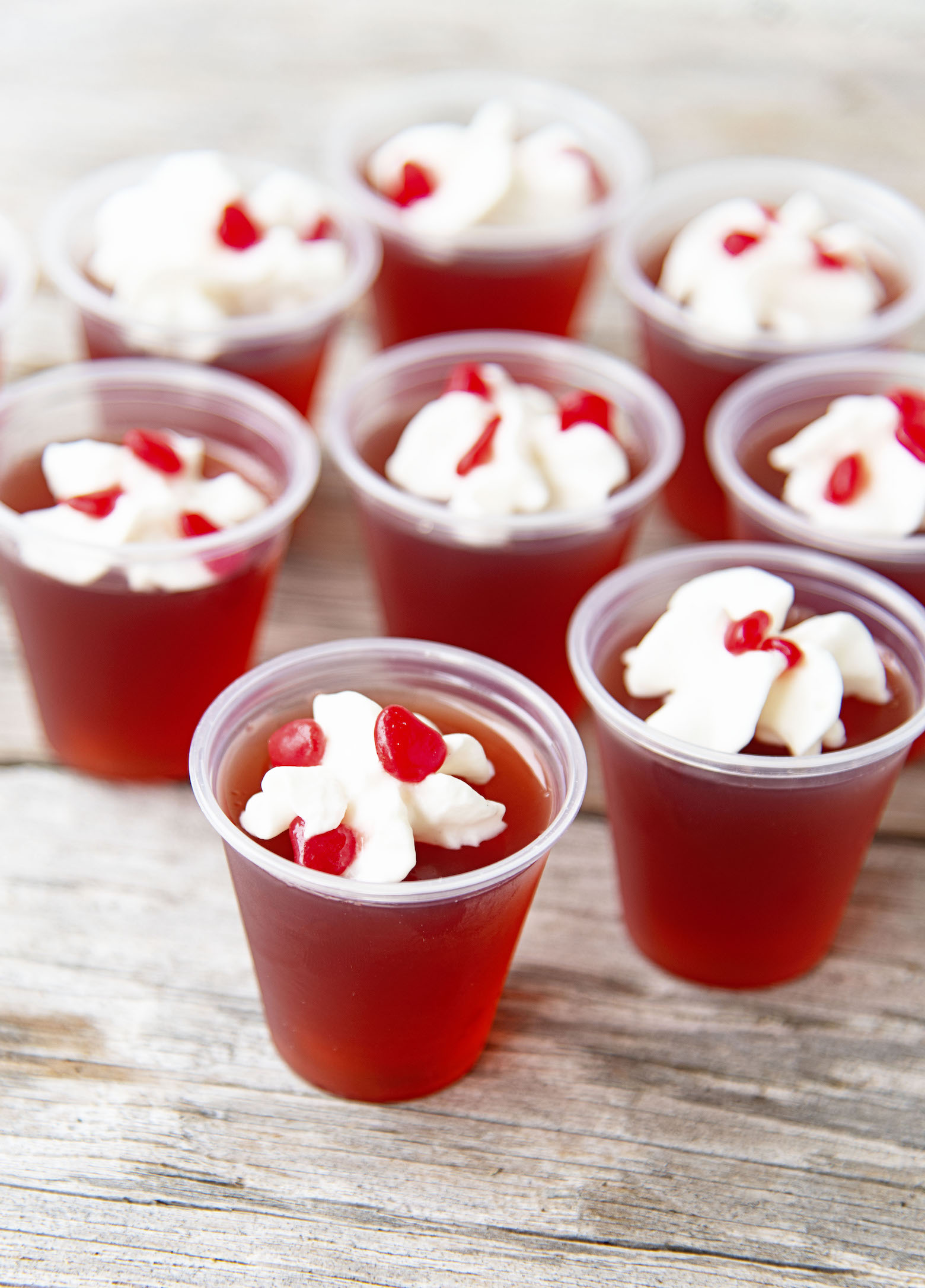 Things to remember when making Jello Shots.
When throwing a party, you'll probably want to prepare 4-6 Jello Shots for each guest.
This batch uses 6 ounces of gelatin and so you will get around 18-20 Jello shots.
If doing a half recipe and only using 3 ounces of gelatin you will only get 8-10 Jello shots depending on how you pour.
And as always it's a great day to order my cookbook.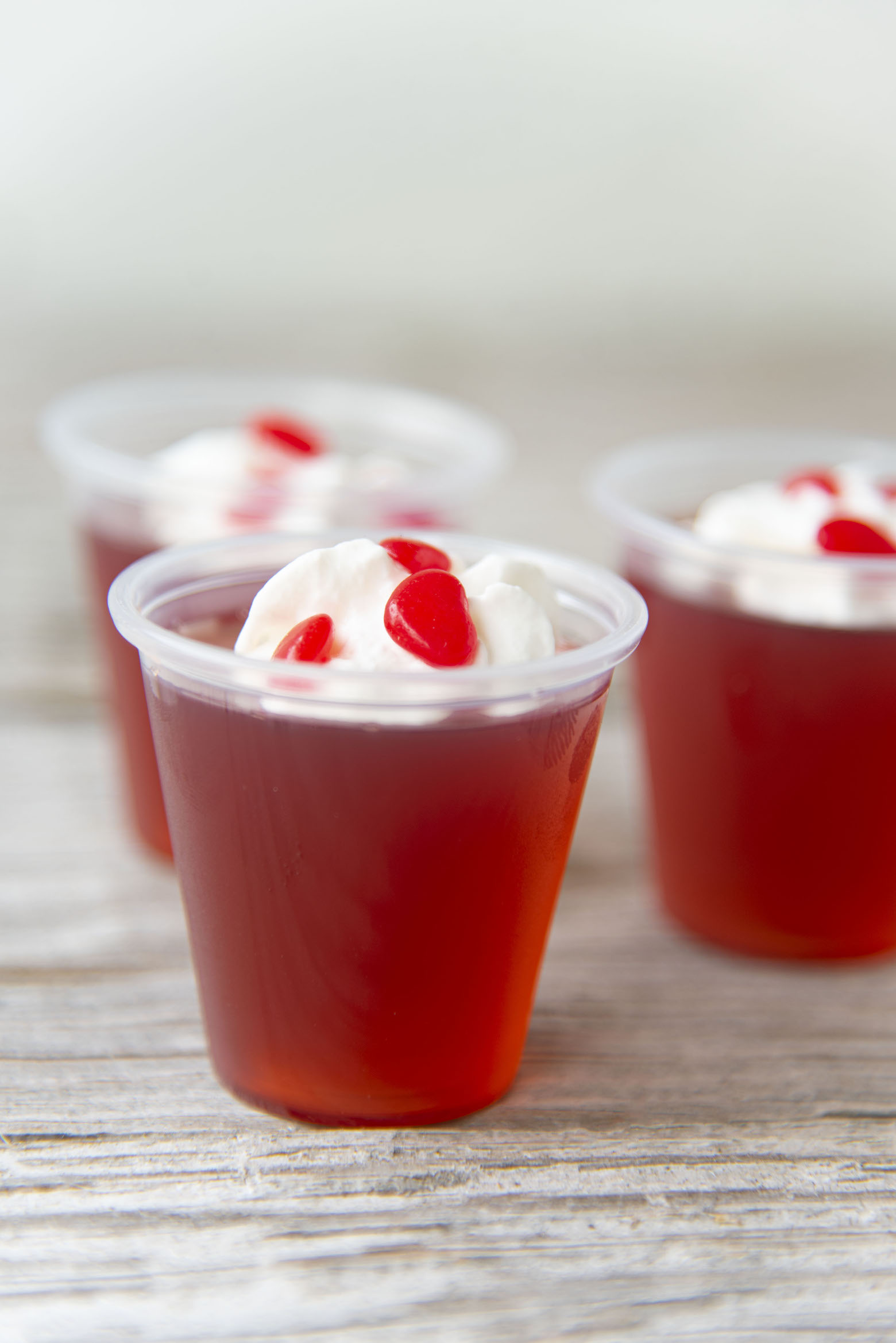 Want more Jello Shot recipes?
Blue Hawaiian Rainbow Jello Shots
Strawberry Pina Colada Jello Shots
Fruit Punch Moonshine Jello Shots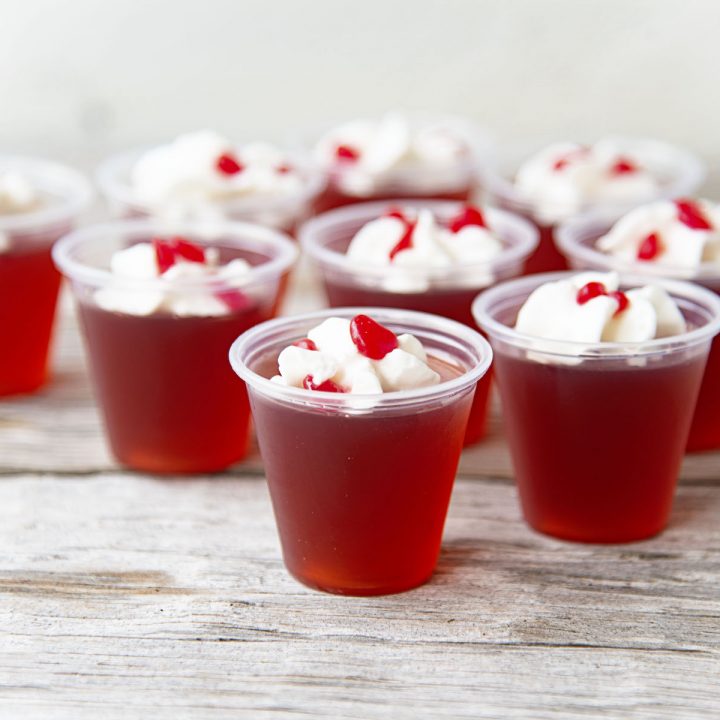 Cinnamon Candy Apple Jello Shots
Ingredients
3 cup apple cider, divided
1/4 cup cinnamon red hots candies
2 (3 oz) packages Jolly Rancher Green Apple Gelatin
1 cup Crown Royale Apple (or any apple flavored whiskey)
whipped cream for garnish
cinnamon red hots candies for garnish
Instructions
Bring 1 1/2 cups apple cider to a boil.
Add in the cinnamon red hots candies.
Let sit for 2 minutes and then whisk until candy dissolves, this takes a minute or two.
Empty gelatin powder into a large bowl.
Pour the hot cinnamon candy apple cider onto the gelatin and stir.
Continue stirring for two minutes or until the gelatin is completely dissolved.
Add in the cold apple juice and Crown Apple.
Stir until mixed and pour into 2oz. cups filled 1/2 to 3/4 of the way.
Chill in fridge for at least 2 hours.
Top with a whipped cream and cinnamon red hots candies if desired.